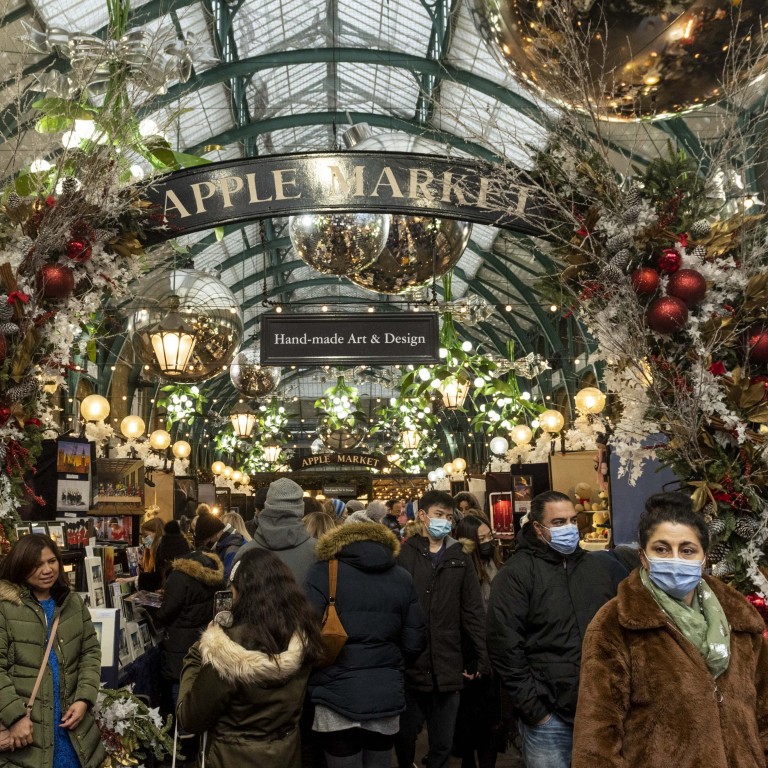 Omicron: Britain, US top exporters of coronavirus variant to Hong Kong so far, with cases expected to surge over Christmas holidays
Britain accounts for eight of 27 confirmed cases, or 29.6 per cent, with the United States close behind on five
Authorities ramp up measures at quarantine hotels, with seven-day testing to be implemented on guests in rooms close to any Omicron case
Almost a third of Hong Kong's imported
Covid-19
Omicron infections so far have been arrivals from Britain, the most from any country, followed by the United States, a
Post
review of recent cases has found amid a near-daily detection rate of the highly transmissive variant over the past week.
Authorities on Tuesday also ramped up testing measures at quarantine hotels, after confirming that eight more recently imported cases carried the new variant.
Under the latest changes, if an Omicron infection is detected in a designated hotel, daily testing for the next seven days will be implemented for guests quarantining in rooms on either side of the patient's, as well as the one opposite.
Guests in the affected rooms who have earlier completed their hotel quarantine will have to undergo additional testing at community facilities as soon as possible, and are advised to avoid group gatherings within the seven-day surveillance period.
A medical expert on Tuesday also warned that a surge of Omicron infections over the next week was all but certain, with residents coming back to the city for the holidays.
"As more residents return to Hong Kong from Britain and the United States, the city will see the number of imported infections increase substantially", said Dr Ho Pak-leung, an infectious disease expert from the University of Hong Kong.
He also criticised the government for waiting until Tuesday
to add
Britain to the new highest-risk category, just over a week after the country was found to be the source of two imported Omicron infections.
"From the anti-pandemic perspective, it's not ideal, and will increase the infection risks to Hong Kong," he told a local radio programme.
Hong Kong on Tuesday confirmed eight new Covid-19 cases, including seven that carried N501Y, a key mutation linked to Omicron. Four from among the group of seven were travellers from Britain or the US.

The city's overall tally stood at 12,541, with 213 related deaths.
Fewer than 10 people tested preliminary-positive on Tuesday, including a nurse, 58, from Castle Peak Hospital in Tuen Mun, who returned from Britain on Monday. The hospital said that the nurse was unlikely to have been infected before she left the city on December 2.
All 25 people who worked with her had tested negative, with new admissions suspended for the psychiatric ward involved.
Separately, the government announced that all its employees would be required to present proof of Covid-19 vaccination when entering official buildings for work, taking effect in mid-February next year.
Since the city's first Omicron case was confirmed in late November, a total of 27 – all imported – have been recorded.
Eight returned to the city from Britain, accounting for 29.6 per cent of all cases. The US came in second, with five cases, while the rest were spread mostly among African countries including South Africa, Nigeria and Kenya.
Since December 12, an Omicron infection has been recorded almost daily in the Covid-19 caseload. The highest daily caseloads were four each recorded on Friday, Sunday and Monday.
Ho on Tuesday warned the city to brace for a surge in such cases as residents flocked home for Christmas from countries where Omicron had already become the dominant version of Covid-19.
Britain was added to Hong Kong's highest-risk category on Tuesday, meaning arrivals must now spend the first portion of their mandatory quarantine at the government's Penny's Bay facility.
Previously, only the US and a group of 12 African nations were on that list.
But Monday's announcement, seemingly acknowledging a potential lack of capacity, also involved a reduction in the length of stay at the isolation facility.
From Tuesday, all residents returning from countries in the highest-risk category will spend their first four days of isolation – down from seven – in the public quarantine camp before being transferred to designated hotels for the final 17 days of their three-week quarantine.
A recent tightening of suspension mechanisms, meanwhile, could also mean more airlines will be temporarily banned from flying to Hong Kong.
Under the new rules, any carrier that brings at least four coronavirus-positive passengers to Hong Kong within a seven-day period will be barred from flying that route for two weeks.
Qatar Airways was the first airline to be barred following the rules change after five of its passengers tested positive on arrival within a week. The ban on its Doha-Hong Kong route begins on Wednesday and runs until January 4.
To avoid a flight ban, Hong Kong's flag carrier Cathay Pacific is requiring passengers from London to take an extra Covid-19 test on their day of departure. The mandatory antigen screening is free and will be conducted at Heathrow Airport.

Five more countries – Aruba, Colombia, Costa Rica, Georgia and Panama – will be moved to Hong Kong's high-risk Group A list from Friday, as Omicron cases were detected there. Visitors will be banned from coming in, while only fully vaccinated Hong Kong residents can board flights to the city.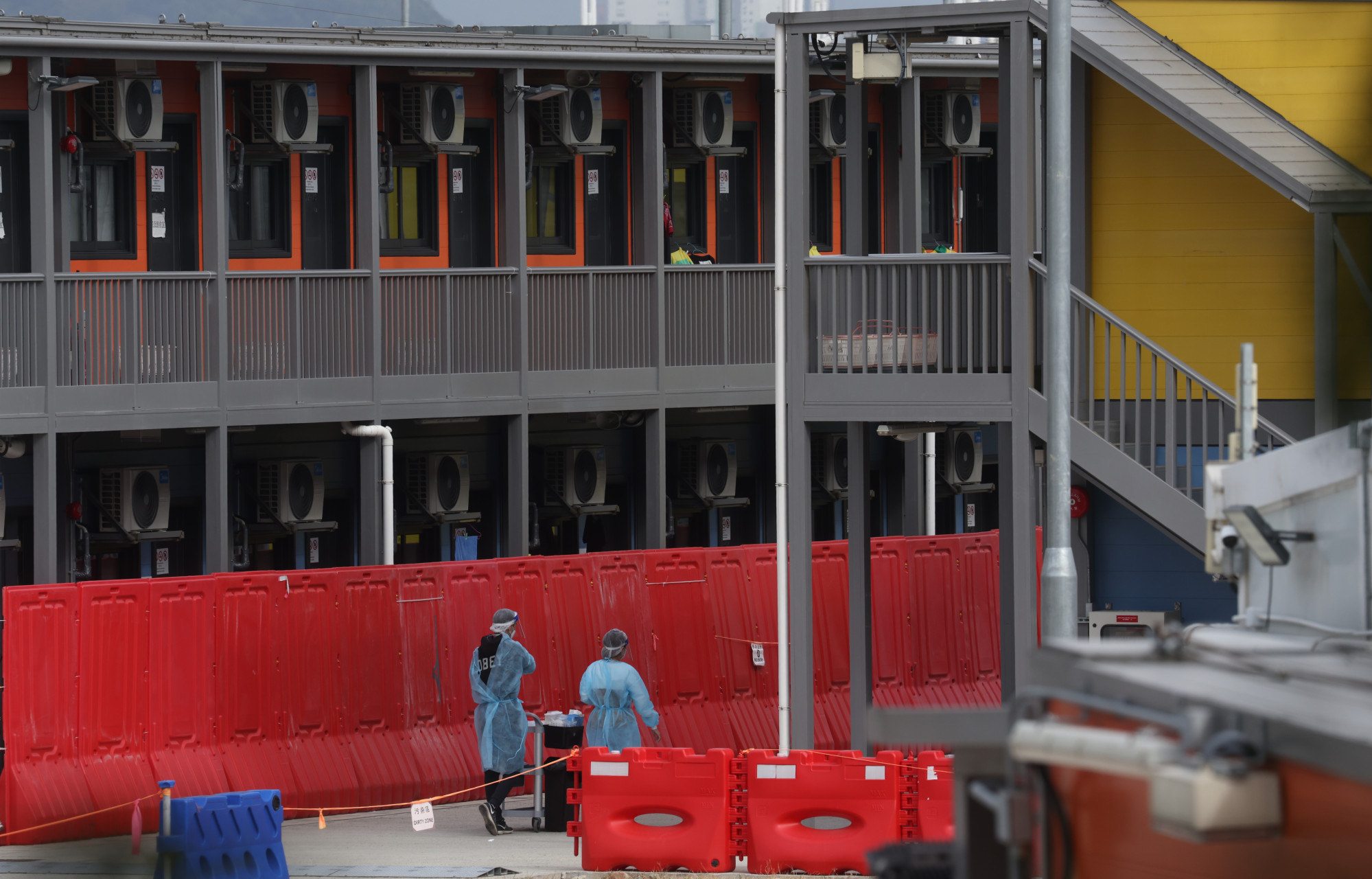 Ho also noted that the median incubation period of Omicron – at just two to three days – was just half that of other variants, according to statistics from Britain.
The shorter period of time needed to detect the infection had allowed the government to reduce the Penny's Bay isolation period, freeing up rooms and helping keep the city open to the outside world, he said.
Under another stepped-up measure, announced on Monday and set to begin on Christmas Eve, all travellers arriving in Hong Kong, no matter their starting point, must present a negative Covid-19 test received within 48 hours of boarding, down from the current 72.
Ho said shortening that window by 24 hours would further reduce the risk of a community infection, though Omicron's incubation period of two to three days meant there was still cause for concern, he warned.
Getting a test result within such a short time frame, however, would be impossible in some places, he conceded.
Under the new vaccination requirement for government staff – of which 96 per cent have received at least one dose – those with a medical exemption will be issued a special pass to access buildings and offices.
The government said the vaccine bubble measure was necessary to "fortify the protective barrier, reduce the risk of the spread of mutant strains, and safeguard the health of employees and members of the public".
Furthermore, starting on December 28, government staff who have not been vaccinated must undergo Covid-19 testing every three days, rather than the current weekly requirement.
The implementation of the vaccine bubble puts authorities in a better position from which to relax testing arrangements for those unable to get inoculated, according to a spokesman.
Also on Tuesday, officials extended Hong Kong's set of social-distancing rules for another 14 days to January 5.