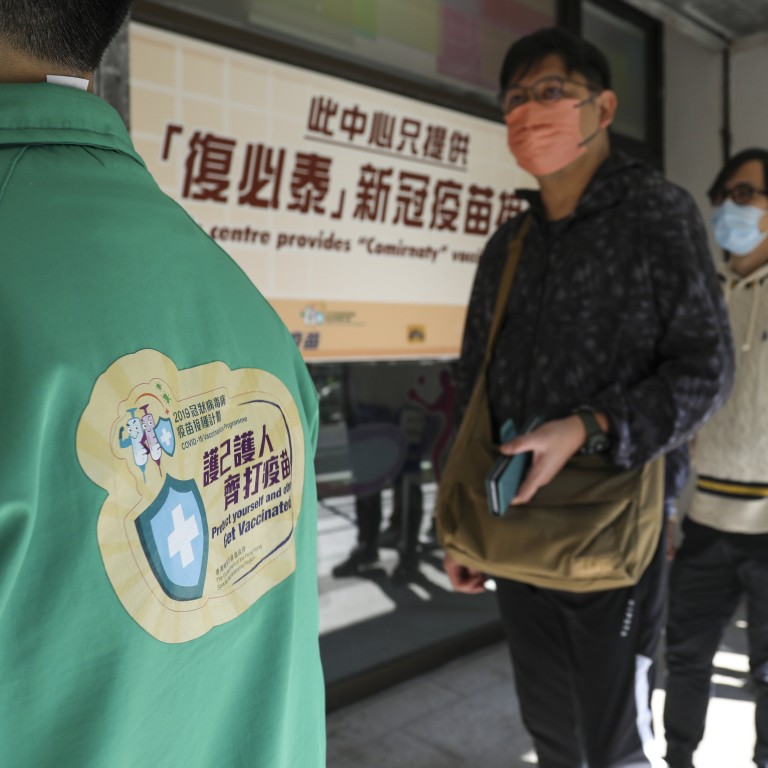 Coronavirus: Hong Kong vaccine bubble roll-out for restaurants, leisure venues and schools delayed to February 24, Carrie Lam reveals
Lam pushes back start of scheme barring the unvaccinated from restaurants, entertainment venues – and now schools – from before Lunar New Year to end of next month
Omicron restaurant outbreak will postpone the launch of quarantine-free travel with mainland China, city leader admits
This story has been made freely available as a public service to our readers. Please consider supporting SCMP's journalism by
subscribing
.
Hong Kong's plan to bar those who have not been vaccinated against
Covid-19
from all restaurants, leisure venues and schools will be postponed until February 24, the city's leader has announced.
The expansion of Hong Kong's
vaccine bubble
to require people entering those premises to have received at least one dose of a coronavirus jab was initially expected to launch in late January ahead of Lunar New Year, which starts on February 1.
But Chief Executive Carrie Lam Cheng Yuet-ngor told her weekly press briefing on Tuesday that more time was needed for businesses to prepare for the new measures, as well for residents to get vaccinated.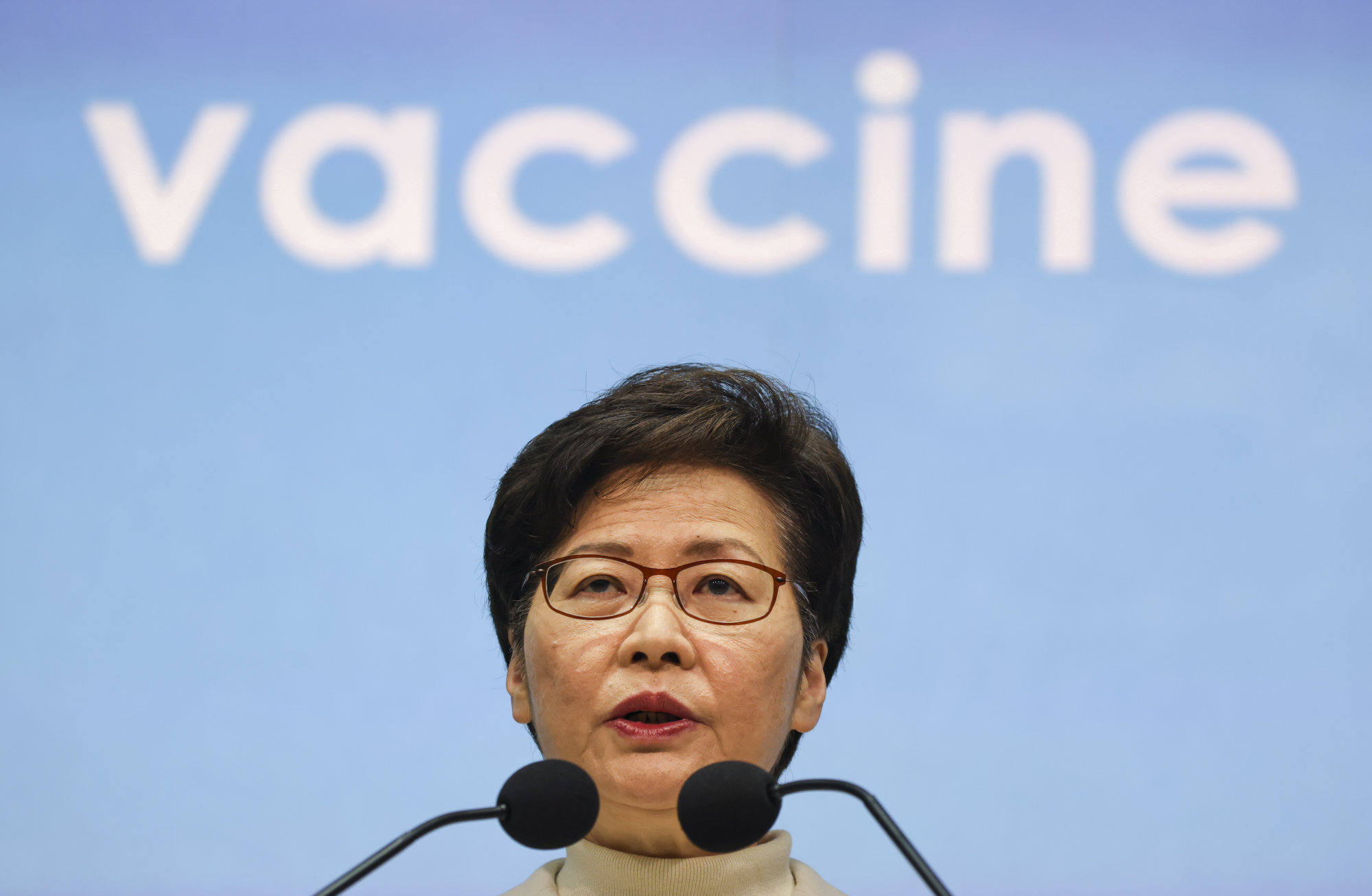 She also revealed ahead of meeting her de facto cabinet that the policy would cover schools. Leisure venues such as libraries and museums will also be subject to the tougher requirements, which will not apply to children aged under 12 or those able to prove they are medically unfit for inoculation.
However, Lam said there were no plans at present to extend the vaccination requirements to private offices and shopping centres, citing the "far-reaching impact" of such steps.
"Whether the policy will apply to staff or all people entering the premises, the government is now examining the operational details of various venues," Lam said, indicating that different rules would apply depending on the type of premises.
For schools, Lam said only principals, teachers and other staff would be covered in the initial stage, with students excluded from the vaccination requirements to avoid introducing too much complexity at the outset.
"We need to discuss with stakeholders to work out the details before announcing the arrangement. But this is a step in the right direction for effectively boosting Hong Kong's vaccination rate," she said.
Lam stressed there were no plans yet to further tighten
social-distancing rules
or suspend school operations in the wake of the Covid-19 threat posed by an emerging Omicron outbreak centred on a
Kowloon Tong restaurant
. She said that so far compulsory testing and other anti-pandemic measures had been effective.
"School suspension will have a very big impact on students especially those from the grass-roots background as they are denied the chance of face-to-face learning. I won't take this decision lightly," she said.
Health minister Sophia Chan Siu-chee previously revealed that the bubble would be expanded before Lunar New Year and had urged people to get vaccinated before joining seasonal gatherings.
But Lam said such a move would come too quickly for affected industries, as well as residents now looking to get their first jab.
"Especially the catering industry, many tables have been reserved, it's hard for them if we say the plan will be implemented in only a few days," she said.
"The government also needs time to solve technical problems to assist such venues in checking citizens' vaccination records in a more convenient way."
She pointed to a recent surge in the number of people getting jabbed, saying 18,000 residents had received their first shot on Monday, a new high in recent months, pushing the city's first-dose vaccination rate to 72.9 per cent.
The Eating Establishment Employees General Union warned that the expanded vaccine bubble plan would harm the catering sector and the livelihoods of employees, with the group urging the government to review the measures' impact on the economy and society.
"This will cause restaurants to suffer business losses. Some diners will cancel banquets because their families or relatives have failed to get jabbed," it warned. "Employers may cut staff due to the reduction in business … This will affect employees' livelihoods."
Democratic Party member Ramon Yuen Hoi-man said there was no current need to expand the vaccine bubble plan since the number of local infections was very small and existing social-distancing rules were already very stringent.
However, Lam said the vaccine bubble was not being expanded to contain the outbreak but aimed at stabilising the pandemic situation to ensure Hong Kong could reconnect with mainland China and the rest of the world.
The city already requires patrons of nightclubs, bars and karaoke parlours to be inoculated for entry. Starting mid-February,
government workers
will also have to show proof of vaccination to enter official buildings.
Lam further announced on Tuesday that all government bureau chiefs would request that staff of the various public organisations falling within their scope, such as the Urban Renewal Authority and the Housing Authority, be made subject to the same entry requirements.
She conceded that an Omicron outbreak tied to the
Moon Palace restaurant
in the Festival Walk shopping centre would inevitably postpone the reopening of the border with mainland China, a scheme which was to be initially limited to Guangdong province.
A total of six confirmed cases, including a preliminary-positive one identified on Monday, are now linked to the Moon Palace restaurant cluster.
The first was detected on December 29 after an infected Cathay Pacific flight attendant – flouting home isolation rules to dine at the restaurant – was found to have exposed others to the variant.
He was one of four infected airline employees revealed to have broken rules governing their exemptions from hotel quarantine to visit locations across the city over the past two weeks.
"I am very unhappy with this rule-flouting behaviour so I summoned Cathay's chairman and managing director to a meeting on December 31 and gave them a dressing down," Lam said. "I demanded they carry out a thorough investigation and take appropriate action."
Cathay earlier chastised the employees for their "extremely disappointing" behaviour and suspended them from duty.
Lam added the government would also study if there were grounds to take legal action against the Cathay staff who violated Covid-19 rules.
"This kind of behaviour was very, very irresponsible," she said, pointing to the 370 or so Hongkongers forced to undergo quarantine and thousands more subjected to regular testing over the festive season.
"There is a huge social cost to this, not to mention the impact on mental health, just because one or two people wanted to dine out or go to a bar for their personal enjoyment."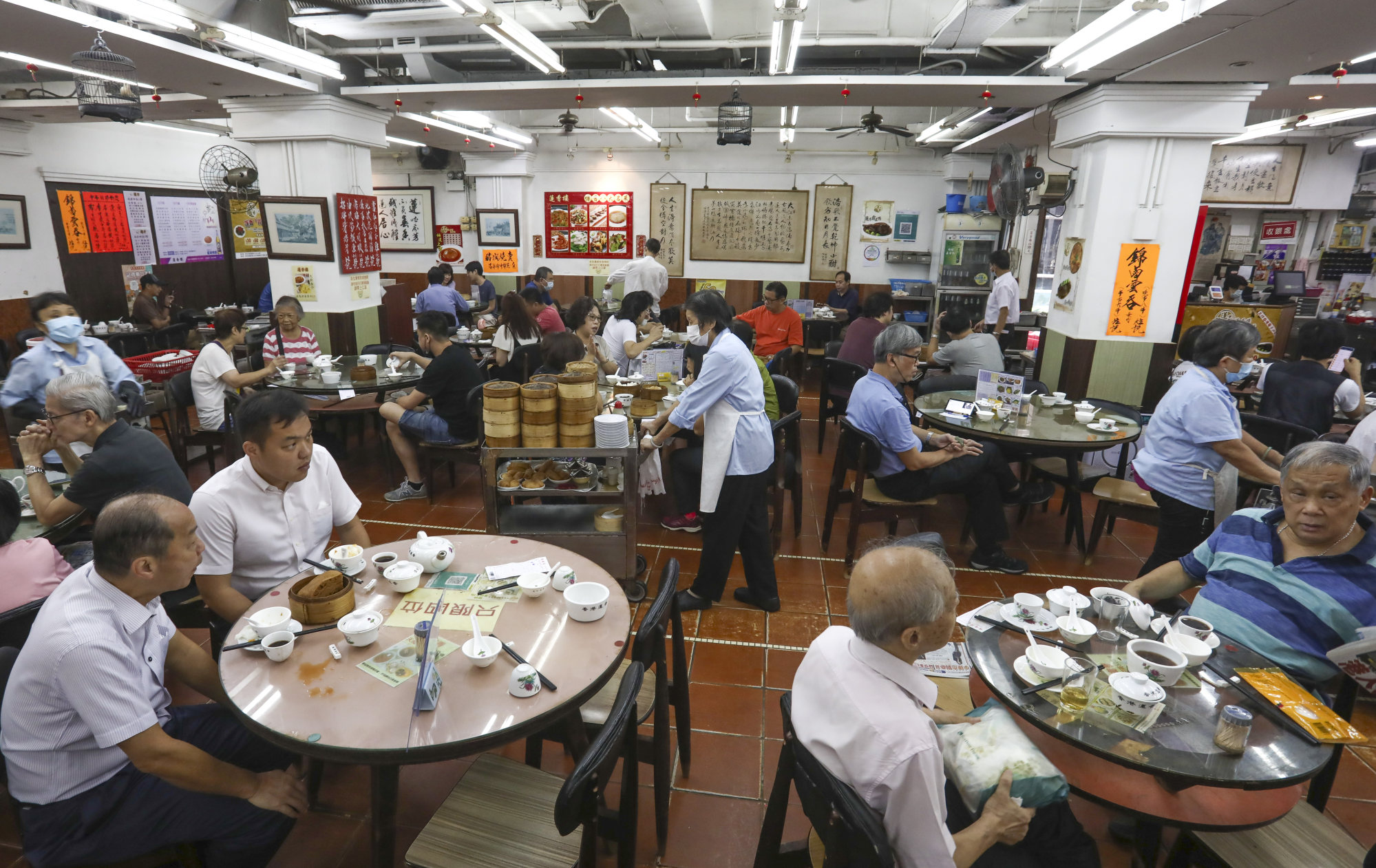 Leung Chun-wah, chairman of the Association for Hong Kong Catering Services Management, said the industry met authorities on Monday and it was agreed the new vaccine bubble measures would be postponed until after Lunar New Year.
"We expect business volume in the industry during Lunar New Year can return to 90 per cent of what we saw before the epidemic," Leung told a radio programme.
"Restaurants have already strictly followed epidemic prevention measures required by the authorities. We believe the restaurant outbreak is an isolated incident."
To help with the checking of diners' vaccination records for the scheme's eventual roll-out, Leung reported that officials told the meeting a new feature could be added to the "Leave Home Safe" risk-notification app.
Such a feature, which the Innovation and Technology Bureau was considering, would clearly show whether someone was vaccinated through the display of a red or green colour code, Leung quoted the authorities as saying.
Additional reporting by Chris Lau