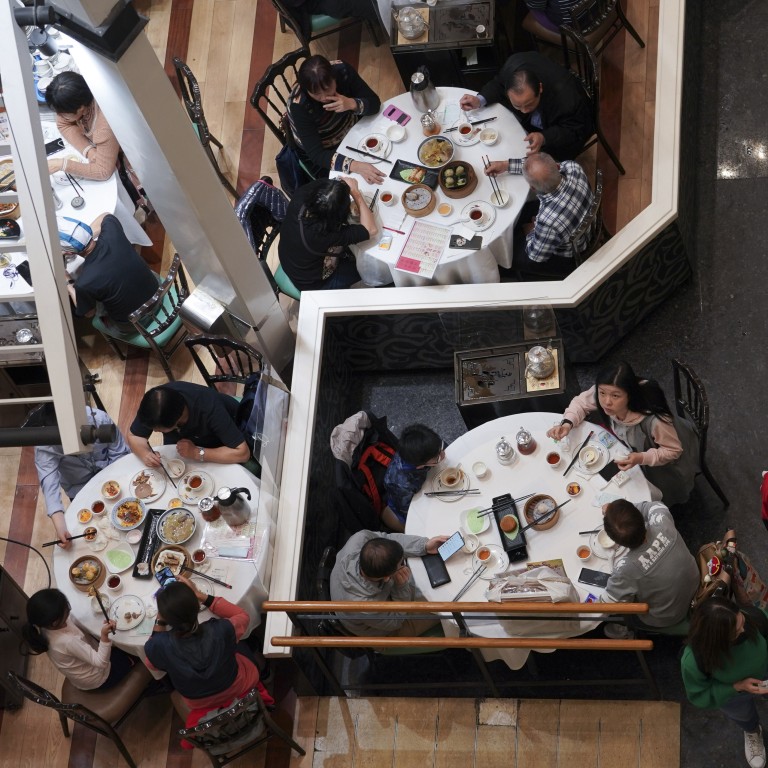 Omicron: bars, gyms, nightclubs to close, 6pm restaurant curfew as Hong Kong ramps up battle against Covid-19 fifth wave
Carrie Lam announces two-week flight ban on countries including the US, Britain and the Philippines, taking effect on Saturday
From Friday, evening dining banned in restaurants, while bars and other leisure venues ordered to close, under tough package of Covid-19 measures fighting fifth wave of infections
This story has been made freely available as a public service to our readers. Please consider supporting SCMP's journalism by
subscribing
.
Key points:
– Dine-in services banned from 6pm to 4.59am the next day; diners per table capped at two in Type B premises, four in Type C and six for Type D
– Fifteen types of specified premises to shut. They are bars and pubs, nightclubs, fitness centres, theme parks, museums, party rooms, beauty parlours, swimming pools, bathhouses, game centres, karaoke rooms, sports premises, Chinese-style gambling establishments for mahjong and tin kau (dominoes), event and performance venues, and cinemas
– Arrivals from eight countries (Australia, Canada, France, India, Pakistan, the Philippines, UK and US), including via transit, banned from returning to the city for two weeks starting Saturday
– All local tours and 'cruises-to-nowhere' suspended
– Public hospital and nursing home visits halted
– New social-distancing measures will start on Friday and remain in effect for 14 days. They will be reviewed in one week
– Hong Kong Jockey Club cancels public admittance to Happy Valley Racecourse on Wednesday
Hong Kong is reimposing some of its toughest Covid-19 social-distancing measures, closing bars and gyms and imposing a 6pm curfew on dine-in services, and banning flights from eight countries as it braces for a fifth wave of infections buoyed by the surge of Omicron.
It stopped short of closing schools for fear of risking students' well-being and sending civil servants to work from home to minimise disruption to government services, Chief Executive Carrie Lam Cheng Yuet-ngor said at a press conference on Wednesday afternoon.
The city had awakened early morning to news of a local outbreak of the coronavirus' Omicron variant worsening, as the emergence of a new cluster resulted in 2,500 cruise passengers having to cut short their trip after being ordered to return to the city for screening.
Two more positive cases were also added to a cluster linked to the Moon Palace restaurant in the Festival Walk shopping centre in Kowloon Tong.
A troubling aspect of the outbreak had been the fear of invisible chains of transmission but by day's end, epidemiological investigations uncovered possible links in the case of an infected Tuen Mun surveyor whose source of Covid-19 infection had been unknown. The discovery has reduced the possibility that uncontrolled spread has occurred.
Although government pandemic advisers had warned a fifth wave of infections had already begun, Lam insisted the city was only "on the verge" of a wider coronavirus outbreak.
"There has been rapid change in the pandemic situation which has caused us to be worried," Lam told the press briefing, saying the measures were vital to prevent imported cases from spreading further in the community and to stop public hospitals from being overloaded with Covid-19 patients.
"We will announce today fast, decisive and precise measures to cut the transmission chains."
Bars and pubs, fitness centres, theme parks, museums, party rooms, beauty parlours, swimming pools are among the 15 types of recreational venue ordered to close for a fortnight from Friday.
Restaurants must also stop offering dine-in services to customers daily from 6pm until 4.59am the following day over that period.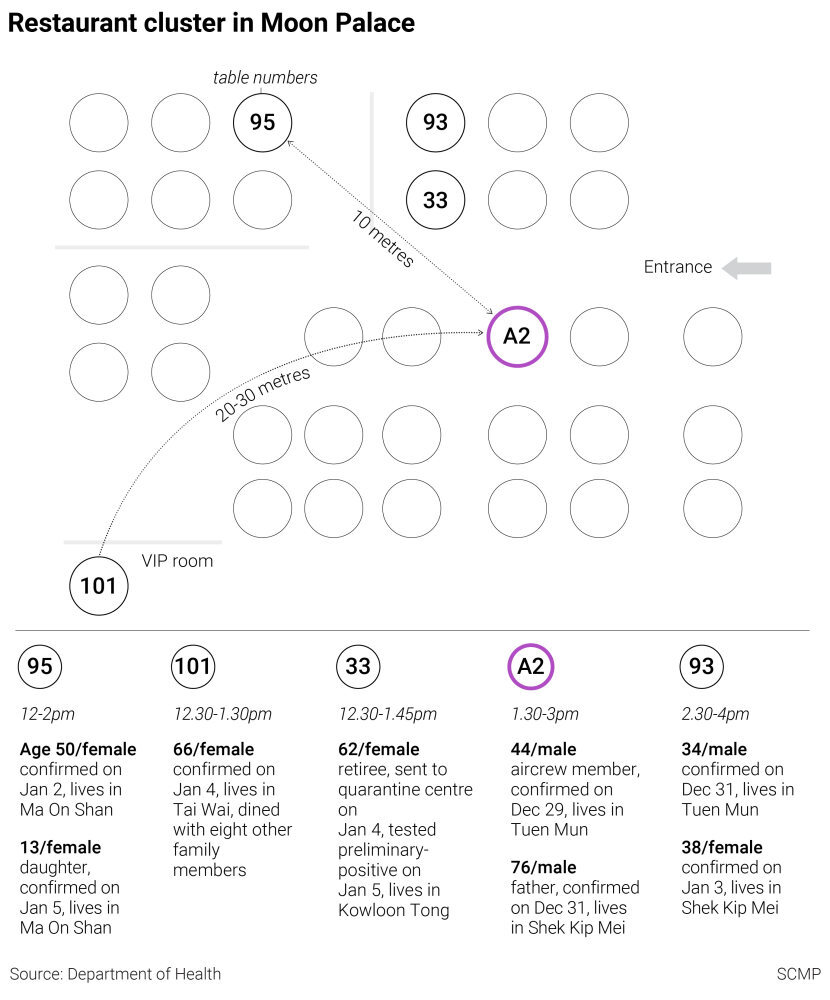 She further ordered a two-week ban on passenger flights from Australia, Britain, Canada, France, India, Pakistan, the Philippines, and the United States, taking effect on Saturday and running until January 21.
Travellers who were in those countries for more than two hours will be barred from returning to the city for two weeks.
Authorities also recently issued two-week bans to several airlines for bringing in too many infected passengers. They include flights from Helsinki by Finnair, Seoul by Korean Air, Istanbul by Turkish Airlines, Amsterdam by KLM, Bangkok by Thai Airways and Frankfurt by Lufthansa.
In a tightening of the vaccine bubble for restaurants, the number of diners allowed per table will be reduced, capped at two for Type B premises, four in Type C and six for Type D. Previously, restaurants could seat up to four, six and 12 people to a table respectively.
Large-scale events such as the Hong Kong Cyclothon will be cancelled along with local tours. There will also be a two-week suspension of "cruises to nowhere" and concerts.
All indoor venues at the West Kowloon Cultural District will also close for a fortnight. The social-distancing rules will be reviewed in a week.
While the government did not revert to the toughest social-distancing rules by suspending face-to-face classes and ordering civil servants to work from home, Lam encouraged businesses to allow staff to do so.
"I would encourage private companies to allow their employees wherever possible to work from home because the ultimate objective is to reduce people flow, reduce congestion of public transport, hence reduce the chance of transmission," she said.
Face-to-face learning would carry on as usual so as not to disrupt the education, physical and mental health of students, Lam added.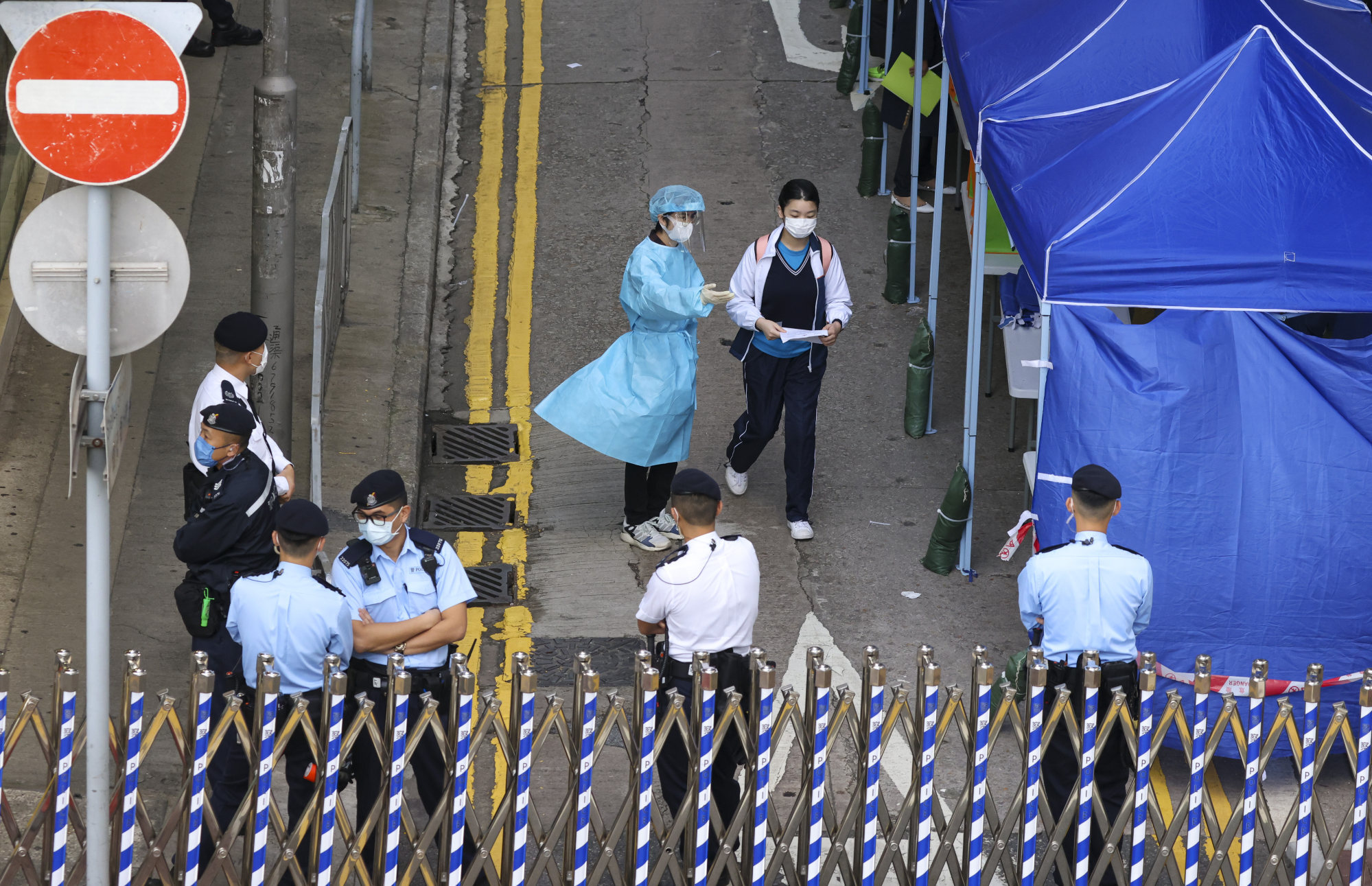 While conceding the local virus situation "would definitely affect" plans for the long-awaited resumption of quarantine-free travel to mainland China, Lam urged people "not to be too worried" as long as the outbreak was quickly stamped out.
Hospital Authority chief Dr Tony Ko Pat-sing warned the number of admissions had risen and that Omicron cases were more infectious and required longer hospitalisation.
"If we have 40 to 50 cases per day, we will be hard-pressed for hospital bed spaces within four or five days," he said.
Speaking before Lam's press conference was announced and declaring that a fifth Covid-19 wave was "technically" under way, microbiologist Professor Yuen Kwok-yung urged officials to consider temporarily closing schools and curbing restaurant hours as more cases emerged.
Fellow government adviser Professor Gabriel Leung, dean of the University of Hong Kong's faculty of medicine, told a radio programme there were "probably five to 10 invisible transmission chains in the community. It's a very alarming situation".
He estimated it would take at least three to six months to fully control the epidemic if a community outbreak occurred.
Authorities should also review quarantine exemption rules and arrange extra officers to monitor those who did not have to undergo mandatory confinement, Leung added.
On Wednesday, authorities confirmed 38 new Covid-19 cases, pushing the official tally to 12,799, with 213 related deaths. Of the latest cases, 34 were imported, three were linked to imported cases and one was classed as local. About 20 preliminary-positive cases were also reported.
The lone local confirmed case was a 42-year-old Tuen Mun patient whose infection was initially suspected to be untraceable as he had no known links to the Moon Palace cluster.
The man, a surveyor who works in North Point, had been to more than 20 eateries and took a staycation at the Hyatt Centric Victoria Harbour hotel in that district. Forty of his colleagues were identified as close contacts and will be quarantined.
His case has been linked to a potential new cluster, which health authorities are also scrambling to contain, tied to a flight attendant who was confirmed as infected on Sunday after returning from Los Angeles. She carried the N501Y and T478K mutations, which are linked to Omicron.
The flight attendant's 62-year-old unvaccinated mother, a confirmed case, danced with about 20 people in Victoria Park and at a Causeway Bay community centre on New Year's Eve.
Two of the mother's friends also tested preliminary-positive. All three had breakfast at the Six Garden Restaurant in Tin Hau, where the surveyor also ate on New Year's Eve.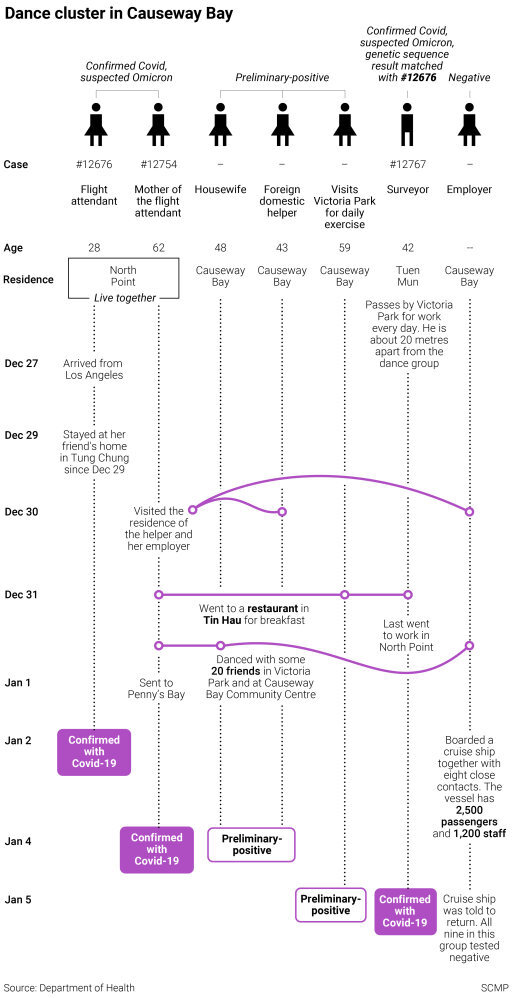 Visiting the restaurant on Wednesday night for an inspection, Yuen said he believed the surveyor was infected by the mother, having sat only one metre apart for roughly 15 minutes.
Yuen also found that the restaurant did not turn on the ventilation system as the kitchen was not busy in the morning, which could have resulted in transmission.
"The finding is important, because it means we have no untraceable cases [involving Omicron]," Yuen said.
The authorities were looking for about 10 customers who ate there at the same time, while restaurant staff would be quarantined.
Another preliminary-positive case is the 43-year-old helper of one of the dancers. Health authorities said about 130 people were at a church she had visited over the weekend and noted the transmission was "quite high" because the helper had a high viral load.
The Centre for Health Protection said the surveyor, who was unvaccinated, passed by Victoria Park every morning before work, where the dance group was but they were around 20 metres apart and wearing masks.
But Yuen said he believed this transmission route was very unlikely. Genetic sequencing showed the surveyor's preliminary results matched those of the flight attendant.
Authorities pinpointed 26 "high-risk" places infected patients had visited, and urged people who had been at them to get tested as soon as possible.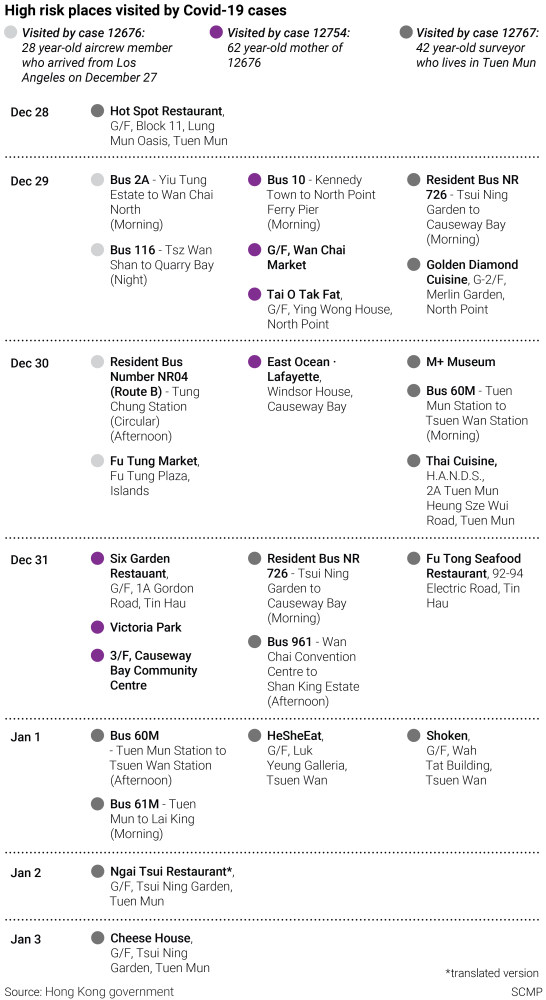 The helper's employer was part of the dance group and boarded the Spectrum of the Seas
"cruise to nowhere"
on Sunday. The ship was forced to return to harbour on Wednesday – a day earlier than scheduled – after nine passengers, including the employer, were identified as close contacts.
The 13-year-old daughter of an infected Moon Palace diner was also confirmed as infected. The restaurant cluster has now grown to seven confirmed infections and a new preliminary-positive case – a retired woman, 62, who lives in Yau Yat Tsuen.
Hong Kong's
fourth coronavirus wave
was sparked by a cluster linked to dancing and singing venues. It began in mid-November and was said to have ended in late May after the city had gone without recording any local infections for 28 days.
Additional reporting by Jack Tsang and Christy Leung