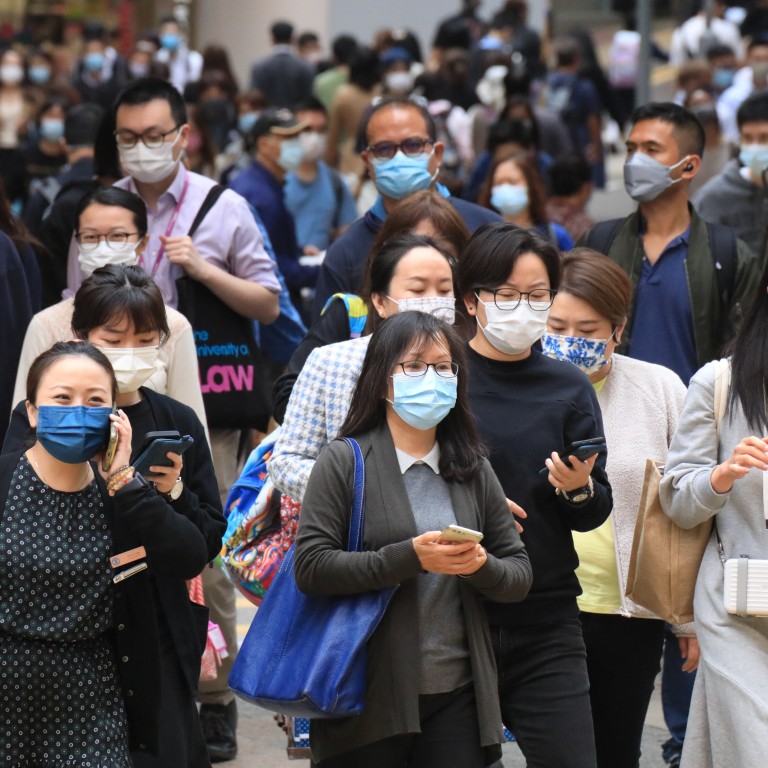 Omicron: Hong Kong confirms first local untraceable coronavirus case in 3 months as health expert calls for suspending in-person classes and expanding work-from-home
The case involves a goods handler who worked in grocery stores in Wan Chai, Causeway Bay, Happy Valley and Tsim Sha Tsui
Separately, scores of people who attended infamous birthday party spared quarantine after suspected case turns out to be false alarm
Hong Kong's growing Omicron outbreak took a worrying turn on Saturday as officials confirmed the first local untraceable
Covid-19
case in three months, involving a goods handler who criss-crossed the city as she carried out her job.
The development prompted a medical expert to call for the suspension of in-person classes and mandating work from home arrangements, while another specialist warned of a "tsunami" of cases.
But fears of an explosion of infections tied to a birthday bash attended by a who's who of the political establishment eased after a woman who was suspected to be infected was revealed as a false positive case, sparing 80 from quarantine.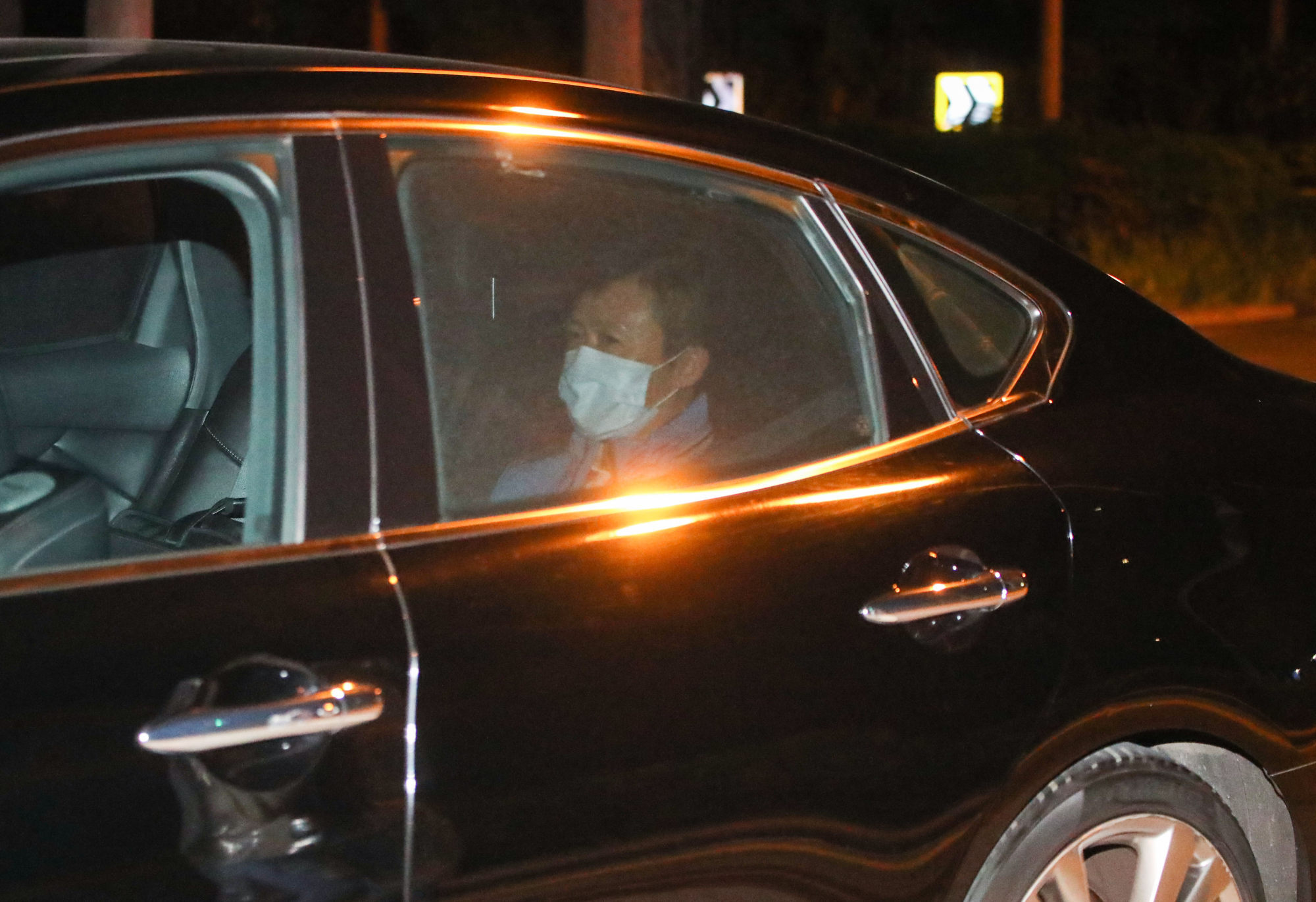 The goods worker, 58, usually stopped by each store for a few minutes to check inventory and last went to work on Thursday, according to Dr Chuang Shuk-kwan, head of the Centre for Health Protection's communicable disease branch.
The woman visited branches of Mannings, Marketplace, Watsons, ParknShop, Wellcome and U Select, among others, in Wan Chai, Causeway Bay, Happy Valley and Tsim Sha Tsui. She had a relatively high viral load and was suspected to be infected with Omicron.
"We still haven't found any overlap in place or time with our other cases," Chuang said. "[But] the community is at risk, because she went to many places even though only for a short while and while wearing a mask."
The case was the city's first unlinked infection since October 8 last year, when a 48-year-old airport worker was diagnosed. A 42-year-old surveyor who was believed to be an untraceable case earlier this week was later linked to a cluster involving diners at a restaurant in Tin Hau.
Respiratory medicine specialist Dr Leung Chi-chiu said drastic action such as suspending in-person classes and mandating working at home was needed not just for direct Covid-19 control but also to "convey to our citizens the direly needed sense of crisis" and to "mobilise all to save our city from a devastating Omicron outbreak".
"We need to act before it is too late" he told the Post.
But Chuang said decisions such as suspending in-person learning would be taken by the relevant authorities.
"School suspension is not just a public health consideration but involves other considerations as well," she said.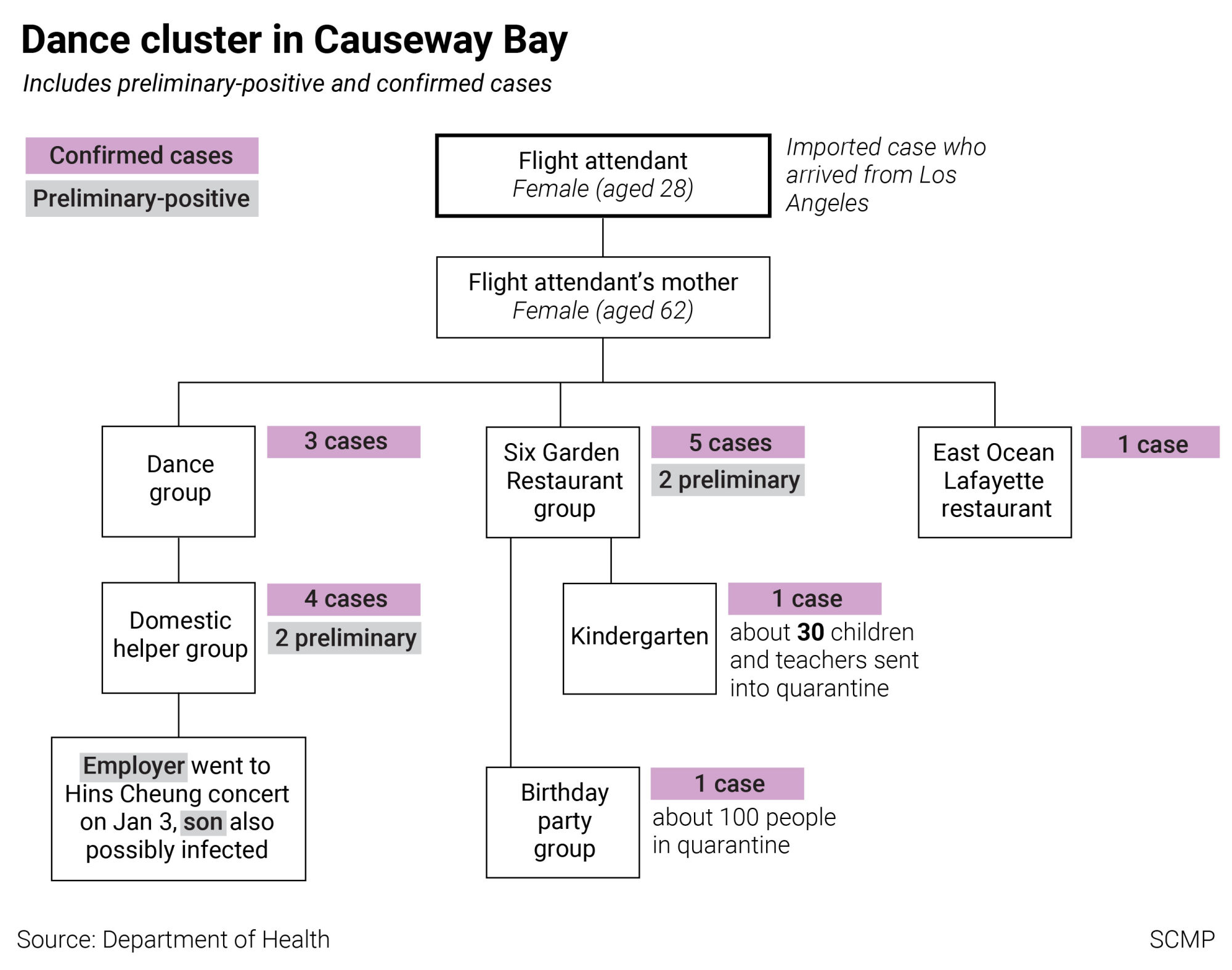 Professor Lau Yu-lung, a government scientific adviser, also warned of a wave of cases with the intensity of a "tsunami", while separate research conducted by Chinese University estimated that 250,000 people could be infected with Omicron if there was a sharp jump in the number of local cases and social-distancing measures were not tightened.
But Professor David Hui Shu-cheong said further tightening of preventive measures should wait until a full genome analysis of the untraceable case was carried out to determine whether the patient could be linked to other recent cases.
A total of 37 coronavirus infections were confirmed on Saturday, 30 of them imported and seven locally transmitted, including the untraceable one.
More than 30 people also tested preliminary-positive, including four tied to an imported case involving a flight attendant, whose mother, 62, infected a group of people she danced with in Causeway Bay. She dined out with a member of the group and a friend who passed on the infection to her daughter. The daughter then attended the birthday party.
One of the preliminary cases involved a person who went to a concert by Canto-pop singer Hins Cheung on January 3 at the Hong Kong Coliseum.
Overnight lockdowns and mandatory testing orders were also issued for residents at Tower 1 of Jupiter Terrace in Causeway Bay and Block B of Flora Garden in North Point and at Shun Yat House in Yat Tung (II) Estate in Tung Chung following the detection of preliminary-positive cases there.
The city's confirmed infection tally stood at 12,902, with 213 related deaths.
Saturday's unfortunate first came as up to 80 politicians and partygoers who attended the now-infamous birthday bash were spared lengthy stints in quarantine after a top Hong Kong medical expert determined that the preliminary-positive coronavirus infection involving RTHK presenter Joyce Yeung was a false alarm.
Among those allowed to leave isolation were Police Commissioner Raymond Siu Chak-yee, Secretary for Financial Services and the Treasury Christopher Hui Ching-yu and Independent Commission Against Corruption Commissioner Simon Peh Yun-lu.
Leading microbiologist Professor Yuen Kwok-yung inspected the Central clinic of Dr Daniel Chu Wai-sing, Yeung's husband, after Chu voiced suspicions that she tested positive only because her sample was contaminated.
Yeung's mistaken diagnosis after attending the 53rd birthday party of Witman Hung Wai-man, a city delegate to the National People's Congress, was the reason for about 80 of the 180 guests that night being identified as close contacts and ordered into quarantine.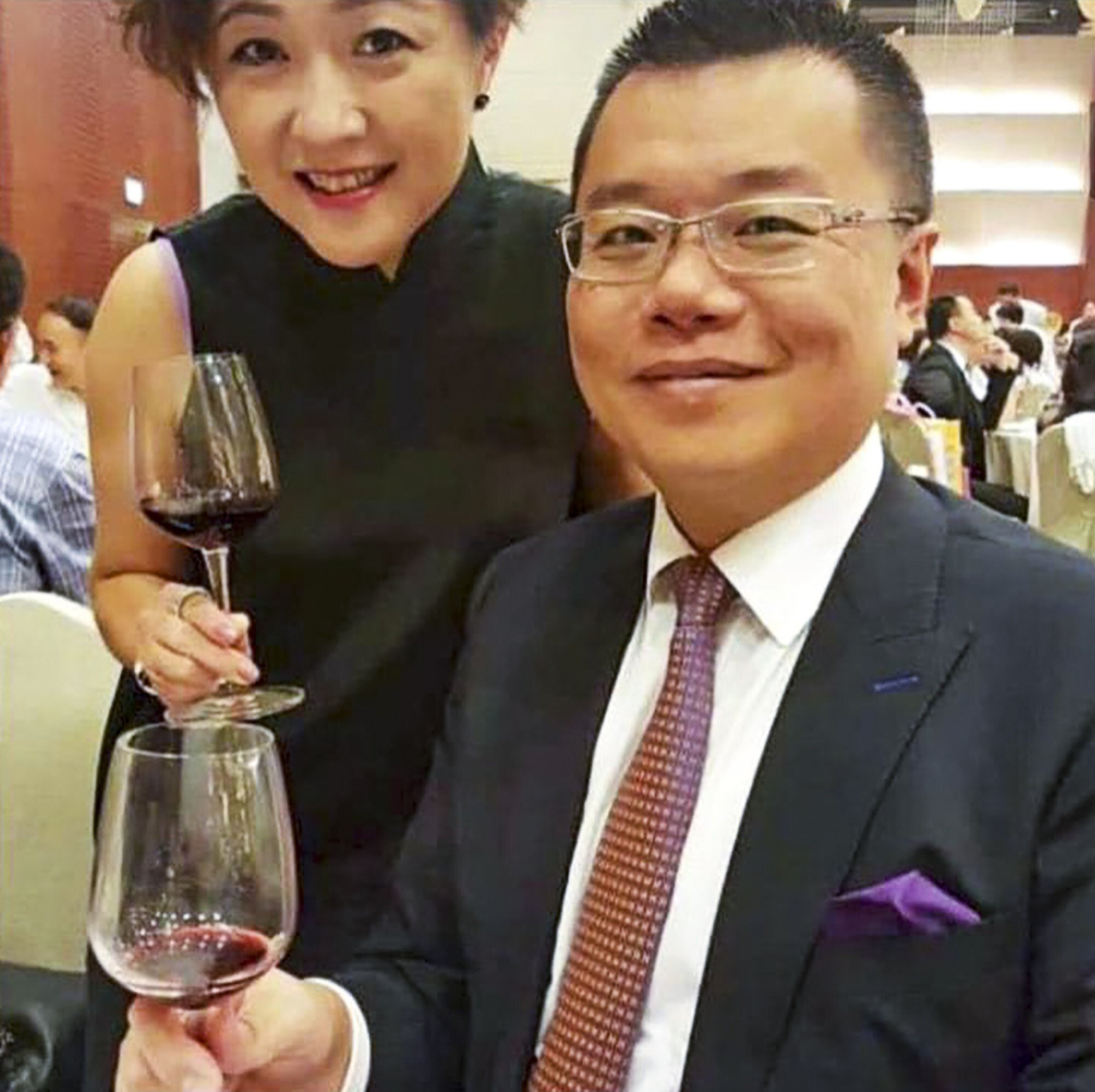 The guests included 13 government officials and 20 lawmakers. The other 100 in attendance, including home affairs chief Caspar Tsui Ying-wai and immigration boss Au Ka-wang, will still need to undergo 21 days of quarantine as they were deemed close contacts of another attendee whose coronavirus infection had already been confirmed.
Yuen told reporters after the inspection that the false positive sample bore no N501Y and L452R strains, which were prevalent in recent cases in the city, but instead contained traces of the D614D mutation, which could come from the inactivated viral fragments used in the Sinovac vaccine.
Further investigation revealed that Chu hastily took samples from his wife in a toilet in a diagnostic laboratory using a testing kit brought from his clinic two days ago, when he had administered the vaccine to 13 people.
This, together with Yeung's two negative PCR test results and the fact she showed no signs of an acute infection in blood and lung screenings, led Yuen to believe that the earlier positive result was due to contamination.
"Even though the doctor cleaned his hands before and after administering the vaccine, it is hard to avoid a spillage … as the environment is not sterilised until the next morning," Yuen said, adding he would take more environmental samples from the scene to verify his theory.
The confirmed patient at the birthday party was 37-year-old Celia Wong, a member of the Chinese Manufacturers' Association's youth committee, who arrived at 9.30pm. The discovery of her infection triggered quarantine orders for all partygoers who were present after that point, with similar orders issued to the rest of the group after Yeung was mistakenly identified as preliminary-positive.
Wong's 59-year-old mother, who was confirmed as infected on Thursday, has been linked to a growing cluster of Omicron cases originating from an infected flight attendant.
The revocation of the quarantine order could mean the released officials resume their duties as early as Saturday night. City leader Carrie Lam Cheng Yuet-ngor had ordered them to use their leave for the quarantine and for their deputies or other officials to take over their duties for the duration of their isolation.
The scandal prompted more apologies from officials on Saturday, with Undersecretary for Constitutional and Mainland Affairs Clement Woo Kin-man and political assistants Kathy Siu Ka-yi, to the chief secretary, and Jeff Sze Chun-fai, to the secretary for education, also expressing remorse.
Undersecretary for Innovation and Technology David Chung Wai-keung also apologised, alongside the bureau's political assistant Lilian Cheong Man-lei.
Among other notable cases on Saturday were the preliminary-positive infections of the employer and 13-year-old ward of a foreign domestic helper who lived in Tai Po and was confirmed as positive on Friday.
The employer attended the Hins Cheung concert with her husband, and Chuang said all concert-goers must be screened.
The Hong Kong Coliseum in Hung Hom can accommodate up to 12,000 people. Based on social-distancing rules at the time, the coliseum was allowed to operate at 85 per cent of capacity, with no more than six consecutive seats occupied per row.
Additional reporting by Chris Lau