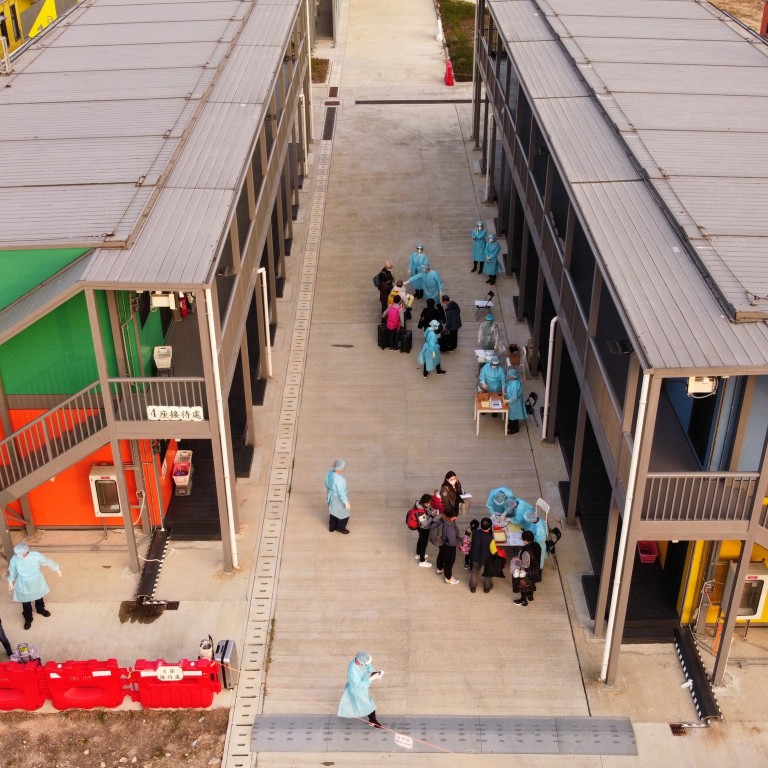 Omicron: Hong Kong shortens quarantine period for Covid-19 close contacts to 14 days to ease strain on capacity
Officials say capacity and public health reasons justify move but change will not apply to incoming travellers
Government source says policy was not extended to arrivals because local outbreak is driven by Omicron while globally Delta and other variants are still 'out there'
Hong Kong has cut its lengthiest quarantine period for close contacts of
Covid-19
patients from 21 days to 14 to ease the strain on facilities amid a widening outbreak of the Omicron variant.
Health officials announced the change of policy, which took effect starting with Monday's cases, hours after government pandemic advisers had questioned the need for three weeks' quarantine given the highly transmissible variant's shorter incubation period. The shorter quarantine, however, was not extended to arrivals.
Authorities also confirmed 24 new coronavirus infections, and uncovered a possible cause for the city's second untraceable Omicron case – a link to an infected Cathay Pacific flight attendant.
An expanding cluster with branches tied to a set of dancers and a group of domestic helpers grew by two cases and one respectively. A new branch may also have emerged centred on investment bank Citic Securities, which now has five cases in total including a 63-year-old male employee.
Dr Chuang Shuk-kwan, head of the Centre for Health Protection's communicable disease branch, suggested there was an outbreak at the bank.
"At least three employees and one visitor tested positive," she said, referring to the man, two of his colleagues and a friend, 71, who visited him at the office.
A 16-year-old family member of the friend was also preliminary-positive. The teenager studies at St Francis' Canossian College.
Revealing the new quarantine policy, Chuang, meanwhile, said capacity and public health reasons justified the move.
"We have seen many more confirmed cases lately and therefore many more close contacts, putting pressure on the capacity of quarantine centres. We also considered the fact that the incubation period for Omicron is quite short, within 14 days for most local and imported cases we have seen in Hong Kong," Chuang told a press briefing.
A government source said the policy was not extended to arrivals because the local outbreak was driven by Omicron while globally Delta and other variants were still "out there".
"The priority right now is to contain the local outbreak while maintaining stringent border controls," the source said.
Authorities last week sent more than 350 people to quarantine, as the dance cluster originating from an infected flight attendant expanded into several smaller groups, including a now-infamous birthday party attended by a host of senior officials, a community of churchgoing domestic helpers, and patrons in two restaurants.
The guest list at the 53rd birthday bash of Witman Hung Wai-man, a local delegate to the national legislature, continued to grow, with officials on Monday revealing they had traced 214 attendees, despite being given a list of only 170 initially.
Under the new policy, close contacts of patients infected with variants will undergo two weeks of isolation at the government site at Penny's Bay, and monitor their own health for another week, as well as take a test at a community centre on the 19th day.
The option for self-monitoring in the third week was previously reserved for those who had been vaccinated and cleared blood and PCR tests, but will now become available to all.
Nineteen of Monday's confirmed infections were imported and the other five locally transmitted. The sole untraceable case was a part-time saleswoman, 20, at Sogo department store in Causeway Bay.
Authorities said the woman, who lived at the Aegean Coast residential complex in Tuen Mun, also worked at her family's pharmacy in a shopping centre in the district's On Ting Estate, which the infected Cathay flight attendant visited at around 8pm on December 27.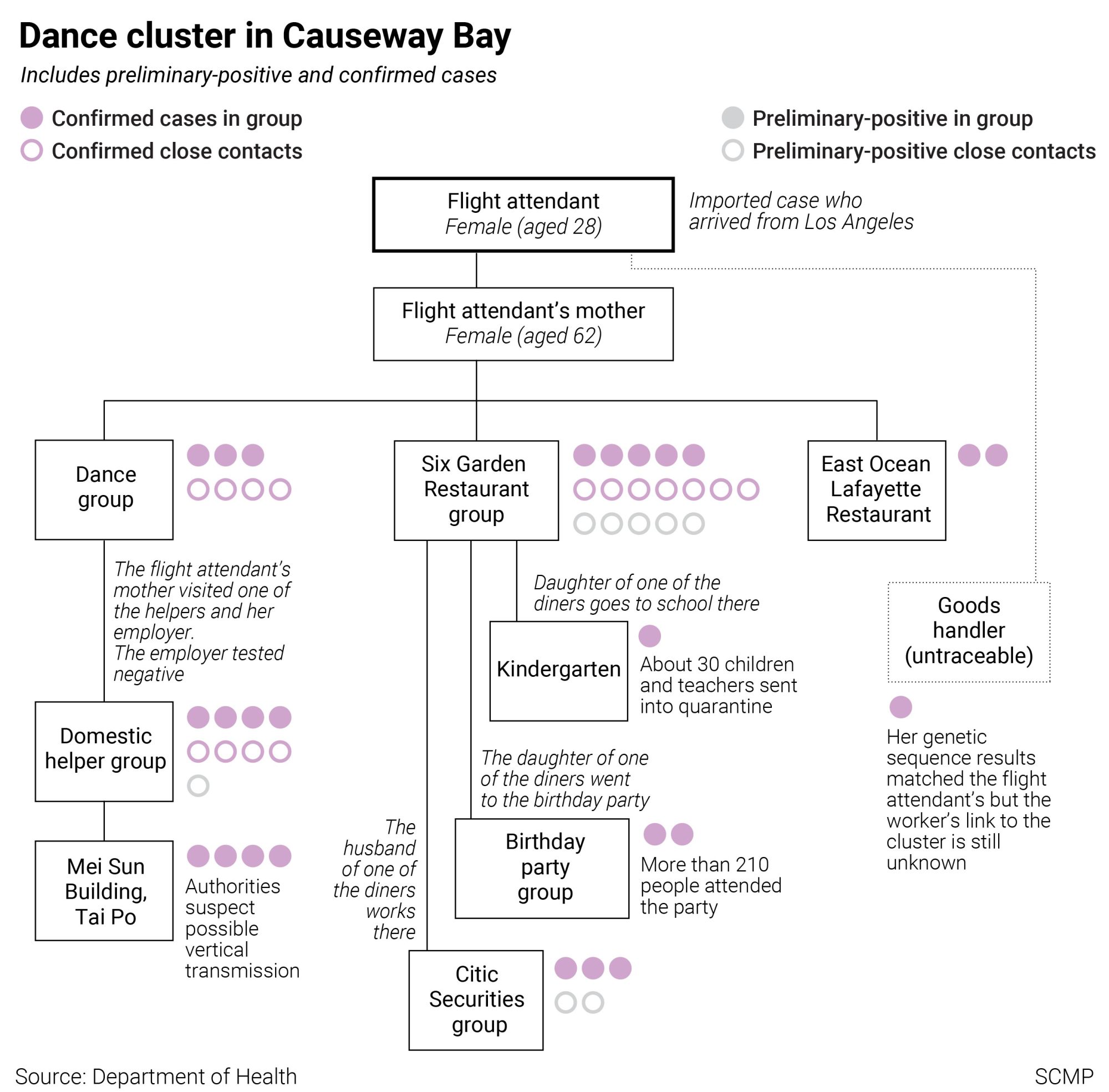 "It is possible their infections are linked, but we have to wait for more information from genome sequencing analysis," Chuang said.
Her father, who works in the shop, tested preliminary-positive on Monday after being sent to quarantine earlier, and had developed a fever and cough on January 1.
Chuang added that anyone who had visited the Tuen Mun mall since December 27 would have to undergo mandatory testing.
Fewer than 20 preliminary-positive cases were reported on Monday and all were discovered in people already in quarantine or hospital, Chuang said. They were family members or close contacts of recent patients, and included a surveyor who works at a Wan Chai construction site on Expo Drive East, a saleswoman at the male section of the Landmark's Dior store, an employee of accountancy firm KPMG and a Citic Securities staff member.
One of the preliminary-positive cases triggered an overnight lockdown and mandatory testing of residents at 5-7 Nassau Street, Mei Foo Sun Chuen Phase 5, Lai Chi Kok.
The latest confirmed cases brought the city's infection tally to 12,959, with 213 related deaths.
Ahead of the policy change, leading microbiologist Professor Yuen Kwok-yung had said Omicron had a shorter incubation period so a 21-day stint in quarantine was "not that necessary".
"The chance of identifying a confirmed case between days 14 and 21 is very low," the top government adviser told a radio programme.
Yuen had suggested people would have to wear an electronic tracking wristband when leaving for grocery shopping and Covid-19 testing during their home observation period. But his proposal of extending this to arrivals was not adopted.
"I know that the authorities are examining the suggestion and dealing with logistics and other issues. We hope it works so more slots at the quarantine centres can be released," Yuen said.
Professor David Hui Shu-cheong, a respiratory medicine expert from Chinese University, told the Post the advisers were only asked for their views on changes for close contacts. He said he did not want to speculate on why officials did not consult them on changing the policy for arrivals too, but that he would support such a move as imported cases also showed a shorter incubation period.
He also suggested more hotels could be used to quarantine close contacts. "If the hotels can improve ventilation by using high-efficiency air purifiers, they can be a replacement after the Penny's Bay quarantine centre is full," Hui said.
Only 471 units at the government-run centre, or 35 per cent of its capacity, remain available after a spate of local cases led to more close contacts being sent there.
In a press conference on Friday, Centre for Health Protection controller Dr Edwin Tsui Lok-kin said the city had enough quarantine facilities to accommodate the growing cluster.
Apart from Penny's Bay, there were also rooms on standby at a holiday camp, a hotel and a recreation centre, and only about a quarter of the city's total of 4,600 spots in quarantine facilities were full, he added.
Both Yuen and Hui said it would be necessary to tighten social-distancing rules if more silent transmission chains were identified in the community.
"If there is a confirmed case in a school, classes should be suspended," Yuen said, adding that he was worried the ventilation systems in schools were not up to standard and would create potential risks.
Hui suggested authorities consider allowing students to take a longer Lunar New Year break and for civil servants to work from home, while capping the diners allowed at restaurant tables to two.
Local station Now TV on Monday was forced to disavow online rumours that it had reported schools would start their holiday next week.
Meanwhile, Secretary for the Civil Service Patrick Nip Tak-kuen told a radio programme that walk-ins for same-day vaccinations would only be available for residents aged 60 and up from Tuesday.
The number of general outpatient clinics offering the Chinese-made Sinovac vaccine will also increase from two to 24 starting from January 21.
Separately, the government announced Uzbekistan would be added to its list of Group A high-risk countries from January 13, meaning only fully vaccinated residents would be allowed in under a 21-day hotel quarantine rule.