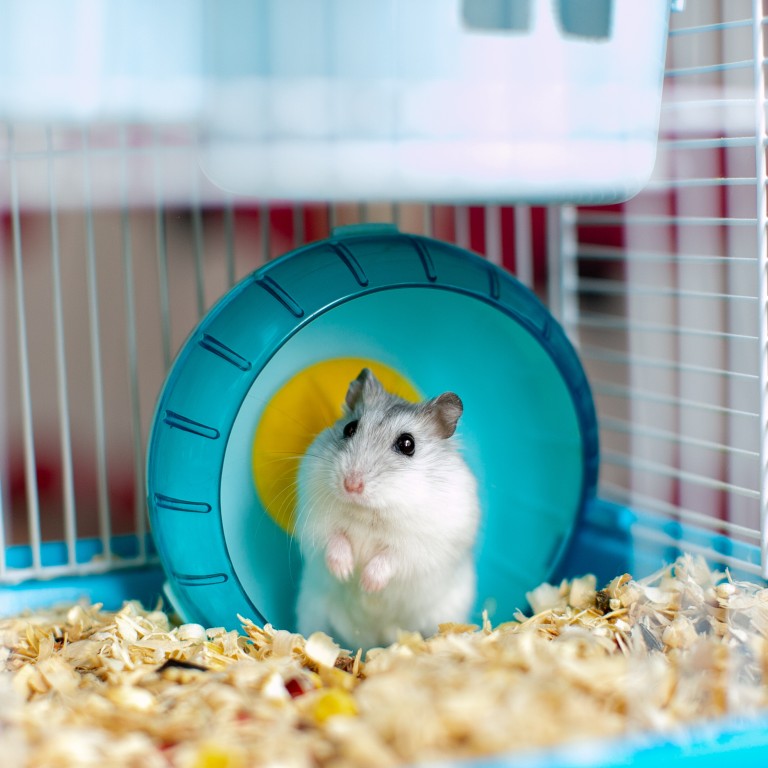 Quarantine or cull? Let hamsters live, say vets citing Hong Kong study that finds they stop shedding virus after 6 days
Findings by team from University of Hong Kong's medical school show golden hamsters stop shedding the virus through respiratory secretions after six days of isolation
Author of study says, however, that findings are not totally applicable in the real-world setting as experiments showed the viral load decreased but was not entirely gone
Veterinary surgeons in Hong Kong are urging the government to stop culling hamsters and quarantine them instead, but an author of the study they cited to back their call has said the findings are not totally applicable in the real-world setting.
The research cited is an article by a team from the medical school of the University of Hong Kong (HKU), published in scientific journal Nature in 2020, which found that golden hamsters would stop shedding the virus through respiratory secretions after six days of isolation.
Dr Nicole Wyre, a specialist in avian and exotic companion mammals at Zodiac Pet and Exotic Hospital, a local private clinic, said the study provided a strong case against the mass culling of hamsters.
"So anyone who has a hamster in their homes for more than six days – if it has not been exposed to a new hamster and it hasn't been exposed to a human with Covid-19, then they are not going to get Covid from their hamsters," she said.
"But if you did a PCR test on their faeces, it could come up positive, but they are not infectious any more."
On Tuesday, the Agriculture, Fisheries and Conservation Department (AFCD) made the call to
cull about 2,000 hamsters
that were imported in two batches from the Netherlands since December 22 after 11 samples taken from hamsters in a Causeway Bay pet store came back positive.
A worker at a pet shop that sold hamsters in Causeway Bay had contracted Covid-19 and remains an untraceable case. The tally of confirmed cases in the pet shop cluster had grown to eight people as of Friday.
Pandemic advisers say there is strong evidence suggesting animal-to-human transmission, supporting the decision to cull the rodents.
Pet owners were told to
turn over hamsters
that were bought after December 22, while all pet stores that sold the animals across the city were temporarily shut down and about 150 customers had to quarantine.
The decision caused an uproar among animal lovers, some of whom stopped pet owners from handing over their hamsters outside the department's facility.
As of Friday noon, more than 1,500 hamsters and nearly 300 small animals including rabbits, chinchillas and guinea pigs had been culled. Sixty eight hamsters surrendered were yet to be tested and euthanised.
Wyre noted that hamsters in pet shops and warehouses might have a prolonged period of infection because they were not isolated there, but as long as they were quarantined from now on for six days, it would be safe for the owners to take them back.
"I know [the government] had a safe place to quarantine cats and dogs whose owners were infected with Covid-19. My hope is that they can adapt that facility to house the hamsters."
The Hong Kong Veterinary Association also cited the six-day communicable period for hamsters in its statement, appealing to the government to test and quarantine them.
Dr Zoltan Szabo, a specialist in zoological medicine, exotic companion mammals and birds at another pet clinic, Exotic Services at Concordia Pet Care, agreed.
"If [owners] don't want to hand over the newly bought hamster, they must keep it in total isolation for at least a week. There should be zero interaction with humans and other animals," he said.
"Then after a week, the cage should be totally disinfected while wearing personal protective equipment."
However, Professor Leo Poon Lit-man, of the HKU's school of public health and one of the authors of the article, said his experiment might not be applicable outside the laboratory.
"Our data showed that the viral load decreased but not entirely gone. And the number of hamsters in our experiment was only a few. We do not know whether there is a longer period of spreading the virus among a larger group of hamsters," he said.
"For the hamsters out there, they have different origins and species. They may have slight differences that we are unable to know."
He suggested people hand over the hamsters to ensure the safety of the public.
Professor Nikolaus Osterrieder, dean of the college of veterinary medicine and life sciences at City University, also said the study might not be reliable.
"One cannot be so categorical with respect to virus shedding. After experimental infection, the virus is detectable for more than seven days. Loads are getting low, but viruses are still there," he said.
He added that while culling of hamsters from the warehouse and pet shops, which had cross-transmissions with one another, might be inevitable, the government should consider letting the hamsters that already had an owner undergo isolation in households.