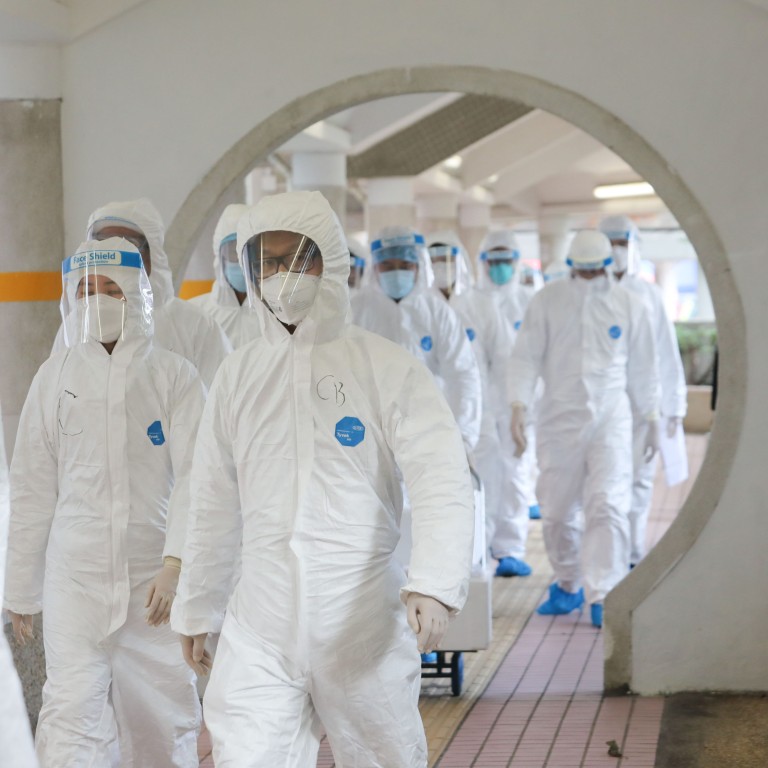 Omicron: fresh cases at locked-down Hong Kong housing estate raises fears of cross-infection
Health authorities confirm 58 new infections in several towers at Kwai Chung Estate
Infected family points to crowded lifts and long waits while lining up for tests
Fears that residents locked down at a public housing estate in Hong Kong are passing
Covid-19
to each other intensified on Wednesday as 58 more cases emerged across several towers, although officials have stressed infections were falling in the hardest-hit block.
Even as health authorities maintained that the Omicron outbreak at Kwai Chung Estate was largely under control, they extended the lockdown order for Ying Kwai House, until Saturday, meaning some residents would have spent more than a week mostly confined to their flats when the operation ends. So far, 334 infections including preliminary cases have been recorded in 12 of the 16 blocks.
"There is a downward trend of infection at Yat Kwai House, while further observation is needed at Ying Kwai House, and no significant increases in cases have been noted in other blocks," said Dr Chuang Shuk-kwan, head of the communicable disease branch of the Centre for Health Protection (CHP).
"But as there are many people in Kwai Chung Estate, as well as their close contacts, by the time we have identified any infections, the virus has spread through a few generations."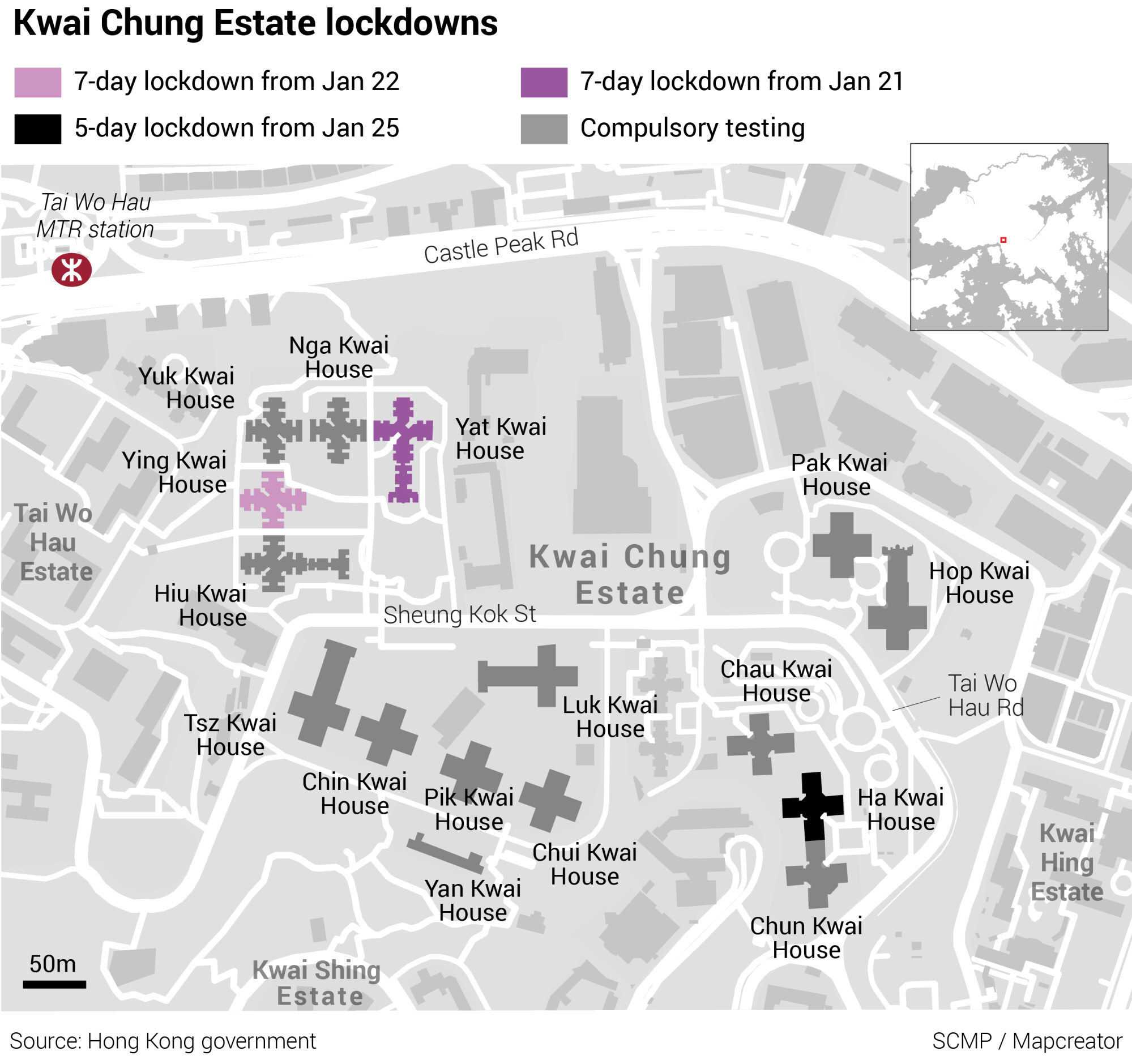 Hong Kong logged 107 new infections on Wednesday, all but seven of which were locally transmitted.
Roughly 130 preliminary-positive cases were also reported, including about 40 infected people who arrived via Nepal Airlines flight 409 from Kathmandu and Emirates flight 384 from Dubai via Bangkok.
Seven of the latest cases were untraceable, including an occupational therapist working under SAHK, a non-governmental organisation serving people who are physically or mentally disabled.
Forty-five more infections, including preliminary cases, were uncovered at Yat Kwai House and eight more at Ying Kwai House, the first two towers placed under lockdown.
A resident of the latter tower who tested preliminary-positive on Tuesday morning told the Post she and her infected youngest son still had not been sent to hospital by 3pm on Wednesday – 35 hours after receiving an SMS message with the results.
They have both developed symptoms such as coughing and fever. She said she could only take painkillers to relieve her symptoms.
The woman said officials told the family to stay at home and not to go out for testing, but she was still worried about the risk of transmission in her home because her husband and two older sons were not infected.
She said she had isolated herself and her infected son in a bedroom, but the family still needed to share the same bathroom.
"Officials gave me multiple calls at 5pm [on Tuesday] and told me I will be sent to hospital and my husband and sons to Penny's Bay [quarantine centre] … But we still do not know when we can leave our home," she said. "They said they were arranging it for us, and said it was manpower issues."
Other residents under lockdown have complained about unattended rubbish, crowded lift lobbies and long wait times for Covid-19 testing, as well as delayed food deliveries.
The Housing Department said it had already assigned 200 employees to Yat Kwai House to supply meals, handle security and work the hotlines.
In Tsuen Wan, five employees at an AEON store tested positive for the virus, including two who live at Yat Kwai House, while another patron at the Seasons Cafe in the Kwai Chung Shopping Centre, where many residents of the public housing estate eat, was also confirmed to be infected.
Dr Wilson Lam, vice-president of Hong Kong Society For Infectious Diseases, agreed there was a risk of people getting infected in the enclosed buildings at the housing estate and airborne transmission could occur in a cramped environment.
"Although we are not sure of the risks yet, we cannot rule out that transmission might have happened when residents used the lift as the virus is airborne at close range. It's also rare to see residents wearing two masks to reduce the risks," he said.
But respiratory disease specialist Dr Leung Chi-chiu said the possibility of lift transmissions was not clear yet, and further monitoring was necessary over the next few days.
"If there's no definite declining trend [in the number of cases], then there's a genuine concern that there can be sustained transmission inside the building," said Leung, who proposed designating one lift for those who had tested positive.
Leung said that while the incubation period for most Omicron cases was about three days, some were still detected after that and even beyond 14 days.
Mickey Yan Wai-kiu, chairman and managing director of Li Hing Holdings, said the company was one of the new operators in charge of cleaning at 10 blocks, after workers from a previous firm were either infected or sent to quarantine.
Yan said accumulated rubbish from these blocks, including Yat Kwai and Ying Kwai houses, had been cleared the previous night. Workers would continue to remove trash once during the day and once at night, he added.
He said 46 full-time employees now worked during the day and 40 at night, and they would help to enhance disinfection in building lobbies and lifts.