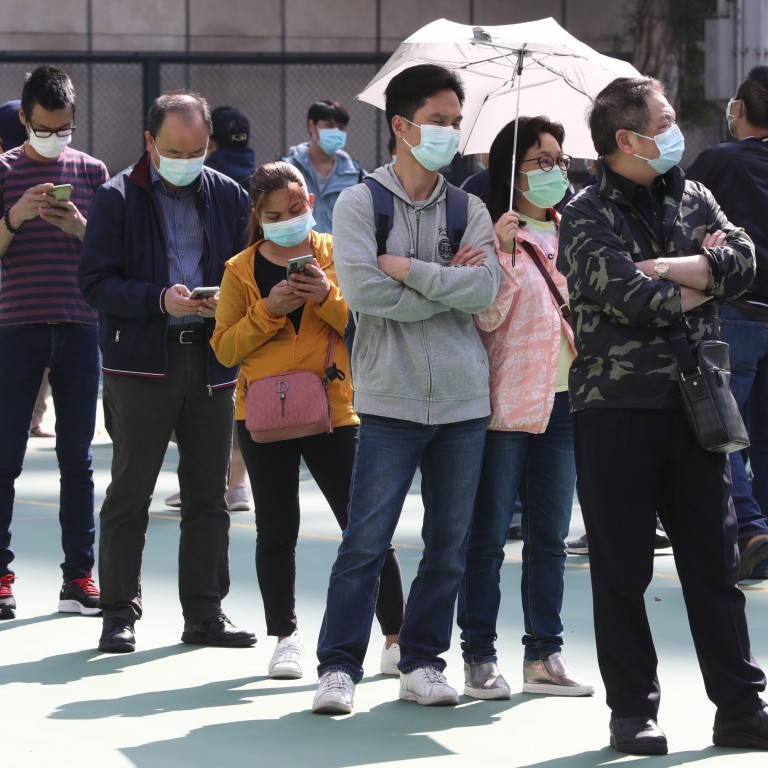 Coronavirus Hong Kong: Carrie Lam confirms universal testing still on the cards, but 'long lead time' needed for roll-out
'We won't do it for the sake of doing it, or do it to fulfil an order [from the chief executive],' Lam said of the testing push. 'It should be done to lead the city out of the pandemic'
She also said heads of the city's private hospitals had pledged to step up their contributions to Hong Kong's anti-epidemic fight
Hong Kong leader Carrie Lam Cheng Yuet-ngor made her first public appearance in two weeks on Wednesday, revealing that the heads of the city's private hospitals had agreed to step up their efforts in the combatting the coronavirus outbreak.
Speaking at a press conference, Lam also gave updates on other aspects of the city's anti-pandemic fight, including a universal testing drive aimed at curbing a raging fifth wave of coronavirus infections. The mass testing was first announced at Lam's last public appearance on February 22.
Wednesday's appearance came after calls by state leader Han Zheng for stronger and more decisive leadership in the health crisis, and signalled an expansion of Lam's role in communicating pandemic-related messages to the public.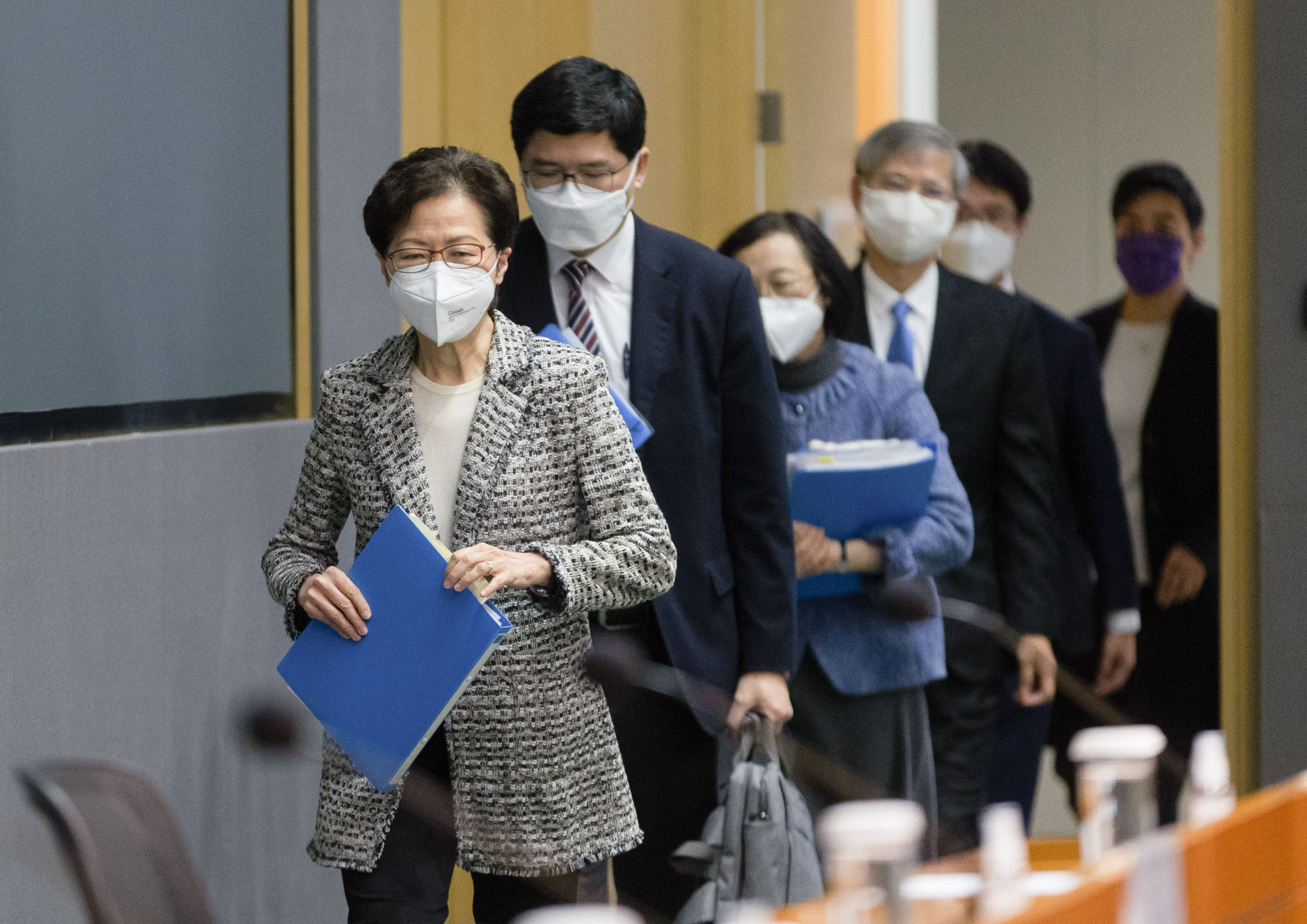 Is 'zero-Covid' still the goal?
Lam said that debates over whether the city had decided "live with the virus" instead of pursuing its long-held "dynamic zero-infection" goal were now irrelevant, but insisted the government would never stop aggressively fighting the pandemic, even as cases continued to surge, adding that "every life matters".
"At this stage, it is meaningless to argue whether we are adopting a 'living with virus' or 'zero-Covid' approach, but I can tell you with 100 per cent certainty that the Hong Kong government will never adopt the so-called 'lying flat' attitude suggested by others in society to deal with the pandemic," she said. "That means we won't do nothing to fight the pandemic."
She added that the authorities were following the orders of mainland Chinese President Xi Jinping to ensure the health of Hongkongers and uphold the country's "high standards to fight this arduous anti-epidemic war".
Daily press conferences
Lam said high-level daily press conferences would be led by her and relevant ministers starting at 11am every day except Tuesdays, when her weekly de facto cabinet meetings are held.
"I hope that in the future, we can directly answer questions," she said.
She added that the briefings, which would be held in addition to the daily afternoon press conferences by the Centre for Health Protection and Hospital Authority, would continue until the fifth wave was over.
"The earlier we win over this epidemic, the earlier we could cancel this [high-level] press conference," she said, adding wryly: "I believe the public will not want to see me all the time too. If you don't see me, that means Hong Kong has already returned to its normal life."
Will the city's leadership race be affected?
Asked whether the epidemic situation would affect this year's chief executive election, which has been postponed to May, Lam said she did not have an answer, adding that she believed the central government would give important instructions on the matter.
Universal testing
Asked when the city's compulsory universal testing drive would start, Lam said it was still in the cards, but the exact timing would depend on the city's epidemic situation.
"We would need to consider Hong Kong's epidemic situation, and whether we can achieve the best effect when starting this exercise," Lam said.
She said manpower, venues and resources were still being arranged, and conceded that the exercise might no longer be the best way to determine the city's latest infection status, given that there was already a widespread use of rapid antigen tests.
"We won't do it for the sake of doing it, or do it to fulfil an order [from the chief executive],," she said, "It should be done to lead the city out of the pandemic."
She added that conducting a mass testing exercise required a "long lead time" to plan, and could not be undertaken quickly. The top priority right now was to focus on treating severe cases, she said.
Lam said the government would announce a date for the universal testing in due course.
Restrictions on movement
Lam added that the government would need to ensure the city's operations were not unduly affected while conducting the universal testing exercise, but conceded there would be a certain level of restrictions on residents' movement.
She said certain exemptions also had to be in place, given the city's status as a financial centre. Citing the experiences of overseas countries, she added that residents would be allowed to purchase necessities at certain times of the week.
Asked if the decision to close schools from March 7 until the end of the Easter holiday – ostensibly to allow for the testing – had been in vain given the delay, Lam insisted that the institutions had been shuttered to ensure students' safety. She did not say whether there would be an extension of the school closure if the mass testing exercise was conducted after they were due to reopen.
Vu Im-fan, a local principal and chairwoman of the Subsidised Primary Schools Council, said her association had not been notified about any arrangements for mass testing yet, though she hoped the government would announce the details well in advance so they could better prepare.
She said the apparent postponement of the testing drive might not affect schools after all, as there was still ample time before the temporary closure ended. Still, she added that authorities should be aware that the clock was ticking, and noted the "break should not be extended too long" if testing was deferred beyond the current end date.
Private hospitals to lend a hand
Lam described a meeting she had with private hospital heads on Tuesday night as "very constructive and useful", saying they had agreed to help in four key areas.
First, Lam said, the private hospital chiefs would provide beds for Covid-19 patients, though they also explained they were dealing with a manpower crunch and a lack of isolation facilities.
Second, the private operators would help run community isolation and temporary care centres.
Third, the hospital heads said they would not turn away outpatients who tested positive for the coronavirus when seeking treatment for other illnesses, as they had reportedly done in the past.
Fourth, Lam said the private institutions would continue to see patients via telemedicine.
More medication
Lam said a shipment of the anti-covid medication molnupiravir, by American drug maker MSD, had already arrived, and Pfizer's Paxlovid would come next week, providing new antiviral options for the city's patients. She expressed her gratitude to the companies for delivering the drugs to the city quickly.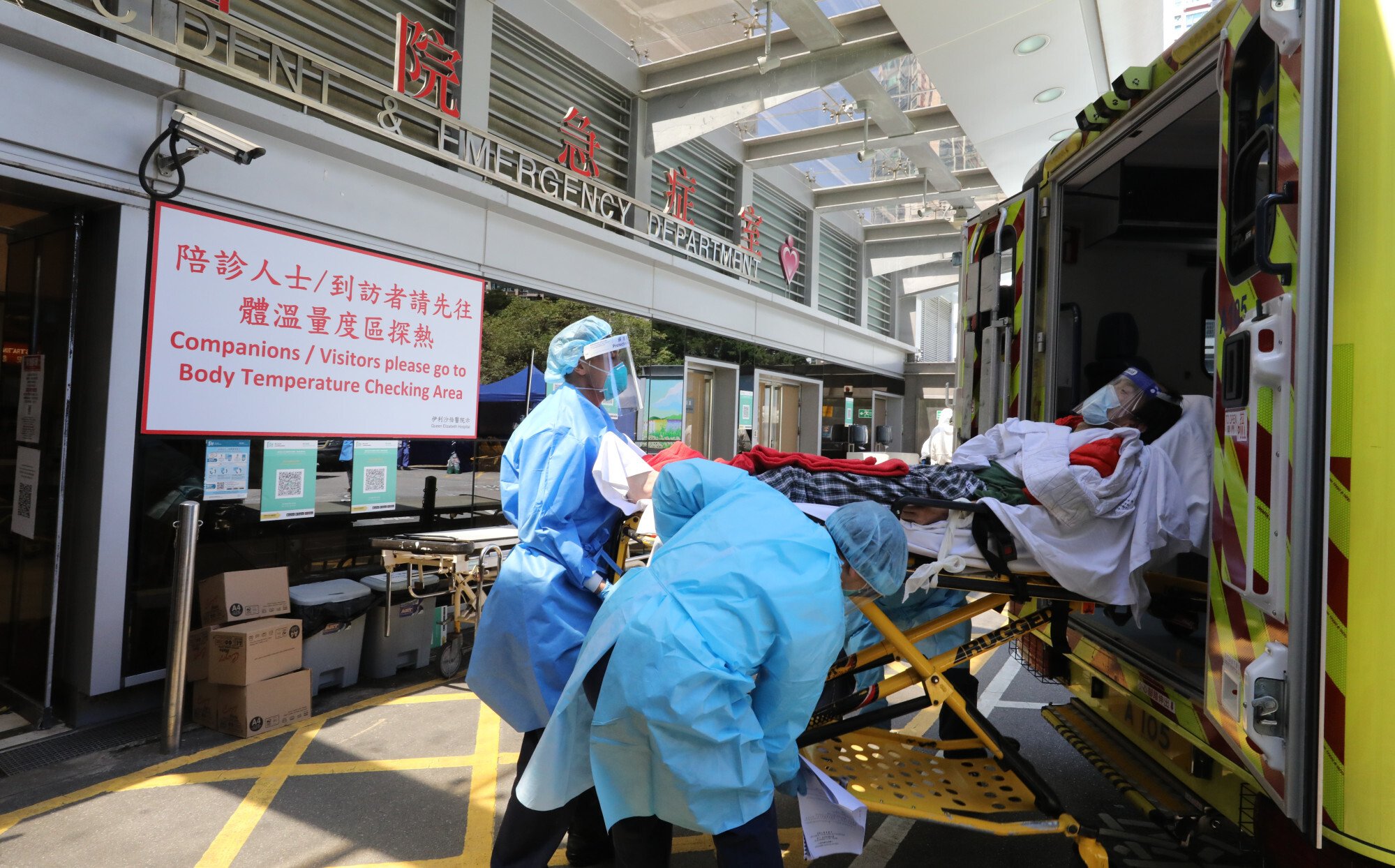 Care for severe patients
Confirming an earlier Post report, Lam said Queen Elizabeth Hospital was being converted into a designated hospital for Covid-19 patients. The conversion is expected to be completed by Sunday.
Hospital Authority chief executive Dr Tony Ko Pat-sing said about 380 patients there would be moved, including 250 who would be transferred to other hospitals, some of them private. Outside of life-threatening emergency situations, non-Covid patients who turn up at Queen Elizabeth's accident and emergency department will be turned away. The hospital's conversion will free up 1,500 beds for Covid-19 patients.
Ko added that more public hospitals would soon be converted into designated facilities for Covid-19 patients, including Ruttonjee Hospital, Fung Yiu King Hospital and Kowloon Hospital.
"We hope by concentrating the Covid patients together, and concentrating the expertise, the resources and the management of such patients, we will be able to provide better clinical outcomes for the Covid patients," he said.
Lam said that over 9,000 public hospital beds, or half of the city's total, would be used for Covid-19 patients. To further boost the city's capacity to treat severe cases, Lam said she had asked for help from mainland medical professionals at the North Lantau Infection Control Centre, which has 800 beds, and at the AsiaWorld-Expo makeshift treatment facility.
She said a Lok Ma Chau medical facility for emergency care would aim to be operational by April.
Care for the elderly
Lam said more community isolation and temporary care facilities for elderly people with mild symptoms would be set up.
While there are already 1,000 beds for such patients at AsiaWorld-Expo, as well as temporary care centres converted from two sports facilities in Kwun Tong and Shek Kip Mei, Lam said 1,200 beds would be added from a converted site at the Kai Tak Cruise Terminal. Seven more indoor sports centres will also be repurposed.
Private hospitals have been asked to contribute manpower for the extra facilities, but the government is also recruiting carers in the city and from mainland China.
All elderly residents at nursing homes will also be given their first vaccine dose by March 18, and plans are in the works for inoculating seniors who live alone. Closed-loop staffing arrangements will also be implemented at nursing homes with no prior infections, and hotel accommodation will be arranged for carers, along with designated transport, to avoid further outbreaks at the facilities.
For elderly patients with mild symptoms who are isolating at home, an anti-epidemic pack including rapid test kits, Chinese medicine, a thermometer and a health care handbook will be sent to their homes without the need to register with the government.
Medical officers will also make phone calls to elderly residents isolating at home to check on them and conduct remote consultations, and seniors will be given priority at designated clinics for Covid-19 patients if treatment is needed.
Guidance from top mainland expert
Citing remarks by mainland epidemiologist Dr Liang Wannian, who is in the city assisting with the Covid fight, Lam said Hong Kong still bore the main responsibility in combating the epidemic, though experts from the mainland were here to provide advice and help.
Based on the guidance of mainland experts, including Liang, Lam said the current focus of the government's work was "reducing deaths, severe symptoms and infections".
She said Liang felt that the city's government had attached high importance to epidemic control work, but the fifth wave was simply beyond local authorities' ability to cope. He had also noted that the entire community had been working together, along with staff from each government department, and experts had contributed lots of ideas. He also believed the public was obliged to contribute to the strategy.
"Professor Liang has also noticed some of our shortcomings, such as the lack of synergy, or not being able to centralise treatments and resources for patients in serious condition," Lam said. "Therefore, the measures we are announcing today are the result of fully taking in the advice from mainland experts."
Secretary for Food and Health Sophia Chan Siu-chee said there had been seven or eight meetings in the last 10 days with Liang, who gave important advice on setting priorities for the pandemic response.
Lam appears with mask
Lam appeared at Wednesday's briefing wearing a mask, in a departure from her recent practice of leaving her face uncovered – a decision she has defended as being intended to let residents "feel her emotions".
She confirmed that she would be taking a more active role in the city's pandemic messaging, saying she and various ministers would personally lead coronavirus press briefings "to clear up rumours or misunderstandings".