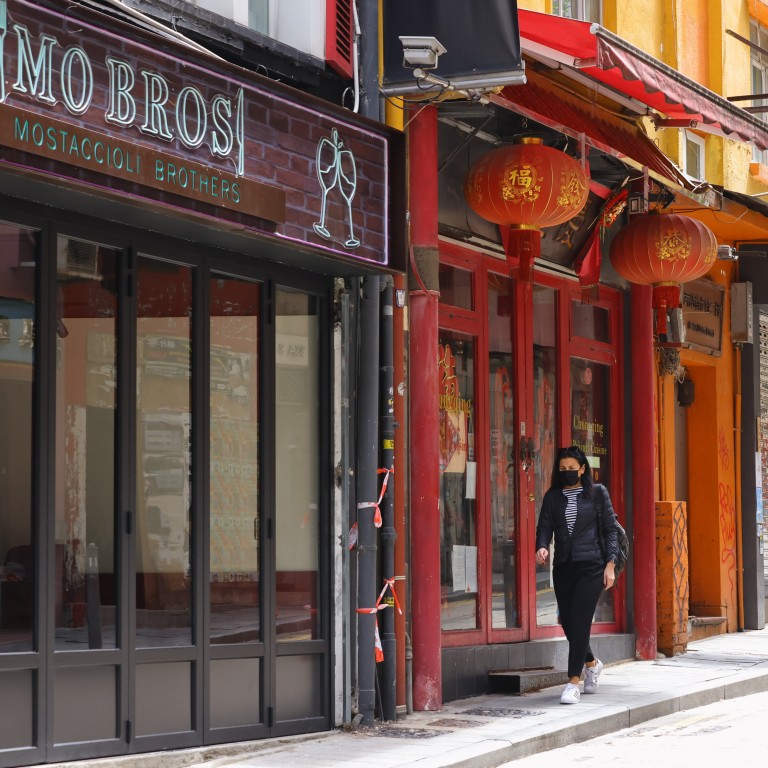 Coronavirus: Hong Kong to ease social-distancing rules from April 21 with extension of dine-in services, reopening of gyms, beauty parlours, sports venues as 1,043 new cases logged
Cinemas serving food and drinks must require all visitors and staff to be triple vaccinated, while restaurant workers and those handling local tours have to undergo regular rapid tests
Addressing political matters, city leader reveals there will be no chief secretary for remaining term
This story has been made freely available as a public service to our readers. Please consider supporting SCMP's journalism by
subscribing
.
Key points:
From April 21, restaurants can operate dine-in services until 10pm with four people per table. Bars will remain closed

Catering staff must be vaccinated and undergo rapid antigen tests every three days

Gyms, beauty massage parlours, cinemas, game centres, theme parks and places of worship to reopen. Limited to four people per group. Cinema-goers and staff must have had three vaccine doses if the operator wants to serve food and drinks.

Public sports venues, libraries, museums and children's playgrounds will reopen

Public beaches, pools and barbeque sites will remain closed

Universal testing still on the cards

Local tours will resume with a maximum of 30 patrons per outing, and staff must be triple vaccinated

Cap on public gatherings to be raised from two to four

A ban on gatherings of more than two households in private places will be lifted

Recovered Covid-19 patients will have their infection counted as one vaccine dose

No dates given for the next two phases of relaxation, to be reviewed after the Easter holiday
Hong Kong will from April 21 start to ease social-distancing rules that have been in place for months, including an extension of dine-in hours for restaurants and the reopening of premises such as gyms, sports venues and cinemas.
Chief Executive Carrie Lam Cheng Yuet-ngor and her officials announced the long-awaited plan on Thursday morning, detailing the first stage of a phased exit from restrictions imposed during the fifth Covid-19 wave.
The announcement came on the back of a declining number of infections. Health authorities revealed 1,043 new cases, the fewest since February 10, when 986 were confirmed. They also reported 54 Covid-19-linked deaths, including 21 backlogged ones. The city's overall case tally since the pandemic began stood at 1,195,338 cases, with 9,002 fatalities.
Omicron BA.5 detected locally for the first time
Health authorities revealed a 24-year-old man, who arrived from South Africa via Ethiopia on flight ET608 on April 6, carried the Omicron sub-lineage BA.5.
The man's infection was discovered while he was quarantined at Bridal Tea House Hotel. He was later transferred to community isolation facility Regala Skycity Hotel.
He had low-grade fever, cough and headache but was now asymptomatic.
The BA.5 sub-lineage has been reported in a number of countries, including South Africa and some European nations, according to the World Health Organization.
"There are fewer than 200 sequences available so far and we expect this to change … We are tracking [the virus] very closely to see if there is any uptick in case detection, but [so far] we haven't seen any change in epidemiology or severity," WHO lead epidemiologist Dr Maria Van Kerkhove said on Wednesday.
Dr Chuang Shuk-kwan of Hong Kong's Centre for Health Protection said further genome analysis would be conducted on those with the L452R mutation, which is found in the Delta and Omicron BA.4 and BA.5 strains of the coronavirus.
Paul Chan to chair vetting committee
Financial Secretary Paul Chan Mo-po would replace leadership hopeful John Lee Ka-chiu to chair the powerful vetting committee established to ensure candidates in the city's elections posed no threat to national security, Lam said.
Education minister Kevin Yeung Yun-hung will also join the committee, after former home affairs minister Caspar Tsui Ying-wai resigned in the wake of a
birthday bash scandal
in which guests were found to have flouted Covid-19 regulations.
No chief secretary in the remaining term
"Undeniably, it is quite a rare arrangement, as we always have someone acting for top posts, but the decision was made after consulting the central government," she said. "I will not object to it, and one of the reasons probably is that [I was once] chief secretary for 4½ years, so [I am] able to cope with the extra duties."
She added she was the "public face" who had been dealing with the pandemic over the past two years.
"Of course the chief secretary could help in execution, but the one who decides on policies must be me," Lam said. "There are not many statutory duties under the chief secretary, thus the vacancy will not affect the government's normal operations much."
Lam said she would double up in the post if necessary, such as coordinating policies with departments and Legislative Council members.
Universal testing still on the cards
Lam said the government had not given up on
universal testing
, but timing was still key. The Constitutional and Mainland Affairs Bureau is responsible for planning the exercise and preparations are still under way.
Recovered patients and vaccination
Health minister Sophia Chan Siu-chee clarified that those who had recovered from Covid-19 would have their infection counted as one vaccine dose.
Chan also said health authorities were working with the Innovation and Technology Bureau to digitise infection records on paper into the vaccine pass system.
Cases trending down
Lam said daily infections had been "trending down", pointing out the caseload had dropped by more than 90 per cent since its peak in March. Other indicators such as sewage screening and the number of people testing positive from building lockdowns have also dropped, according to her.
She said there was no "hard indicator" to determine whether rules would be tightened again, but if there was "a sudden surge of cases to 50,000" or new variants emerged, "the whole city would be anxious".
"Hong Kong is much much better prepared to handle another wave," Lam said.
Review after Easter Holidays
Lam said the government was well-equipped to manage a possible rebound in cases after the Easter holiday, therefore in-person school classes in the first phase of relaxation could proceed.
"We have not gone into the details of the second and third phases of the relaxation today, as we have to take into account the situation after the long holidays," she said.
The government also has to take into account socio-economic factors, such as the mental health of students, according to Lam.
The city's leader last month announced plans to begin lifting curbs in phases over the next three months. In the second phase, bars, party rooms, karaoke lounges and public beaches can reopen.
Lam: I will take my fourth jab this afternoon
Lam said the relaxation was a matter of risk management and the government had tried its best on the vaccination front, with more than 92.5 per cent of the population having received their first jab, except children aged between three and 12.
"We entered the phase of encouraging the public to take their second and third jabs," she said. "I am going for my fourth this afternoon."
She added that the vaccine pass requirements and regular rapid antigen tests at certain premises were all aimed at lowering the risk of transmission.
Public sports and cultural venues reopening
Sports venues operated by the Leisure and Cultural Services Department such as basketball and tennis courts will reopen. Capacity will depend on team sport rules. For example, for basketball, up to five players per team will be permitted, and they must wear masks.
Children's playgrounds will also be allowed to open.
Public libraries, museums and performance venues will operate at 50 per cent capacity.
Public beaches, pools and barbeque venues will remain shut.
Resuming local tours
Local tours will resume, with a maximum of 30 patrons per tour. But all staff have to be vaccinated with three doses, and undergo rapid antigen tests before every tour. All tourists have to fulfil requirements stated in the vaccine pass.
If all tourists test negative, the maximum number per group could be increased to 100.
Eased gathering ban
People will be allowed to gather in groups of four instead of two in public places, if the Executive Council, Lam's de facto cabinet, approves the decision next week.
A ban on gatherings of more than two households in private places will also be lifted.
More establishments to reopen
Sports venues, beauty massage parlours, cinemas, game centres, theme parks and places of worship will be allowed to reopen. There will be a cap of four people per group.
Bars will remain closed.
Cinemas will be allowed to serve food and drinks if they require all staff and customers to have received three vaccine doses.
Relaxation starts from April 21
Health minister Sophia Chan said there had been a downward trend in the pandemic situation in the city, thus many of the closed establishments could reopen from April 21.
The easing of curbs will begin with restaurants being allowed to operate dine-in services for four more hours to 10pm, and the cap on patrons per table expanded from two to four. A maximum of 20 people will be allowed for banquets.
Catering staff will have to undergo rapid tests every three days.
Transmission risks
Lam said the reopening of some establishments will bring transmission risks, but the government had to strike a balance and she hoped the public could continue to observe social -distancing measures.
"I hope the public will be more alert, especially during the coming Easter Holidays," she said. "The public should continue to get vaccinated … The decision to relax curbs is not easy, and it will not be able to satisfy all stakeholders."
Lam added the government did not mean to punish the establishments. The purpose of their shutdown was aimed at minimising human traffic.
The government has spent some HK$600 million (US$77 million), roughly 20 per cent of the city's gross domestic product, on various measures to support businesses, including specific subsidies for sectors and the second round of the Employment Support Scheme.
Additional reporting by Ng Kang-chung