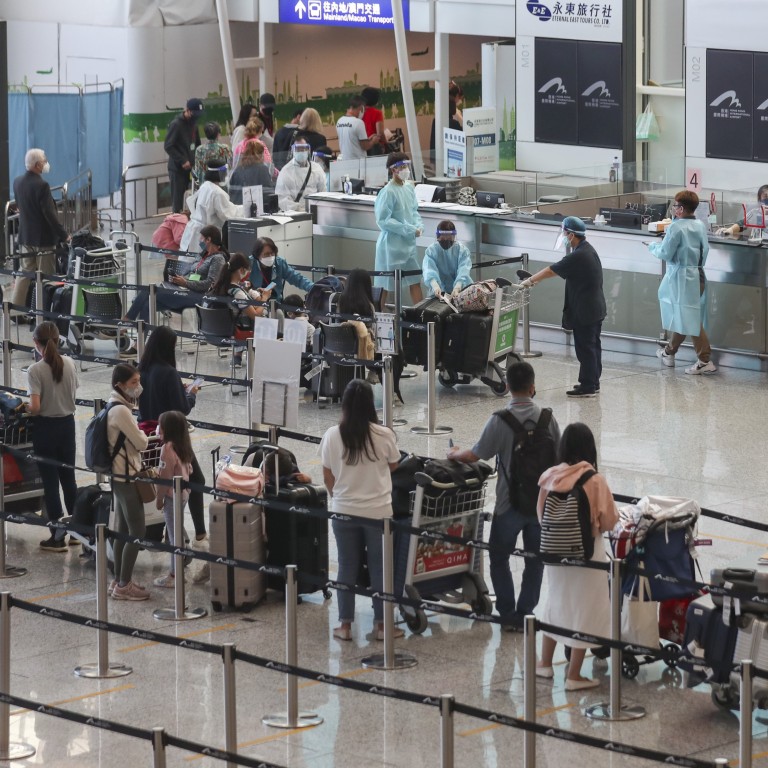 Coronavirus: families plan for long-delayed reunions as Hong Kong prepares to welcome back foreigners
Pandemic expert says 'possibility of huge rebound' in infections reduced by local population's immunity levels, sufficient supply of quarantine facilities
Travel industry watchdog welcomes relaxed measures but calls for authorities to allow returning residents to isolate at home
Families looking forward to reunions and business travellers eager to network are already planning trips to Hong Kong as the city prepares to welcome back foreigners next month, with the tourism industry watchdog calling for further easing of quarantine arrangements for arriving residents.
Health experts on Saturday said the expected influx of visitors after two years of travel curbs posed "little risk" of sparking a resurgence of
Covid-19
infections but warned new variants could enter into the community if the government was not careful.
Alex Chu, who works in asset management, said he was hoping to bring his in-laws over from Britain for a family reunion this summer.
"We're seriously considering bringing over my wife's mother from the UK for a few weeks to meet her grandson for the first time," said Chu, whose son was already two years old.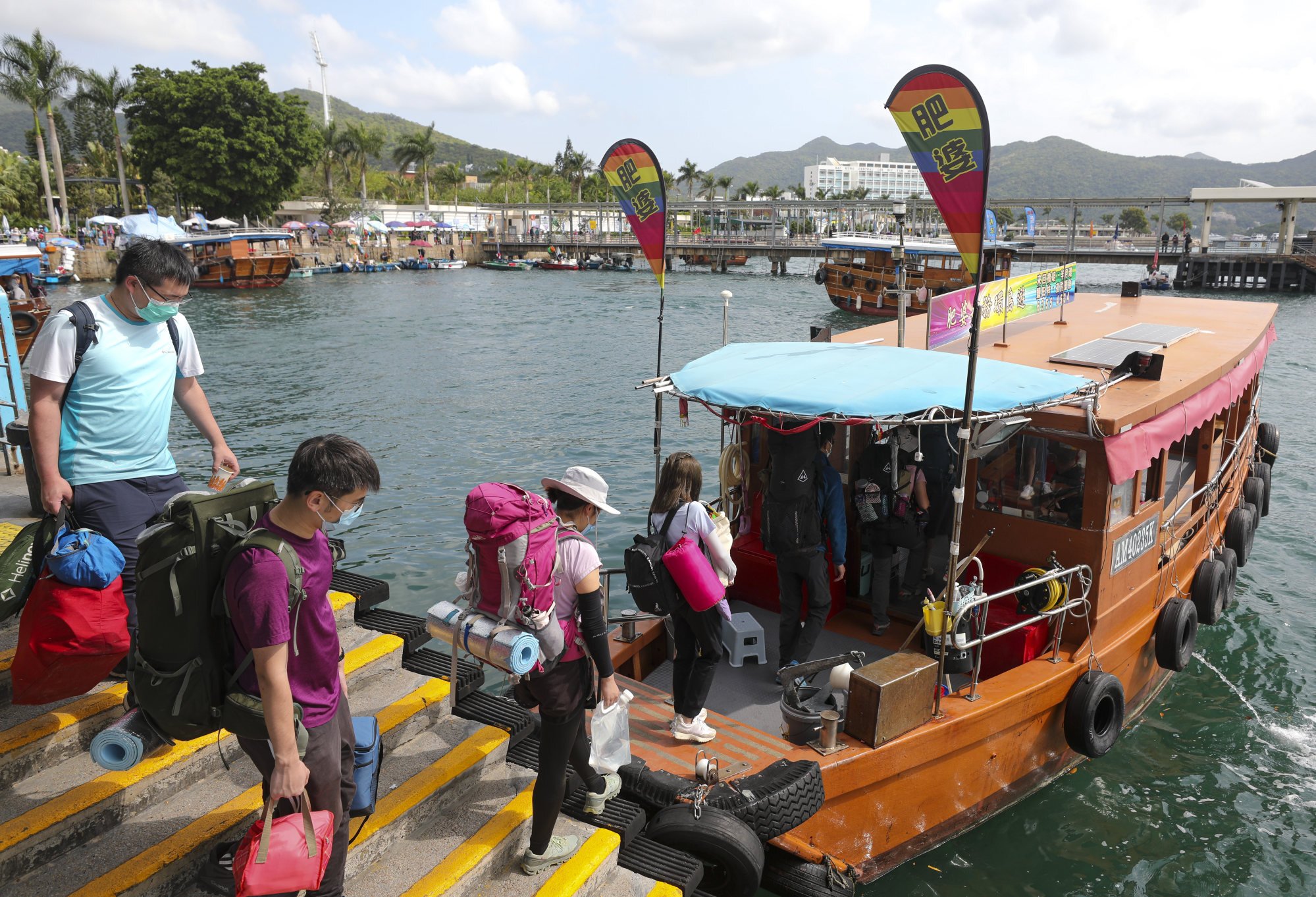 One Australian businessman who had a son two months ago said he was also looking forward to his family flying over. His wife's parents were initially hoping to visit before the birth to support her during a difficult pregnancy, but travel curbs in made the reunion almost impossible.
"My wife would have loved to have family [here] when she was giving birth," the 47-year-old said. "Alas it was not to be and we've been coping on our own."
The government announced on Friday that non-residents would be allowed to fly into the city starting May 1, although they would need to undergo a battery of tests and spend a week at a quarantine hotel. The decision was made after a government steering committee assessed the pandemic situation and found the risks posed by a reopening to be acceptable.
Case numbers continued to fall on Saturday, with health authorities reporting 523 infections. Thirteen of the cases were imported and included two arrivals from Vietnam, two from South Korea and one each from Britain, Singapore and Thailand. The rest were discovered during checks carried out during mandatory hotel quarantine. Officials also reported nine deaths related to the virus.
"The overall outbreak is stable and has a slow downward trend," said Dr Albert Au Ka-wing of the Centre for Health Protection. "The daily number of new cases over the past seven days ranged from 523 to 741, with an average of 621 cases per day, a drop from the average of 1,259 daily cases from the previous seven-day period."
As part of the city's reopening, authorities will also relax the threshold for suspending flights found to have brought in infected passengers. The new limit for the circuit-breaker mechanism will be set at five arrivals, or 5 per cent of a plane's passengers, whichever is greater. The length of time that flight routes are suspended will also be cut from seven days to five.
But infectious disease expert Dr Leung Chi-chiu expressed concern over the possibility that the rule changes could lead to new strains of Covid-19 entering the community.
"The relaxation may cause an increase in the number of imported cases and also the chances of them entering local society," he said.
"If the number of these cases rises too quickly, the Centre of Health Protection and university laboratories might struggle to identify new mutations and transmission pathways between cases quickly enough to prevent future outbreaks."
Leung suggested the government bolster its ability to track infections and carry out genetic analysis of the cases to keep the pandemic under control.
"If new outbreaks occur due to loopholes in our pandemic-control efforts, it will affect future relaxations of social-distancing measures, as well as hinder economic recovery," he said.
A mainland Chinese official familiar with local pandemic work said Beijing remained alert to Hong Kong's Covid-19 situation. The city was now facing a clear downward trend of cases and deaths, but that progress was only achieved with tremendous effort and at great cost, the official said.
"But given the 'one country, two systems' framework, the Hong Kong government can decide on what is best going forward," the official said. "As for Beijing, it hopes Hong Kong can continue to manage the Covid situation and ensure a smooth chief executive election and 25th anniversary of Hong Kong's handover in July."
The decision to further ease travel restrictions was welcomed by the Travel Industry Council, which noted the sector had been hit hard by more than two years of anti-epidemic measures. Council chairwoman Gianna Hsu Wong Mei-lun said many tourism agencies had laid off more than 80 per cent of their employees.
The unemployment rate for businesses related to consumption and tourism rose to 8.9 per cent over the January to March period, the government announced on Thursday.
But at least a dozen tours have been scheduled for the weekend, according to industry figures. Tour groups can accommodate up to 30 sightseers and all staff must be inoculated with three doses of a Covid-19 vaccine and undergo a rapid test before each outing, while customers must adhere to vaccine pass requirements.
Council executive director Fanny Yeung said she expected the number of foreign tourists would remain low in the coming months, with most travellers likely to come to Hong Kong for business or family reunions.
Yeung suggested that authorities consider allowing inbound residents to quarantine at home and scrapping the flight suspension mechanism if the number of coronavirus cases continued to fall.
Professor David Hui Shu-cheong, an infectious disease expert, said the public's immunity levels following the millions of infections during the fifth wave and an ample supply of quarantine facilities would reduce the risk of a sharp increase in cases as restrictions were eased.
But he advised that authorities continue to use quarantine facilities for arrivals due to the city's high housing density.
"The living environment in Hong Kong is so crowded that home isolation is not ideal," he said. "Now that there are more community quarantine facilities in Hong Kong, we should make good use of them."
Elsewhere in the city, 21 students took an English listening assessment as part of the Diploma of Secondary Education exams at the Penny's Bay quarantine centre. Thirteen were undergoing compulsory quarantine and eight were infected with the virus.
Hong Kong's tally of Covid-19 infections stood at 1,201,431, with 9,236 fatalities.
Additional reporting by William Zheng and Leung Pak-hei