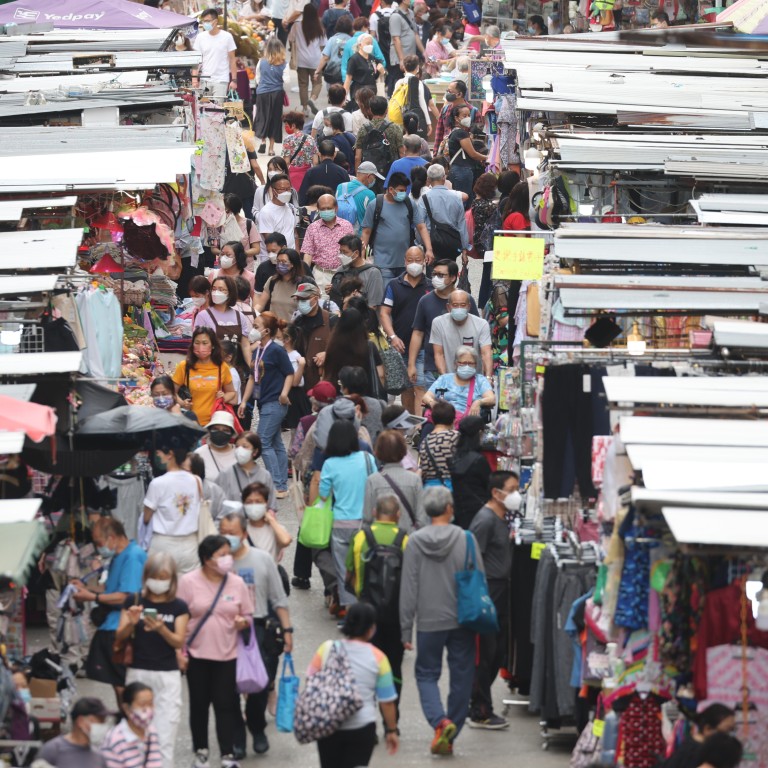 Explainer

|
Coronavirus: is a sixth wave of infections about to hit Hong Kong and should social-distancing curbs be tightened?
HKU's Professor Gabriel Leung warned on Saturday of potential sixth wave of infections in coming weeks, but other health experts say there is no need to panic
Caseloads to fluctuate for longer period of time with relaxation of social-distancing curbs, says microbiologist Dr Ho Pak-leung
Hongkongers have been going out and visiting reopened premises such as cinemas and beauty parlours ever since
social-distancing
rules were further relaxed on April 21 amid declining Covid-19 infections.
However, with curbs set to be further lifted on Thursday, new clusters of infections have resurfaced, and a top government adviser has warned about the potential emergence of a fresh wave of cases.
The Post looks at whether a sixth Covid-19 wave is indeed approaching the city.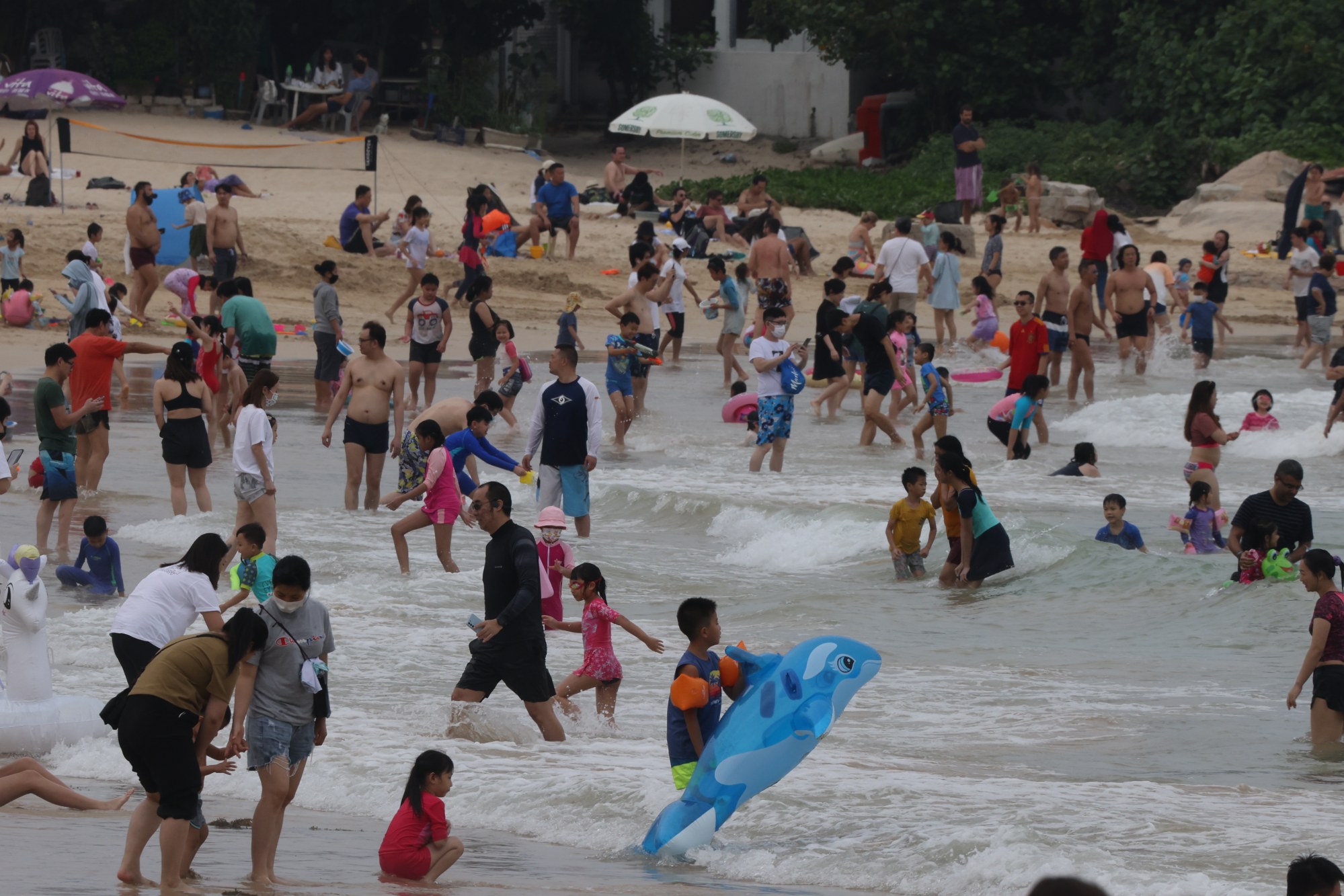 1. Is the sixth wave coming? Why are experts talking about it?
Last Thursday, the University of Hong Kong's (HKU) faculty of medicine warned of a potential "large Covid-19 cluster" developing in the Kennedy Town area and advised its students and staff not to eat or take part in any mask-off activities there.
A lockdown operation was conducted at Sai Wan Estate on the same day and 22 cases were detected, while health authorities reported clusters in several premises across Hong Kong.
The warning sparked concerns of another surge in cases. Hong Kong endured its fifth and most serious Covid-19 wave to date earlier this year, as more than 50,000 infections daily were logged at the peak of the wave and over 9,000 deaths were recorded between January and March.
Daily caseloads dropped to the triple-digits in mid-April and returned to a level of about 200 to 300 in May. At the same time, the number of hospitalisations and deaths dipped significantly.
Professor Gabriel Leung, dean of HKU's faculty of medicine, on Saturday told a seminar for HKU doctors that a sixth wave of infections could hit Hong Kong in as little as two weeks, according to two attendees.
Leung later also tweeted that the city was "on the cusp of a potential sixth wave if things tilt in the wrong direction", as he cited a virus reproduction rate of one, meaning that each Covid-19 patient could infect one person on average. An epidemic will worsen if the number is greater than one.
However, a few public health experts have since brushed aside Leung's warning, urging residents not to be worried.
HKU microbiologist Dr Ho Pak-leung on Monday said the arrival of a sixth wave would depend on whether a new variant of the virus had been detected within the community. The city was still experiencing its fifth wave of infections and BA.2, a subvariant of Omicron, was still the mainstream Covid-19 strain, Ho added.
Microbiologist Professor Yuen Kwok-yung, who also advises the government on the pandemic, said residents need not to be alarmed, adding that an "immunity barrier" against severe illness had been created in the city as about 91-95 per cent of residents had gained protection via recent infections or vaccination.
Kwok Kin-on, an assistant professor at Chinese University's school of public health, agreed about the protection offered by the immunity barrier, adding that his team was optimistic about the epidemic situation.
Instead of a rebound at the end of the fifth wave, a sixth wave could emerge during winter, he said, when a new variant might reinfect those who had contracted BA.2 and antibodies produced by the vaccine had largely diminished.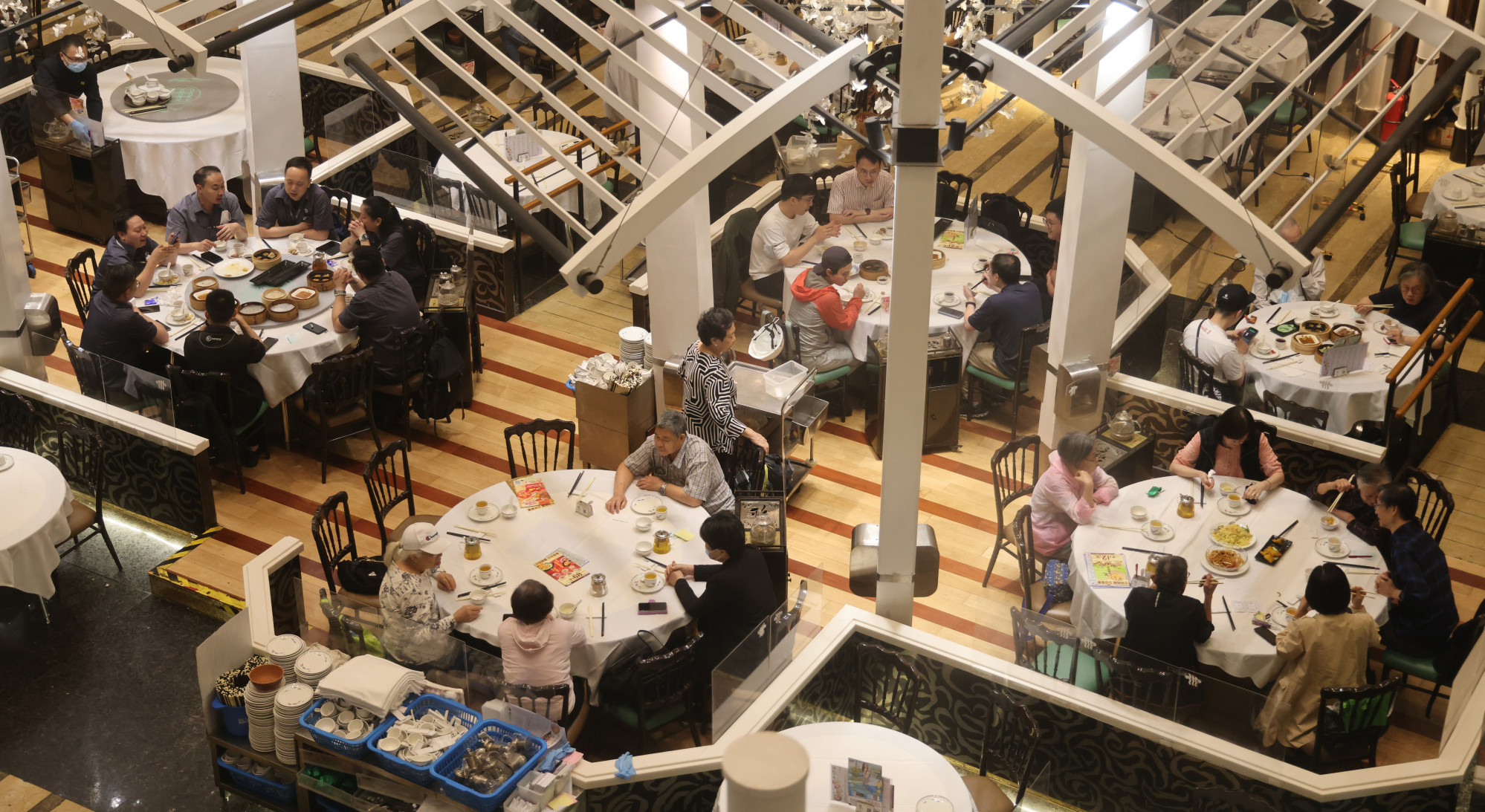 2. Do the new clusters mean the situation is worsening?
The Centre for Health Protection (CHP) recently reported a few infection clusters, including at a restaurant in Sheung Wan, where 64 cases were found, a hotpot place in Yuen Long with 23 cases and a snooker club in Hung Hom with 15 cases so far.
But Ho said the new clusters did not signify the health crisis was worsening as they only represented 3 per cent of the overall infections in May, while outbreaks in restaurants were foreseeable with the relaxation of social-distancing rules.
"We know about these clusters only because the CHP selectively conducted contact-tracing work on some types of premises, which had collected the information of customers due to the vaccine pass scheme," he said. "I believe that other premises also had similar small-scale outbreaks in May. It was just that the public did not know about them."
With more indoor premises, including bars, pubs and party rooms, set to reopen on Thursday, Ho said he expected caseloads to fluctuate for a longer period of time.
"Caseloads may increase, but the public does not need to be worried about it as it is expected," he said. "We have to focus on vaccination for everyone and observe each day if there is any emergence of cases with serious conditions. The easing of social-distancing rules should not be affected by infections with no or mild symptoms."
Kwok also said the caseload would probably stay in the triple-digits or hover at the thousand mark, citing the increase of the virus reproduction rate from the lowest point of 0.3 to 1.
The epidemic situation was relatively "ideal", he added, noting more than 1,000 restaurants had resumed their dinner services yet the number of infections in the clusters was small.
3. Should social-distancing curbs be tightened again?
Ho did not think the government should tighten social-distancing measures to deal with the potential increase in infections.
Authorities should find the right administrative approaches to persuade about 1 million people who had not taken their third vaccine shot to do so, Ho added, describing it as the "crux of the problem".
Kwok said that if the proportion of infections in clusters grew to a certain level, authorities might consider adjusting the social-distancing measures for some premises or fine-tuning the next phase of relaxation, instead of large-scale tightening.
Meanwhile, Professor Benjamin Cowling, head of the epidemiology and biostatistics division at HKU, and honorary assistant professor of pharmacology and pharmacy Chan Tak-kwong proposed in a commentary on Monday that adults aged under 60 should be allowed to enter premises without the need to use the city's vaccine pass scheme.
"Over 90 per cent of younger adults had been double-vaccinated, so their risk of serious illness and death is much lower," they wrote.
The government should instead focus on boosting vaccination rates of the elderly, they added.
4. How can we protect ourselves?
Ho said eateries and other premises had been adhering to anti-epidemic measures and there was not much they could do to prevent transmission of the virus.
"Instead, customers who visit these premises should assess the status of their vaccination," he said, explaining that a large number of people still had not received the third dose even with the vaccine pass scheme.
Government pandemic adviser Professor David Hui Shu-cheong said the city needed people to take their third dose to form an immunity barrier against the virus.
"No matter how many doses or which vaccine you have received, as the antibodies produced by the vaccine will drop over time, if you do not receive the booster, how are you going to cope with the potential sixth wave or subvariants of Omicron," he said.
Civil service chief Patrick Nip Tak-kuen, who oversees the city's inoculation drive, on Monday said vaccination was the "most thorough way" to control the epidemic and data had shown a third dose would provide a high degree of protection.
Only 68 per cent of people aged 20 to 60 who were eligible had received a third jab, he added, and for those aged 60 and up, the figure was about 80 per cent.
The government had earlier sent out text messages to remind a million people that they were due for the third dose.
5. What is the situation in other places?
In Shanghai, where more than 612,000 people had been infected since March 1, daily caseloads on Monday dipped below 1,000 for the first time since March 24. A lockdown there will be relaxed in phases from June 1.
In the United States, BA.2.12.1, a new subvariant of Omicron, had led to a rise in cases since April and accounted for about 36 per cent of new cases in early May. The US now records an average of more than 90,000 cases per day, an increase of 60 per cent compared with two weeks ago.
Omicron XE, an even more transmissible mixture of BA.1 and BA.2, was first found in the United Kingdom in late January and had been linked to more than 1,100 cases as of early April. But the UK's overall infection tally has returned to its lowest level yet in 2022, after BA.1 led to a surge in cases.