Coronavirus: don't worry too much about pandemic, leading health official advises Hongkongers, as 3 key metrics show encouraging declines
Dr Edwin Tsui, Centre for Health Protection's controller, notes admissions to hospital have fallen and number of most worrying cases is also down
Upbeat assessment comes as city prepares to further relax social-distancing rules, with bars set to reopen and dine-in service to run until midnight
Residents should go about their lives as normal and not worry too much about the
Covid-19
pandemic, a senior health official has said, pointing to falling levels of admissions to hospitals and isolation wards in Hong Kong, as well as fewer severe or critical cases.
Dr Edwin Tsui Lok-kin, the Centre for Health Protection's controller, delivered his upbeat assessment on Wednesday, a day before authorities take the next step in easing social-distancing rules, including allowing bars to reopen for the first time since January. Karaoke lounges and nightclubs can also resume business, while restaurant dine-in service can run until midnight, and residents can go without masks at gyms and indoor sports venues.
"With social-distancing rules relaxed, we can't rule out further outbreaks," Tsui said. "But I would like to reiterate that we keep an eye on various indicators."
Asked whether residents needed to rush to have their weddings and dining engagements in case a sixth wave would come soon, Tsui responded that "residents need not worry too much and can go about their lives and engagements as normal".
Hong Kong logged 329 new Covid-19 cases, including 31 imported infections, on Wednesday, and four more deaths related to the virus. The latest figures brought the Covid-19 tally to 1,209,397, with 9,365 related fatalities.
Even with the number of cases hovering between 200 and 300 over the past week, public hospitals were only taking in between 43 and 89 Covid-19 patients a day, Tsui noted.
In another indication the pandemic was easing, between zero and three severe or critical cases were reported daily over the past week, representing 3.7 per cent of all Covid-19 inpatients being treated in hospital, compared to 6 to 7 per cent in the weeks before, he added.
Tsui also noted that just 109 coronavirus patients were being isolated in public hospital isolation beds, including 18 added on Tuesday, taking up just 4 per cent of the beds.
"If there are changes to these indicators, we would have to see if anything needs to be done," he said.
But Tsui left out the reproductive rate of the coronavirus, which reached 1.0159 on May 10, according to an estimate by the University of Hong Kong's School of Public Health. The rate means an infected person could pass the pathogen to more than one person, which government adviser Professor Gabriel Leung used as a basis for his warning that a sixth wave could arrive in two weeks.
No new outbreaks emerged on Wednesday, but health authorities confirmed three more cases at a restaurant cluster involving a Tung Chung branch of Tamjai Yunnan Mixian, taking the total to six, and six more infections related to the Sky Cuisine Restaurant in Sheung Wan, pushing its size to 70. Six more cases were linked to an outbreak involving a restaurant at an industrial building in Kwun Tong, which has ballooned to 26 infections.
Further analysis also revealed that the viral genome sequencing of patients from the clusters of the Sheung Wan restaurant and West Terrace at Sai Wan Estate were "highly similar" and "almost identical", said Dr Albert Au Ka-wing from the Centre for Health Protection. West Terrace was locked down for overnight testing for the second time in a week on Wednesday.
Asked about Tsui's three metrics, government pandemic adviser Professor Yuen Kwok-yung agreed that a basket of indicators, such as hospital admissions, the proportion of cases requiring intensive care and the number of deaths, should be taken into account in assessing the severity of the epidemic.
While those numbers were updated in the daily press conference devoted to the pandemic, Yuen said officials should show the overall trend and seven-day average figures for them as well, instead of just announcing figures captured on a single day.
"From the start of the fifth wave till now, how much have those figures dropped or increased?" Yuen said. "They should show the curves [of those indicators]."
Earlier on Wednesday, the minister leading the city's inoculation drive said that Hong Kong was on track to get most of its eligible residents vaccinated with a third Covid-19 jab by the end of the month.
Secretary for the Civil Service Patrick Nip Tak-kuen said that as of the end of April, about 1 million people who were eligible for a third vaccine dose had not received their shot, even with a new rule limiting their movement set to take effect on May 31.
But the current registration rate for government-provided jabs and projected numbers from Nip for those seeking shots from private providers indicate most residents who have yet to get their third shot will be covered by the end of the month.
Under the new policy, Hongkongers will need to be triple vaccinated to enter most premises, excluding those who were infected or who only received their second jab less than six months ago, individuals aged under 12 and those who are medically exempted.
Nip told a radio programme that since the start of May, about 280,000 people had received their third jab while another 160,000 had registered through the booking system. He added that 10,000 residents were expected to get their third shot at private clinics daily, amounting to about 310,000 receiving such jabs by the end of May.
The numbers add up to about 75 per cent of 1 million residents eligible for a third dose who are expected to qualify for the new vaccine pass requirement, according to a Post calculation.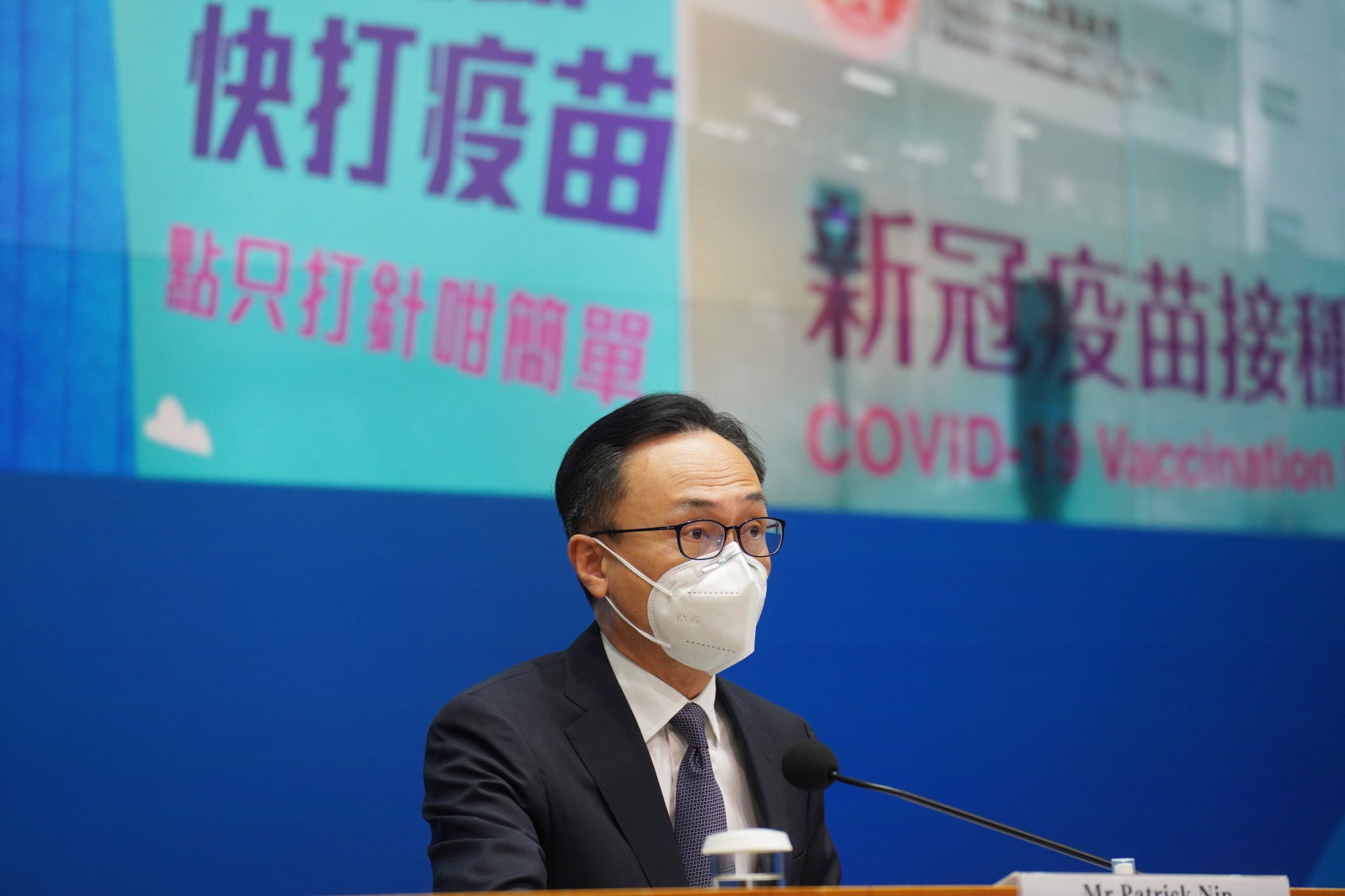 "We have enough capacity for vaccination," Nip said when asked about how authorities would get enough people inoculated. The city can administer 100,000 doses a day, according to him.
Nip said the government had sent out messages to the 1 million residents to remind them to get vaccinated.
"With the reproductive number exceeding 1, we expect both the number of confirmed cases and infection risks to rise," Nip warned, referring to the transmissibility of the coronavirus.
The Food and Health Bureau earlier told the Post that about 5.2 million people, or 77 per cent of residents aged 12 or above, were already eligible as of late April to enter premises under the coming three-jab rule for the vaccine pass.
"The 5.2 million eligible people include all who have received three or four doses, those who have received their second dose within six months and recovered patients who were infected during the fifth wave of the epidemic," the bureau said.
Additional reporting by William Yiu