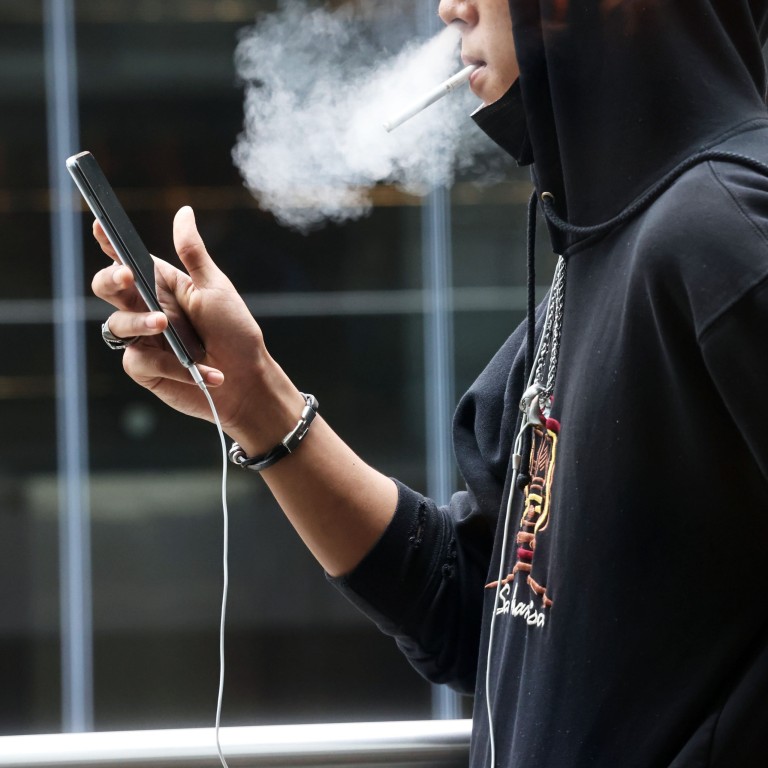 Hong Kong mulls drastic measures to further reduce number of smokers, despite record rate drop below 10 per cent
Health minister Sophia Chan says authorities looking into three-pronged approach in control strategy, including expanding statutory non-smoking areas
Despite record drop in cigarette smokers, number of residents vaping surged from 7,200 in 2019 to 17,500 last year
Hong Kong is considering more drastic measures to reduce its number of cigarette smokers, even as the figure dropped below 10 per cent, the health minister has revealed.
Authorities revealed on Thursday the proportion of residents who smoked fell to 9.5 per cent last year, dropping from 10.2 per cent in 2019, a decline that puts the government within reach of its goal to cut tobacco use to 7.8 per cent of the population by 2025.
But vaping had increased "significantly" by nearly 1.5 times in the past two years, Secretary for Food and Health Sophia Chan Siu-chee said, a rise she attributed to influence from peers and curiosity among young people.
"The [latest smoking rate] is a new low, and it is the first time we are seeing a single digit since records began," Chan said. "It shows that the comprehensive tobacco control policies such as legislation, taxation, law enforcement, health education and smoke cessation services, have been effective under the joint efforts of society."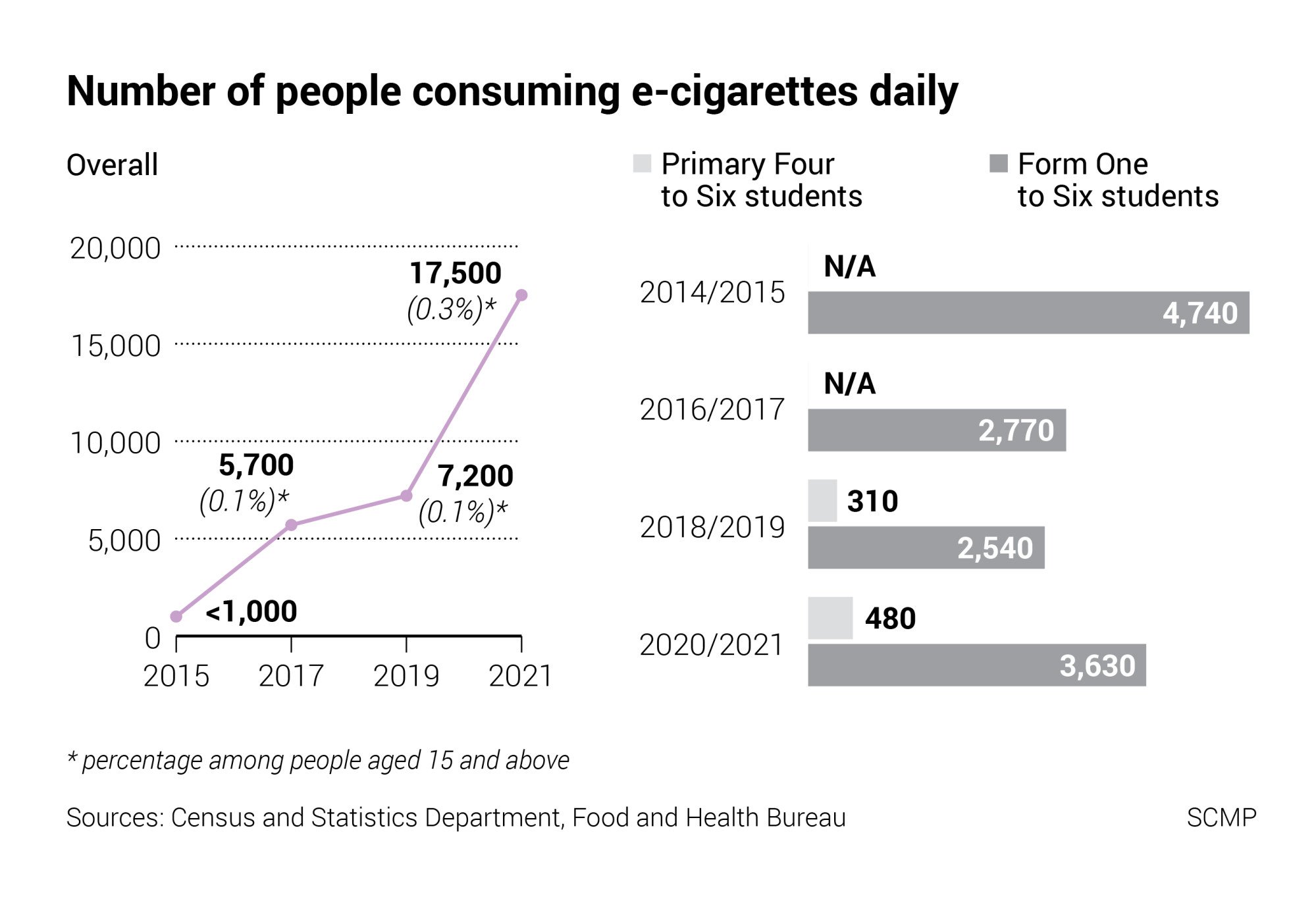 A household survey conducted by the Census and Statistics Department, which delivered the latest findings, found that the proportion of male smokers dropped from 18.1 per cent in 2019 to 16.7 per cent last year. Significant decreases in rates were also observed among men in age groups of 30-39 and those over 50.
The data also showed that half of all smokers aged 20-39 preferred flavoured brands when trying it for the first time.
The number of people using e-cigarettes surged from 7,200 in 2019 to 17,500 last year, while those using heated tobacco products dropped to about 8,400 last year, compared to 13,100 in 2019.
Among secondary school students, 1.1 per cent said they had smoked e-cigarettes in 2021, an increase from 0.8 per cent in 2018-19.
A law banning the import, promotion, manufacture and possession for commercial use of electronic cigarettes, heated tobacco products and herbal cigarettes took effect from April 30.
Director of Health Dr Ronald Lam Man-kin said that seven people were arrested this month for allegedly selling and possessing e-cigarettes with nicotine, while the authorities were investigating more than 30 cases of travellers who had allegedly brought such products into the city.
He warned that anyone buying e-cigarettes from overseas websites would be seen as illicitly importing them, adding that authorities would also be conducting a crackdown on online local sales.
Chan said authorities expected to see fewer e-cigarettes users after the ban was implemented in April.
"There used to be e-cigarettes being sold at places where young people frequented before the law was introduced, meaning young people might be drawn to e-cigarettes," she explained.
"They might also have a certain degree of curiosity and be influenced by peers … Some e-cigarettes are also not very expensive. "
She also said a road map and schedule for reducing the proportion of smokers in Hong Kong to 5 per cent or lower would be announced sometime this year.
"This is going to be a challenge, especially when our smoking prevalence is so low," she noted.
"But then we are determined to use all our comprehensive, multipronged strategies to further decrease the smoking prevalence."
Chan said the government would adopt a three-pronged approach for achieving its tobacco endgame, with plans to expand statutory non-smoking areas, reduce the overall appeal of such products and stop young people from becoming smokers.
Earlier this week, she revealed that the government was considering expanding outdoor no-smoking areas to cover bus stops.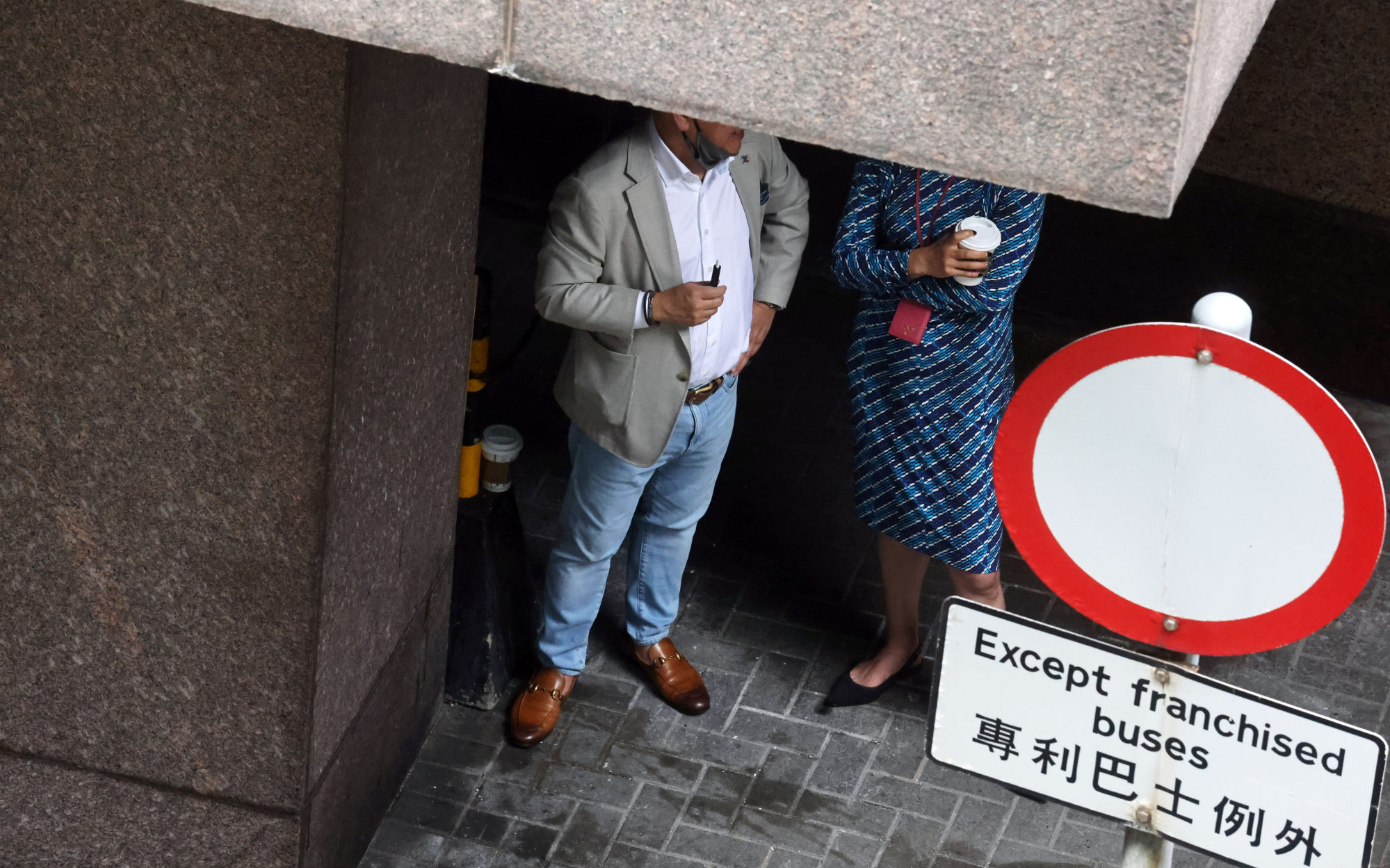 According to the household survey, among about 6,146,000 people aged 15 or above, more than 60 per cent of them said they agreed that statutory non-smoking areas (NSAs) should be expanded to transport waiting areas as well as spots used for queuing.
Chan said the findings allowed the authorities to be more confident in enlarging NSAs to reduce the harm of second-hand smoke.
"Of course, we have a way to do it every year, but I think we have to do it faster and broader, in terms of the coverage," she said.
The health minister also said authorities were looking to reduce the attractiveness of cigarettes by banning both flavoured versions and the display of tobacco products, as well as launching additional packing requirements.
She added that authorities were considering raising the legal age for buying cigarettes from the current age of 18 to curb the product's impact on the next generation, citing similar moves by Singapore and the United States in recent years.
Chan also cited New Zealand's plan to ban the sale of cigarettes to anyone born after 2008.
Dr Daniel Ho Sai-yin, an associate professor at the University of Hong Kong's school of public health, said he believed the drop in the local smoking rate was due partly to the Covid-19 pandemic.
"According to our checks at public smoking hotspots, more smokers will gather there when the epidemic is less severe, and vice versa, as some may be wary of taking off their masks in public," he said.
Ho said he believed that studies detailing the higher risk among smokers of developing severe coronavirus symptoms had also played a role, as local health agencies also ramped up their own educational campaigns.
The Coalition on Tobacco Affairs said it supported the introduction of tobacco-control policies in a "pragmatic and science-based" manner, urging a "balance of impacts" on all stakeholders, including the harm to non-smokers and minors, and smokers' right to choose.
"These stakeholders should be part of an open and sensible dialogue to prevent unintended outcomes brought by the policy," the group said.
Additional reporting by Victor Ting