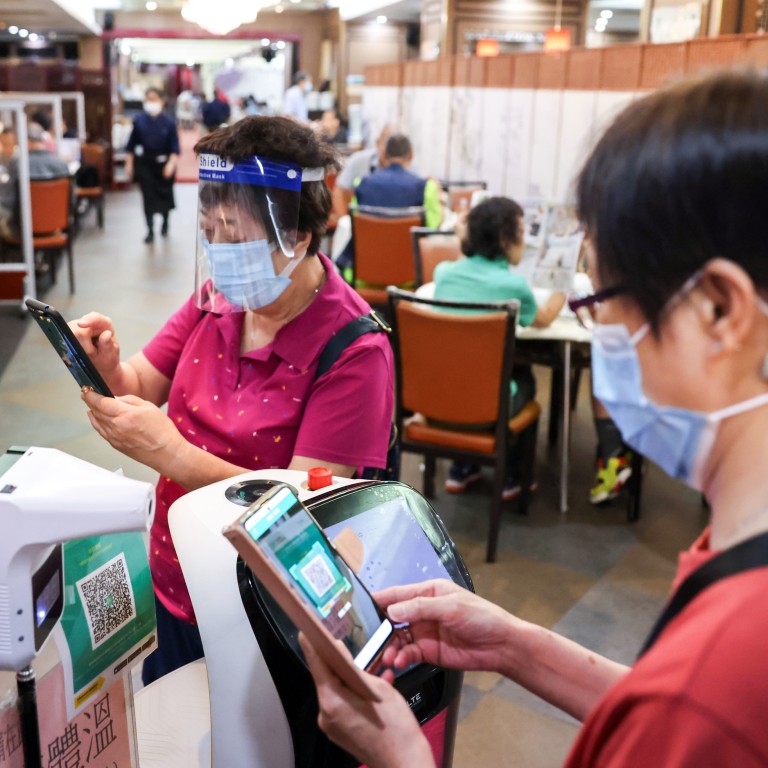 Third coronavirus cluster emerges in heart of Hong Kong's nightlife district, as officials warn residents against trying to cheat vaccine pass rules
Health officials say new cluster centred at Linq bar on Pottinger Street in Central involves 18 people, including one person who visited venue connected to another outbreak
Cases of six people suspected of providing false results referred to police, officers arrest three
Another cluster of
Covid-19
infections has been identified in the heart of Hong Kong's nightlife district, taking the number of outbreaks in the area to three, while officials warned residents that attempts to get around the vaccine pass scheme by using false information could land them in jail.
Ahead of the long holiday weekend, authorities on Thursday stepped up checks on bars, restaurants and other venues covered by the scheme, which required residents to show proof they had been triple-vaccinated unless they qualified for an exemption. Health officials said they passed six cases of people allegedly providing false information to get around vaccine pass rules to police.
"I do have to make the reminder again that anyone who intentionally gives false information will be punished by jail and fine," said Dr Chuang Shuk-kwan, head of the Centre for Health Protection's communicable disease branch.
Officials confirmed 489 new infections, including 65 imported ones, and one more death related to the virus on Thursday. According to the Hospital Authority, 397 Covid-19 patients were being treated in hospital, but only two were critically ill.
The city's coronavirus tally stood at 1,213,693 cases, with 9,380 fatalities.
The new cluster was centred on Linq on Pottinger Street in Central, where 18 people who visited the bar last Friday or Saturday were identified as infected. One of those patrons visited the Iron Fairies bar and its sister J. Boroski establishment, home to another outbreak, health authorities said.
Chuang said virus samples taken from the patrons needed to be analysed to determine the source of the outbreak at Linq. It also remained unclear whether social-distancing rules had been broken at the bar, and it would be up to the Food and Environmental Hygiene Department to investigate.
"At the moment I am not aware that there were any disc jockeys playing music at the site," she said. "There was certainly a situation of not wearing masks when [customers] were chatting or drinking."
Another two infections were tied to Iron Fairies, taking the size of the cluster 51, while two more cases were identified at Zentral, taking the total 33.
Chuang said the local prevalent variant was involved in the clusters at Zentral and Iron Fairies, but viral genome sequencing suggested they did not have the same source of outbreak.
City leader Carrie Lam Cheng Yuet-ngor said earlier this week the third and final easing of social-distancing rules might be delayed given the outbreaks at bars. They are currently permitted to stay open until 2am, and serve four people per table. No live performance or dancing is allowed and patrons must wear masks at all times, except when drinking or eating.
Under the third round of easing, bars would be allowed to stay open longer and accommodate more people, but Professor David Hui Shu-cheong, who advises the government on the pandemic, said they should not be given the privilege after clusters emerged.
In a separate development, eight more people from three households were suspected to be linked to a cluster at a McDonald's, bringing the size of possible and confirmed cases in that group to 45.
Chuang also reiterated a warning over residents submitting outdated or false test results to authorities. Officials have been double-checking the uploaded information and found the proportion of negative test results discovered through checks jumped from 17 per cent a week ago to 21 per cent on Monday.
The government said it suspected some people reported old or false test results in order to obtain a recovery record to fulfil the latest vaccine pass requirements, which took effect on Tuesday.
The cases of six people suspected of providing false results were referred to police, and officers arrested three. Since late April, checks have been carried out on all residents reporting their rapid test results through the government's dedicated portal.
The government last week said officers would start conducting inspections at relevant premises after a grace period ended at midnight on Wednesday. Officers will check if operators of the premises and visitors are complying with the scheme's requirements.
Those using a fake vaccine pass could be liable under the offence of using a false instrument and jailed for up to 14 years. Separately, under the prevention and control of disease regulation, premises operators who failed to comply with directions, such as checking the validity of the vaccine pass, faced penalties of up to six months' jail and a HK$50,000 fine. Anyone found to be providing false or misleading information to an officer such as for the purpose of a vaccine pass will face a HK$10,000 fine and be jailed for up to six months.
Some Hongkongers expressed their frustration in trying to obtain the recovery record QR code during a phone-in session on an RTHK radio show.
"I have called the Department of Health multiple times. I have also sent them two emails, but all of them were in vain," said one resident who tested positive for the coronavirus through a rapid test in February but was unable to obtain proof of his recovery.
Dr Wilson Lam, vice-president of the Hong Kong Society for Infectious Disease, said it was difficult to distinguish whether a resident submitted a fake or false-positive rapid test record, but the chance for a false negative test was low.
He suggested authorities review patients' rapid test results before listing it as a confirmed infection. Such a review could also enable authorities to identify the type of subvariant the patients carried, he said.
Additional reporting by Nadia Lam