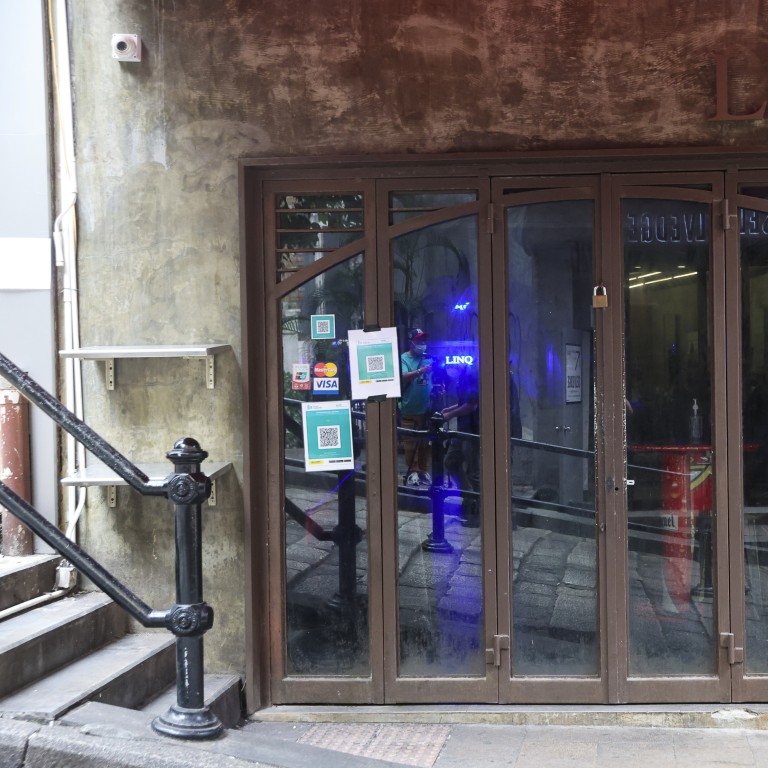 Coronavirus: Hong Kong nightclub clusters worsen, as commerce chief says opening up of borders must be 'prudent' process
Health authorities report increase in coronavirus infections at all four clusters linked to city's popular entertainment district
Commerce minister Edward Yau says 'border must be open', but warns city should also take Covid situation in mainland China into consideration
Several nightclub-related
coronavirus
clusters in a popular entertainment district continued to worsen on Saturday, while Hong Kong's commerce minister called for a "prudent" approach when the city eventually opened up to the rest of the world.
The city reported 446 new Covid-19 infections, 64 of which were imported, and no additional coronavirus-related fatalities. Health officials said they expected to uncover more cases connected to the four clusters after compulsory testing was completed.
The overall tally of confirmed cases stands at 1,214,638, with the death toll remaining at 9,382.
The latest cluster, linked to Lan Kwai Fong's Shuffle nightclub, expanded to 42 infections with 28 more cases recorded on Saturday, while another 44 were connected to Linq bar, bringing the number in that outbreak to 65.
Dr Chuang Shuk-kwan, head of the communicable disease branch of the Centre for Health Protection, attributed the surge in cases to compulsory testing of the bars' patrons.
"We have just discovered the clusters in Linq and Shuffle in the past two days and have been conducting compulsory testing," she said.
"We will need to check the vaccine pass to see how many customers have yet to undergo the tests. Of course, we will find more cases after conducting compulsory testing."
The two other clusters, connected to the Zentral and Iron Fairies nightspots, each logged two new infections, with the total number of cases reaching 35 and 53 respectively.
Secretary for Commerce and Economic Development Edward Yau Tang-wah, meanwhile, said the city needed to take a cautious approach toward reopening its borders.
"The border must be open. No countries or economies are able to close their doors forever. But we cannot open the border however we want," he told a radio programme.
"Has the pandemic left us? In fact, no … Discussing the resumption of exchanges with other places is a must but we have to be very prudent."
Yau made the remarks in response to a question on whether Hong Kong should ease restrictions for tourists from countries such as Japan, which
previously announced
that 20,000 foreign travellers per day would be allowed to visit via package holidays from June 10.
Japan placed Hong Kong and mainland China on its "blue list" of countries and regions with a low risk of coronavirus infection, with incoming travellers from these places not required to be vaccinated, undergo testing or quarantine against Covid-19 upon arrival.
But, regarding the reopening of the border with the mainland, Yau said Hong Kong would need to take heed of the coronavirus situation in the country.
"The mainland has put a lot of effort into combating the new wave of the pandemic. If we have to open the border with them, we cannot only care about the situation [in Hong Kong], but also the situation in our country," he said.
"We also cannot only take care of the interests in one area such as economic and commercial interests."
Chief Executive-elect John Lee Ka-chiu on Friday said he hoped any plans to reopen the border with the mainland would not increase the risk of further spreading the coronavirus in the country, adding that any such concerns should be managed.
In an interview with the Hong Kong China News Agency, Lee added that authorities would create favourable conditions and remove potential obstacles to reopening the border, with the government seeking to control Covid-19 to the best of its abilities.
"After my term starts, I will communicate with the mainland to look at the possibility of the border reopening," he said. "We have to understand that it will be the mainland which makes the final decision after considering the overall pandemic situation."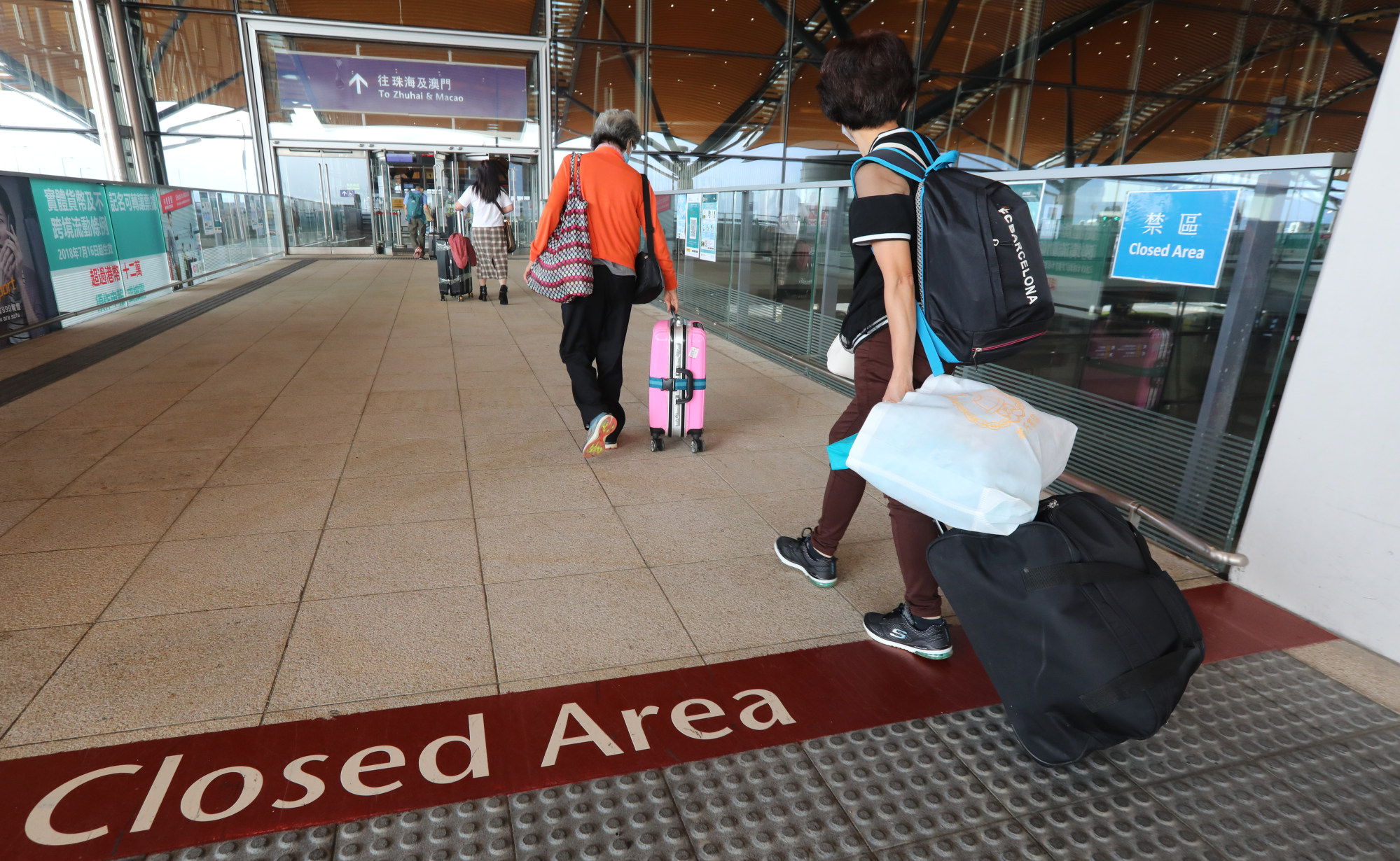 The commerce chief also spoke about the Asia-Pacific Economic Cooperation ministerial meeting in Bangkok last month, where he and Peru's vice-minister of foreign trade had agreed to begin talks on a possible bilateral free trade agreement.
"Two years ago, we proposed to extend our free trade agreements to four countries in South America including Peru," he said.
"South America has a lot of resources that are available for export. It is a relatively new market."
Separately, Holy Trinity College reported three more coronavirus infections, with the school forced to suspend two classes. One of the cases involved a student who attended a jazz lesson with five classmates and a teacher who had previously been infected.
Ten infections were also reported at three other institutions, comprising Christian & Missionary Alliance Sun Kei Primary School, Hong Kong Society for the Protection of Children Operation Santa Claus Fanling Nursery School and Hong Kong Baptist University Affiliated School Wong Kam Fai Secondary and Primary School, which each opting to suspend several classes.
To better detect the emergence of any new Omicron subvariants, Chuang said, any residents who reported a positive result from a rapid antigen test would be required to undergo a follow-up polymerase chain reaction test.
She added that Omicron's rapid transmission rate, which led to the emergence of several undetectable chains of infections, had made it difficult to conduct contact tracing.
"But [the current situation] seems to be different from the beginning of the fifth wave, where several generations of transmissions would occur over a short period of time," she said, noting that recent infection chains could have been shortened as many close contacts of current cases had previously contracted the virus.
Dr Patrick Ip Pak-keung, president of the Hong Kong Paediatric Society, said the slight increase in daily cases was expected due to the easing of social-distancing rules.
"Since the coronavirus disease is a communicable disease, if there are no contacts between people, of course, there will be fewer transmission risks," he told the same radio programme on Saturday.
"As we have more people going out, going to schools and socialising, the slight increase was expected."
But he warned Hongkongers not to let their guard down after the fifth wave of the pandemic had ripped through the city, urging parents to vaccinate their youngsters as soon as possible.