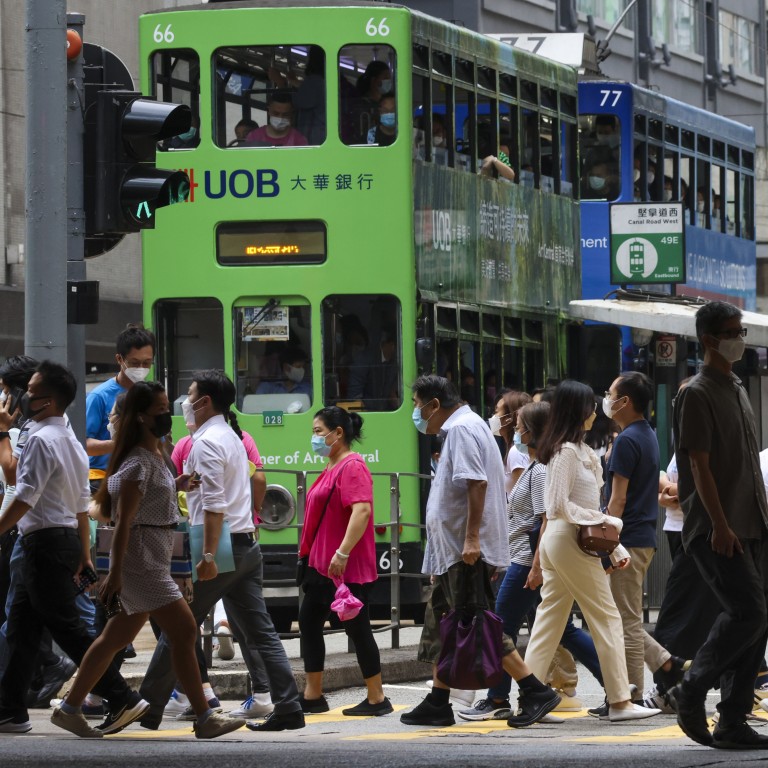 Coronavirus: Hong Kong health experts warn of rebound in cases, as city logs 543 new infections
Dr Ho Pak-leung of the University of Hong Kong says trend in daily caseloads has been on the rise, but public need not to be too worried
Rise expected after easing of social-distancing measures; hospital admissions and number of patients with serious symptoms have not increased
Health experts have warned of a rebound in
coronavirus
cases just weeks before Hong Kong celebrates the 25th anniversary of its return to Chinese rule, as the number of infections at schools soared to 204.
The warning came as health officials logged 543 new Covid-19 cases, including 86 imported ones, on Monday. No deaths related to the virus were recorded.
Dr Chuang Shuk-kwan, head of the communicable disease branch of the Centre for Health Protection (CHP), also revealed that just 75 per cent of positive rapid antigen test (RAT) results reported last Friday came back positive in follow-up checks. The remaining 75 cases, or 25 per cent, reported that day either tested negative the second time around or they refused to provide specimens for checks.
That proportion is higher than the 20 per cent average for last week. Chuang said all residents who submitted positive RAT samples would have to undergo a polymerase chain reaction confirmation test. Residents who failed to do so risked a HK$10,000 (US$1,275) fine and up to six months in jail if they were found to have deliberately submitted false information.
Clusters at bars in the city's nightlife district also continued to expand, with 15 more infections tied to Linq, bringing the total to 93. Sixteen more cases were reported at Shuffle, taking the total to 85.
But the biggest jump in infections came from schools. A total of 204 cases were reported after students returned to classes following a weekend holiday, easily eclipsing the previous high of 45 infections reported on May 30.
"Most schools only report one or two cases … the infections are quite scattered and may be a reflection of the community situation rather than a centre of an outbreak in schools," Chuang said. The prevalence of infections in classrooms was a good measure of the wider situation as students and teachers had to take swabs and complete a RAT every day before heading to school, unlike many other sectors where no such requirements existed, she added.
Of the 147 schools that reported positive RAT results, Kowloon Tong Funful English Primary School had the most, with 12 cases from four classes that would have to suspend in-person lessons for a week. Four of the infected students were also in a basketball class, resulting in two fellow pupils and a coach being placed in home isolation.
Another school slapped with a class suspension was Fuk Wing Street Government Primary School after reporting four infections in one class.
Hong Kong Baptist University Affiliated School Wong Kam Fai Secondary and Primary School also reported infections among three close contacts of three previous cases who took a French class, while Holy Trinity College reported one more case tied to its cluster related to a jazz dance lesson.
Asked why health officials did not impose a wider suspension covering a whole school if cases emerged, Chuang said: "We don't want to rashly suspend the whole school as others there have tested negative after all."
Dr Ho Pak-leung of the University of Hong Kong earlier said the trend in daily infection numbers had been on the rise, but the public need not be overly worried.
"The fluctuation in daily caseloads is expected especially after the relaxation of social-distancing rules," he told a radio show.
Respiratory medicine expert Dr Leung Chi-chiu noted a rebound in cases had already happened. Quoting CHP figures, he said the number of cases had increased to about 2,700 last week from more than 1,400 over the previous seven days.
Ho said the city should focus on hospital admissions and the number of patients with serious symptoms, which had remained static recently, rather than on daily infection numbers.
"On May 19, around 600 people were admitted to hospital. On Sunday, there were only 300 … 26 patients had serious symptoms on May 19, while there were 17 on Sunday," he said.
"If we look at the figures on hospital admissions and serious symptoms, the public does not need to be too worried for the time being."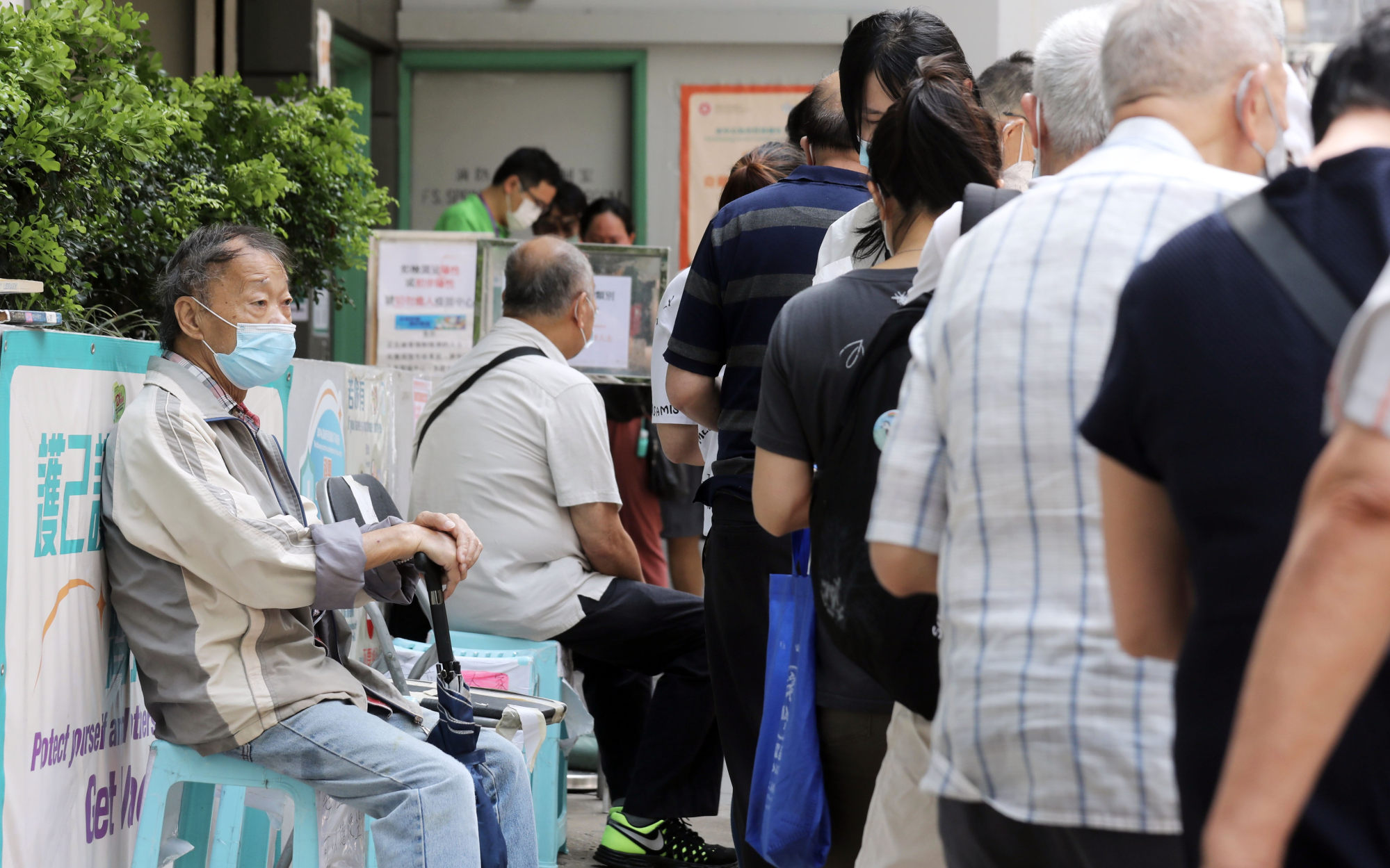 While it was possible daily infection numbers would rise further, Ho said, the city should prepare by boosting the vaccination rate among the elderly.
"The vaccination rate for second and third doses among people aged 60 or over is not ideal," he said. "Compared with the overall population in Hong Kong, the figures [among care home residents] are low."
On May 11, the government said 84 per cent of care home residents had been vaccinated once, while only 56 and 14 per cent had received their second and third doses.
Given the current trend, Leung said he expected the number of cases to remain in the mid to high three digits when activities to mark the 25th anniversary of the city's handover from British to Chinese sovereignty were held on July 1.
"For people coming from mainland China to Hong Kong and going back to the mainland afterwards, they will need to be more careful and might need to adopt a closed-loop arrangement to prevent bringing the virus back," Leung said. "The number of cases in Hong Kong is higher than in any of the mainland cities."
Hong Kong has pledged to follow the mainland in adopting a "dynamic-zero" infection strategy, which aims to swiftly stamp out new outbreaks when they arise.
Meanwhile, the government said it had completed a testing exercise for residents and staff members of all residential care homes for the elderly and nursing homes, with more than 18,900 people receiving nucleic acid screening. Apart from about 90 non-infectious repositive cases, no new infections were found.
Hong Kong's Covid-19 tally stood at 1,215,696 with 9,386 related deaths.