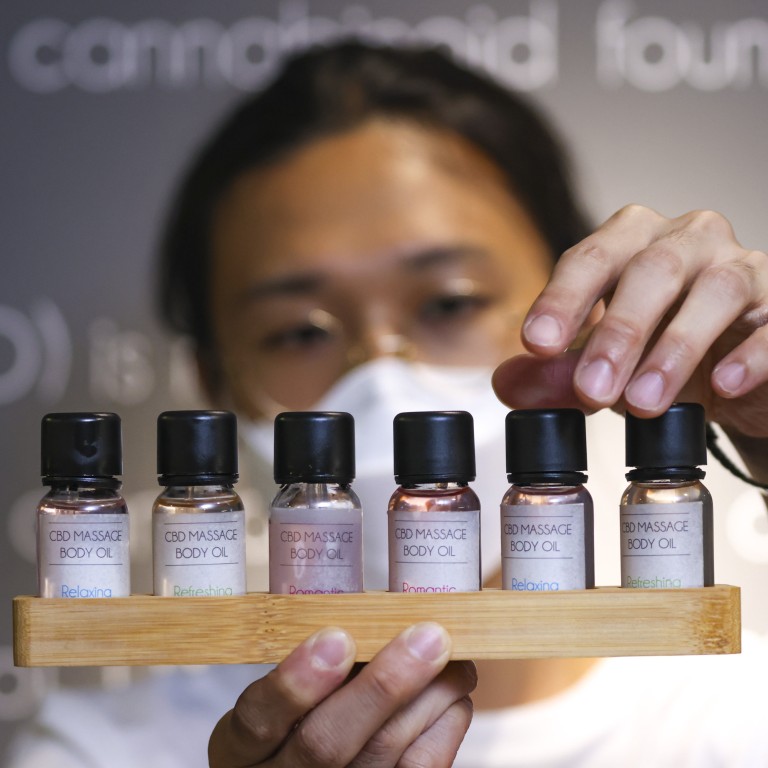 Explainer

|
Hong Kong has proposed banning CBD products within a year. Here's everything you need to know
Change would make substance illegal; those who buy or consume such goods could face maximum of seven years in jail
Authorities say CBD goods containing THC is 'nearly inevitable' as chemical naturally decomposes into illegal active ingredient
Hong Kong's law enforcement authorities have proposed outlawing CBD products this year, as cannabis-derived wellness items have gained popularity in the city recently.
The change will make the substance illegal under the Dangerous Drugs Ordinance, which means those who buy or consume such goods may face a maximum of seven years in jail.
The Post outlines everything you need to know about the development, and the potential impact of such a ban.
1. What is CBD?
CBD, or cannabidiol, is one of more than 100 chemical compounds found in the marijuana plant or its close relative, hemp. It is also possible to derive CBD from other non-cannabis botanicals.
The World Health Organization said CBD did not appear to have abuse potential or cause harm in its pure state.
CBD is currently legal in Hong Kong as long as it has no traces of THC (tetrahydrocannabinol), another active ingredient found in cannabis that gives users a "high" feeling. THC is listed under the Dangerous Drugs Ordinance together with cannabis.
2. In what products is CBD used?
Known for its calming effect, CBD use is growing and it can be found as an ingredient in various goods such as foods, drinks, beauty products and even pet food. Industry players also claim it can help customers regulate their anxiety, relieve stress and get a perfect night's slumber.
Most of the CBD products sold in Hong Kong are imported from overseas, including the United States, Britain and Europe.
CBD oil, depending on its usage and amount, is usually priced from HK$150 (US$19) to HK$480.
3. Why is law enforcement concerned with CBD?
Authorities said it was "nearly inevitable" CBD products would contain THC as current technology could not remove it from the compound, which might also naturally decompose into the illegal active ingredient.
The decomposition of CBD to THC could take place even under normal storage conditions, while water and carbon dioxide in the air could speed up the process, according to a government laboratory paper.
Authorities cited a recent study which found a trace amount of THC in a synthetic CBD solution after only three months of use and it being stored on a benchtop. THC was not detected in the item at the start of the experiment.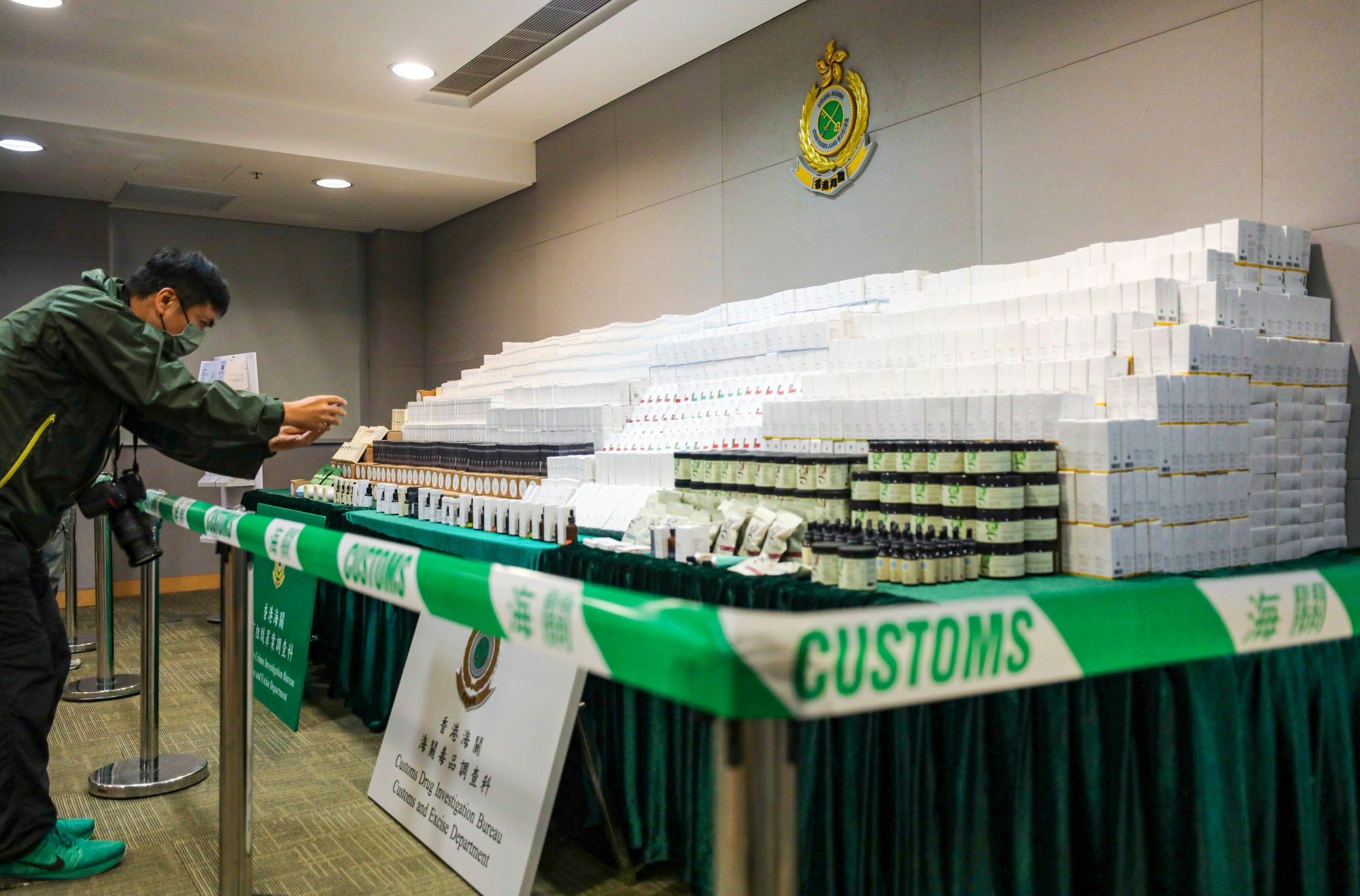 It also cited another piece of literature, which found CBD could be converted into THC with the use of readily available acidic materials, such as vinegar or battery acid, in a household kitchen.
According to the laboratory, 42.5 per cent of CBD product samples submitted by police and the Customs and Excise Department for testing in the first four months of 2022 were found to contain THC.
4. How do other countries and regions regulate CBD?
In 2020, the United Nations recognised the medicinal and therapeutic potential of cannabis, but non-medical and non-scientific use continues to remain illegal.
In the US, the federal legal limit for THC in CBD products is 0.3 per cent. A product that exceeds this amount is considered marijuana, classed as an illegal drug under federal laws.
Since 2020, CBD food products in Britain have needed to be authorised before they can be sold legally in the country. Those containing the chemical are considered legal if they have a THC content below 0.2 per cent. The United Kingdom's Food Standards Agency recommends consuming no more than 70 milligrams a day.
Mainland China banned the use of CBD in cosmetics production in 2021.
Thailand delisted cannabis as a narcotic on June 9, allowing people to grow it at home. But extracts containing more than 0.2 per cent of THC will still be regulated as narcotics. The legal change has ignited interest in the production of CBD goods among businesses.
5. How will the proposed legislation affect ordinary consumers?
The proposed legislation will prohibit the manufacture, import, export, supply, sale, possession and transshipment of any products containing CBD in the city, regardless of amount.
Authorities say the use of CBD will be exempted if it is prescribed under the ordinance or with a licence issued by the Department of Health, adding that it will not affect research related to cannabis compounds as well as the registration and use of pharmaceutical products.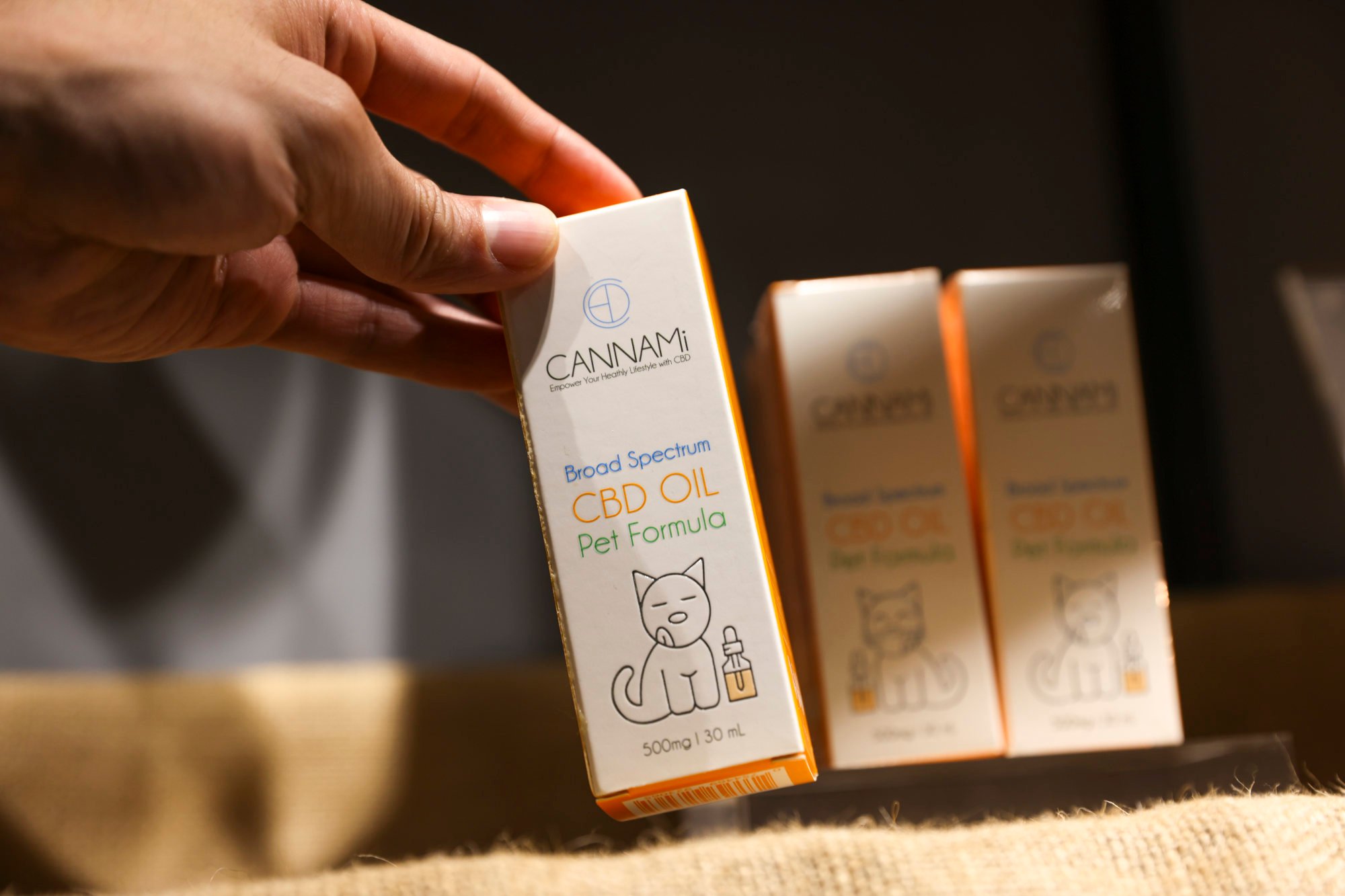 A "reasonable time", such as three months, will be given to consumers and businesses to dispose of the products or consume them, according to authorities.
In Hong Kong, possession of a dangerous drug is punishable by imprisonment for up to seven years and a HK$1 million fine. Any person who traffics, including selling or giving away any amount of dangerous drugs, is liable upon conviction to a fine of HK$5,000,000 and imprisonment for life.
6. How has the industry reacted?
Industry players say they often conduct laboratory tests to ensure their CBD products are THC-free, even though it is not required by law, before importing them to avoid violating the ordinance.
Instead of a wholesale ban, they suggest an alternative law requiring businesses to conduct tests at government-authorised laboratories to ensure THC is not in their products.