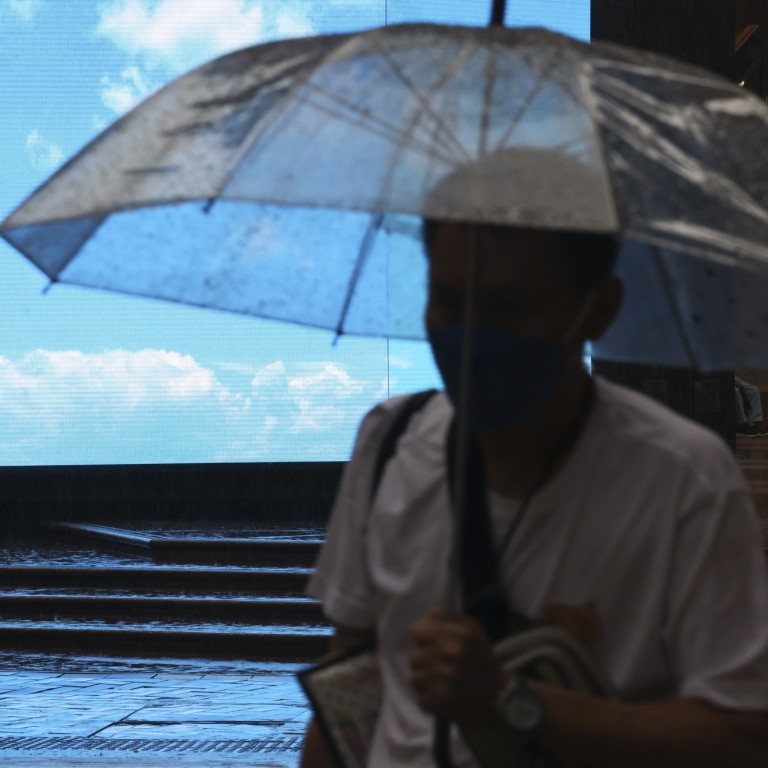 Hong Kong issues No 3 typhoon warning signal as tropical storm Chaba nears, with President Xi Jinping visiting for 25th anniversary of city's return to Chinese rule
Observatory issues No 3 typhoon warning signal at 10.40pm as tropical storm Chaba nears; squally showers and thunderstorms expected in the next few days
Xi travelled to Hong Kong from Shenzhen by high-speed rail on Thursday afternoon for two-day trip
This story has been made freely available as a public service to our readers. Please consider supporting SCMP's journalism by
subscribing
.
The Observatory issued the No 3 typhoon warning signal on Thursday night as tropical storm Chaba moved towards Hong Kong, with President Xi Jinping and his wife having arrived for events celebrating the
25th anniversary
of the city's return to Chinese rule.
The weather forecaster issued the No 3 strong wind signal at 10.40pm. The signal would remain in force before noon on Friday and the need to issue the No 8 typhoon warning would depend on the development of Chaba and changes in local winds.
Sources said the flag-raising ceremony at Wan Chai's Golden Bauhinia Square to mark the 25th anniversary of the handover on Friday morning would go ahead despite the possible bad weather. The ceremony could, however, be moved indoors if the No 8 typhoon signal or a black rainstorm warning was issued.
One source said that even under the original schedule, it was mainly only senior officials who would attend the actual ceremony due to the coronavirus situation in the city. Other guests will watch a live stream of the event inside a hall at the adjacent Hong Kong Convention and Exhibition Centre. Xi, who will swear in the city's sixth-term government, will not attend the flag-raising ceremony.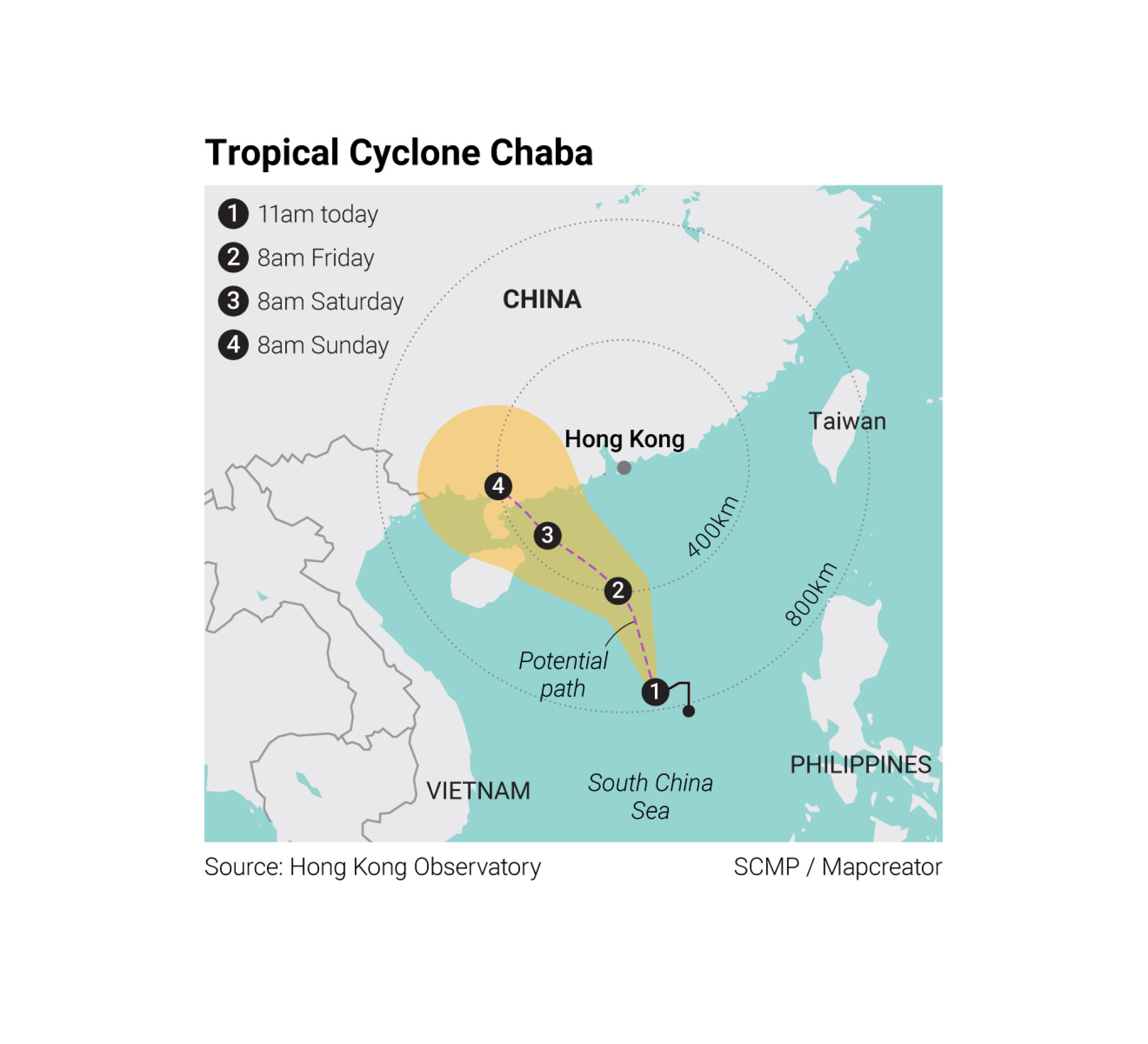 At 11 pm, Chaba was estimated to be about 570km south of Hong Kong and was forecast to move north-northwest at about 18km/h in the general direction of the coast of western Guangdong. As Chaba was edging closer to the coast of western Guangdong, local winds would be strengthening gradually, the Observatory said.
Cheung Ping, senior scientific officer at the Observatory, said on Thursday afternoon that Chaba would drift within 500km of Hong Kong on Friday morning and be closest to the city by the evening, at around 300km.
The No 1 signal was issued on Wednesday night and remained in force at 9pm on Thursday, meaning a tropical cyclone was within about 800km of Hong Kong and might affect the city.
Squally showers and thunderstorms are expected in the next few days. There will also be swells and strong winds on Friday, with heavy showers at times over the weekend.
Xi travelled to Hong Kong from Shenzhen by high-speed rail on Thursday afternoon for a two-day trip, including a visit to the Science Park. He was expected to go back to Shenzhen on Thursday evening and return to Hong Kong on Friday.
He is expected to oversee the swearing-in ceremony of incoming Chief Executive John Lee Ka-chiu and his cabinet at the convention centre on Friday morning.
Four helicopters were expected to perform a fly past over Victoria Harbour on Friday morning. Organisers of the celebratory events have kept a close eye on the weather and are braced for last-minute changes.
The name Chaba in Thai refers to a type of tropical bloom known as a shoeflower, part of the hibiscus family.
Additional reporting by Danny Mok and Lilian Cheng