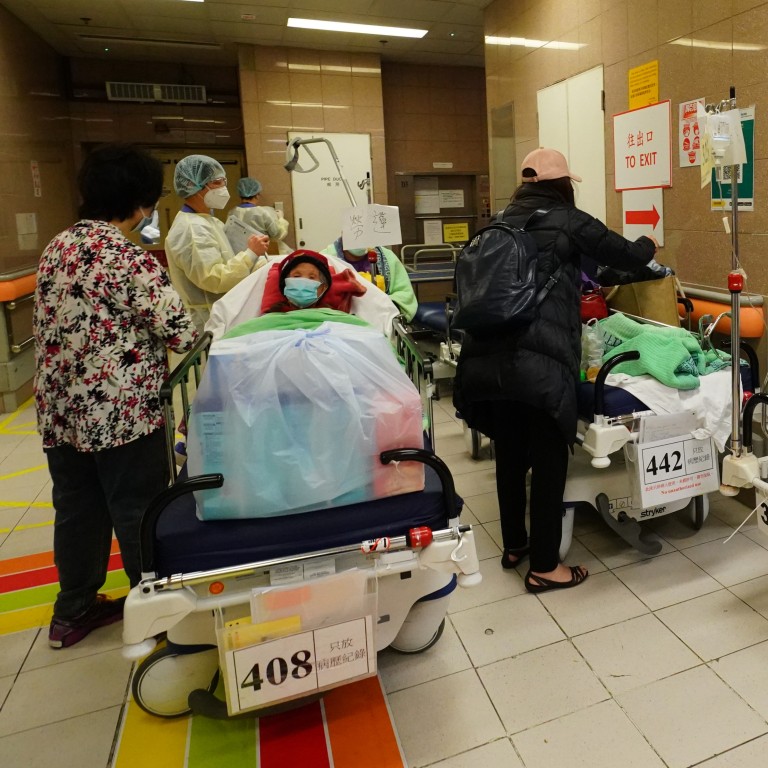 Hong Kong private hospitals could be punished over low non-Covid patient intake from public healthcare sector, source says
Source familiar with situation says private hospitals could be slapped with tougher licensing conditions if they hold off taking non-Covid patients from public facilities
Hong Kong's overall coronavirus tally passes the 1.5 million mark as health officials report 8,457 new infections on Saturday
Hong Kong authorities could punish private hospitals with harsher licensing terms as a "last resort" if the intake of non-Covid patients from the public sector remained low amid a surge in coronavirus cases, a source has said.
The source, who is familiar with the situation, told the Post on Saturday that uncooperative private hospitals could be slapped with tougher licensing conditions if they held off admitting non-coronavirus patients from public healthcare facilities.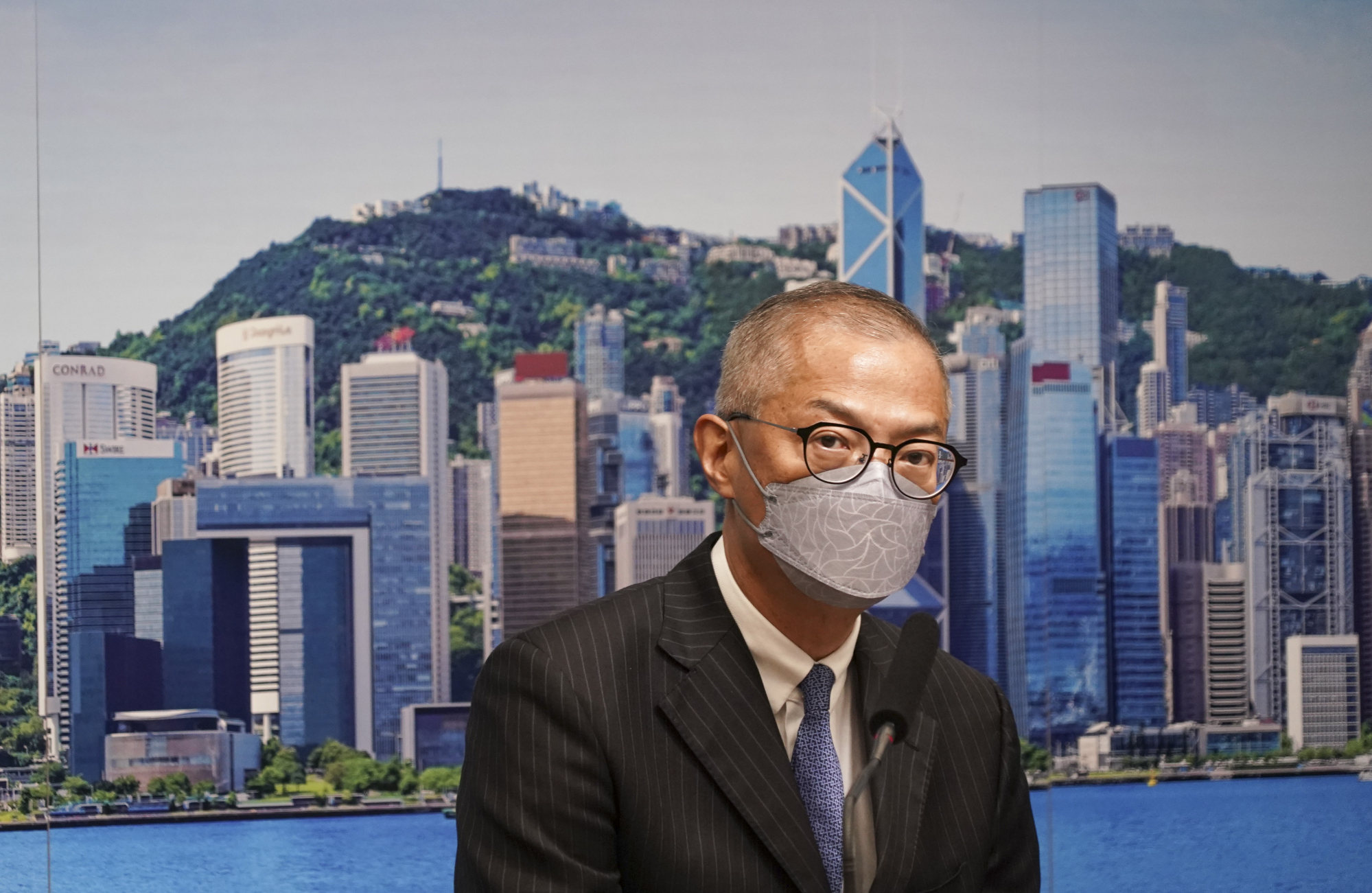 Chief Executive John Lee Ka-Chiu weighed in on the issue after consulting the public on his policy address on Saturday, criticising the pace of transfers from public to private hospitals for being "as slow as a turtle".
Secretary for Health Lo Chung-mau on Friday said that despite 13 private hospitals pledging 364 beds for public hospital patients, only five facilities had reached 60 per cent of their targets and three had taken in none so far.
"Dr Lo's blunt remarks served as a warning," the insider said. "If the private hospitals remain uncooperative, the government could impose harsh conditions related to the 'land grants', even though this is considered as one of the last resorts."
Hong Kong's overall coronavirus tally passed the 1.5 million mark as health officials reported 8,457 new infections, including 232 imported cases, and four more deaths. The number of Covid-related fatalities reached 9,441.
The Hospital Authority has referred non-coronavirus patients to private hospitals in a bid to free up more beds for Covid-19 cases, with the source saying subsidies worth about HK$4,000 per night were being provided for some patients.
Dr Lau Ka-hin, chief manager at the Hospital Authority, said on Saturday that around 220 patients were staying in private hospitals as of Friday, noting that those in the recovery or rehabilitation phase would be selected for referrals.
Tony Ko Pat-sing, chief executive of the authority, said on Friday that about 20 to 30 out of some 100 public hospital patients referred on a daily basis were successfully transferred to private facilities.
Ko told a radio programme that the low transfer rate could be attributed to a slow response by private hospitals during the transfer process, in addition to worsening conditions or an unwillingness among some patients.
But William Ho Shiu-wei, chairman of the Hong Kong Private Hospitals Association, earlier responded to Ko's remark and said the government needed to refine the referral process to ensure more patients could be transferred.
The insider on Saturday also accused many private hospitals of cherry-picking patients and spending days assessing which cases could yield the most "profitable" treatment options.
Other facilities were reluctant to take mild cases who would be discharged in three to four days, the source added, with a preference for patients who needed surgical procedures such as percutaneous coronary intervention, artificial joint replacement and appendectomy, which allowed the hospitals to collect more government subsidies.
In response to the Post's queries, Ho noted that it was agreed under the partnership with the Hospital Authority that it would transfer stable rehabilitation patients to private hospitals. This may include those who have undergone operations or are recovering from chronic illnesses.
"Both sides are working hard to solve some of the problems, like response time from private hospitals, or readiness of patients to transfer once accepted by private hospitals," he wrote in an email reply. "The Hospital Authority is also changing some of the initial pairing up of public-private hospitals to address differential needs across its geographical clusters."
He added that the authority and private hospitals with "slower uptake" are communicating to examine and address problems they may face.
Separately, Secretary for Education Christine Choi Yuk-lin said the government would review arrangements for face-to-face teaching if the number of daily coronavirus cases exceeded 10,000.
Possible responses included the suspension of in-person teaching, depending on the number of cases reported at schools and any related transmission chains, she said.
The minister added that authorities would consider additional restrictions for mask-off activities, with any decision to focus on ensuring a minimum level of disruption and maintaining at least half a day of face-to-face teaching.
Active maskless activities, such as ball games, would be suspended if infections continue to surge in the city, she said, while those requiring less movement, such as orchestra practices, would be allowed to continue.
On Saturday, the hospital authority also reported two Covid-19 cases involving children, a 17-month-old boy and a 10 year-old boy.
The younger child was rushed to the Yan Chai hospital in Tsuen Wan on Friday evening for convulsions and fever, he was also suspected to have temporarily stopped breathing. He was later transferred to Princess Margaret Hospital in Lai Chi Kok for intensive care, and remained in a serious condition and suffered from croup.
The toddler was vaccinated with his first dose of the Sinovac vaccine earlier on Friday. Two experts consulted by the authority, Princess Margaret Hospital's Dr Mike Kwan Yat-wah and University of Hong Kong professor Lau Yu-lung, said his condition resulted from Covid-19 infection and was unrelated to the vaccination.
The 10-year-old boy had a high fever and a positive rapid antigen test result on Monday, he was admitted to the Caritas Medical Centre on Thursday evening for breathing difficulties. The boy was transferred to the paediatric intensive care unit at Princess Margaret Hospital on Friday, where he is also in serious condition.