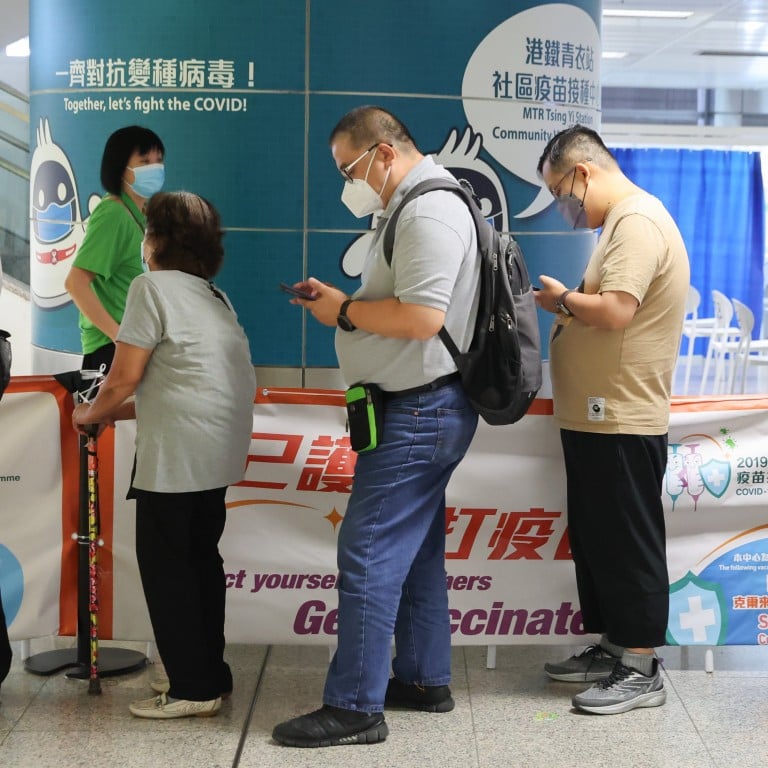 Coronavirus infections in Hong Kong remain below 10,000 mark for third day, as experts call for end to testing orders at residential buildings
Dr Chuang Shuk-kwan of Centre for Health Protection says authorities will closely monitor infection trend, despite cautious optimism
Dr Jaime Rosa Duque of the University of Hong Kong recommends children get two doses of either the BioNTech or Sinovac vaccines
A surge in
coronavirus
cases in Hong Kong has shown signs of easing as the number of infections remained below the 10,000 mark for a third day, while experts called for authorities to scrap the use of testing orders to screen residential buildings.
Hong Kong recorded 7,938 new Covid-19 cases on Monday, after hitting 11,091 last week. Despite the fall in infections, Dr Chuang Shuk-kwan of the Centre for Health Protection said the government would keep a close eye on the downward trend.
"Indeed it looks like the numbers are showing signs of dropping, but we have to monitor it closely, as we are not sure if it's related to the holiday, whether there will be a rebound after it, or BA.5 has peaked, which sits at 68 per cent [of daily cases] right now," she said.
Health authorities previously said BA.5, a more transmissive strain of the Omicron variant, had contributed to the city's recent surge in cases.
Monday's caseload included 166 imported infections and the city also reported 11 more deaths. Hong Kong's overall tally now stands at 1,659,912 cases and 9,810 related deaths.
Meanwhile, the Hospital Authority revealed that a 10-year-old boy with epilepsy was critically ill after contracting Covid-19. His symptoms included fever and croup, a condition caused by respiratory infections and characterised by a hoarse voice and difficulty breathing.
The boy, who had received two doses of the Sinovac vaccine, was being treated in the intensive care unit at the Princess Margaret Hospital in Kwai Chung.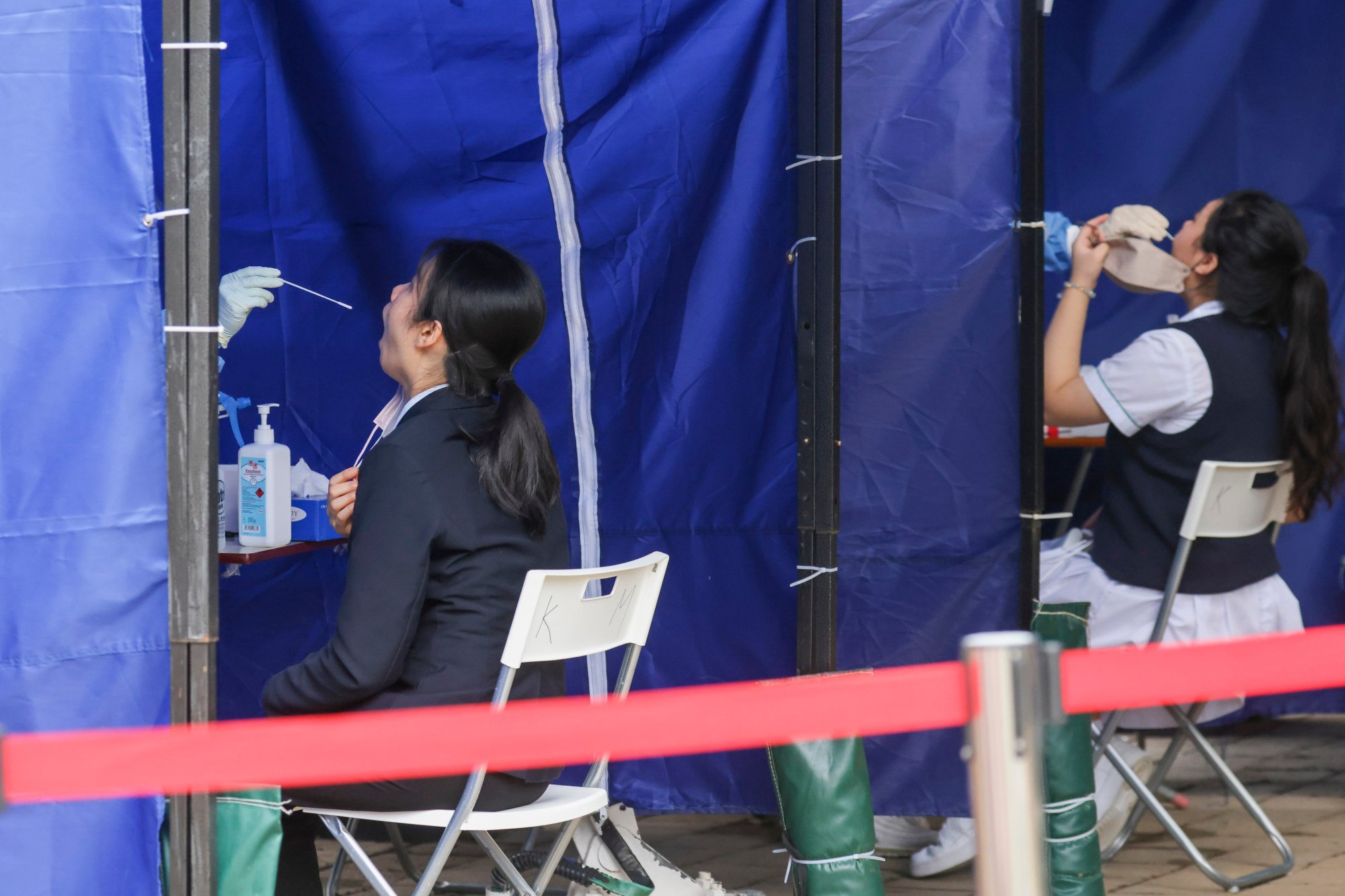 Health experts, meanwhile, urged the government to scrap compulsory testing notices for residential buildings linked to outbreaks or where high viral loads were detected in sewage samples.
Under the notices, occupants are required to undergo polymerase chain reaction (PCR) screening at community testing centres within a certain period of time or be banned from leaving the lockdown area overnight until the process has been completed.
Those who did not comply with the order face a fixed penalty of HK$10,000 (US$1,274), with further violations considered an offence punishable by a fine of up to HK$50,000 and six months' imprisonment.
Government adviser Professor Ivan Hung Fan-ngai, head of the infectious diseases division at the University of Hong Kong (HKU), described compulsory testing as "unnecessary" and said it had not helped to control outbreaks.
"Unless you perform the testing continuously for seven days and lock down the building, [compulsory testing] is not practical and inappropriate, as most of the population have already been fully vaccinated and the majority of the population has already been infected," he said.
Hung added that high viral loads found in the sewage of residential buildings could be naturally higher because coronavirus patients with suitable living conditions were allowed to undergo home isolation.
The government adviser called for the scrapping of compulsory and sewage testing, while maintaining the use of PCR screening for symptomatic patients and close contacts, in addition to using it as part of home isolation measures.
HKU microbiologist Ho Pak-leung echoed Hung's suggestion, adding that compulsory testing was not effective in containing the coronavirus and could worsen the sense of pandemic fatigue among the public.
He said that while viral transmission could occur in buildings where patients were undergoing home isolation, such risks could be kept under control.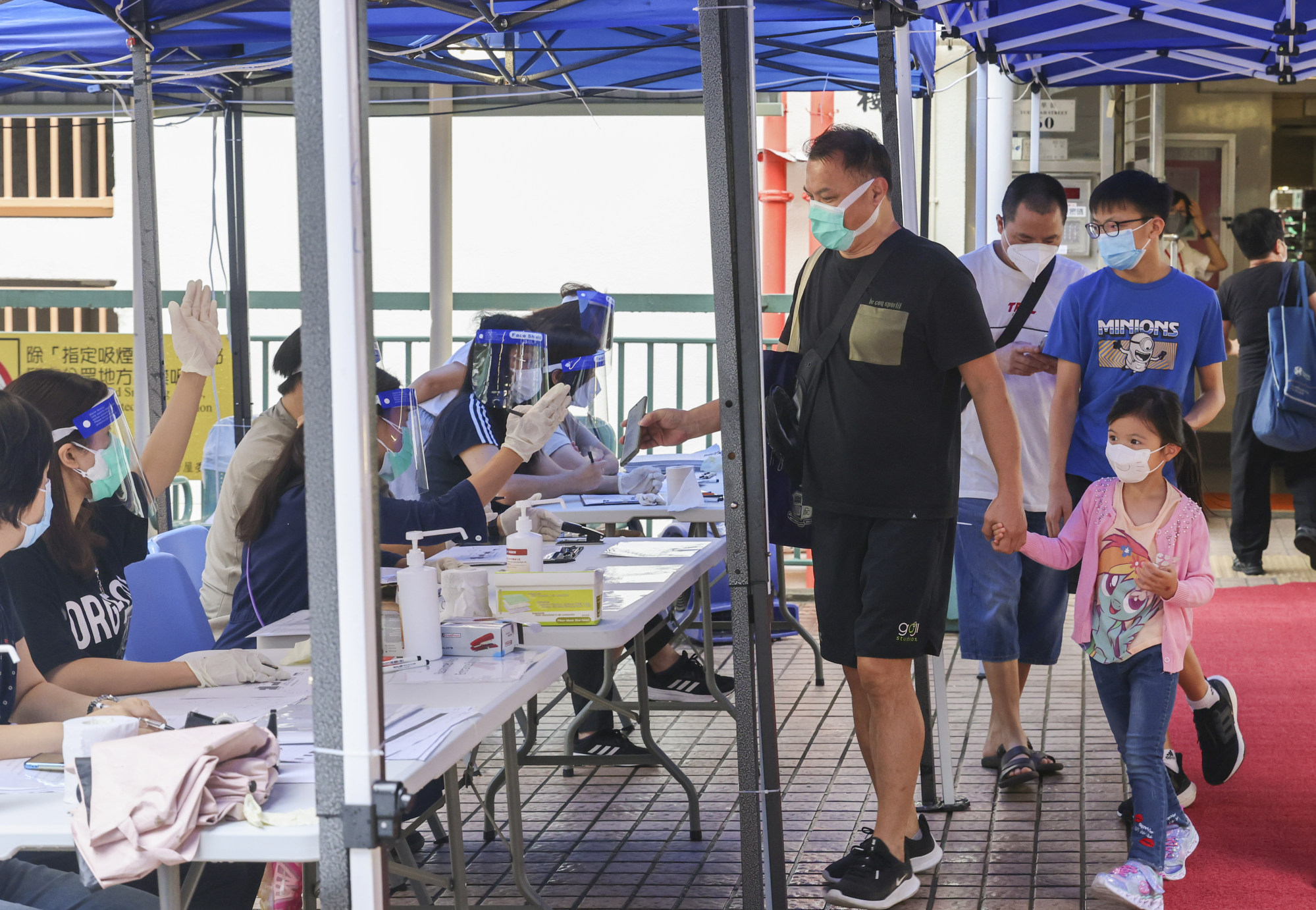 According to official data, the government issued compulsory testing notices to 48 residential buildings and conducted checks on more than 14,000 people between August 12 and September 12. Authorities also logged about 1,000 cases of non-compliance with orders, with about 260 being fined HK$10,000.
Earlier on Monday, Dr Jaime Rosa Duque of the department of paediatrics and adolescent medicine at HKU recommended that youngsters get two doses of either the BioNTech or Sinovac vaccines after finding inoculation had prevented more than 1,000 young children and adolescents from needing hospital admission.
"I think people should not think about taking just one vaccine dose. If you are going to take the vaccine, at least take two doses, as only two jabs will provide enough protection," Rosa Duque told a radio programme.
Rosa Duque and his team – led by Professor Lau Yu-lung, chairman of a government panel on vaccine-preventable diseases – co-authored a study on the effectiveness of Covid-19 shots in the city. The study has yet to be published and peer-reviewed.
By comparing the 1.36 million doses administered to 766,601 children and adolescents between March 2021 and April 2022 and official hospitalisation numbers for the age group, the researchers estimated one jab of the German-made BioNTech vaccine was 65.3 per cent effective in preventing hospitalisation for children aged three to 11 years.
For the mainland China-made Sinovac vaccine, one and two doses were 13 and 86.1 per cent effective respectively in preventing hospitalisation for the same age group.
For adolescents aged 12 to 18, the effectiveness rate was 60.2 and 82.4 per cent after one and two doses respectively of the BioNTech vaccine. It was 30.8 and 90.7 per cent after one and two shots of the Sinovac vaccine.
The team, which used those numbers in mathematical modelling, said the city's vaccine programme had prevented 68 young children and 999 adolescents from being hospitalised during the study period.
Noting the difference in protection between one and two doses, Rosa Duque said: "Whether it is Sinovac or BioNTech, two jabs will still give you at least 80 per cent protection … while one jab is lower."
Although the study did not cover the vaccines' effectiveness against the Omicron BA.5 and BA.4 subvariants behind the latest Covid-19 surge, the clinical assistant professor said the jabs should be able to provide protection based on the city's previous outbreaks and overseas data.
Adolescents aged 12 to 19 are now among the age groups with the best vaccine coverage, with 100 per cent having received one jab, and 96.8 per cent having taken two. Those aged three to 11 have some catching up to do, with 82.1 per cent of them now having received one shot and 68 per cent having taken two, prompting officials to repeatedly urge parents to get their children vaccinated.