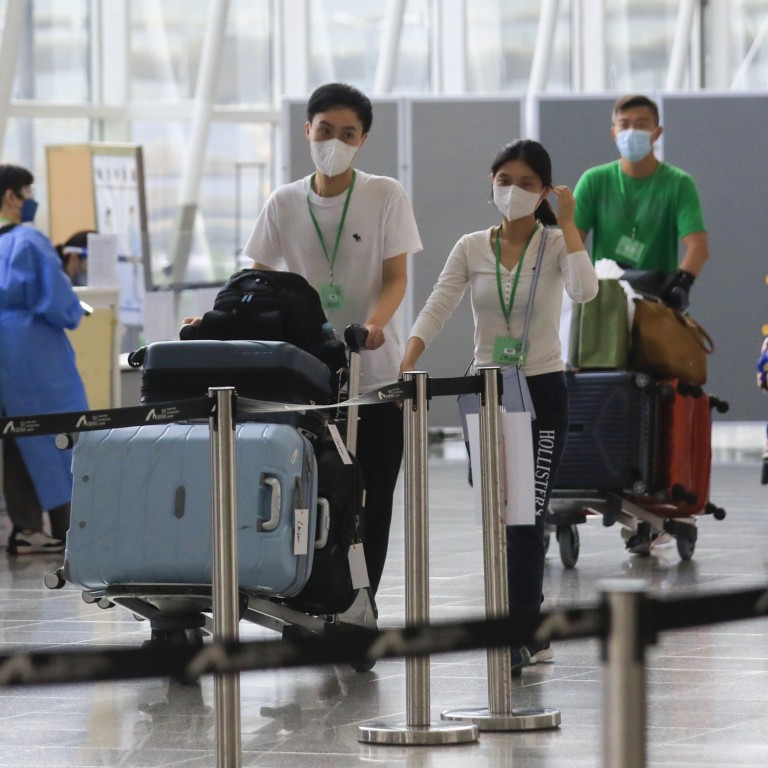 One small step for Hong Kong? Health experts suggest fewer Covid tests but extended tracking for travellers, citing success of rival Singapore
Infectious disease specialist, a former chairman of key WHO network, says quarantine rule has 'questionable benefits'
But not all health experts agree on exact direction Hong Kong should take with its travel rules
Hong Kong should sharply reduce the number of Covid-19 tests arrivals are required to take and rely on the vaccine pass scheme to track their movements if it launches quarantine-free travel, health experts have suggested, with some arguing regional rival Singapore has shown how measures can be gradually and safely eased.
Health minister Lo Chung-mau revealed over the weekend the government was "actively considering" scrapping hotel quarantine for travellers given decreasing infection numbers, which fell to 6,260 on Monday, the lowest in a month. Another 10 deaths related to the virus were also logged.
Characterising Singapore's evolving approach as "gradually peeling things off", Professor Dale Fisher, former chair of the steering committee of the World Health Organization's Global Outbreak Alert and Response Network, said Hong Kong should follow the city state's lead and rethink its screening regime for travellers.
"When you've got 7,000 or more home-grown cases every day and imported cases are few [in Hong Kong], you're paying a big price for something with questionable benefit," he said, referring to the quarantine rule. "You can just have one or two tests. Some people still sneak through, but you're going for sort of a soft landing."
Fisher, a senior infectious diseases consultant at Singapore's National University Hospital, suggested requiring arrivals only be tested upon entry and just once more three days later. Of the latest infections, 174 were imported.
Under Hong Kong's "3+4" arrangement since August 12, arrivals are required to spend three days quarantining at a designated hotel and another four monitoring their own health at home, after which they can receive a QR code allowing access to public places covered by the vaccine pass scheme, such as restaurants.
Inbound travellers also are required to show proof of a negative polymerase chain reaction (PCR) test obtained within 48 hours of their departure time, once again upon arrival and four more times within the first 10 days of landing.
Singapore last September reopened to visitors from Brunei and Germany who had received two vaccine shots. Travellers were required to take four tests before and after their arrival, while abiding by the government's "Trace Together" app.
But the country's experience with a more open border was also difficult at times. In January, Singapore suffered a surge in infections fuelled by Omicron, and imported cases outnumbered community ones at one stage.
Singapore responded by tightening testing requirements for arrivals, but chose to maintain quarantine-free travel for inoculated travellers from many countries, including Britain and the United States.
"When we saw the numbers going up again in May and June in hospitals, that's when we've tweaked it with [curbs on] visitors to hospitals, and we've stopped other things. But stopping borders when you've got all this spread in the country already, it's not really helping but it is punishing," Fisher said.
"We were going to expect these fluctuations to happen from time to time, and there's community expectations that if things went bad, we know what to do."
Singapore last month dropped all restrictions for fully inoculated travellers and stopped requiring unvaccinated arrivals to spend seven days in isolation in favour of providing proof of a negative test two days before landing. Most public places have also stopped using the tracking app.
As of Monday, 211 people were being treated in hospital in the city state, with 10 people in intensive care. Between September 6 and 12, authorities recorded 1,306 imported cases, accounting for 9 per cent of the infections. More than 5 million people, or 93 per cent of the population, have received two vaccine doses.
By comparison, Hong Kong was treating about 2,647 cases in hospital as of Monday, 17 of them in intensive care. Health officials recorded 1,165 imported cases between September 6 and 12, comprising 1.7 per cent of infections. According to the latest figures, 91.5 per cent of residents, out of an eligible population of 7.4 million, have received at least two jabs.
Professor David Hui Shu-cheong, who advises the government on its pandemic response, suggested extending tracking to arrivals in an initial stage, as some countries had done, a step experts believed could help prevent the emergence of new variants.
Switching to a "0+7" arrangement, where arrivals were only required to monitor their own health for a week, would be a good step, Hui said, adding the number of days under surveillance could be reduced so long as infections in the community did not rebound.
Professor Yuen Kwok-yung, a government adviser, also supported the idea of a "0+7" arrangement, or even a more aggressive relaxation, in an op-ed piece written by four health experts at the University of Hong Kong. Most of the population had either been vaccinated or infected, which greatly reduced the chance of serious cases of fatalities.
But Professor Ivan Hung Fan-ngai questioned whether the government should indeed take its cues from Singapore, noting Hong Kong's population already enjoyed robust hybrid immunity, the result of most residents either being vaccinated or recovered Covid-19 patients.
The latest surge in cases had also slowed, in part because most residents had taken at least two vaccine shots, Hung said, who also advises the government on its pandemic strategy.
"There were no further majorly changed subvariants emerging at this stage. Hong Kong fulfils the criteria to abandon the inbound quarantine procedure to allow the economy to recover," he said. "Polymerase chain reaction testing upon landing will still be necessary to monitor the subvariants, alongside alternate day PCR tests for one week and masking."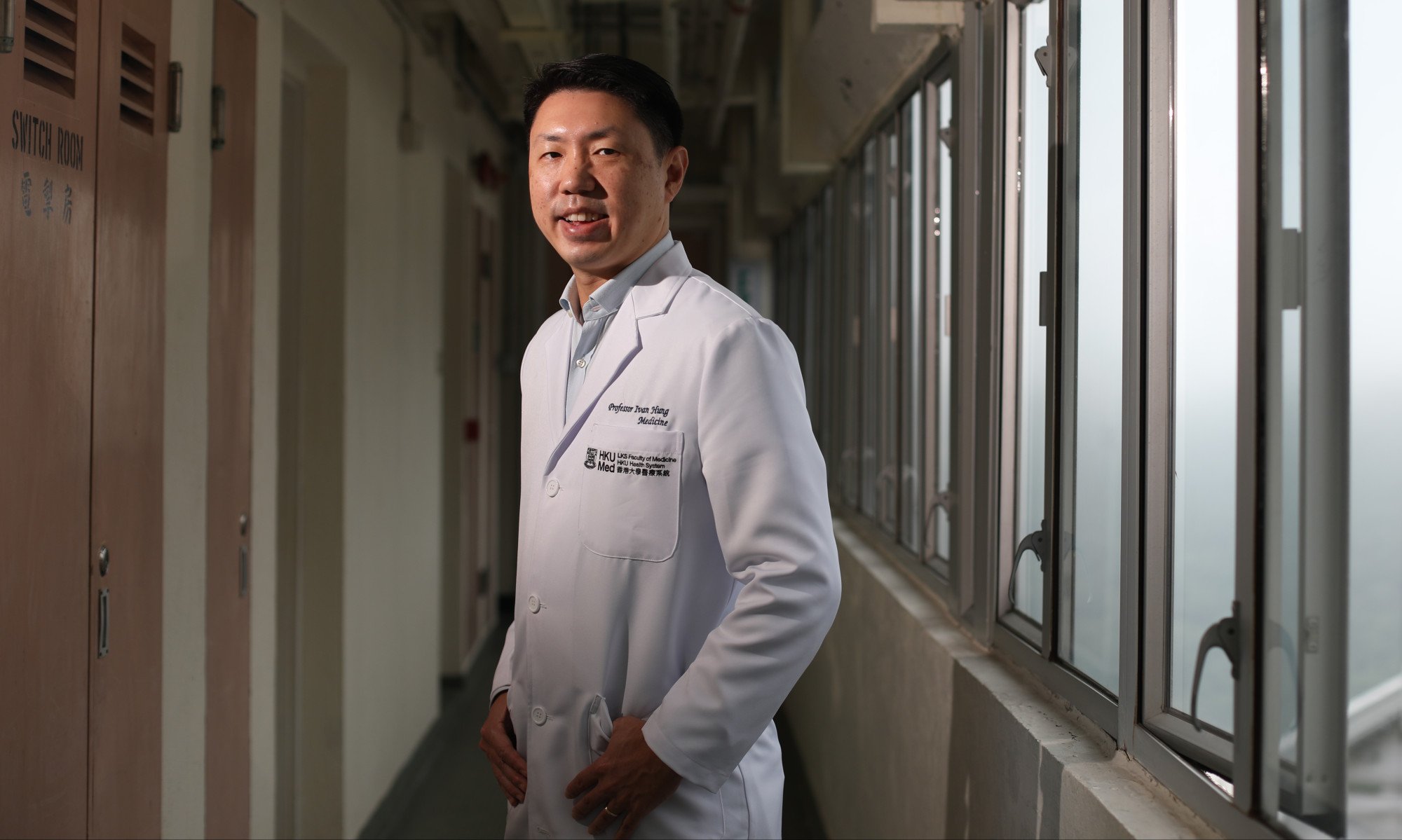 Supporting a more relaxed approach, Professor Benjamin Cowling, an epidemiologist, argued travel-related measures – such as pre-departure testing, quarantine, screening upon arrival and on the days that follow – were intended to accomplish two goals: reducing the number of local cases and delaying the introduction of the latest variants into the community.
"It should already be clear that travel measures are currently providing no public health benefit in Hong Kong," Cowling said. "We have thousands of cases each day, and even if the travel measures were dropped, we would not notice anything different in our local case counts. On the second criteria, we have all of the latest variants in Hong Kong already."
Echoing Cowling, Dr Siddharth Sridhar, a clinical virologist at the University of Hong Kong, said monitoring the movements of incoming travellers would not be especially useful, given the degree of hybrid immunity in the city.
"Covid-19 is endemic and its severity has been demonstrably curtailed by hybrid immunity. ICU occupation and deaths are much lower in the current wave than the fifth wave," he said. "Future waves will only see further reductions in these figures."
Joining the mounting calls from the business community for the city to resume quarantine-free travel, Ta Kung Pao, a pro-Beijing newspaper, raised eyebrows last week by calling on the government to learn from Singapore and Japan when planning for reopening its border. Both countries required travellers to use a tracking app and be fully vaccinated when they first lifted border restrictions.
"The so-called 'comprehensive relaxation' in Japan and Singapore do not suggest the countries are 'lying flat', but instead, these are more precise and efficient anti-pandemic work," the newspaper wrote in its editorial last Thursday. "The practices of Japan and Singapore are worthy of reference for Hong Kong."
Hong Kong's Covid-19 tally stands at 1,713,755, with 9,901 related fatalities.