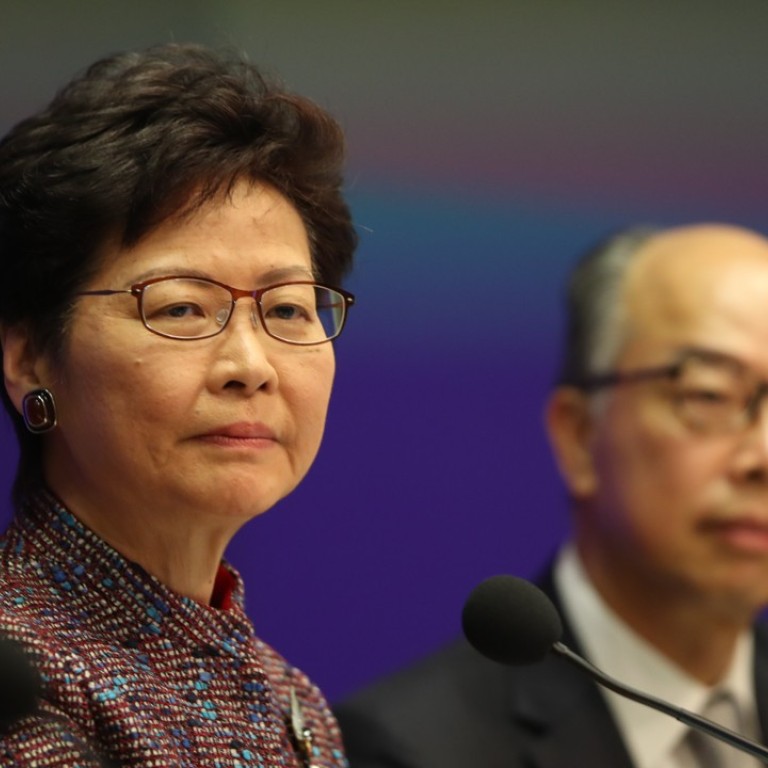 Flats nearly 50 per cent cheaper for young couples and families among basket of measures to tackle Hong Kong housing crisis
Reforming pricing of subsidised units among measures Chief Executive Carrie Lam announces to tackle city's long-running housing problems
Subsidised flats will be nearly 50 per cent cheaper for young couples and middle-class families as part of a basket of measures Chief Executive
Carrie Lam Cheng Yuet-ngor
announced on Friday in a bid to ease Hong Kong's housing crisis by providing more affordable homes.
"Hong Kong people can be more reassured now, they don't need to be bothered by the price increase of private flats," Lam said, flanked by Financial Secretary
Paul Chan Mo-po
, housing minister Frank Chan Fan and development chief Michael Wong Wai-lun.
"There is no political motive," Lam said in relation to the announcement coming a day before she marks her first year in office as the city's leader. "It's just because housing in Hong Kong is the most important, most complicated and most serious problem."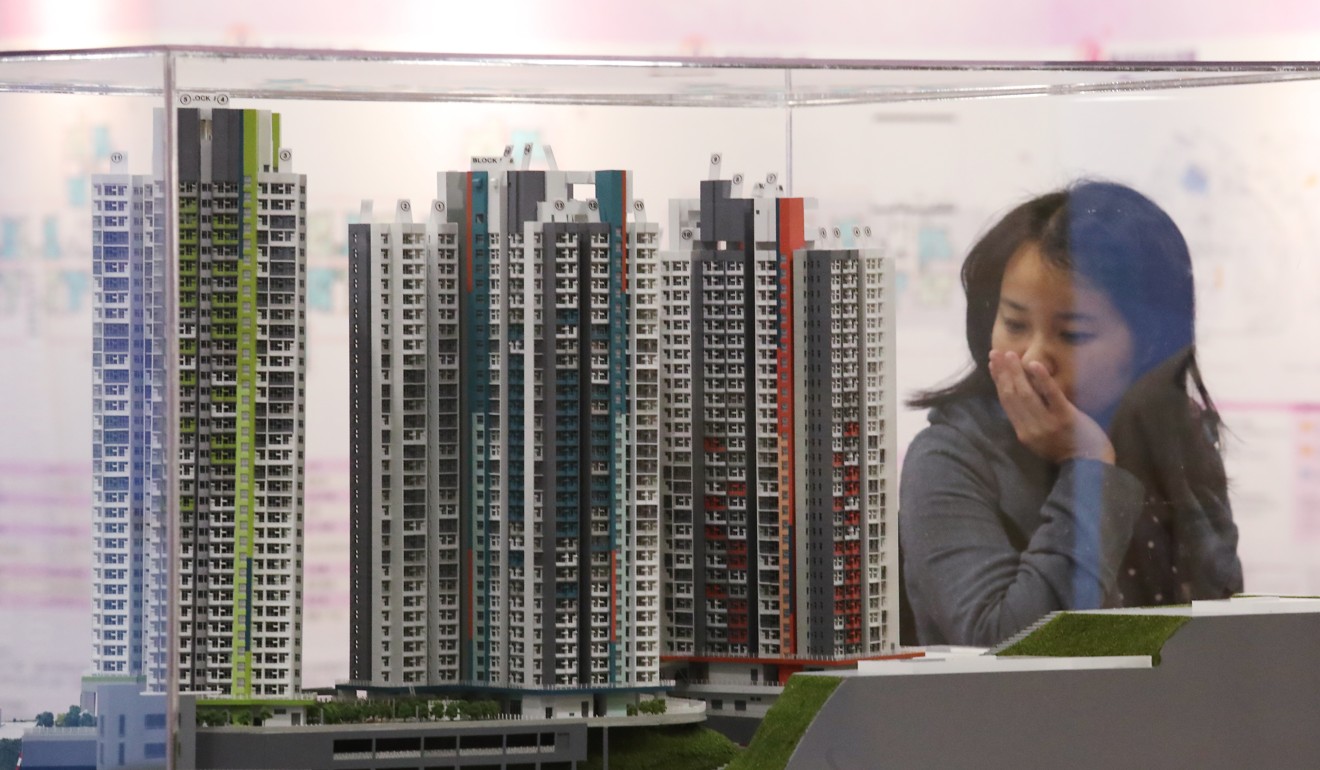 Reforming the pricing system for subsidised flats was one of six measures Lam announced that would benefit young couples and families struggling to buy homes. Other proposals included imposing a vacancy tax equivalent to two years of rental income on empty new flats, reallocating more land originally earmarked for private housing to build public flats, inviting the Urban Renewal Authority to build starter homes at Ma Tau Wai, imposing more stringent conditions on developers' sales of uncompleted flats, and forming a task force to drive temporary housing projects launched by community groups.
Hours before the announcement, the latest government figures showed home prices in May climbing for the 26th straight month, although at a slower rate.
"I don't expect society to measure the effectiveness of this package by the trend of Hong Kong private residential prices," Lam said. "But of course I hope that we will not be seeing another upsurge in property prices, because that is really making private housing very unaffordable for the people of Hong Kong."
Paul Chan would not rule out other measures to soften demand for the limited supply of housing, such as considering a capital-gains tax.
Lam said that by unlinking subsidised housing from market prices, such homes in future would in effect enjoy a discount equivalent to about 48 per cent off the market price instead of the current 30 per cent.
For example, the buyer of a 400 sq ft flat at Kai Tak would be able to save HK$1 million (US$128,200) under the new pricing mechanism, significantly reducing the cost from an already subsidised HK$3.9 million to HK$2.9 million. The market price would be assumed at about HK$5.6 million.
The existing mechanism sets a discount off the market price and, after the discount, the price of half the flats in a project to be sold should be affordable – meaning the monthly mortgage payment should not exceed 40 per cent of applicants' earnings – to eligible buyers falling within the income limit.
This discount has remained at 30 per cent since 1991.
Under the new mechanism, subsidised housing prices will relate to a family's budget. The calculation will be based on the median monthly household income of families who don't own property.
For example, using the median household income in the fourth quarter last year, families making HK$39,500 or lower would be able to afford 75 per cent of the subsidised flats in a project in future.
Lam said she knew subsidised housing supply had been lagging, conceding that getting a flat was akin to winning a "big lottery", as many Hongkongers describe it.
But she said that did not mean the government would do nothing when price increases for private housing disproportionately outpaced income growth.
"The proper way is to have a very reasonable housing policy," she said. "Let's assure the public that the houses we are going to build are going to be affordable, at least in the subsidised sector."
She expressed hope that setting this policy straight "once and for all" would encourage people to participate in the government's land supply consultation.
"With land, we are willing to build more," she said, referring to the use of nine private housing sites to build public housing.
The nine sites could provide a total of 10,600 flats, but whether these flats would be subsidised housing for sale or low-rent public housing still remained to be decided, Lam said.
Lawrence Poon Wing-cheung, a scholar of housing policy at City University, said Lam's move signalled the government's attempt to increase the subsidised housing target of 8,000 flats a year. This number should be increased to at least 18,000, on a par with the targeted provision of private flats, he said.
"You need enough subsidised housing to completely unlink it from the private market," Poon said. "If you make subsidised flats really cheap but there are not enough of them, it will be just an illusion."
Under the government's 10-year housing supply target, it should provide 20,000 public rental flats, 8,000 subsidised flats for sale and 18,000 private flats a year.
The first batch of subsidised flats to benefit from the new policy will be those to be sold under the Green Form Subsidised Home Ownership Scheme by the end of this year.
Lam also urged the Housing Authority to study whether the same measure could be applied to the 4,400 flats offered to eligible buyers under the Home Ownership Scheme (HOS) earlier this year.
But the starter home scheme, which targets applicants with more income than those under the HOS, would get a smaller discount, Lam said, and details would be released later.
In other measures, to ensure the timely release of uncompleted flats, developers will be required to sell at least 20 per cent of the total number approved by the Lands Department in the presale consent, including those sold through tender.
The government has invited the public to give their opinions on 18 proposals to plug a predicted shortage of 1,200 hectares of land for the city's housing and economic development in the next three decades. But the quickest options can only yield results in a decade.
This article appeared in the South China Morning Post print edition as: struggling homebuyers win relief in lam's housing plan