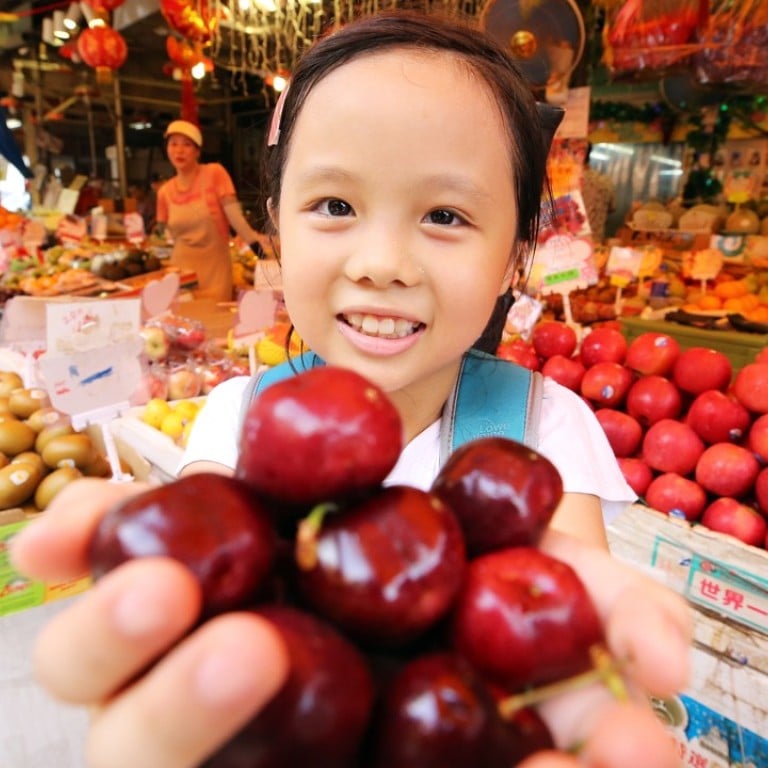 Trade war is good news for Hong Kong's fruit lovers as tariffs drive down cost of American cherries
As tit-for-tat action drives up cost of goods in China and the US, shoppers benefit as producers look to unload their products in tax-free city
The continuing trade war between America and China is proving to be good news for Hong Kong's fruit lovers.
With tariffs driving up the cost of imported US goods on the mainland, the opposite is true in the city, where the price of American cherries, apples, plums, oranges and grapes has dropped by as much as 30 per cent compared with last year.
Retailers and wholesalers said the 25 per cent tariffs imposed by China on a long list of fruits had forced producers to look to Hong Kong, which is not bound by the tariffs, as a place to offload their fruit.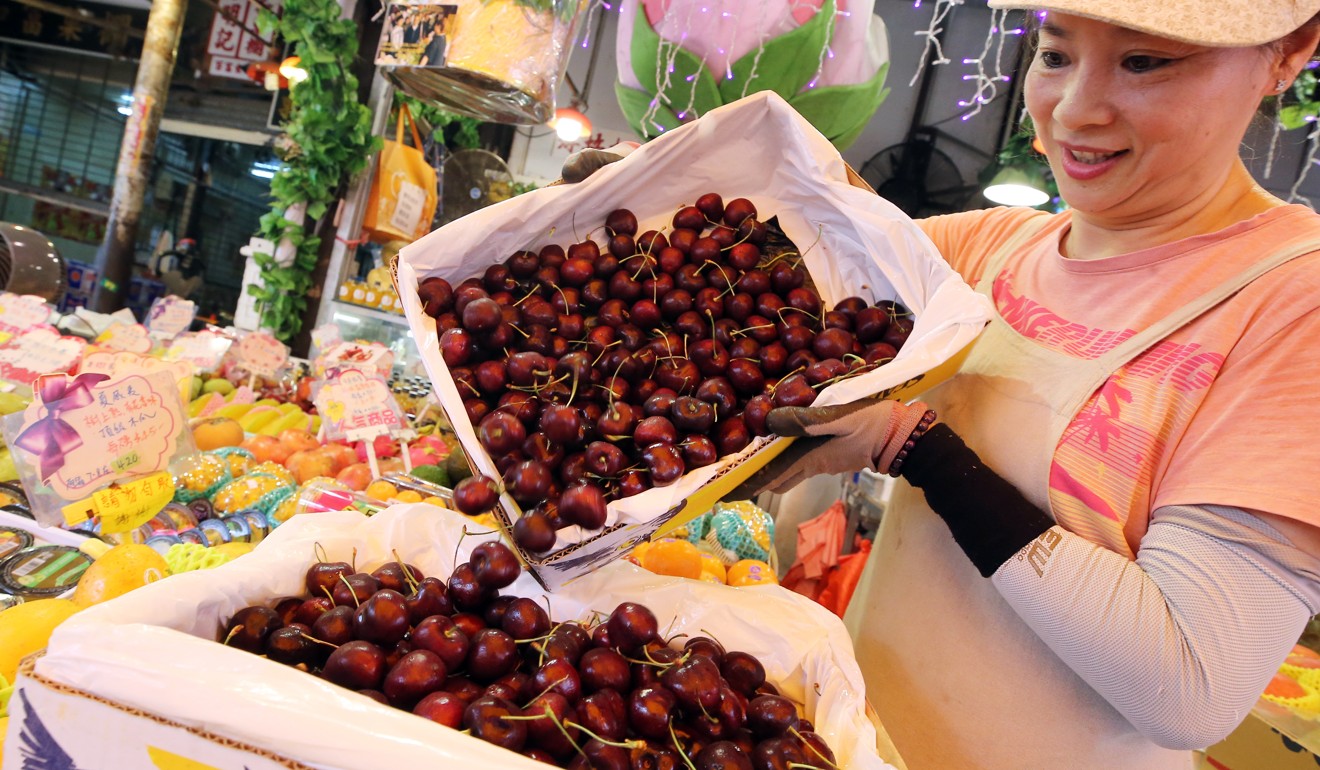 At the city's landmark fruit wholesale market in Yau Ma Tei, produce from the US – cherries, apples, plums, oranges and grapes – saw cheaper prices on Friday, compared with this time last year.
Chloe Lam and her mother were out shopping for American cherries at the busy market.
"It is obviously cheaper," Chloe's mother, who would not give her first name, said. "Whenever we have dinner at friend and folks' homes recently, cherries are on the dining table."
Ivan Wong, a partner at retailer and wholesaler Market Choice, said Washington cherries attracted shoppers' attention as the juicy fruit entered its peak season, while the season for plums and grapes has just started.
"Prices are about 10 to 20 per cent cheaper compared with last summer," said Wong, while unboxing a box of shiny Washington cherries.
"It's a combination of two reasons: a big harvest and the trade war."
A pound of Washington cherries costs about HK$50 (US$6), compared with about HK$60 last summer, while plums and grapes are between 5 and 10 per cent cheaper, he added.
In a tit-for-tat action, China imposed 25 per cent tariffs on US$50 billion worth of American products ranging from fruits, seafood, meat, vegetable, dairy products, and poultry, to cigarettes and cars, on July 6.
This followed US President Donald Trump's decision to levy the same tariff on a similar number of Chinese goods. On July 20, Trump threatened to extend extra tariffs to as much as US$500 billion worth of Chinese products in an attempt to force Beijing to open up the country further to foreign investors.
"We have seen some American exporters turn to Hong Kong, which is tax free," Wong said.
As a result of the new levies, Washington cherries sold across the border saw overall tax and tariffs more than double to 48 per cent, from 23 per cent previously.
At Causeway Bay wet market, a fruit vendor calling herself "Ah Jie" was selling American cherries at the below market price of HK$65 for 2lbs. The fruit was of a dark burgundy colour, which normally means it is nearing the end of its shelf life.
"Don't you know there is a trade war? It's such value for money, last year it cost HK$50 a pound," Ah Jie said, when asked why the cherries were cheaper.
She quoted mainland visitors as saying it cost 60 yuan (about HK$70) a pound in China.

"They chose to eat in Hong Kong now even though they are travelling," she said.