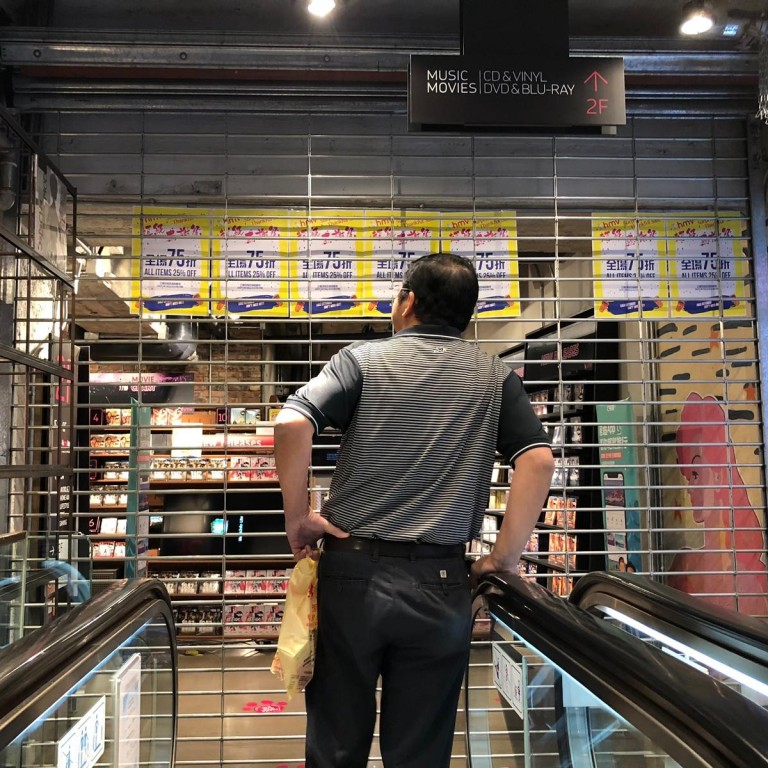 Shoppers turned away as HMV winds up 25-year-old Hong Kong retail chain
Decision to close physical stores comes after HMV Retail's insolvency and default on various payments
About 50 shoppers were turned away at the HMV flagship store in Causeway Bay on Tuesday as the entertainment giant announced that its 25-year-old retail chain was facing liquidation.
HMV failed to open at 10am for regular trading, on an unusual day when shop floor workers were called in for a meeting.
According to the announcement by HMV Digital China Group through the city's stock exchange, the group has sought to voluntarily wind up HMV Retail, which is operating the stores in Hong Kong.
The decision was made after its insolvency and various defaults on payments in lawsuits, the group added.
By 10.30am, a trickle of customers had arrived but was shut out of the Pearl City Mansion complex in Causeway Bay.

Lifts were deactivated, doors locked and escalators turned off to prevent customers and the media from entering.
One customer, who gave his name as Mr Chan, came to browse at the store only to learn of the chain's demise from members of the press.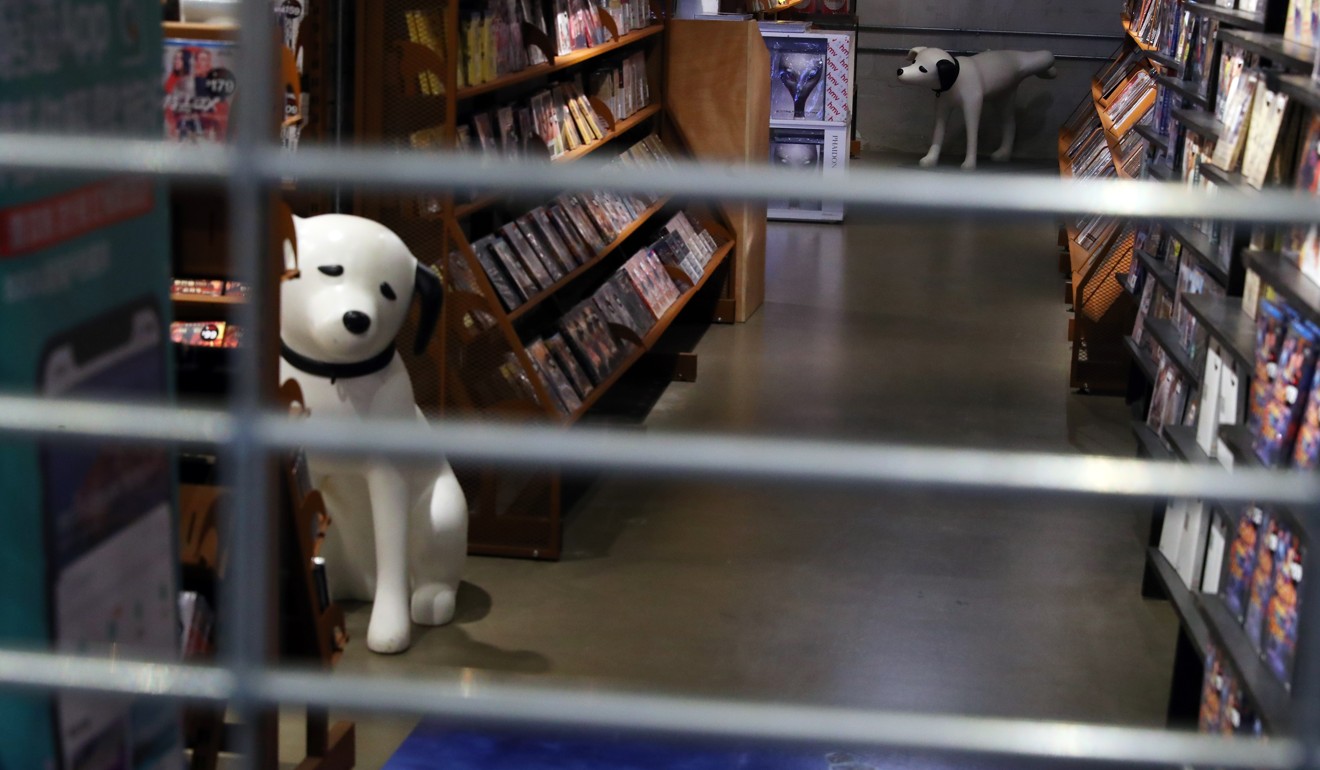 Another prospective customer, Mr Cheng, who had been looking to buy a CD player, praised HMV as a "convenient place to get everything that I want". He said the service was good, staff were helpful, and he liked how the store carried the work of less well-known artists.
"I still feel there is a role for established chains like this to survive," he said. "They just have to change a little bit about how they market their things. The customers in stores like this tend to be loyal customers, not ones who are here today, gone tomorrow."
More customers turned up gradually, surprised to learn that the store was not open. By midday, about 50 people had been turned away.
"That's so sad! I wanted to just go and get Christmas presents," shopper Nicole Sun said.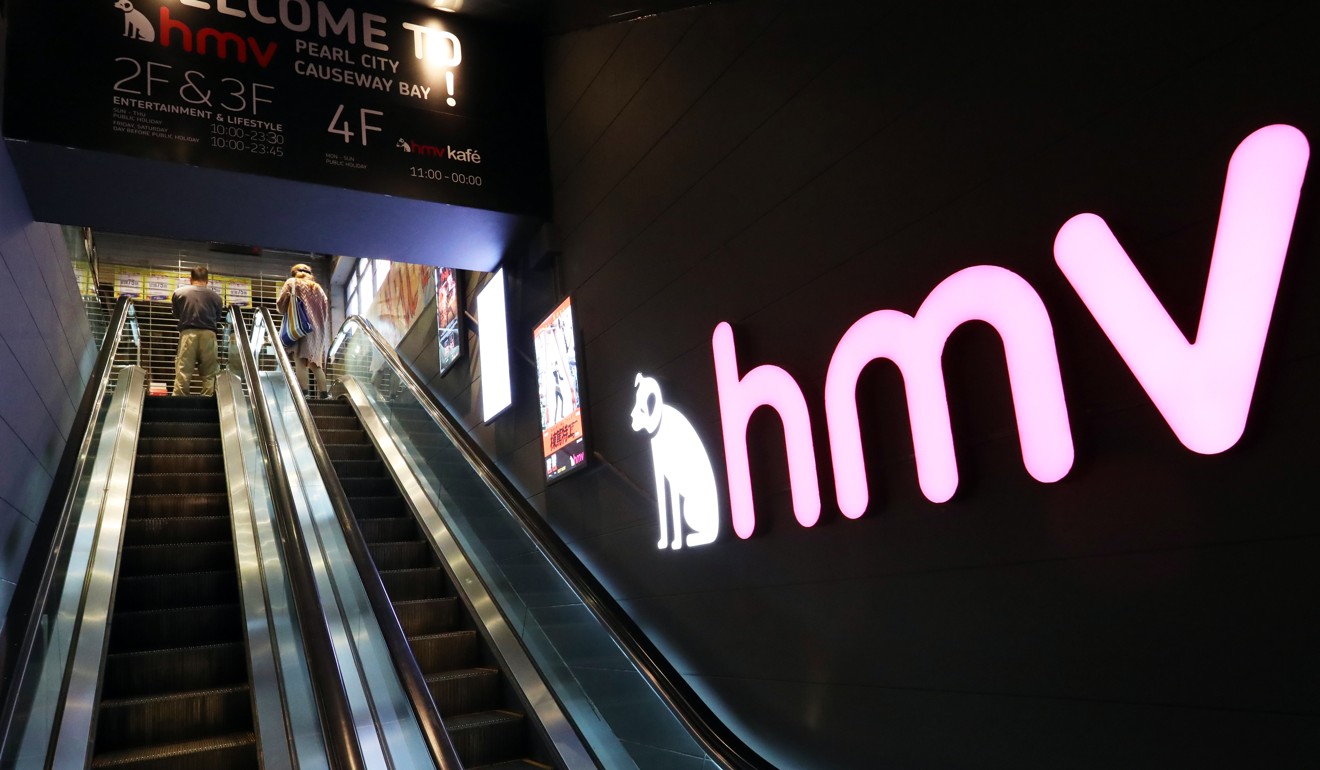 According to the group's announcement, revenue generated from HMV Retail was HK$31.55 million (US$4 million) for the three months to the end of September, about 41 per cent down from the corresponding period in 2017. During the liquidation period, the liquidator will continually seek new investors to re-commence business operation of HMV Retail.
The chain's flagship outlet and its concept store in Central faced eviction earlier this month as they had failed to pay rent amounting to HK$4.86 million, according to court documents. The legal action came just two weeks after the MTR Corporation sued HMV for HK$273,300 in unpaid rent and other fees and demanded the company deliver vacant possession of its store at Telford Plaza shopping centre, owned by the railway operator.
The music retailer had sought to evolve and expand its business into a lifestyle destination, rather than just a bricks-and-mortar store for music and audiovisual equipment. The three-storey, 40,000 sq ft emporium in Causeway Bay included a 12,000 sq ft Western restaurant with a live music stage, while its Central concept store had a small cafe with a bar.
HMV owner Kelvin Wu King-shiu, whose private equity firm bought its Hong Kong and Singapore businesses in 2013, spoke in an earlier interview with the Post about his aspirations to reinvent its operations.
"The whole concept is that HMV is not only a shop for people to buy CDs or DVDs, but is a place for all music and movie lovers to get together to talk about entertainment as a community," he said.
The firm later sold the Hong Kong arm to film production company China 3D Digital Entertainment, which is part of a Hong Kong-listed entertainment empire co-directed by businessman Stephen Shiu Jnr.
Additional reporting by Naomi Ng