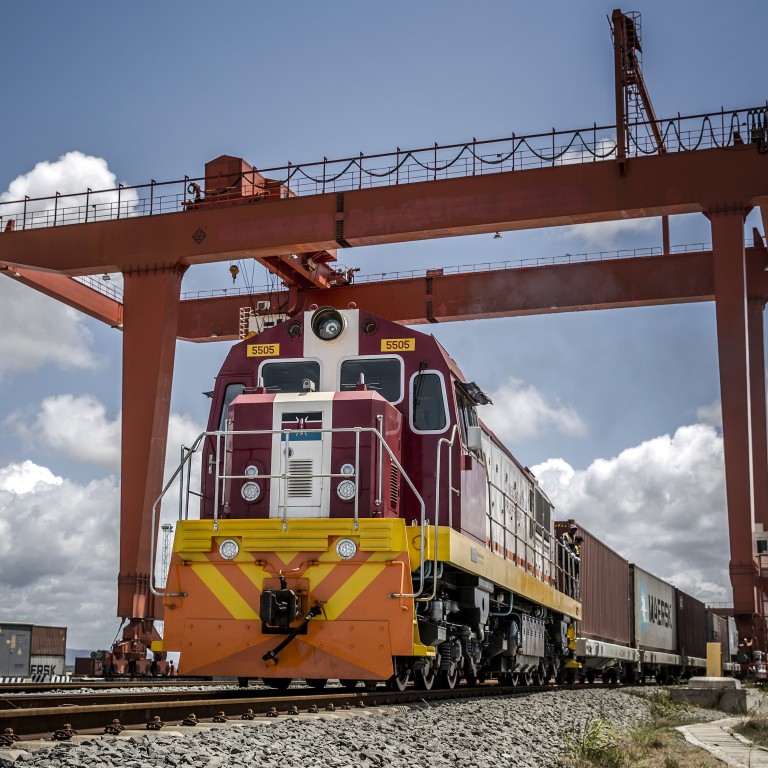 Hong Kong firms hope Belt and Road Initiative will open new opportunities in Africa
Visit to Kenya and Djibouti is latest attempt to forge new ties with continent on back of Beijing's signature infrastructure drive
Some of Hong Kong's leading businesses are looking for new opportunities in Africa in the hope that China's Belt and Road Initiative will help secure access to new markets and raw materials.
Over the past year, executives from firms worth billions of US dollars have visited some of the continent's major economic powers, such as Nigeria and South Africa, as well as Ethiopia and Ghana.
Last week a delegation led by the Hong Kong Trade Development Council, which consisted of representatives from a dozen companies, travelled to Djibouti and Kenya – two of the key entry points to the continent under the Belt and Road Initiative.
The project aims to recreate the ancient Silk Road to connect Asia with Europe and Africa to open up potential markets for its products and create new sources of raw materials for its industries.
It has also presented new opportunities for Hong Kong firms that are looking to ensure future growth in the face of growing competition at home.
Many of these see emerging markets as their best bet – especially Africa, which is home to some of the world's fastest growing economies, such as Ivory Coast, Rwanda, Ethiopia, Ghana and Libya.
Daniel Lam, the Hong Kong Trade Development Council's regional director for Africa and the Middle East, said the trip to East Africa was to "look for more business opportunities … especially from the angle of the Belt and Road Initiative".
Beijing has offered billions of dollars to finance maritime, road and rail projects in the region – including Kenya's Mombasa-Nairobi railway and the Addis Ababa to Djibouti link – and Lam said there were further opportunities for infrastructure development in East Africa.
The companies involved were also targeting joint ventures with local businesses in sectors such as financial services, electronics, infrastructure, telecoms, real estate, shipping, construction and chemical manufacturing.
The delegates included representatives from the Industrial and Commercial Bank of China (ICBC), the world's largest bank, and Bank of China – both of which were looking for investment banking opportunities and the establishment of a regional base.
The two banks are typical of many mainland Chinese companies in making most of their overseas investments through their Hong Kong subsidiaries.
ICBC International Holdings' parent company already has some presence in the continent through its 20.1 per cent stake in Standard Bank Group, which is Africa's largest lender.
The two banks are also working with China's Zhejiang International Trading Supply Chain Co to connect African importers with Chinese suppliers.
The Hong Kong firms made their first stop in Djibouti, a tiny Horn of Africa country, with a population of less than one million, whose economy depends heavily on providing port services for international shipping firms in a strategically significant location.
Hong Kong-based China Merchants Port Holdings, a subsidiary of the state-owned conglomerate China Merchants Group, holds more than a fifth of the Djibouti government shares in Doraleh Container Terminal and also built the US$3.5 billion Djibouti International Free Trade Zone under the Belt and Road Initiative.
Nicholas Kwan, director of research of the Hong Kong Trade Development Council, said Djibouti had a lot of opportunities to offer.
"It is an interesting place. It is developing very fast but still needs a lot of infrastructure to be built. Some of our companies see opportunities in those areas," said Kwan, adding that "the East African region offers the most favourable investment environment". 
Moses Ikiara, chief executive of Kenya's investment authority KenInvest, said the country was offering a range of incentives for foreign investors, including tax breaks, easy processing of work permits and the establishment of special economic zones.
He said the last of these provided particular opportunities in the clothing and leather-processing sectors.
Ikiara said 90 per cent of the fabric used to make clothes was imported and there were great opportunities for import substitution through boosting local production in the cotton-processing and ginning industries.
The country is also seeking investment to help boost important sectors such as health care, manufacturing, food security and housing – where it hopes to built 500,000 affordable homes.
Last year the volume of trade between Africa and China reached US$204 billion, according to the Chinese Ministry of Commerce.
This makes China the continent's largest single trading partner after surpassing the United States 10 years ago.
Hong Kong itself sold products worth US$1.9 billion to Africa in 2017 while importing US$5.1 billion, according to international trade data compiled by the Observatory of Economic Complexity at Massachusetts Institute of Technology.
The companies involved in the latest visit to East Africa have yet to make firm commitments on the amounts they will invest.
This article appeared in the South China Morning Post print edition as: Hong Kong firms see belt and road as key to open Africa