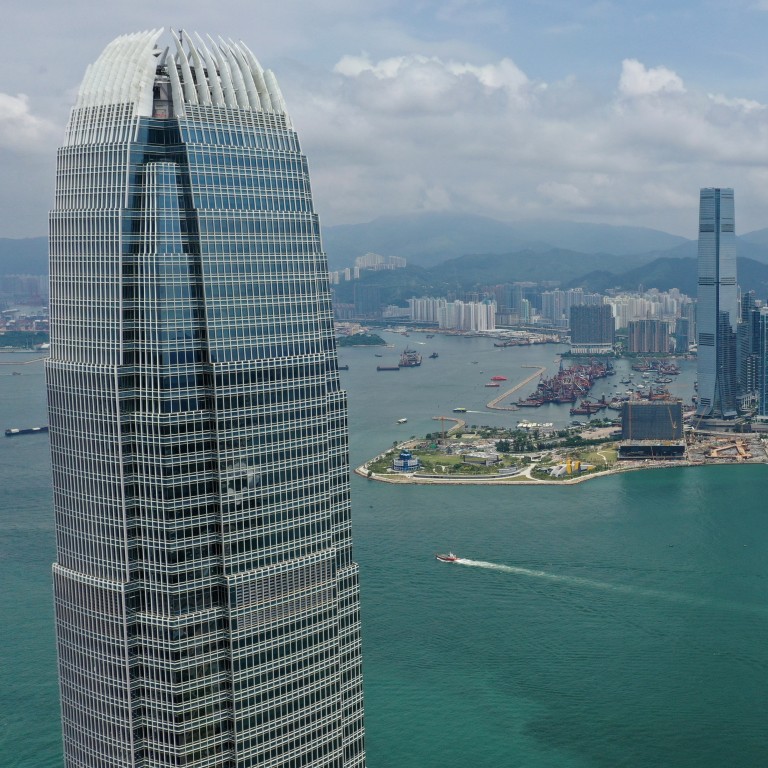 Hong Kong exports fall 5.7 per cent as US-China trade war bites
Exports shrink to HK$339 billion in July on same month last year, official city figures show
Government says weakening economic growth globally and US-China relations have affected performance
Hong Kong trade started the second half of the year on a sour note, with exports tumbling 5.7 per cent in July year on year amid the deepening US-China trade war.
Exports shrank to HK$338.6 billion (US$43 billion) while imports fell 8.7 per cent, to HK$370.8 billion, compared with the same month last year, according to figures published by the Census and Statistics Department on Monday. This left a trade deficit of HK$32.2 billion in July.
The government said July's performance was affected by a softening of global economic growth and
US-China trade tensions.
"In the face of the difficult external environment and the further escalation of US-mainland trade tensions in September, Hong Kong's near-term export performance should remain sluggish or may even weaken further," a government spokesman said.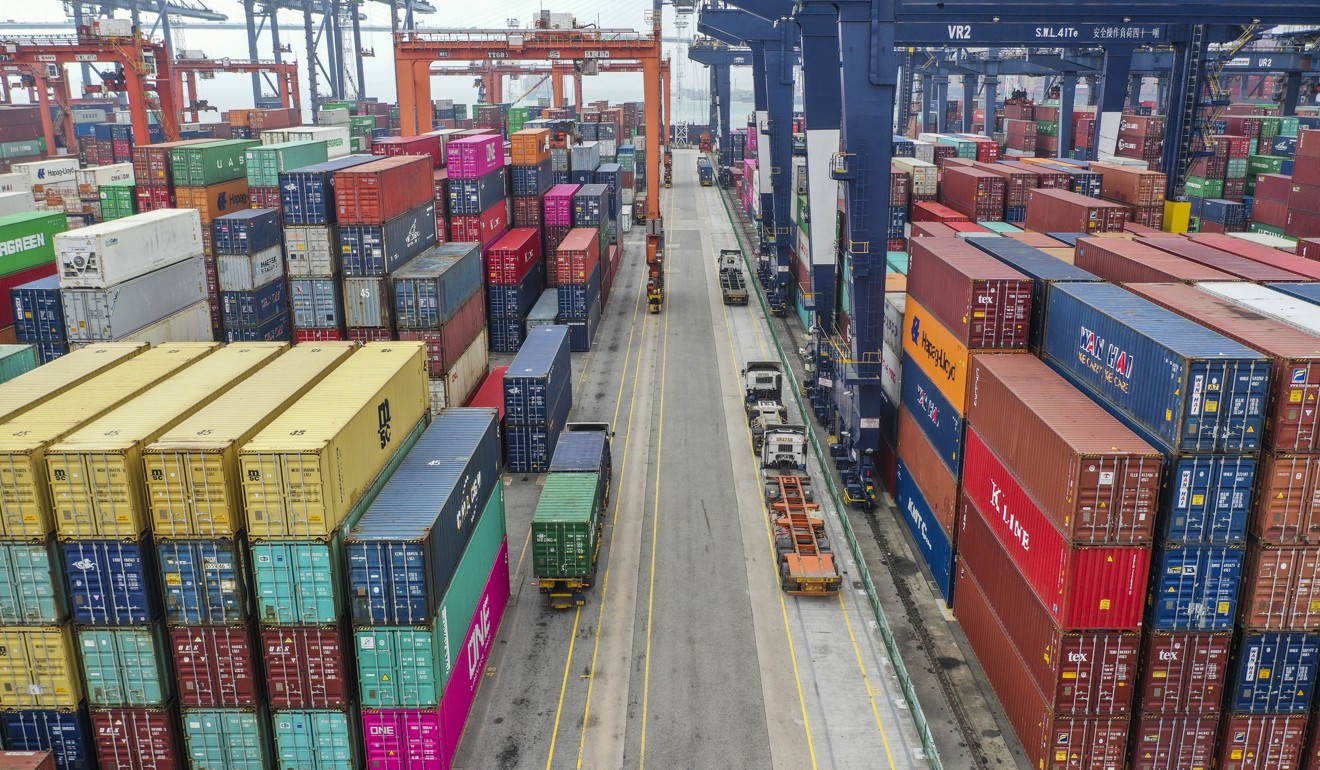 Before the announcement of the trade figures, the benchmark Hang Seng Index plunged by as much as 941 points, or 3.59 per cent, on Monday before closing the day 499 points, or 1.91 per cent, lower at 25,680, as the deepening trade war between the two world superpowers caused market jitters.
On Friday, China hit back against the United States' latest tariffs by levying 5 to 10 per cent on US$75 billion worth of American products, including soybeans, pork, and for the first time, crude oil.
China also reinstated the 25 per cent penalty duty on imports of US-made cars and vehicle parts, taking the total tariff to 40 per cent.
The latest move by Washington brings a tariff increase from 25 to 30 per cent into play on October 1, which is China's national day, on US$250 billion worth of Chinese goods.
And the duty on another US$300 billion of Chinese goods will be raised from 10 per cent to 15 per cent starting from September.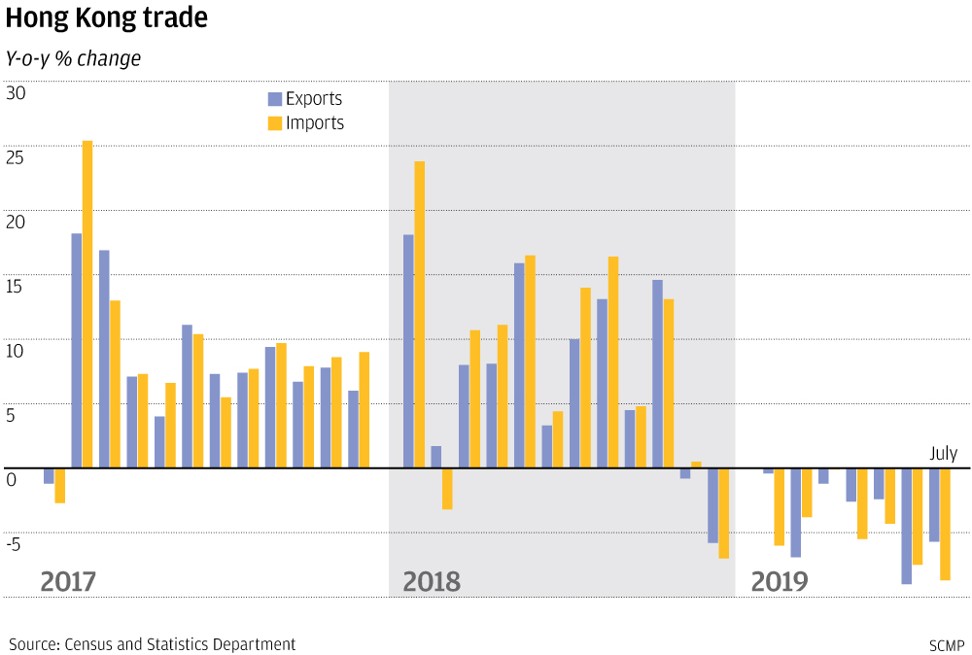 Trump even warned that trade talks with China would be hampered if Beijing used violent means to crack down on the Hong Kong protests.
Anti-government protests have troubled Hong Kong since June 9, arising from
the now-shelved extradition bill
, which would have allowed the city to transfer criminal suspects to China and other jurisdictions with which Hong Kong did not have any extradition agreement.
Joe Chau Kwok-ming, president of the Hong Kong General Chamber of Small and Medium Business, said the city's exports would keep rolling downhill during the rest of the year.
"I am pessimistic about the coming months," he said. "The trade row has got worse and worse in the past week and tariffs are getting higher and higher."
Chau said US importers bargained hard with Hong Kong exporters operating across the border especially as the yuan had sharply weakened against the US dollar. After the yuan dropped below the long-time support level of 7 per US$1 on August 5, the currency spot rate sank further against the dollar to 7.14 on Monday.
Although the Hong Kong government announced earlier this month it would offer relief measures to businesses and residents, Chau said these would provide only short-term support.
"The measures may quench the thirst immediately and temporarily," he said. "Companies need time to open up new markets, which may take at least one or two years."
In the first seven months, Hong Kong exports shrank 3.9 per cent while imports decreased 5.1 per cent year on year.
In July, Hong Kong exports to the US dropped 10.3 per cent, fell 13 per cent to Germany and 5.5 per cent to Asian markets compared with the same month last year.
In terms of commodities, exports of office machines and automatic data processing machines were down 8.7 per cent while telecommunications and sound recording and reproducing apparatus and equipment slipped 4.5 per cent.
This article appeared in the South China Morning Post print edition as: Exports shrink as trade war, slow growth take toll