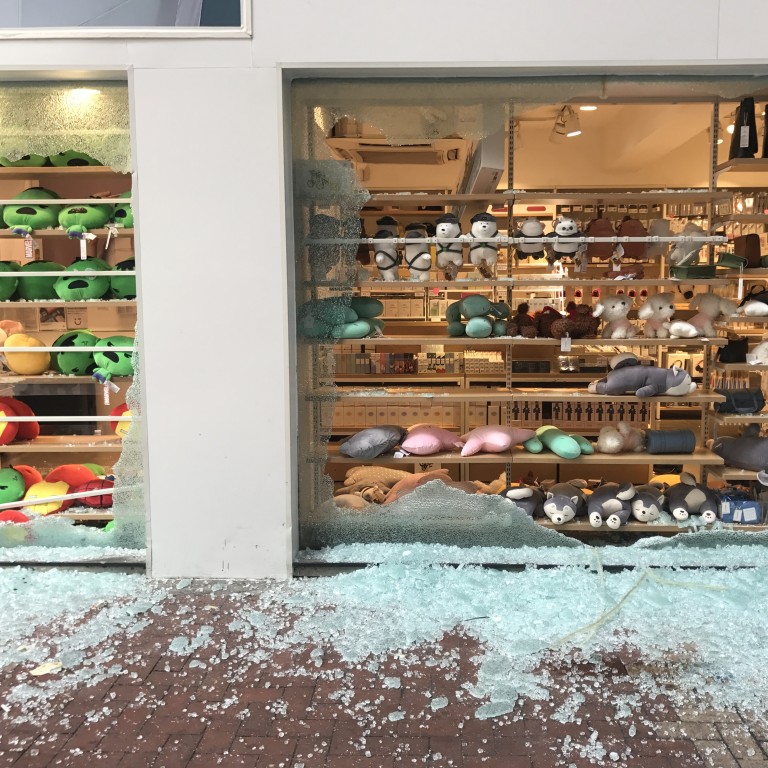 Hong Kong protests: retailers counting cost after hard-core demonstrators ravage shops during National Day mayhem
Clear-up operation under way after Tuesday's widespread violence leaves shop windows smashed and interiors trashed
Residents of hard-hit communities fear more chaos with anti-government unrest showing no sign of easing
Retailers counted their losses on Wednesday as workers cleared the trail of destruction left behind by anti-government protesters during National Day violence in Hong Kong, while residents feared more carnage ahead.
At least seven shops – seen by demonstrators as pro-Beijing or having links to mainland China – suffered severe damage in the western New Territories district of Tsuen Wan, one of several flashpoints
during Tuesday's mayhem
.
Anti-government protesters spread across the city to unleash their anger at the Hong Kong and Chinese governments on National Day, which this year marked the 70th anniversary of communist rule in China.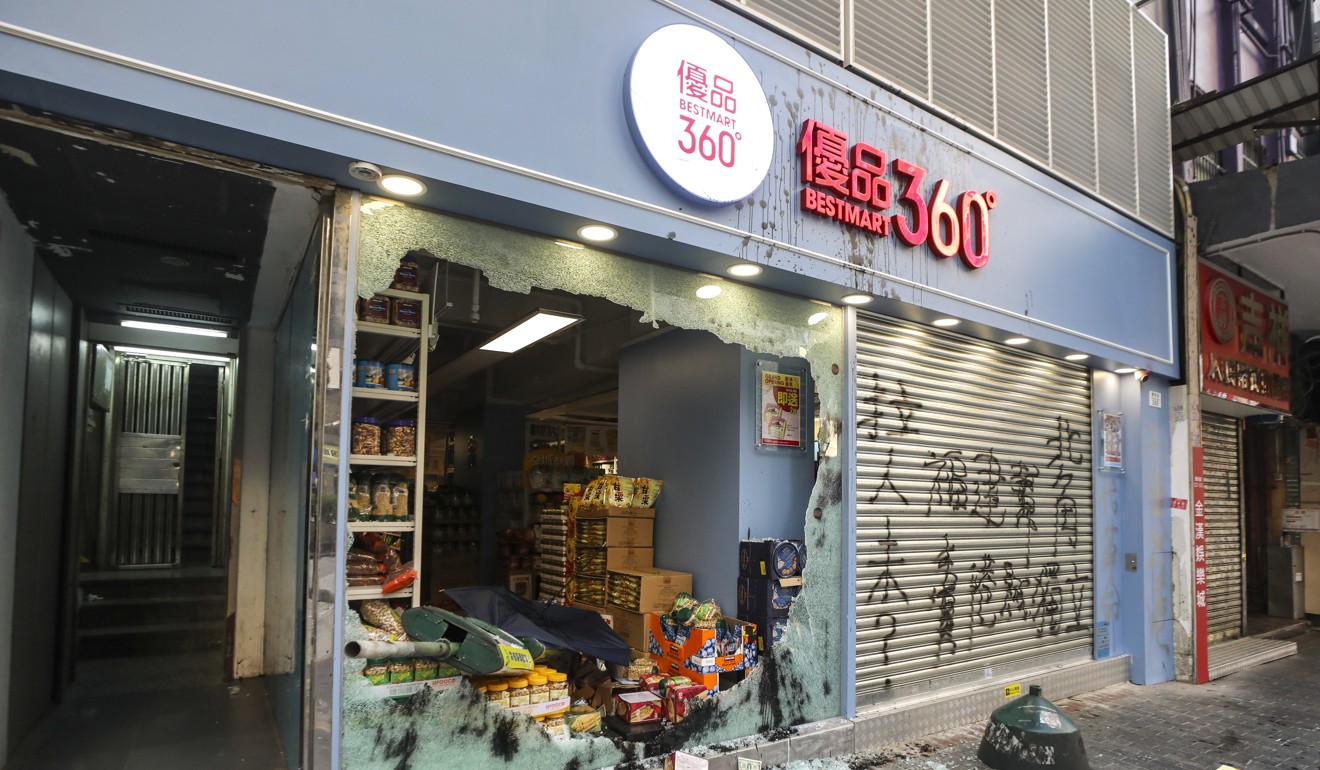 "I feel very upset. The shops were just doing their business," said Danny So, a 68-year-old resident who added he saw no future for him and his family in Hong Kong.
"Now I don't even know where to go even if I just want to get some biscuits or bread."
So, who worked as a civil servant in Hong Kong when it was under British rule, has already emigrated to Australia with his family and decided to sell his two flats in Tsuen Wan.
Hong Kong has been in the grip of violence and division since the anti-government movement erupted in June, sparked by the
now-withdrawn extradition bill
.
The bill would have allowed the transfer of criminal suspects to mainland China and other jurisdictions with which Hong Kong lacks an agreement.
Some protesters have vented their fury at companies deemed to hold political views that are at odds with the movement's.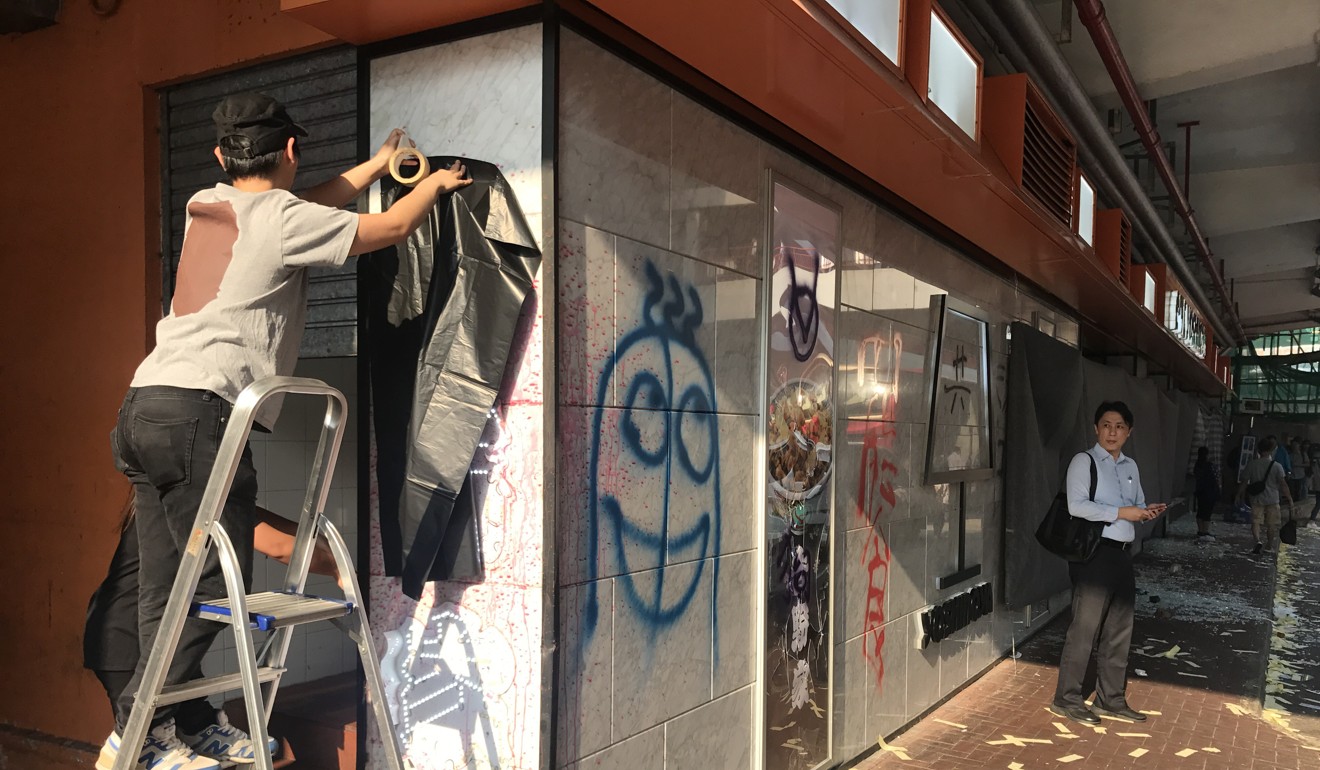 Although there was no large-scale looting, with products of targeted retailers remaining on the shelves, shops suffered serious damage during the wrecking sprees.
In Tsuen Wan, near the MTR station, piles of shattered glass and other debris spilled onto the pavement from stores including branches of Best Mart 360, Japanese restaurant Yoshinoya, budget household shop Miniso, and tour firm China Travel Service (HK) Group.
Demonstrators prised open the shops' closed shutters to smash glass windows and doors on Tuesday. Some branches of the companies in other districts, such as Tuen Mun, were also damaged.
At Yoshinoya's Tsuen Wan store, workers were covering up smashed windows and abusive graffiti with canvas.
Inside the shop, toppled chairs and tables, as well as broken umbrellas and other wreckage strewn across the floor, were evidence of the previous day's destruction.
Two police officers inspected the interior of the Miniso shop in Tsuen Wan at the request of shop staff. An entire wall of glass panes was smashed, exposing rows of products such as stuffed animals, cushions and handbags, which remained largely intact.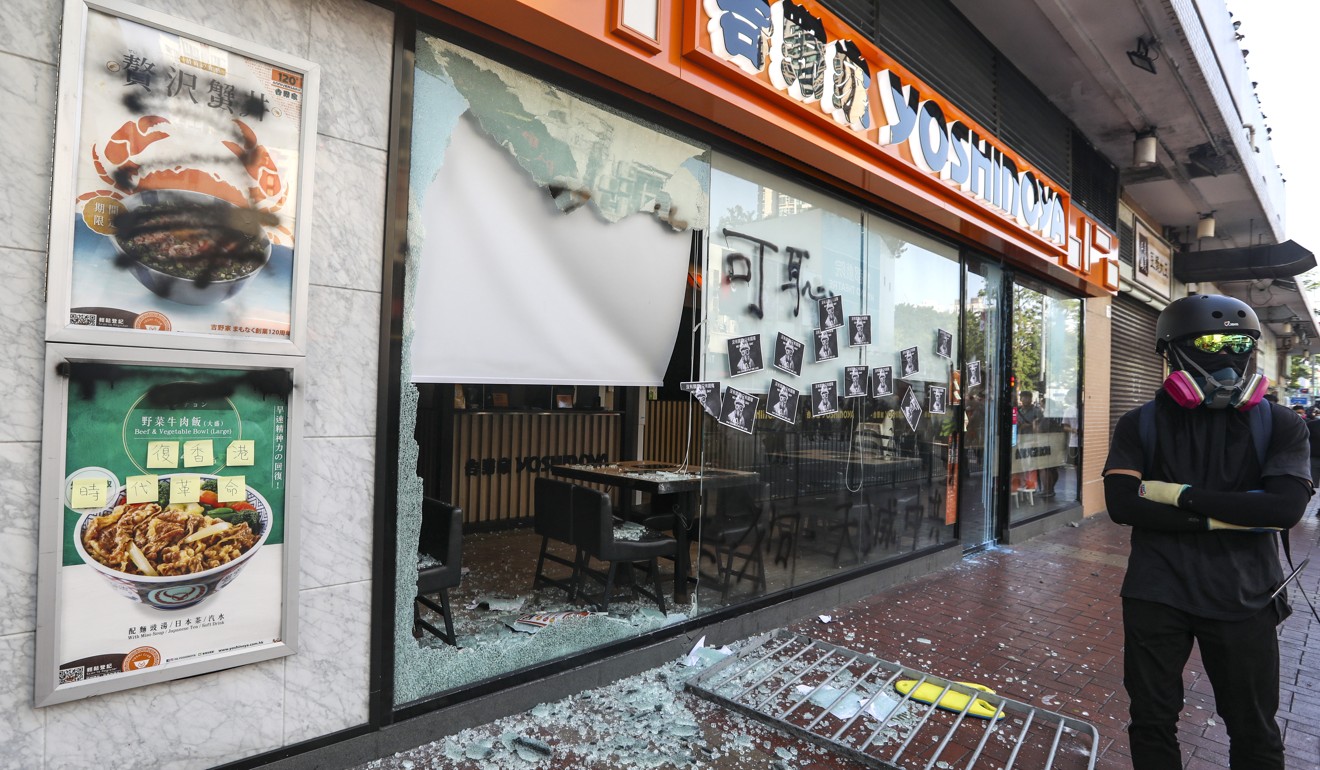 Nearby at Best Mart 360, several members of building management staff gathered to survey the scene, while some workers swept up piles of destroyed confectionery on the ground.
Two Arome bakery shops, controlled by catering giant the Maxim's Group, also had their shutters broken and glass counters cracked.
Cash machines at a Bank of China (Hong Kong) branch were suspended after their display screens were shattered.
In a statement late on Wednesday, Best Mart 360 said multiple branches had been severely damaged in protesters' escalating actions targeting the company.
The company reiterated that its management was not related to "Fujian gangs" or "triads" as some rumours said online and apologised for inconvenience to customers.
"The chairman of the company and the rest of the management team are just ordinary businesspeople, and we hope citizens can express their demands rationally," the company said.
The other companies did not immediately reply to requests for comment.
Chinese General Chamber of Commerce hit out at the citywide violence and called on the business sector and wider society to unify and return to rationality and peace.
Remnants of bricks and debris in the neighbourhood's streets, as well as burn marks, provoked a feeling of unease, despite most people going about their daily lives as usual.
Some residents felt angry towards the protesters for their destructive behaviour, while others were more sympathetic.
"What they did was very selfish and unwise, because the shops are private property and unrelated to the protests," said retiree Linda Li, 65, who lives nearby.
Li said the demonstrations had affected her everyday life, as she no longer went shopping as often as she used to due to traffic disruption.
Engineer James Yim, 50, however, said he thought the government was to blame.
"This damage is to lifeless objects, whereas many living and breathing people are being beaten and captured [by police]," Yim said.
"I'm worried that if the conflict continues, an entire generation of young people will end up in jail."
This article appeared in the South China Morning Post print edition as: As shops count cost, divided Tsuen Wan fears for future