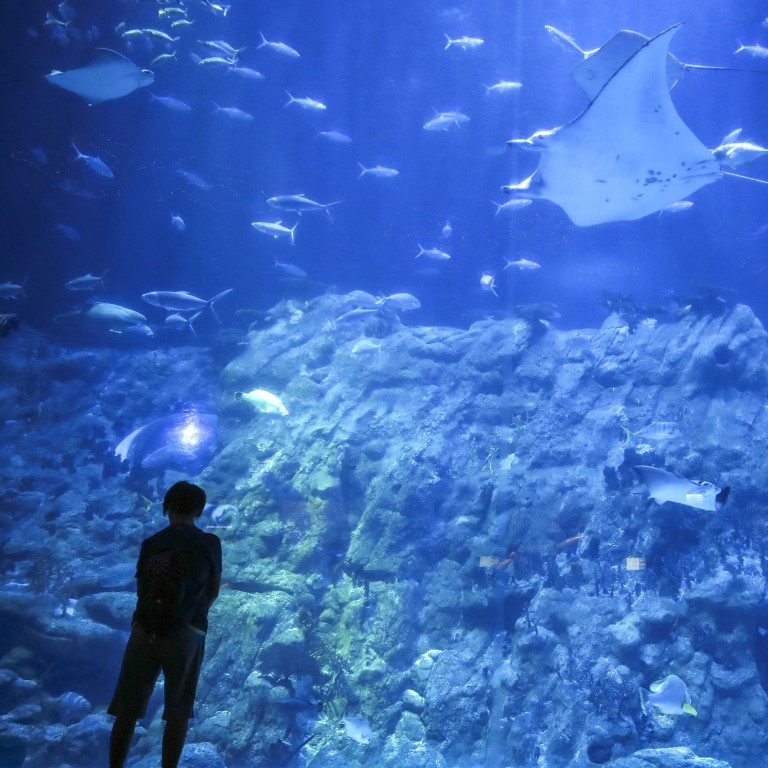 Hong Kong government unveils HK$10.6 billion plan to bail out ailing Ocean Park, in expansion that will create new themed zones and attractions
Blueprint will transform park into an adventure-themed resort, grounded in nature, with seven new zones and 20 attractions over the next seven years
Park blames poor performance on ongoing civil unrest roiling city
Hong Kong's government has unveiled a HK$10.64 billion (US$1.4 billion) plan to bail out the financially strapped Ocean Park, with its chairman making an emotional plea for public support.
The revelation on Monday, which confirms an
exclusive report
by the
Post
last week, is aimed at transforming the park into an adventure-themed resort, grounded in nature and conservation by making use of its existing site and shoreline.
The expansion plan will create seven zones and 20 attractions over the next seven years. More than 10 existing popular attractions will be upgraded or re-themed, while some current ones will be demolished.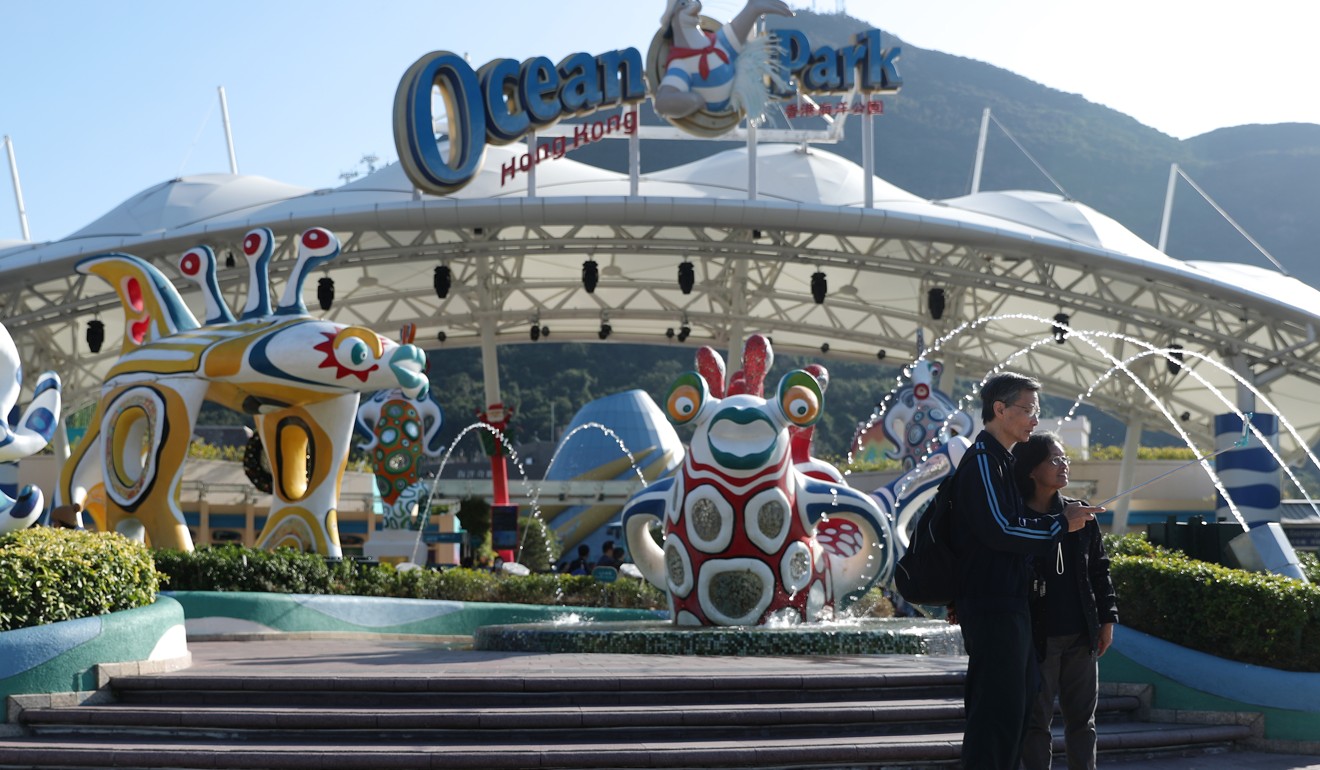 The park warned at a press briefing that its coffers would dry up this year without any fresh capital amid an expected cash flow deficit of more than HK$600 million in the 2019/20 financial year. It also said it would not be able to repay HK$2.3 billion in commercial loans within the next two years.
The park also owes the government HK$3.67 billion in loans which were used for financing the construction of two hotels and a water park, with the money to be repaid in 2021. Its cash balance will be depleted this year if it fails to obtain any extra funding.
The government hopes the transformation for Ocean Park will attract more visitors and bring in sufficient revenue to sustain future operations.
Secretary for Commerce and Economic Development Edward Yau Tang-wah said the HK$10.6 billion injection showed the government's commitment to invest in tourism infrastructure and help the park ease its financial burden.
"We want to help the park ride out this financial storm," he added. "We also need to invest in the future."
The park blamed its performance on the civil unrest in the second half of 2019, sparked last June by the now-withdrawn extradition bill. The park said the movement, which has morphed into wider anti-government protests, led to an "unprecedented steep decline" in visitors of more 30 per cent to 1.9 million between July and December year on year.
It added that if the trend continued, attendance would drop by more than 40 per cent to 3.3 million in the financial year ending this June.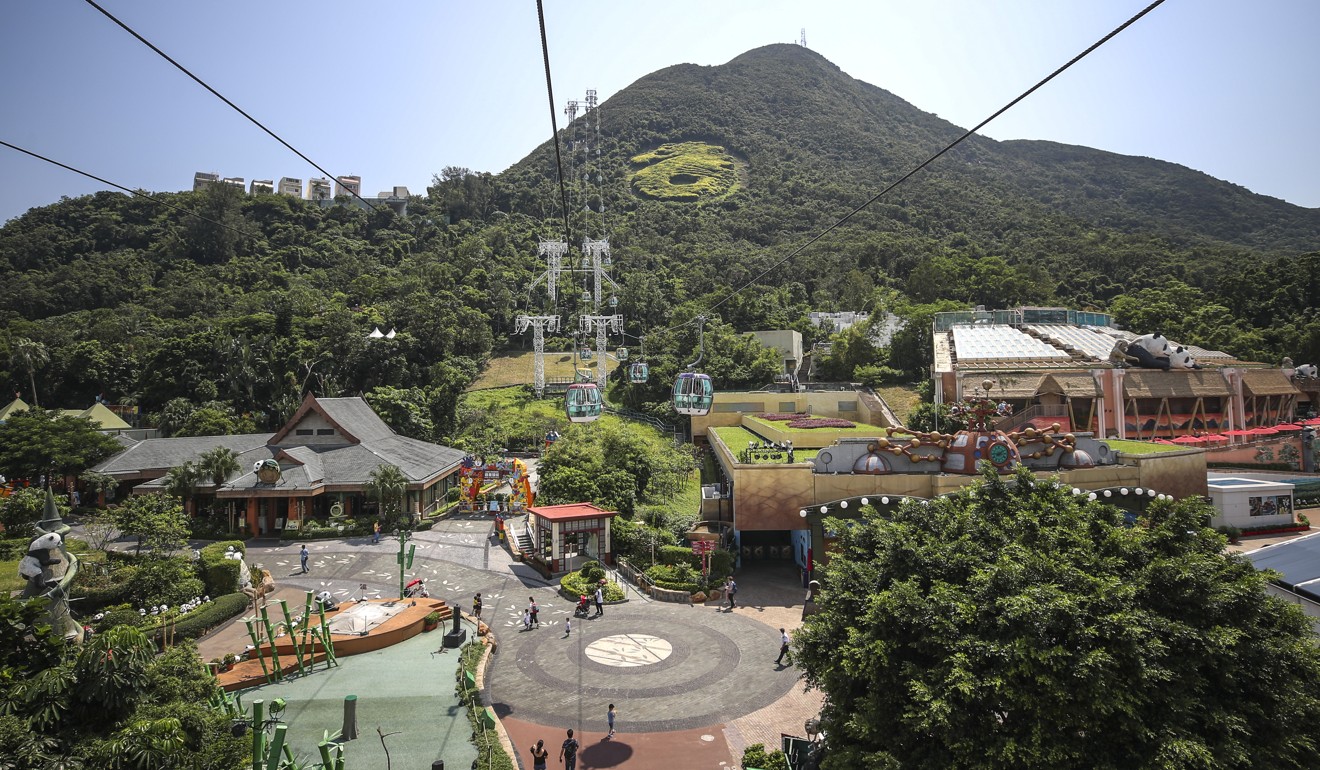 More than 40 jurisdictions overseas issued travel alerts or warnings for those coming to Hong Kong, as the protests roll into their eighth month, with no signs of abating.
Upon completion of the expansion, the park expects attendance to rise gradually to 5 million people in the financial year 2022/23, and to 7.5 million in 2027/28.
One of its best years was in 2013/14 with 7.6 million arrivals.
Ocean Park chairman Leo Kung Lin-cheng appealed for public support, saying he was confident that the new development would successfully transform the place and deliver a refreshing and enjoyable experience for visitors.
"We don't want a lot of people to come to the park. We want quality customers who can make the atmosphere better for everyone. When they are happy, I hope they will bring some merchandise home," he said.
"We really do have Hong Kong people in our hearts. It's a park for Hongkongers, no matter what's your political view. We want your support.
"If you don't love us, if you don't want us, there's no place for Ocean Park in Hong Kong."
Under the plan, seven themed zones will be created based on the area's waterfront design. For example, a new section called Azure Bay will sport a pier for visitors to board ferry services to a new promenade at Deep Water Bay and Tai Shue Wan. Passengers can enjoy the coastal scenery of Southern district en route.
The park plans to steer away from conventional animal shows and will focus on its animal exhibits and displays on environmental protection, marine conservation and education.
A dozen facilities will be torn down, including the signature Ocean Theatre that hosts dolphin and sea lion shows daily. The animals would be transported to another area.
Yau said the upgrade was expected to bring in HK$43.8 billion and create 11,100 jobs in 10 years.
Ocean Park is one of two theme parks in the city, with the other being Hong Kong Disneyland Resort on Lantau Island.
The 43-year-old park is located in the south of Hong Kong Island, and at one stage received donations from the Hong Kong Jockey Club. It operates as a non-profit organisation and on a site provided for free by the government, which appoints its board members.
The Hong Kong Tour Guides General Union, which counts nearly 3,000 or 43 per cent of the city's tour guides as members, said it welcomed the plan.
"If you go to Chimelong theme park [in Hengqin] for example, I don't think you will ever want to come to Ocean Park," union chairman Wong Ka-ngai said, pointing out that the latter was outdated.
"But the spending must produce a sustainable impact and be on a value-for-money basis."
Hong Kong Tourism Board chairman Pang Yiu-kai also expressed support for the plan, saying it would raise Hong Kong's attractiveness.
However, pro-democracy lawmaker Jeremy Tam Man-ho from Civic Party said his group would throw out the expansion plan.
"Even when tourist arrivals reached a record high in 2018, Ocean Park did badly and lost money. How can we trust the existing management? " he argued.
Tam suggested that the government let the park prioritise resolving its financial woes by allowing it to suspend the repayment of loans and interest for five years.
He added that the government should reshuffle park management and its board of directors to let in new blood and map out a blueprint for future development.
This article appeared in the South China Morning Post print edition as: HK$10.6b bailout plan to transform ailing Ocean Park