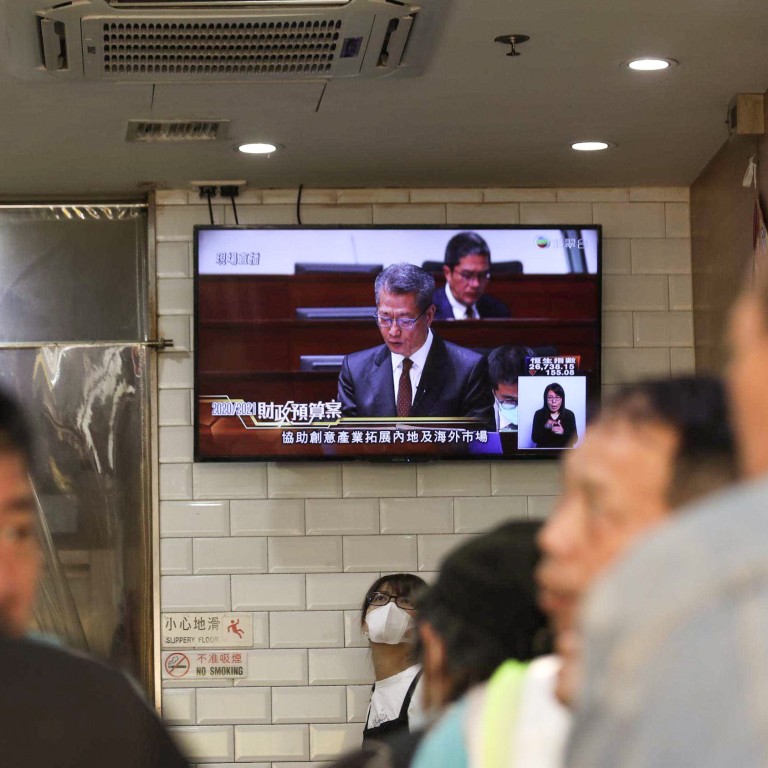 Six things to know about the Hong Kong budget: from 'exceptional' cash handouts to big mental health care plans, here's how Hongkongers will be affected
Financial Secretary Paul Chan may have been scooped by his boss's HK$30 billion coronavirus relief package two weeks ago, but his budget still caught the eye
Chan's HK$120 billion relief deal included a cash handout for all and generous measures for businesses, but he also sounded a stern warning on the challenges ahead
Scooped by his boss who announced a multibillion-dollar virus-aid package two weeks ago that aimed to bail out many sectors of the society, Hong Kong Financial Secretary Paul Chan Mo-po still managed to draw applause with his budget on Wednesday, with a HK$120 billion relief deal that included a cash handout for all and generous measures for all businesses.
But the budget also forecast an all-time high deficit of HK$139 billion for the coming year and Chan could not but sound a stern warning on the challenges ahead.
Here are six things to know about this year's budget.
1. Cash for all "exceptional measure in unique circumstances"
Bowing to public demand, Chan announced a HK$10,000 cash handout to all permanent residents aged 18 or above. The total bill: HK$71.1 billion (US$9.1 billion).
A month ago, before Hong Kong was yet to record its first coronavirus infection case, Chan was resisting politicians' united call for cash to relieve suffering amid a growing economic downturn. He said people might get angry if the amount was too little and he had also to take into account the fiscal burden.
But on Wednesday, Chan insisted the handout was only a one-off and would not put a permanent dent in the city's coffers.
"I consider that, with ample fiscal reserves, the government has to increase public expenditure amid an economic downturn to stimulate the economy and ride out the difficult times with members of the public," he says.
The announcement was immediately welcomed by all lawmakers and people in the street.
2. Full guarantee on loans for businesses
Chan said the government would provide for a full guarantee on loans of up to HK$2 million per case to help small and medium-sized businesses pay wages and rent.
The application period will last six months and the repayment period will be up to three years.
The measure adds to the cash bailouts in the HK$30 billion package announced by Chief Executive Carrie Lam Cheng Yuet-ngor that aimed to support industries hit hard by the epidemic. Lam's plan was criticised by some as doing little to help, as members of the business community said loan guarantees, not cash, would help them survive in the long run. It is believed they would welcome the budget measure.
3. A whole chapter on strengthening the health care system
The coronavirus outbreak has exposed problems in the medical system including a lack of quarantine facilities and medical mask storage, and the long-standing problem of a staff shortage in public hospitals.
Giving health care a full chapter this year, the financial secretary said the government should plan ahead to enhance the capability of the system to prevent and treat infectious diseases, such as building additional medical and quarantine facilities, increasing its stock of supplies as well as strengthening scientific research on infectious disease prevention and control.
Also noting the social unrest and the epidemic had affected the mental health of many, Chan would allocate sufficient resources for providing appropriate support to those suffering from emotional distress.
Overall, the government will continue to increase the recurrent funding for the Hospital Authority by HK$3 billion in the coming year, and an additional funding of about HK$600 million would be provided to the HA for increasing manpower.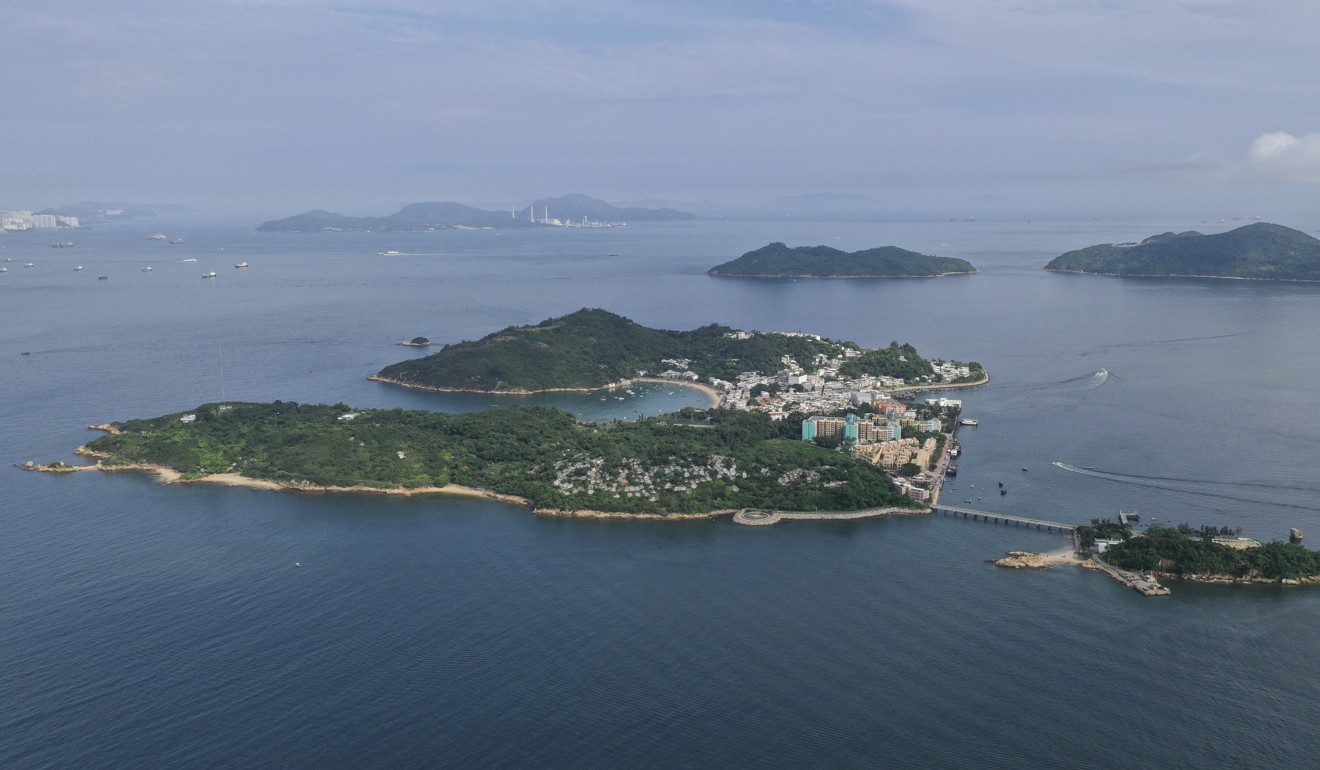 A total recurrent funding of HK$75 billion will be provided to the HA in 2020/21, representing an increase of 35 per cent over the provision of HK$55.6 billion in 2017/18.
4. Plans to boost the economy to keep pace
Despite the focus on battling the epidemic and immediate bailouts, planned initiatives to develop the economy remain on the blueprint. For example, Lantau Tomorrow Vision, an ambitious project to build massive artificial islands as Hong Kong's next housing and business hub, will continue.
"I understand people are worried about the financial burden the project will bring, but I want to assure you that the government is confident and capable of controlling spending on public works and keeping it within affordable levels," Chan said.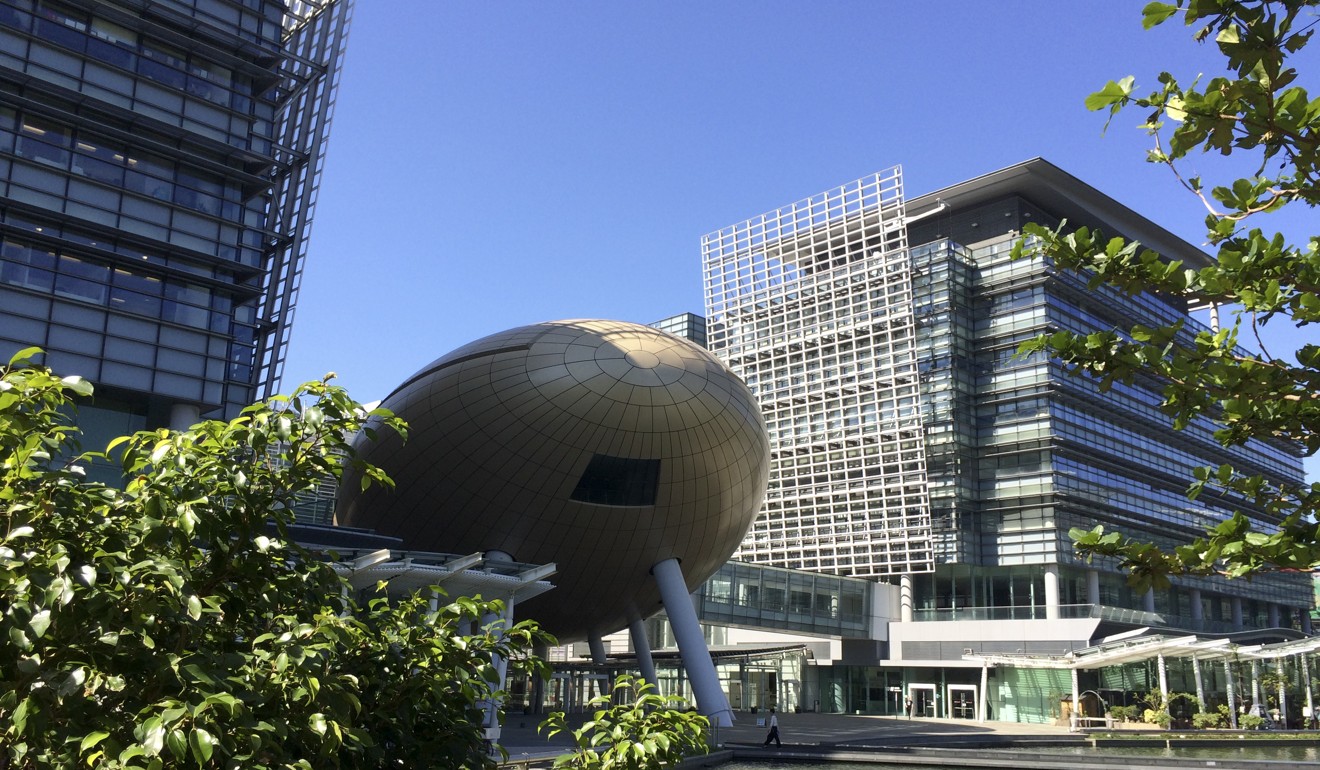 Other plans include a further injection to a "re-industrialisation funding scheme" to support manufacturers to set up new "smart" production lines; a HK$200 million Green Tech Fund will be set up to support research and development in decarbonisation and green technologies; and an extra HK$900 million to a matching grants scheme to promote sponsorship of culture and art.
5. Sweeteners as usual, with some enjoying full tax waivers
Like previous years, sweeteners including tax concessions, rate waivers, discounts in water and electricity bills and even a waiver of students' examination fees will be given. But some employees and employers may be happy to find they will not have to pay for their salary tax or profits tax. The full waiver is subject to a ceiling of HK$20,000 in both cases.
But with the deficit, Chan warned: "The one-off relief measures may also have to be progressively reduced."
6. Record-breaking deficit: daring spending but at what cost?
Chan conceded the rapid growth in government expenditure in recent years is "not sustainable". The government ran a fiscal deficit in 2019/2020, the first time in 15 years, and will have a record budget deficit of HK$139 billion in 2020/21, accounting for 4.8 per cent of the estimated GDP and well beyond the government's fiscal principle of keeping it below 3 per cent. The fiscal reserves, now equivalent to 22 months of government expenditure (2019/20), will drop to 16 months in the next financial year.
And Chan expected the government would continue to record a deficit for the next five years.
When she became chief executive in July 2017, Lam pledged a "new fiscal philosophy" which emphasised "daring" spending to maintain Hong Kong's competitiveness.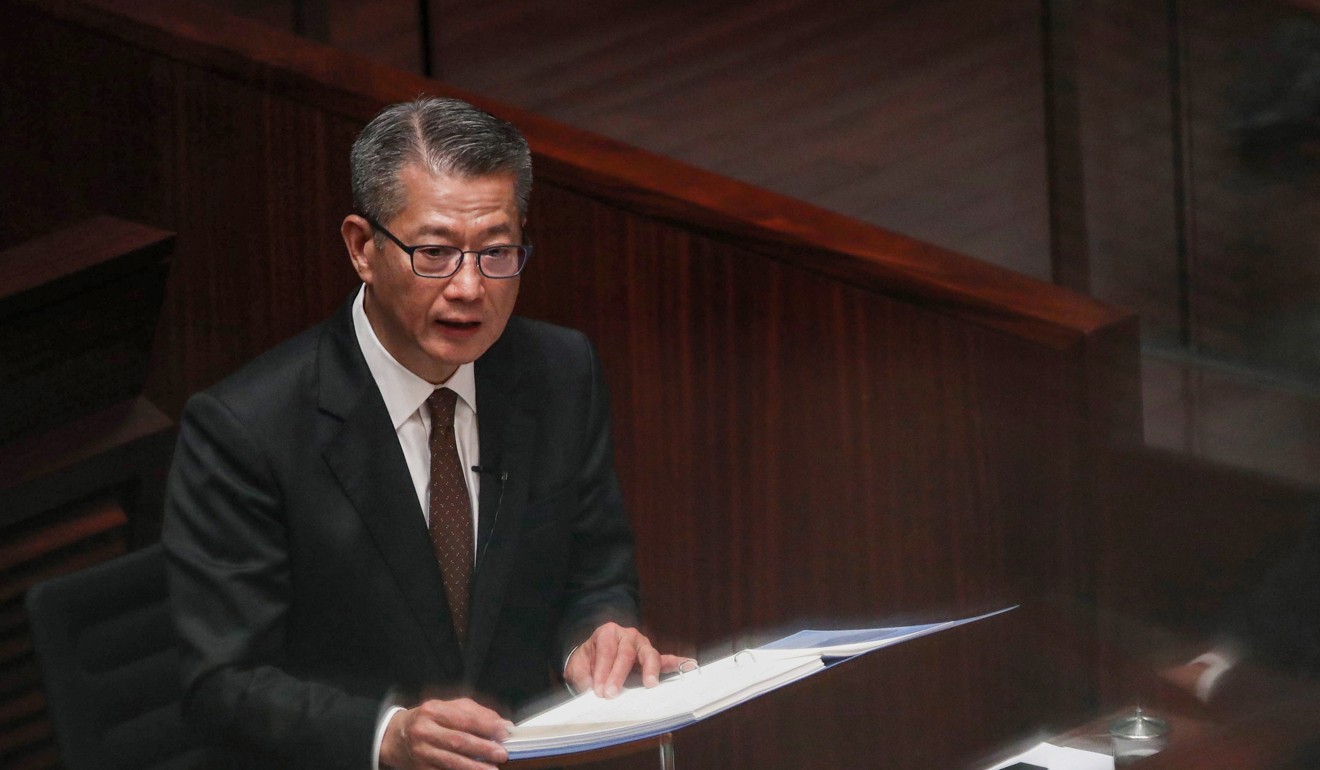 Part of that bold approach in the past two years had been to foster innovation and improve education and welfare, and the majority of next year's deficit is to extricate the economy from difficult times.
But how will both, especially the latter, be funded over time? The answer from Chan's remarks as the person holding the city's purse strings suggested while it would remain a case of daring spending, there had to be a dose of discipline.
He said: "We will focus on the optimal use of resources to implement the committed initiatives in an orderly and effective manner so that the public will see progressive improvements in public services and social infrastructure.
"As for future increases in spending, we should be more mindful of the government's long-term affordability. It should also be commensurate with the increase in revenue."