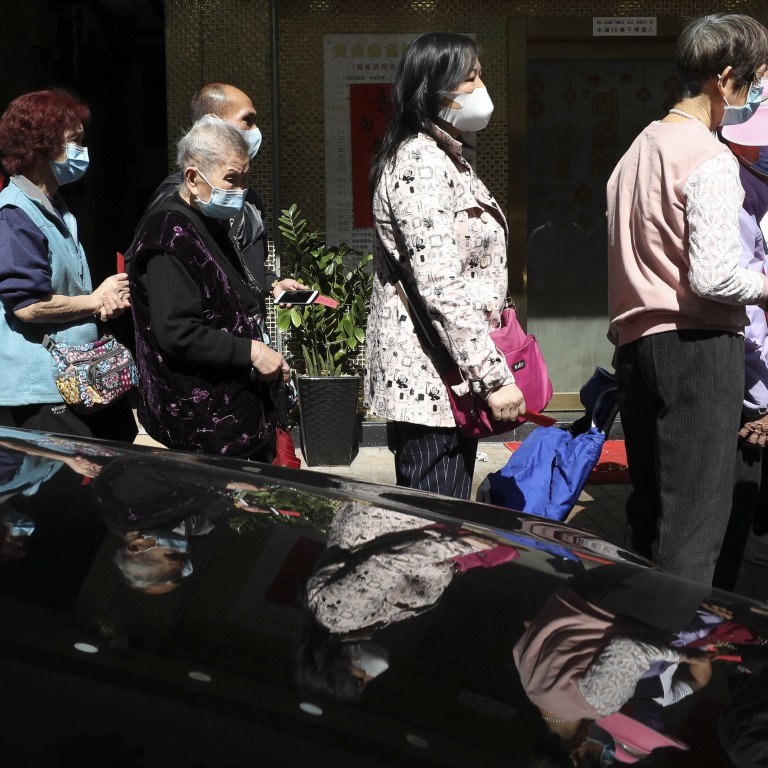 Hong Kong government extends HK$10,000 handout scheme to new arrivals on low incomes
Officials to use Community Care Fund to deliver one-off payment to less advantaged Hongkongers without permanent residency
Those on low incomes and reuniting with families to benefit, although specific criteria not known
A HK$10,000 handout for permanent residents will be extended to some of the hundreds of thousands of Hongkongers who have recently moved to the city, the government revealed on Tuesday.
Secretary for Labour and Welfare Law Chi-kwong said new arrivals on low incomes would be entitled to the one-off payment through a trust fund designed to plug gaps in the flagship policy from last week's budget.
Financial Secretary Paul Chan Mo-po announced last Wednesday a HK$10,000 (US$1,285) handout for every adult permanent resident in Hong Kong at a cost of HK$71.1 billion.
The exclusion of immigrants without the status drew criticism from some quarters, leading Chan to consider dipping into the Community Care Fund for those missing out.
Speaking on a radio programme on Tuesday, Law confirmed the government would hand the same sum to newcomers on lower incomes and those coming to the city to reunite with their families, subject to criteria.
"[It will be] primarily for those who are living in Hong Kong, but unfortunately they might not have reached seven years to become permanent residents, rather than those in transit such as those who come to study or imported labour," he said.
"The amount of money will be disbursed by the Community Care Fund, therefore it will have a rider on it and that is: it will be someone who has some financial needs, so it's basically the grass roots people we are talking about."
Selective eligibility tests would be carried out, but the government "hoped to be more lenient" because the payment would not be regular one, he added.
According to Immigration Department figures, around 307,000 people had arrived to live in Hong Kong from mainland China since 2013, but it remained unclear how many of them would meet the criteria.
Law said he hoped the new immigrants could get the money "as soon as possible", although it was also uncertain if the target payment date in July for permanent residents would be matched.
In 2011, those who were not permanent residents had to wait another six months for HK$6,000, he said, referring to a similar giveaway by the Donald Tsang Yam-kuen administration, which benefited 230,000 people.
The Community Care Fund task force, also chaired by Law, will meet this month to discuss the details.
Under the 2011 scheme, only those earning a maximum of HK$7,300 a month, or HK$37,300 for households of six people or more, were entitled to the money.
Law said offering the handout for permanent residents through the budget, while distributing the cash for new immigrants separately via the fund, could avoid legal challenges.
"For the budget, we have to be clear with definitions, such as permanent residents, on the money we spend. For those we missed, we make use of the fund," he said.
"A giveaway for all citizens may not be a very fair decision, as those in need may not be able to get assistance, but under the current social circumstances, this is the fastest, simplest and direct way."