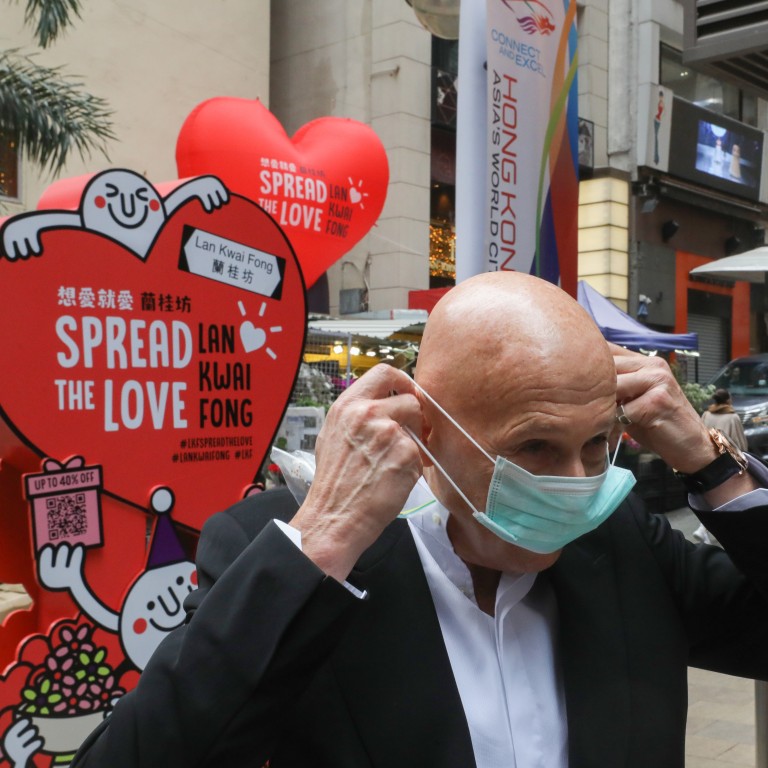 Hong Kong nightlife hub of Lan Kwai Fong hit by coronavirus scare as business plunges, but owners say area is taking unfair blame
Anxiety sparked by more than five Covid-19 patients who had visited famous entertainment district
Founder Allan Zeman says a total shutdown will not work as people frequent the area like how commuters take the MTR
Business at Hong Kong's famous nightlife hub plunged on Friday, after more than five Covid-19 patients were found to have visited the area, while shop owners said the popular stretch was receiving unfair blame.
Bars and eateries at Lan Kwai Fong, a favourite with locals and tourists, were operating as usual, but with extra hygiene measures in place, such as thorough cleansing and sanitising, developer and founder Allan Zeman said.
This came as a record daily high of
48 new infections
were reported, pushing the local tally beyond 250. The city has been struggling to cope with a rash of imported cases.
Wyndham Street in Central, which leads to Lan Kwai Fong, was quiet during lunch hour with few pedestrians. In contrast, the nearby Queens Road Central was still bustling with office staff returning to work.
Max Traverse, owner of a cocktail bar in the affected area, said: "The past week has been especially bad for us, and I have not turned a profit for at least a year.
"It has been hard since the protests last year, and Lan Kwai Fong has been really quiet after the protests on Halloween," he said, referring to the months-long anti-government movement that have rocked the city since last June.
The Centre for Health Protection said on Thursday that five confirmed coronavirus patients had been drinking in Lan Kwai Fong.
Referring to the stretch, Dr Chuang Shuk-kwan of the centre said on Friday: "But we can't say it is the source of an outbreak."
Zeman said the area, which has about 120 restaurants and bars, had been quieter over the past two days, following an improvement from the lows of January and February.
"Closing it down is not a reasonable disease prevention measure," he said. "We have done everything possible to disinfect and deep-clean the area several times a day and every day. It is a popular place, people come to Lan Kwai Fong just like people take MTR [trains]."
By Friday evening, the area was notably less vibrant than usual. "It's pretty quiet," Zeman, who was dining at a restaurant there, said.
"The place is only half-full. Normally it is packed. People are discouraged by the case numbers and second [infection] wave, which is temporary."
Restaurateur Traverse said he thought Lan Kwai Fong was receiving an unfair amount of blame and businesses needed to ensure their customers complied with the extra hygiene measures.
"If you look at Soho, Peel Street, Wyndham Terrace and Hollywood Road, people are still gathering and drinking in the streets," he said. "As I am not at street level I have put up a sign to tell people not to come in if they feel sick, and I have hand sanitisers and temperature checks."
Traverse said a citywide lockdown was needed to effectively curb the spread of the virus. "Since people flew back to Hong Kong with the virus, now we are at risk like any other country.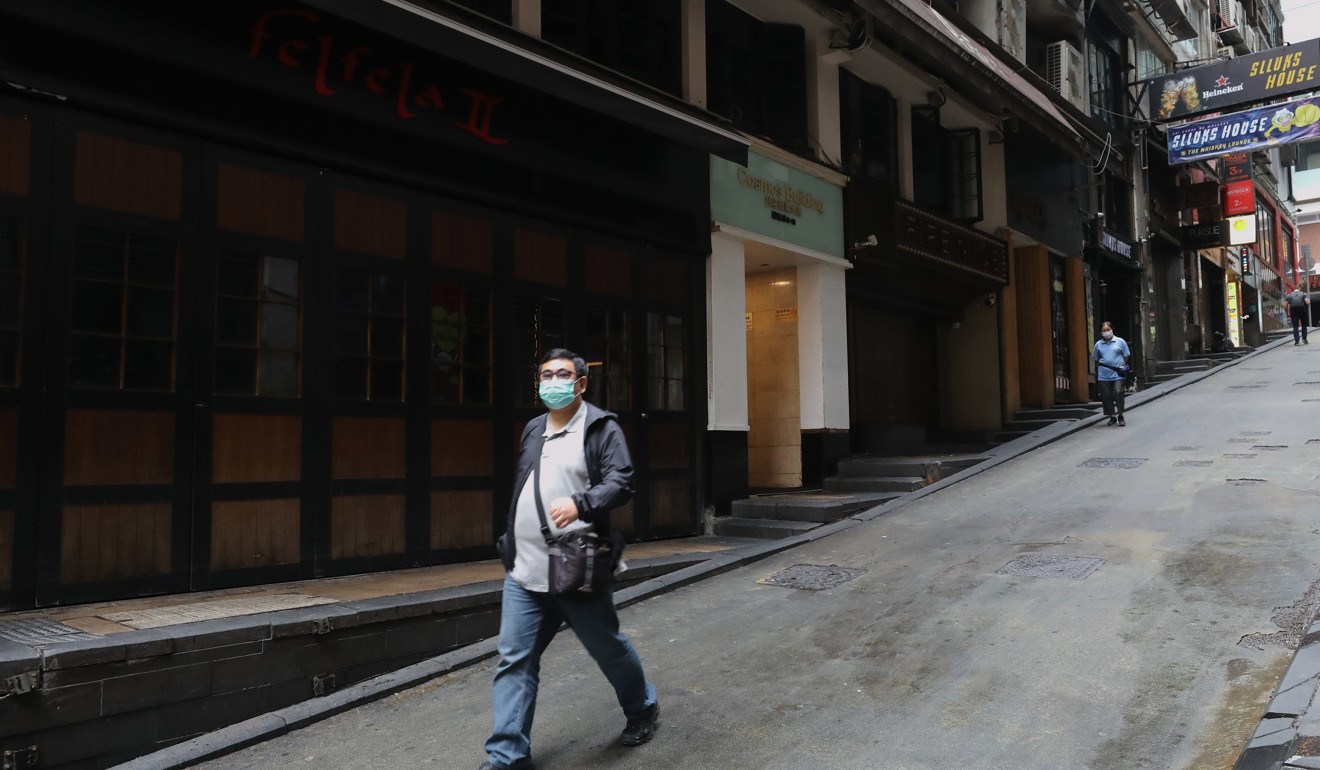 "I believe a lockdown could help the situation and protect our people, friends and families, and save costs. If we lose more business, bars, restaurants, hotels, retail shops and others could face bankruptcy really soon."
He added that 30 people had cancelled reservations on Friday evening. He had three other tables earlier but they left by 8pm. "My friend's bars are all empty and their restaurants dead."
Traverse pointed to a nearby rooftop bar, which he said only had six customers. "Can you imagine, it's 8pm on a Friday night?"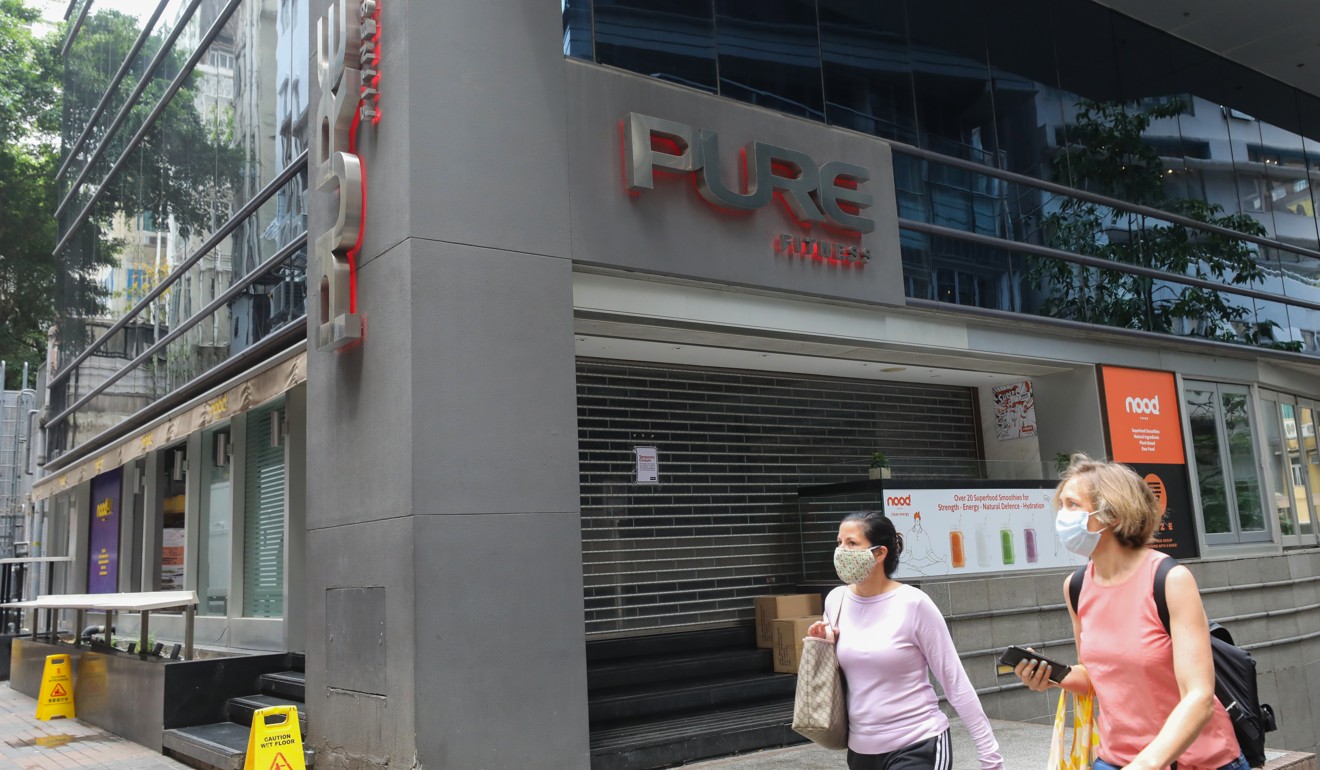 On Friday evening, fitness chain Pure group said it would close all 23 of its gyms for two weeks for disinfection after
two confirmed infections were linked
to three of its outlets in Central, including California Tower in Lan Kwai Fong.
One diner in the area at lunchtime said he was surprised the gyms had earlier continued to operate and only took action after a massive backlash on social media.
"My gym is also closed, so I'm surprised any other gyms are still open. When you work out, you sweat and I think if you're going to get [the virus] anywhere, it would be in a gym," said the lawyer who only wished to be known as Peter.
The 49-year-old who works in Central had been eating lunch at a restaurant near California Tower, but was not wearing a face mask. "I don't think they work. I wash my hands often and check my temperature every day," he said.
Iris Choy, a 23-year-old charity worker who was fundraising in the Lan Kwai Fong area, said she was especially concerned by those not wearing masks.
"I am a bit of a clean freak, so I already wipe down the cutlery when I eat out," she said. "But people need to wear their masks properly to protect each other."
Purchase the China AI Report 2020 brought to you by SCMP Research and enjoy a 20% discount (original price US$400). This 60-page all new intelligence report gives you first-hand insights and analysis into the latest industry developments and intelligence about China AI. Get exclusive access to our webinars for continuous learning, and interact with China AI executives in live Q&A. Offer valid until 31 March 2020.