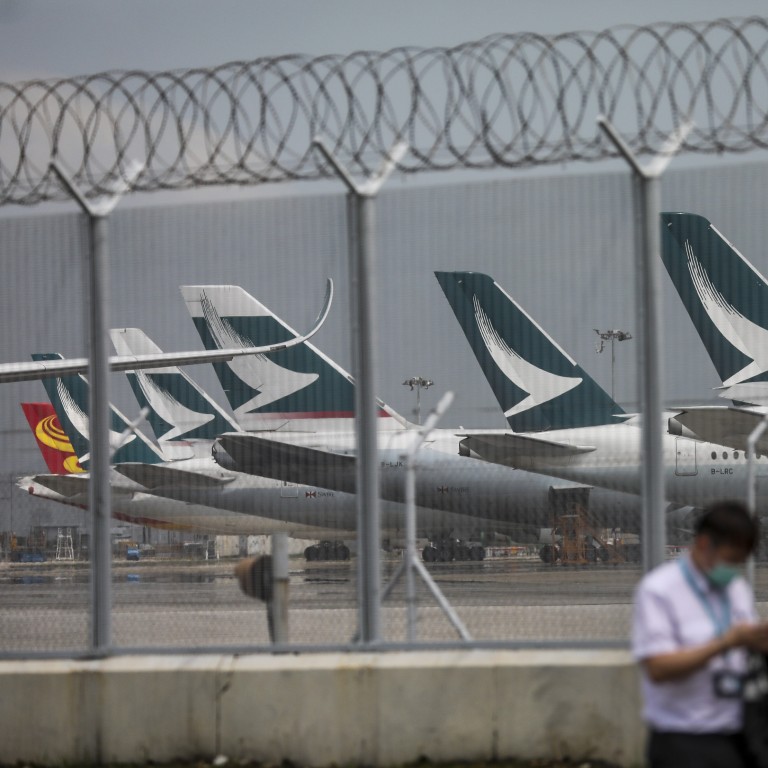 Exclusive

|
Coronavirus: Hong Kong to hand airlines including Cathay Pacific HK$268 million as Covid-19 batters travel
Cathay Pacific Group in line to receive HK$236 million
In related measure, Airport Authority to buy 500,000 tickets to pump cash directly into ailing local carriers
Hong Kong's cash-strapped Cathay Pacific Group is in line to receive HK$236 million (US$30.4 million) from a one-off government subsidy handing airlines HK$1 million per plane as the coronavirus pandemic ravages the travel industry worldwide.
Hometown rival Hong Kong Airlines (HKA) can expect HK$32 million (US$4.1 million) under the unique payout, as officials decide that the short-haul Airbus A320 single-aisle jet counts as a large plane.
The city's aviation regulator on Thursday clarified details of the plan, which will provide carriers with up to HK$1 million per aircraft as part of a HK$137.5 billion citywide pandemic relief package announced on Wednesday.
In a related move, the Airport Authority said it would buy 500,000 air tickets to directly inject cash into the ailing local carriers as part of a HK$2 billion scheme for the aviation industry, which also stood to benefit from the government's HK$80 billion six-month wage support scheme.
Cathay welcomed the extra cash, but the government's help to date, which includes HK$2.6 billion from the Airport Authority before the latest virus fund was announced, is short of the estimated HK$46.5 billion in lost passenger revenue this year.
The one-off subsidy of HK$1 million per plane will be provided for "large aircraft" registered in the city, with HK$200,000 for small ones. The Civil Aviation Department (CAD) said on Thursday that planes with a "maximum total weight authorised" of more than 54.5 tonnes would count as large, while anything else would be classed as small.
By those definitions, each 268 aircraft of the two companies – 236 with the Cathay Pacific Group and 32 with HKA – would be expected to bring in a HK$1 million subsidy.
The total subsidy of HK$236 million expected for Cathay Pacific includes HK$24 million for its budget unit HK Express, HK$48 million for regional airline Cathay Dragon and HK$9 million for all-cargo carrier Air Hong Kong.
The sums for the two airlines were larger than earlier estimates, because the CAD's definition of large aircraft was different from the one generally adopted in the industry.
Reiterating an earlier company statement on Wednesday, a Cathay Pacific spokeswoman said: "We welcome the [Hong Kong] government's latest announcement of relief measures to help businesses, including airlines, during this challenging time."
With high costs and virtually no income, airlines are on the verge of collapse. Trade body the International Air Transport Association has said the industry needs a US$200 billion bailout.
Global air travel has seized up because of the Covid-19 pandemic, which has forced more than 100 airlines to temporarily ground planes, with demand for flights near zero. Travel restrictions and quarantine measures have deterred overseas trips, on top of travellers fearing catching the virus.