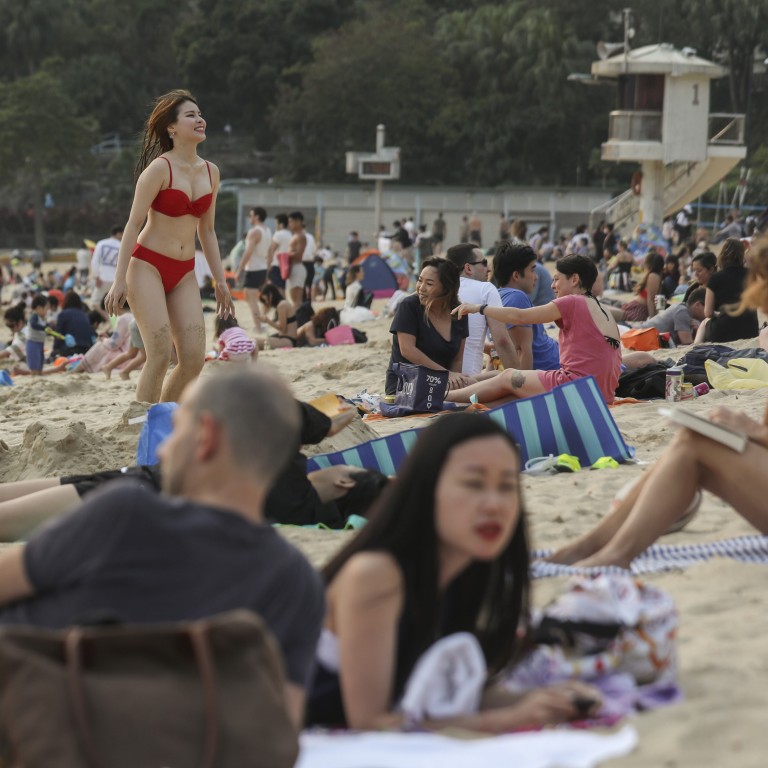 Coronavirus: Hong Kong residents 'bored staying at home' hit scenic spots in the thousands at start of Easter holiday
Ignoring official warnings, residents flock to beaches and mountains after weeks cooped up indoors
Scant attention paid to precautionary measures, with many people leaving aside masks and crowding together
Thousands of residents were out and about in force across Hong Kong on Friday at the start of the Easter break, ignoring pleas to follow social distancing rules and flocking to beaches and country parks even as officials warned they were risking a new wave of
coronavirus infections
.
Only one among 16 new confirmed infections was a locally transmitted case, the rest coming in from overseas to take the city's total to 989, but watching the surge of people going shopping or gathering at leisure spots, Dr Chuang Shuk-kwan of the Centre for Health Protection appealed against complacency.
"I observed that many people are on the streets," Chuang said. "If people relax their practice of maintaining social-distancing rules, there may be a new wave of infections by asymptomatic cases."
Reflecting the seriousness of the threat, health authorities were already planning to send people home earlier from quarantine camps to free up much-needed space.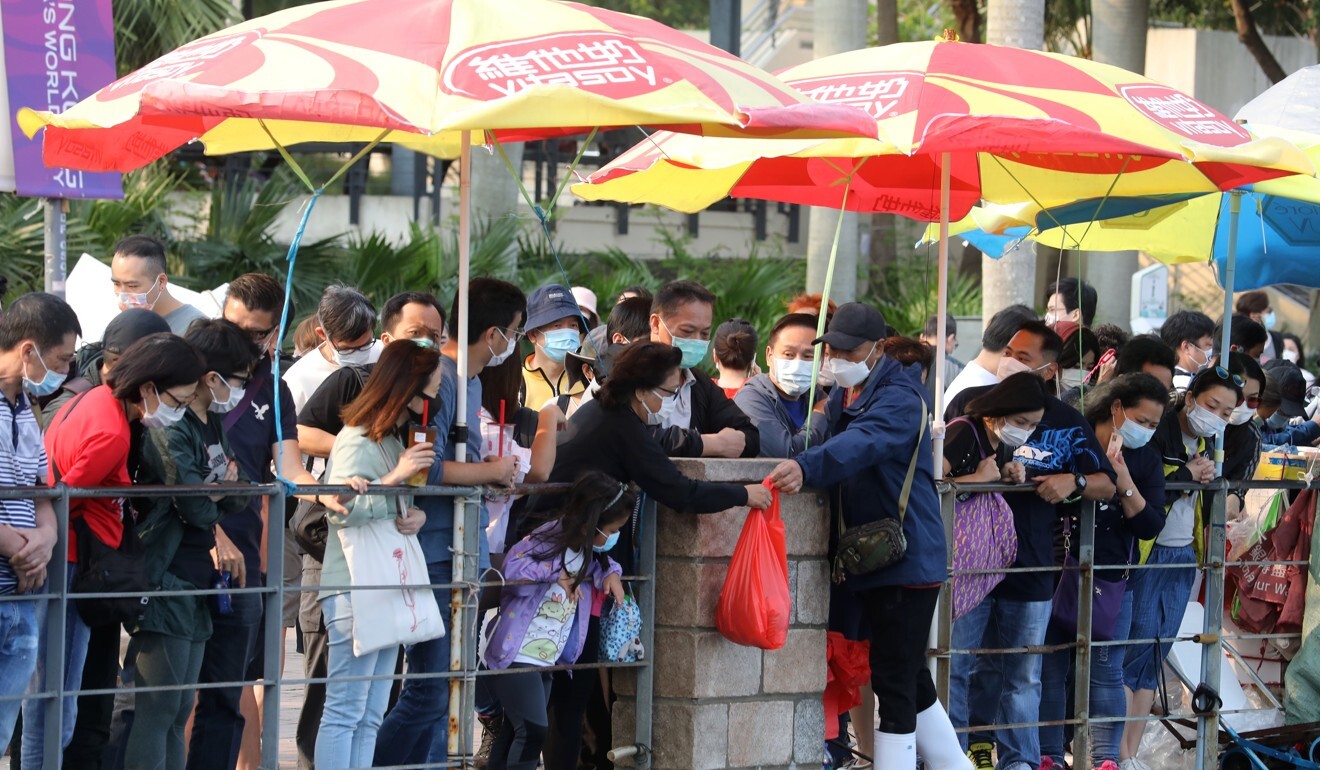 The single local transmission involved a 28-year-old man and was related to his girlfriend who had visited the All Night Long bar in Tsim Sha Tsui already
tied to a cluster of infections
, according to the centre.
On Thursday, 13 people were confirmed as infected, the fewest in three weeks, leading some medical experts to say the situation in Hong Kong was improving. Chuang disagreed and stressed it was too early to point to a downward trend.
She noted that the number of laboratory coronavirus tests had dropped to between 2,000 and 3,000 a day, compared with 5,000 at its peak, but that the decline was due to fewer arrivals and a drop in the number of suspected cases admitted to hospital.
Quarantine camps are already 70 to 80 per cent full, and demand for space for close contacts of confirmed cases would remain high. Starting in phases from Saturday, people ordered into government-run quarantine camps would stay there for 10 days and be evaluated on whether they could serve the remaining four days at home, according to the centre.
Chuang said that candidates must test negative during their stay and the condition of their health and residence deemed suitable before being fitted with monitoring bracelets and sent back to their residences. She did not estimate how many would be transferred on the first day of the new policy.
The holiday comes after the city in recent weeks
ordered a range of businesses
, including bars, gyms and cinemas, to shut and introduced a ban on public gatherings of more than four people. Chief Executive Carrie Lam Cheng Yuet-ngor on Thursday night urged the public to stay at home and avoid holding celebratory meals with family and friends.
"We can't loosen our alertness on the outbreak; otherwise, the hard work we have done would be wasted," Lam said. Four people have died from Covid-19 and 15 infected patients remain in critical condition.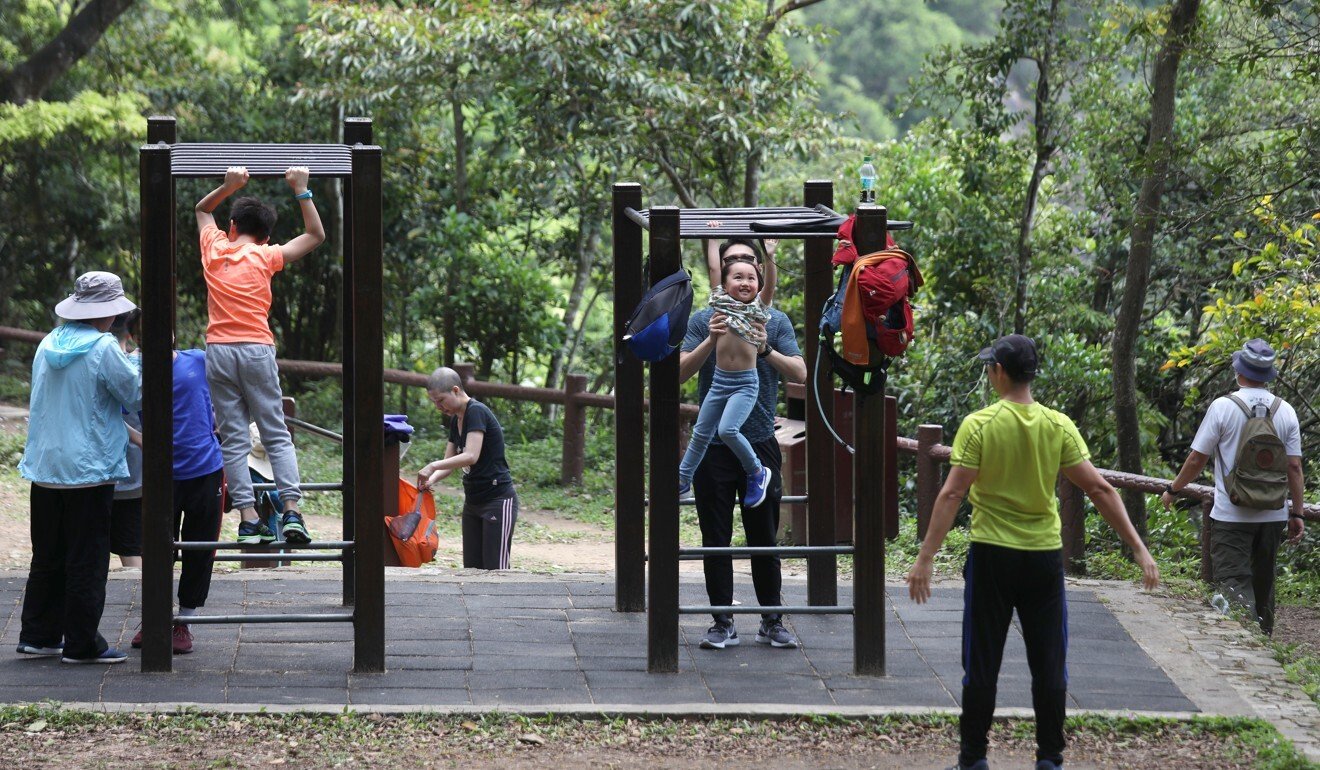 But after weeks spent cooped up indoors, the holiday and good weather proved too alluring for Hongkongers to resist the opportunity to ditch masks, stretch their legs and bask in the sunshine.
At the city's highest mountain, the 957-metre Tai Mo Shan in the middle of the New Territories, hundreds of people, old and young alike, were climbing the trails or gathering near the peak to enjoy the panoramic view. Some hikers were not wearing masks as they snapped selfies.
Along the Avenue of Stars in Tsim Sha Tsui, hundreds of people gathered on the promenade to take in the Victoria Harbour skyline. The K11 Art Mall and its food court were also hectic, with children clambering on Easter egg sculptures as their parents stood nearby.
In Sai Kung, some seafood restaurants were full at lunch time, although under the containment rules, only half the tables can be in use.
"I am going to bring my father to a nearby island for the afternoon," said a diner in his 50s, who did not want to be identified. "He can't be stuck at home for months and doing exercises outdoors will lengthen my father's life."
In Stanley, restaurants along the promenade said business was up. A staff member at an eatery serving Western fare who asked not to be identified said customer numbers were 20 to 30 per cent higher compared to usual since the outbreak began.
The owner of a souvenir store who gave only his surname Cheng said that more people were browsing than before but that sales remained flat. "I saw more people going out here today but still few of them actually buy anything," he said.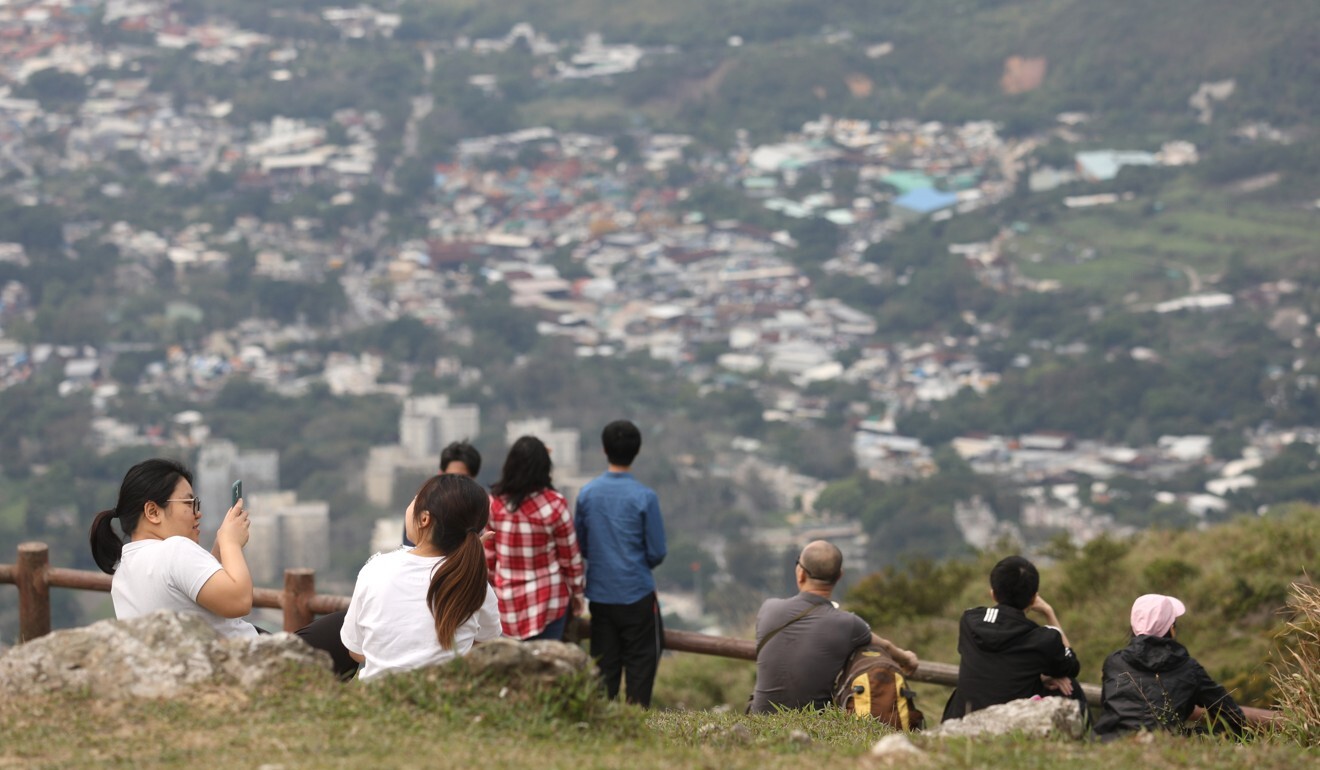 Henry Tam, a clerk in his 30s, was among about a thousand people who gathered at Repulse Bay Beach.
"We decided to go out during the holiday to enjoy fresh air and relax after staying indoors for most of the time previously because of the pandemic," Tam said. "We also plan to go hiking as we think there is a lot of open space and relatively few crowds."
Iker Mugarra, a 35-year-old architect, said he and his wife decided to make the trip from Stanley where they lived with their eight-month-old son. It was the first time the infant had seen the beach.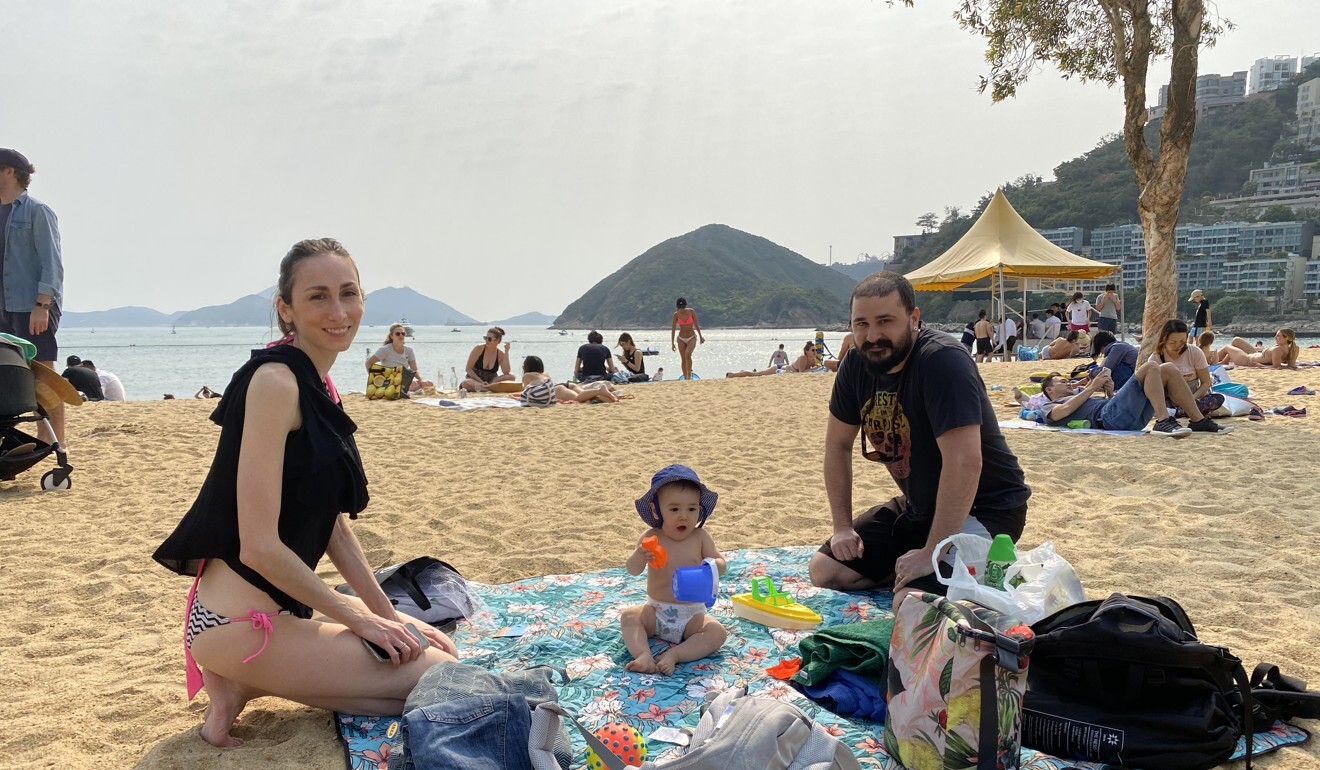 "We have tried to not go out too much, but we just want to enjoy this time with our baby," Mugarra said. The Spaniard, who had lived in Hong Kong for nearly four years, said he did not expect to see many people at the beach, but they had taken precautions, including wearing masks.
Not far away, Vincent He, 24, was enjoying the day with two friends and taking photos.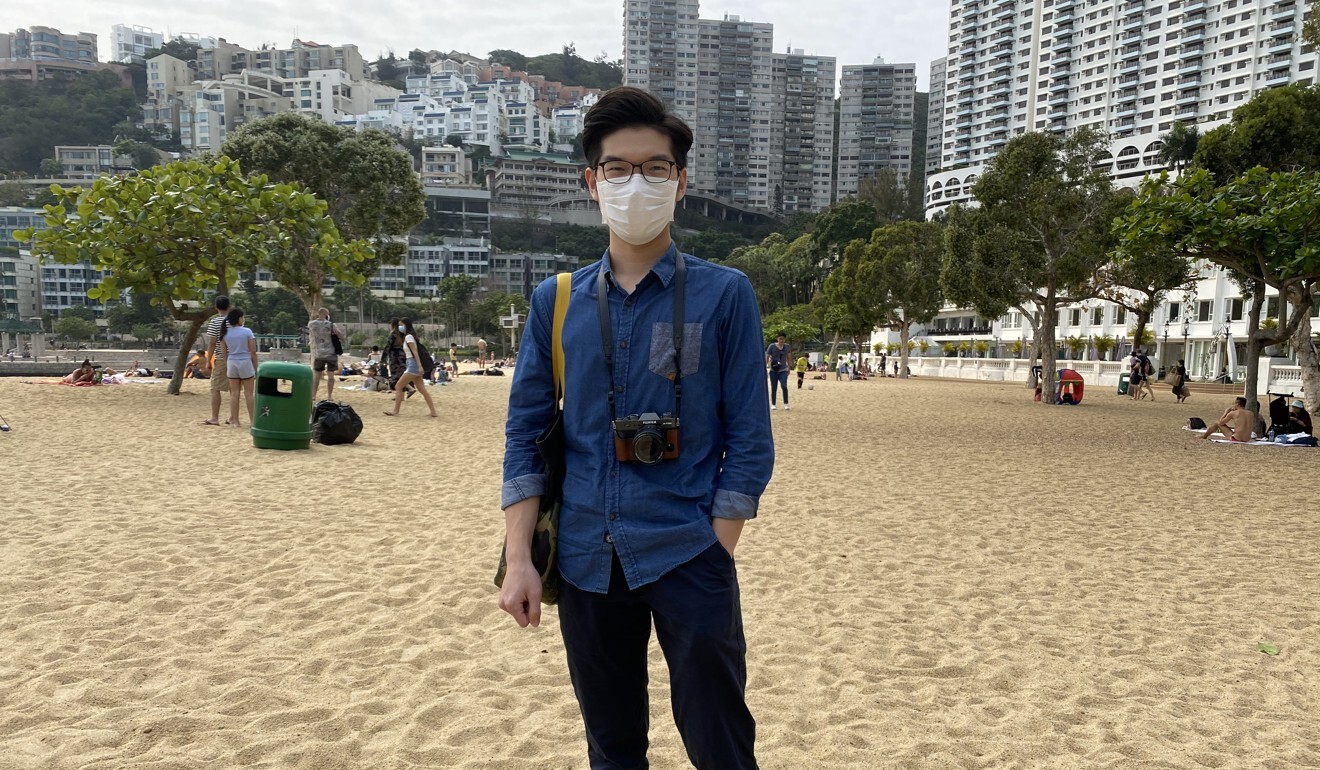 "I plan to go out during the Easter holiday," He said. "I feel so bored staying at home for a long time."
But he would seek out other open spaces in the city, including Lion Rock. Wearing a face mask, He said he was still concerned about the risk of infection. "I'm a little worried outside, but I make sure I always wear a mask and wash my hands frequently," he said.
This article appeared in the South China Morning Post print edition as: socialising distance