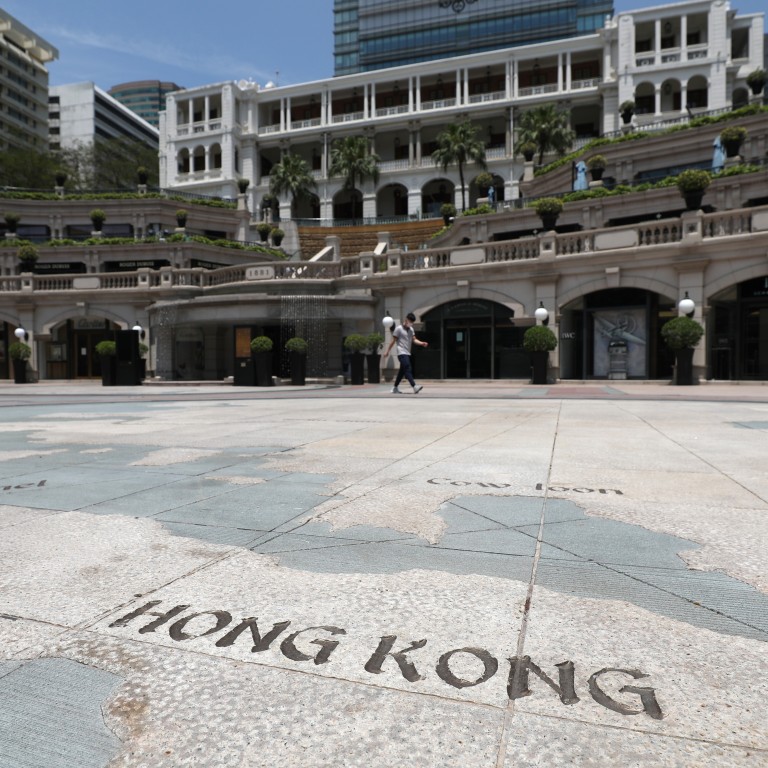 Coronavirus: Hong Kong's economy slumps 8.9 per cent in worst contraction on record
Finance chief says city is deep in recession but if people work and unite, the situation will stabilise
Preliminary figure is worse than in the third quarter of 1998 when GDP tumbled 8.3 per cent, as the city reeled from effects of Asian financial crisis
Hong Kong's coronavirus-ravaged economy has suffered its worst decline on record, shrinking 8.9 per cent year on year in the first quarter and sparking an appeal from the city's finance chief for unity to face the grim months ahead.
According to advance estimates released on Monday, gross domestic product (GDP) contracted on an annual basis for the third straight quarter, the deepest for a single quarter since records began in 1974, and worse than the previous low point of 8.3 per cent in the third quarter of 1998 during the Asian financial crisis.
"Our economic situation is very challenging. We are in deep recession," Financial Secretary Paul Chan Mo-po said.
Using a quarter-on-quarter comparison, he noted that with a 5.3 contraction in the January-to-March period, GDP had shrunk for four consecutive quarters, the worst since the onset of the Asian financial crisis when it shrank for five in a row.
Chan's appeal for unity comes at a time of political and economic turmoil, with
anti-government protests
that tore the city apart last year being revived amid an improving pandemic situation.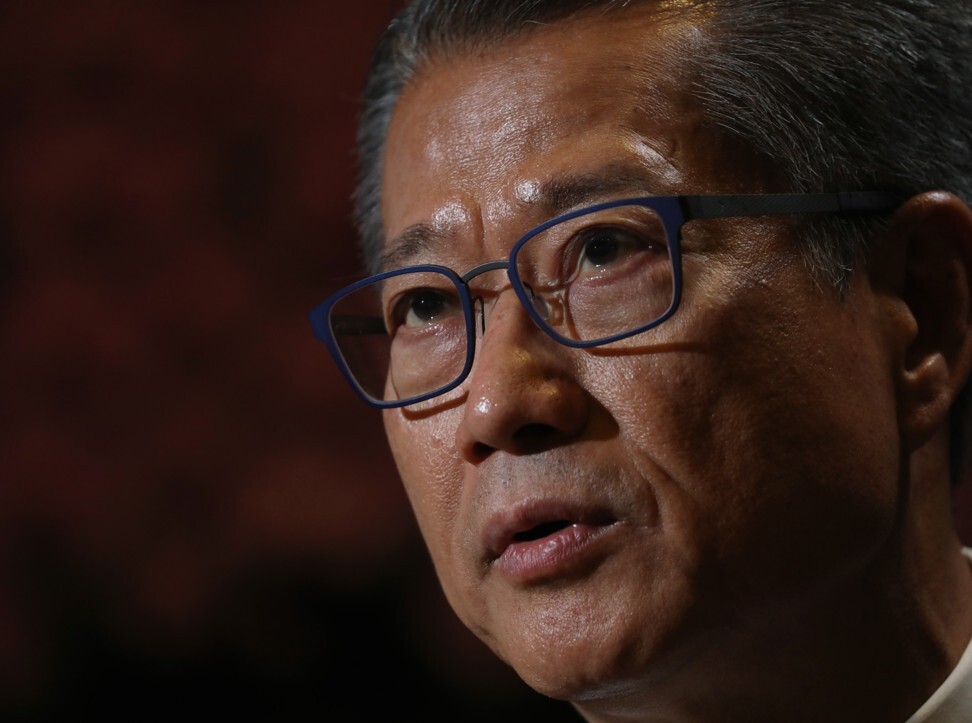 "If we are able to work together, if we can unite together, not just to fight the virus but to stimulate consumption, to promote economic development, I think the economic situation will be able to stabilise somewhat in the second quarter," Chan said.
"And if the global epidemic situation improves, we will be able to come out of recession gradually towards the end of this year."
Asked if there would be additional stimulus packages, Chan said he was ready to roll more out if needed, but urged support for relief measures already announced by the government under its anti-epidemic fund as well as his budget initiatives which have yet to be approved by lawmakers.
A government spokesman on Monday said the recession had deepened between January and March, as the Covid-19 crisis took a heavy toll on the local economy and supply chains in the region.
"With the disease evolving into a pandemic in March, the economic fallout became even more severe," he said.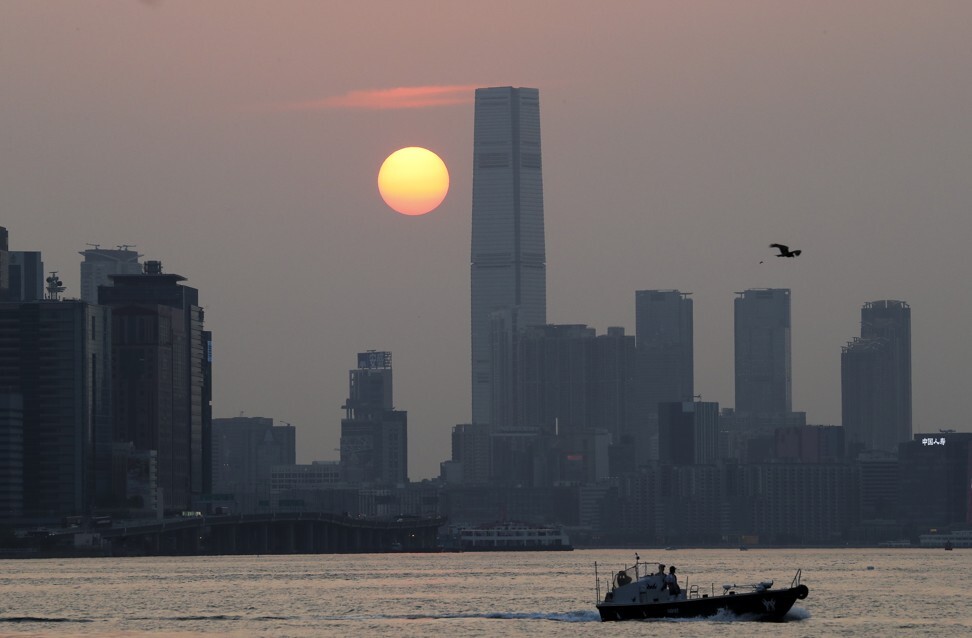 Jitters ahead of the GDP announcement, combined with escalating US-China tensions, saw the benchmark Hang Seng Index plunging more than 4 per cent, or 1,029 points, to close the day at 23,613.
Just last week Chan had warned that Hong Kong was heading for its worst recession ever as he downgraded his full-year GDP forecast to a contraction of between 4 and 7 per cent. In February his estimate had ranged from a 1.5 per cent contraction to 0.5 per cent growth.
"Although locally, the epidemic situation seems to be under control, the external environment is still very challenging. Globally, the epidemic is yet to be put under complete control. That will affect our exports. That will also affect international travelling and business investments," Chan said.
"So, going forward in the second quarter, we believe that even if there is improvement, the improvement will be gradual and small."
Hong Kong spent almost the entire first quarter under lockdown, although the government is now looking to ease some social-distancing rules, with no new local Covid-19 infections for 15 days.
To contain the virus, all but three border checkpoints were sealed off. Some 180,000 civil servants were told to work from home, schools were suspended and entertainment and sports facilities were closed. Even dining out was subject to restrictions – such as allowing only four people per table in a restaurant.
The city's key growth engines – exports, retail and investments – were left in limbo. Exports slumped 9.7 per cent in the first quarter year on year because of serious disruptions in regional supply chains and related trading activities.
"The three locomotives broke down," Chan said. "Unemployment hit a new high in March, the worst in about nine years."
The unemployment rate rose in March for the sixth straight month, hitting 4.2 per cent.
Exports of services, reflecting a lack of inbound tourism, recorded the biggest fall on record in the first quarter, down 37.8 per cent from a year earlier. Investments fell 13.9 per cent in the first quarter. Consumption dropped 10.2 per cent as shopping and travel were severely curtailed by the pandemic.
To bail out the economy, Chan said the government was pursuing the roll-out of HK$290 billion (US$37.4 billion) worth of anti-epidemic measures aimed at protecting "rice bowls" — a reference to job security — and easing the burden on companies and individuals. The amount accounted for 9.5 per cent of GDP.
ING chief economist Iris Pang warned of a rockier road to recovery for the city compared with others overseas because of the recurrence of protests, which first broke out last June over the government's now-withdrawn extradition bill.
The demonstrations later evolved into a wider anti-government movement with clashes between radical protesters and police becoming increasingly violent.
"Pro-democracy protesters have returned to the streets and will affect shopping and catering businesses, as they did in the second half of 2019," she said. "Protests will become more violent and increasingly hurt the retail sector."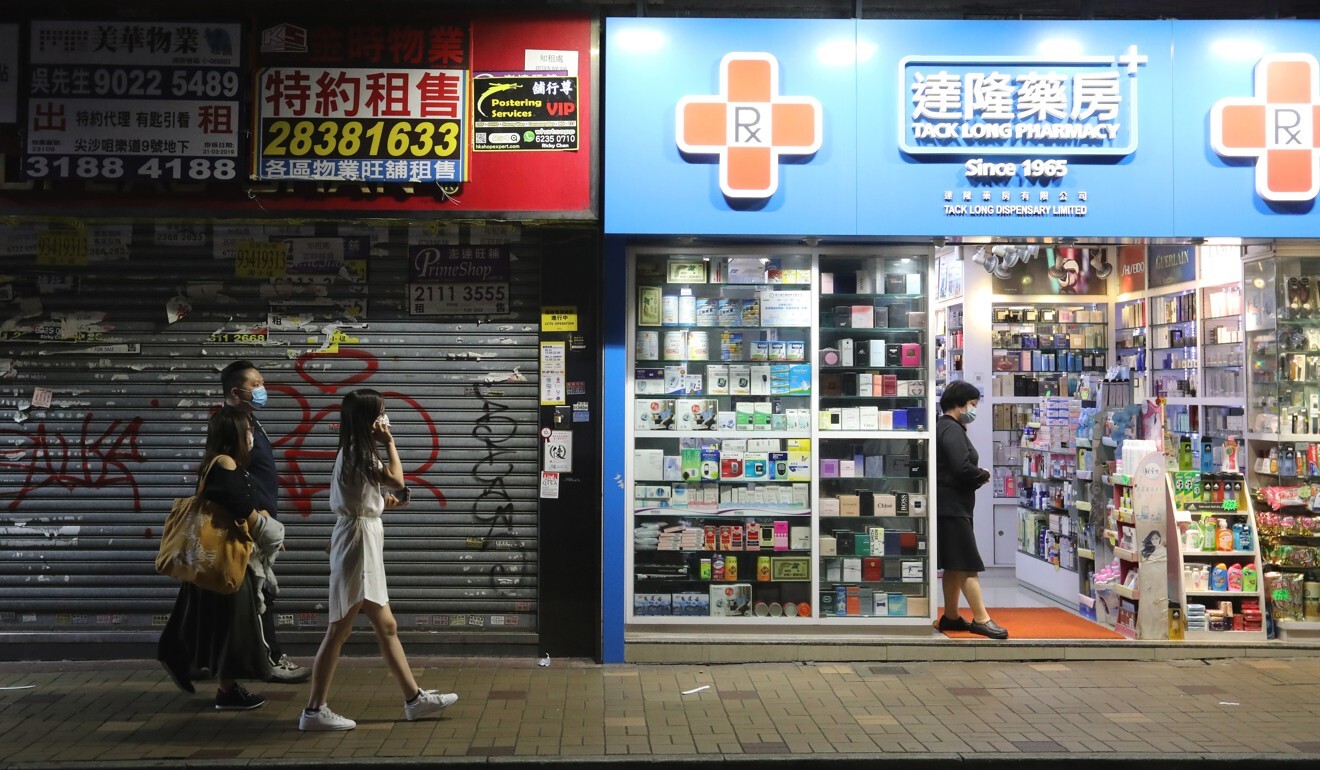 The economic outlook would also be clouded by fresh repercussions from the
US-China trade war
, she cautioned.
"If tariffs are going to be imposed by the US, China is expected to retaliate, which will hurt export-related industries in Hong Kong, including merchandising, shipping and port services," Pang said, forecasting the city's full-year GDP to shrink 4.1 per cent.
Standard Chartered Bank senior economist Kelvin Lau said he was not optimistic about macroeconomic data in the second and third quarters, which would show a worsening downturn in the tourism, retail and food and drink sectors as a result of the global and local lockdowns.
Carlos Casanova, Asia-Pacific economist for French credit insurer Coface, said he was worried about the unemployment rate, which would derail efforts to stimulate demand and further weaken investor confidence.
"It will take more than a
HK$10,000 handout
to reverse this," he said, referring to the government's cash offering to all permanent residents as a relief measure.
Help us understand what you are interested in so that we can improve SCMP and provide a better experience for you. We would like to invite you to take this five-minute survey on how you engage with SCMP and the news.
This article appeared in the South China Morning Post print edition as: GDP shrinks by a record 8.9pc