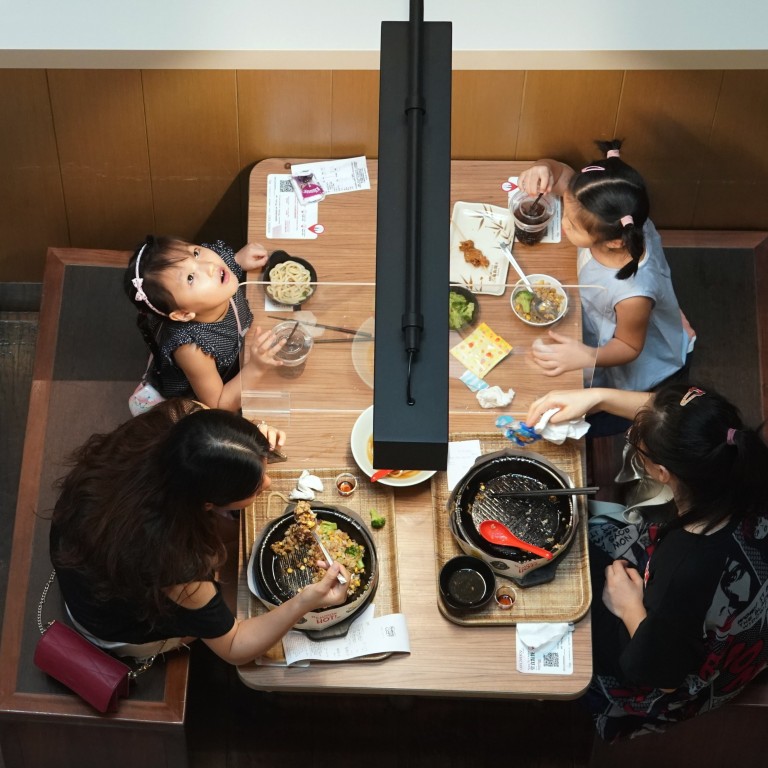 Crowds return to struggling Hong Kong businesses as coronavirus social-distancing rules eased
Ice-skating rinks, game centres and museums among venues reopening on Friday
Restaurants also benefit as number of people allowed to sit together raised from two to four
Crowds of people flocked to ice-skating rinks, game centres and restaurants across Hong Kong on Friday, as the government eased
social-distancing measures
introduced to combat the
coronavirus
.
In a move many hope will revitalise the city's stagnant economy, officials lifted restrictions on the number of people allowed to eat together and meet in public. A variety of businesses, including museums, mahjong parlours and skating rinks, were given permission to reopen. Indoor and outdoor sport facilities run by the Leisure and Cultural Services Department can also resume operations, but in phases.
However, bars and pubs, bathhouses, party rooms, clubs and nightclubs, karaoke premises, swimming pools and beaches remain closed. The government announced on Thursday that all public services will resume on September 15.
By 3pm on Friday, more than 20 children and teenagers were rollerblading and skateboarding at Lai Chi Kok Skatepark. Homemaker Cindy Wong Yan, 40, had brought her five-year-old son to burn off some of his energy.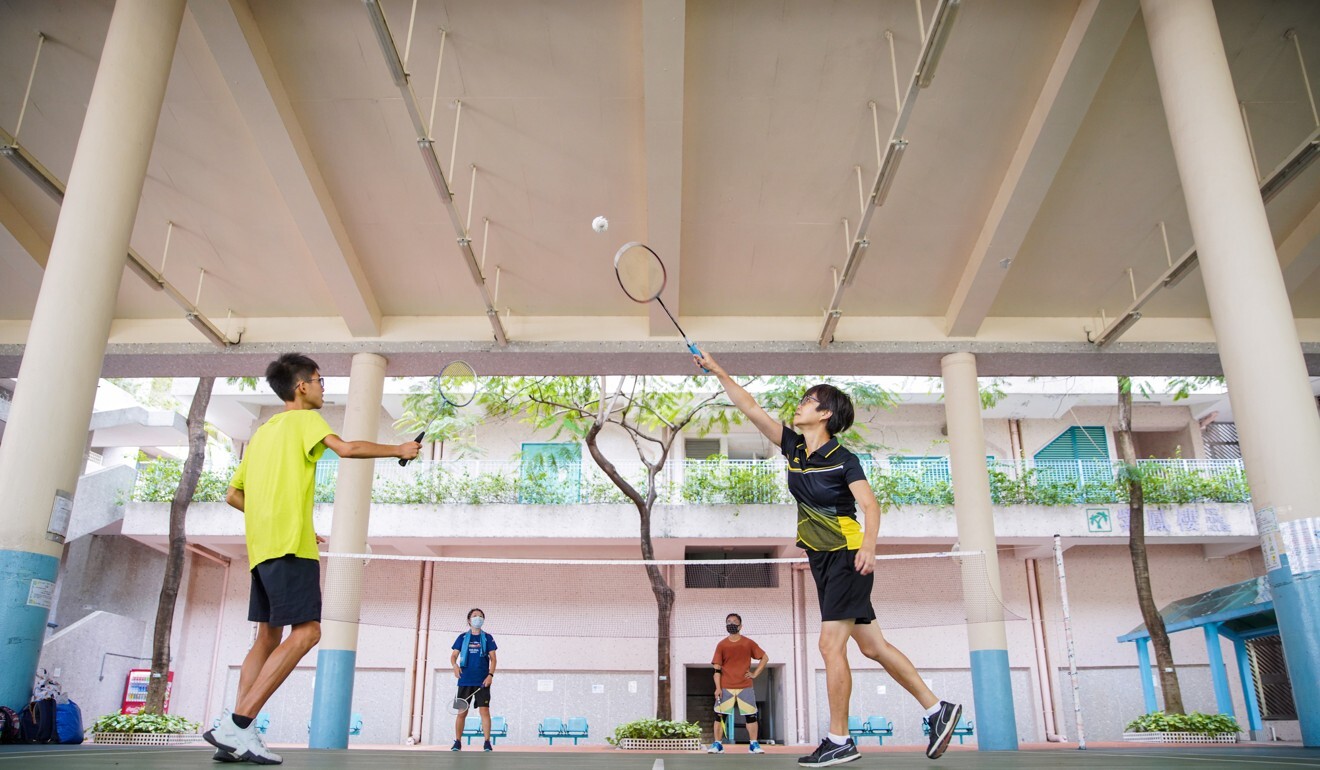 "I understand why the government had to close playgrounds, because they're usually small and crowded with kids. I think it was an overreaction to close a huge outdoor space like this," she said of the park, which stretches across 1,600 square metres.
Wong said she was not too worried about contracting the coronavirus at outdoor sports facilities, as long as there was crowd control and regular disinfection.
Marcus Wong Pak-yin, 13, said he was excited to return after being stuck at home for the summer holidays.
"I was just very bored at home and played video games. I'm not too afraid of the coronavirus. There's a lot of space here," he said.
At a large games centre in Sha Tin, dozens of eager fans, from teenagers to the elderly, were already glued to their consoles by about 10am.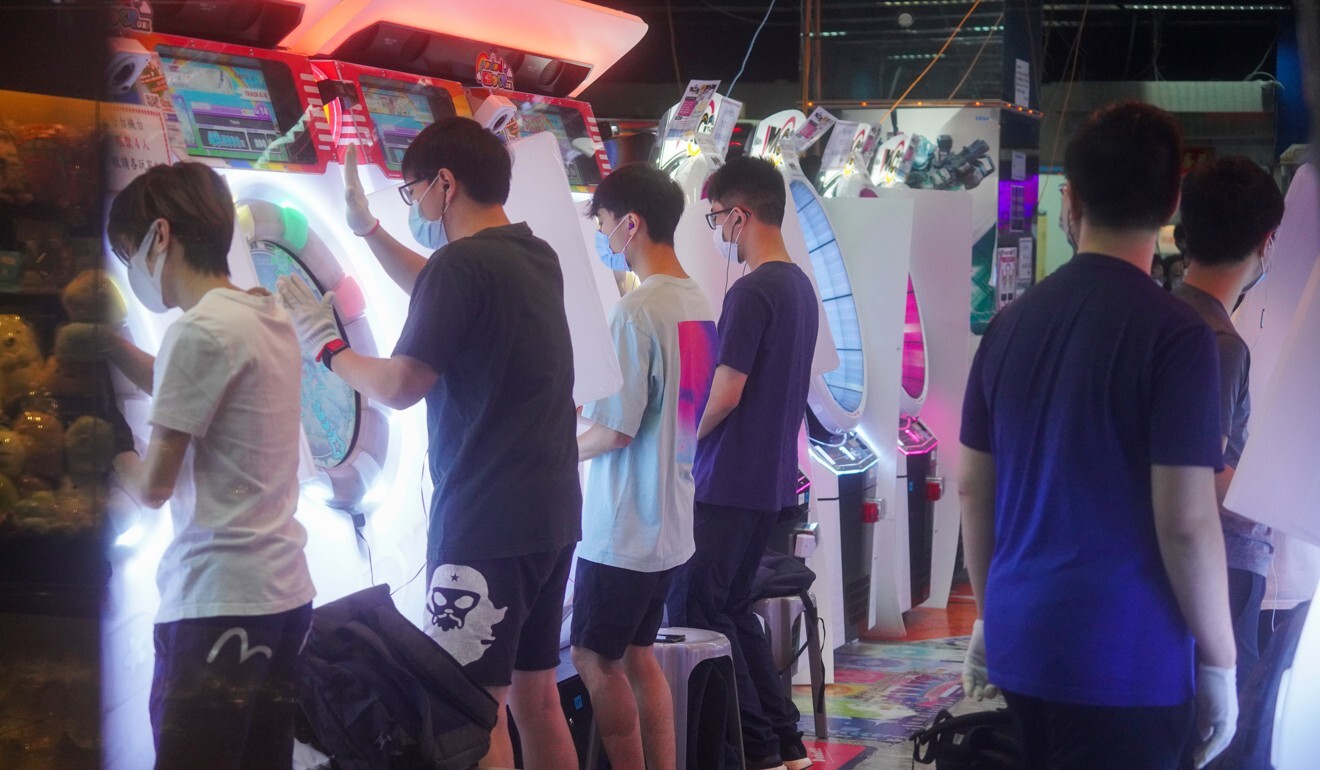 Local public services have been returning gradually since late August, after all but the essential ones were suspended starting on July 20. The government has said measures for reducing social contact would be in place.
On Friday, a civil servants union representative said work had been piling up for too long – especially when it came to processing different kinds of application forms – and his colleagues had been eager to return to work. But he said he also hoped there were enough masks and other protective gear for staff.
"For July and August, staff in most departments took shifts to work," said Leung Chau-ting, the chairman of Hong Kong Federation of Civil Service Unions. "Those who worked in the office were overloaded, while those who stayed at home couldn't help as they did not have the software and files at home.
"It's good that now the epidemic is more in control, so we find it more comfortable to return to work, but we still hope the administration can provide enough protective equipment for us."
An executive said she often had to go to the office over the past few weeks to attend meetings, take care of paperwork and check emails.
"There was insufficient security to cover sensitive or confidential data and emails while working from home with our own laptops, thus I must go back to the office to handle these things," she said.
At around 7pm, the usual hustle and bustle had largely returned to Causeway Bay, where queues were seen outside commercial buildings housing eateries, and a Taiwanese restaurant and two Japanese noodle businesses were full on Tang Lung Street.
Under the latest set of rules, four people are allowed per table in restaurants, up from two, but a ban on dine-in services from 10pm to 5am remains in place. The cap on public gatherings has also been raised from two people to four.
University student Olivia Shek, 18, who was about to have dinner with a friend, said she would have more gatherings in the upcoming days – she was already planning a meal with three other friends on Saturday – but admitted she still worried about infection risks.
"After I finish eating, I will put on my mask right away," she said.
Some local Chinese restaurants, meanwhile, remained largely empty on Friday evening. An outlet selling siu mei – spit-roasted meats – on Jardine's Bazaar, only had about four customers.
"In normal days, the restaurant should be full," the restaurant's cashier said, adding the eatery could cater to up to 36 guests at a time.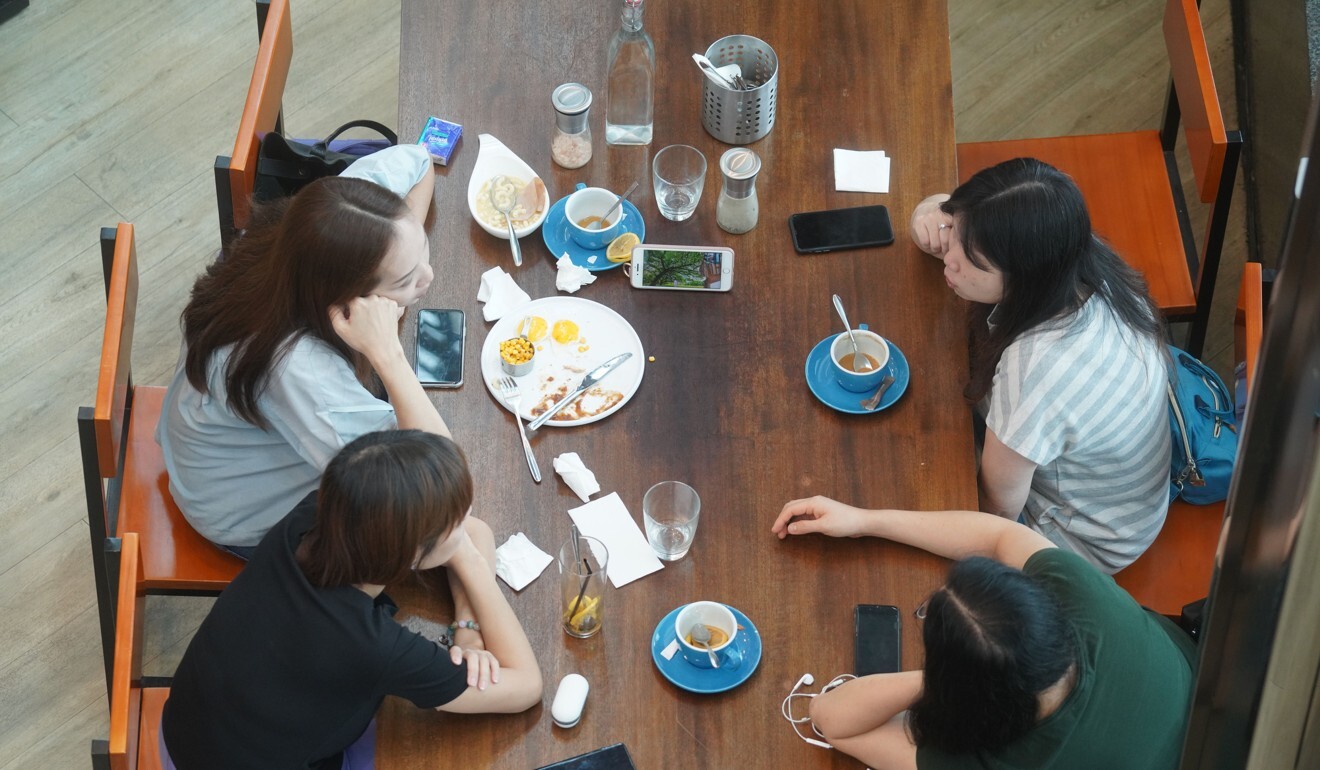 Simon Wong Ka-wo, president of the Hong Kong Federation of Restaurants and Related Trades, who was in Yuen Long on Friday evening, estimated revenue for dinner business at restaurants in the district could return to 75 to 80 per cent of what they earned in pre-pandemic days.
When each table could only serve two people, he said, restaurants secured about 30 per cent of their usual evening earnings.
"During day time, footfall at restaurants in Tsuen Wan, Yau Ma Tei, Mong Kok and Tsim Sha Tsui doubled from previous weeks," Wong said.
Earlier in the afternoon, more people were lining up for restaurants in malls than along main streets in Tsim Sha Tsui, a major tourist and shopping neighbourhood before the pandemic hit.
More than 20 customers were lined up for a table outside JS Foodies, a burger restaurant in the Harbour City shopping centre, just before 1pm. Eve Leung and two of her colleagues who are on unpaid leave from a travel agency were among them.
"We think it's safe to eat together at restaurants now because Covid-19 cases have been dropping," Leung said.
At NMC Noodles on Hau Fook Street, about 20 people were waiting for takeaway while four small groups queued up for a table. Mary Chan and two other colleagues were among those waiting to sit down.
"It's much more convenient now with the ease of restrictions, because before, three of us would still dine in together, but they would separate us with one table for two and an extra table for just one person," Chan said.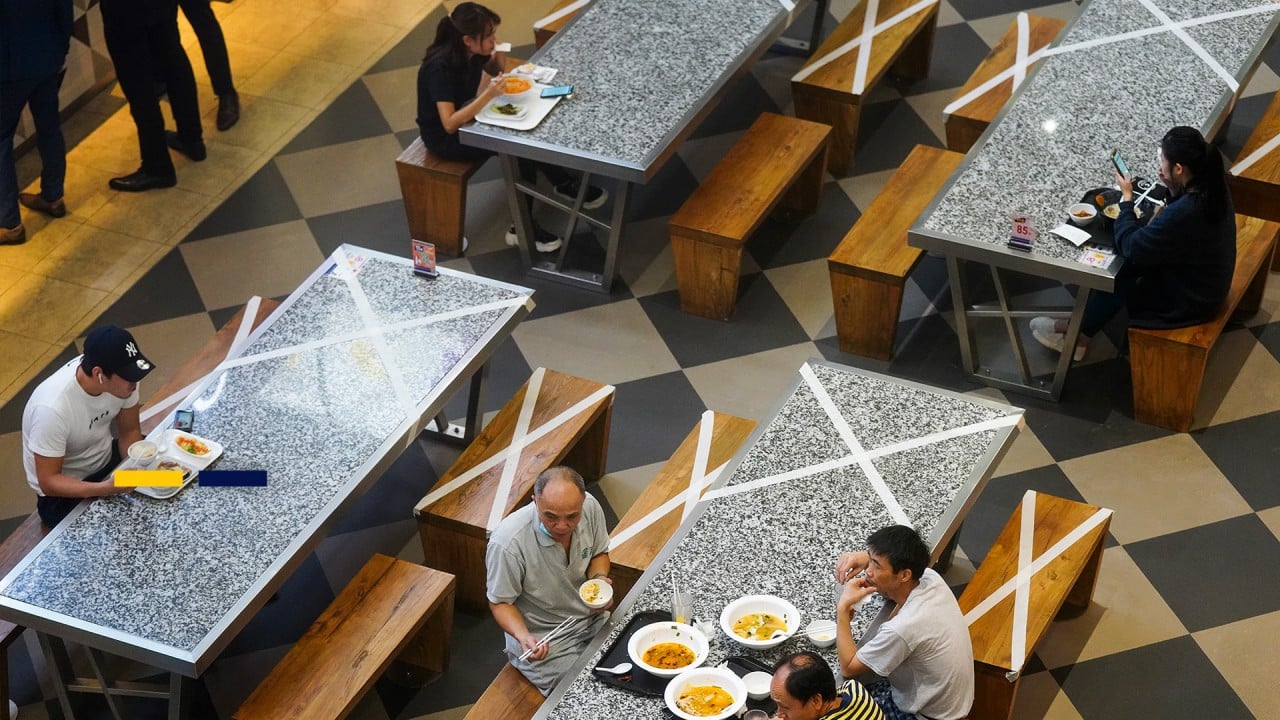 03:13
Hong Kong bans all dine-in services at restaurants in attempt to contain third wave of Covid-19
Hong Kong bans all dine-in services at restaurants in attempt to contain third wave of Covid-19
It was a different story at Yuen Kee Restaurant on Granville Road, with only about a dozen diners seated, one per table, around 12.30pm.
"Our location is at a tourist hotspot, and we really suffered a lot when tourists stopped coming," a waiter said.
Meanwhile, the Food and Environmental Hygiene Department stepped up its inspections to check whether restaurants had complied with the government's rules across the city. By 3pm on Friday, its officers had checked 725 establishments and started legal proceedings against seven operators.
The main reasons cited were a failure to place tables far enough apart, restaurants operating at more than half capacity and customers not wearing masks when not eating or drinking.
Next Thursday, 16 types of other sports venues and water sports centres will be allowed to reopen, including indoor squash courts, dance rooms and the cycling track at the Hong Kong Velodrome.
This article appeared in the South China Morning Post print edition as: Businesses packed as distancing rules ease