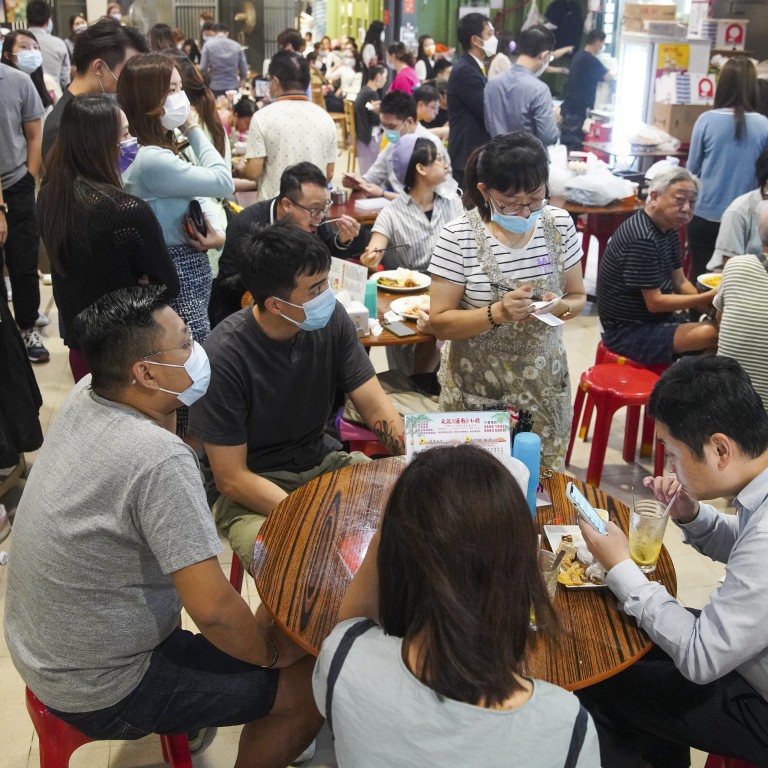 Covid-19: Hong Kong beaches to reopen, more people allowed together in restaurants, bars, as social-distancing rules eased, while city confirms five new cases
Bars, eateries to be allowed to stay open until 2am, capacity limits being lifted but public gathering curbs will remain unchanged
No new local Covid-19 cases on Tuesday, five imported infections confirmed
The number of people allowed to sit together in Hong Kong bars and restaurants will increase from Friday and beaches will reopen next week in a further relaxation of
social-distancing measures
, as the city on Tuesday recorded five new
Covid-19
cases.
From Friday, six people can be seated to a restaurant table, up from four, while that limit for bars and pubs will rise from two to four.
The city government also said on Tuesday that those venues would be allowed to run on-site services until 2am, an extension from midnight that also takes effect in time for the weekend.
"The government has adopted a targeted approach for reducing the risk of the virus spreading within the community as far as practicable," Secretary for Food and Health Professor Sophia Chan Siu-chee said.
"After taking into account the latest public health risk assessment – and also ... striking a balance with economic needs, the level of acceptance of society and also the economic and job loss situation – the government decided to continue relaxing social-distancing measures."
Capacity limits will also be lifted from 50 per cent to 75 per cent of the original settings for restaurants, bars and pubs, nightclubs, public entertainment venues such as theme parks and museums, and swimming pools.
Live performances will also be allowed in nightclubs, bars, pubs and restaurants. New mask exemption rules have also been set for patrons of those first three types of venue, stipulating they can only take off their masks while eating or drinking at a table.
Chan said people must wear a mask when not seated and were not allowed to eat or drink away from their table.
The Leisure and Cultural Services Department said public beaches would be reopened next Tuesday, after more than three months, but barbecue facilities there would remain closed.
But the ban on more than four people gathering in public, the mandatory wearing of masks on public transport and other related social-distancing rules would continue for another seven days, until at least next Thursday.
Asked why the public gathering restrictions was not relaxed to match the number of people allowed to sit together in a restaurant, Chan said the government had taken a "suitable approach" to preventing too many people congregating.
"Generally speaking, we must appeal to the public not to gather ... even though we're exempting [the public gathering ban for certain activities], those social-distancing measures have conditions ... and their risks can be managed," she said.
"Of course, any relaxation [of social-distancing measures] will carry risks, but most importantly we're not relaxing all the rules at the same time ... and will continue to do so step by step. We will continue to monitor the epidemic and make adjustments when necessary."
On Tuesday morning, Chief Executive
Carrie Lam Cheng Yuet-ngor
said there was still a need to retain the major social-distancing rules.
"We don't have the criteria to relax the measures to a large extent, but there will be some adjustments," Lam said before her weekly meeting with the
Executive Council
.
"The changes will be … based on how we can maintain epidemic control while allowing more economic activities for businesses."
The Centre for Health Protection said all of Tuesday's five new coronavirus infections were imported.
Four of them arrived from India and one from France. Both countries are on Hong Kong's high-risk list for Covid-19.
Arrivals from those nations are required to present a negative Covid-19 test result before coming to the city, and must quarantine in a hotel.
As of Tuesday, the city had 5,308 confirmed cases, with 105 related deaths.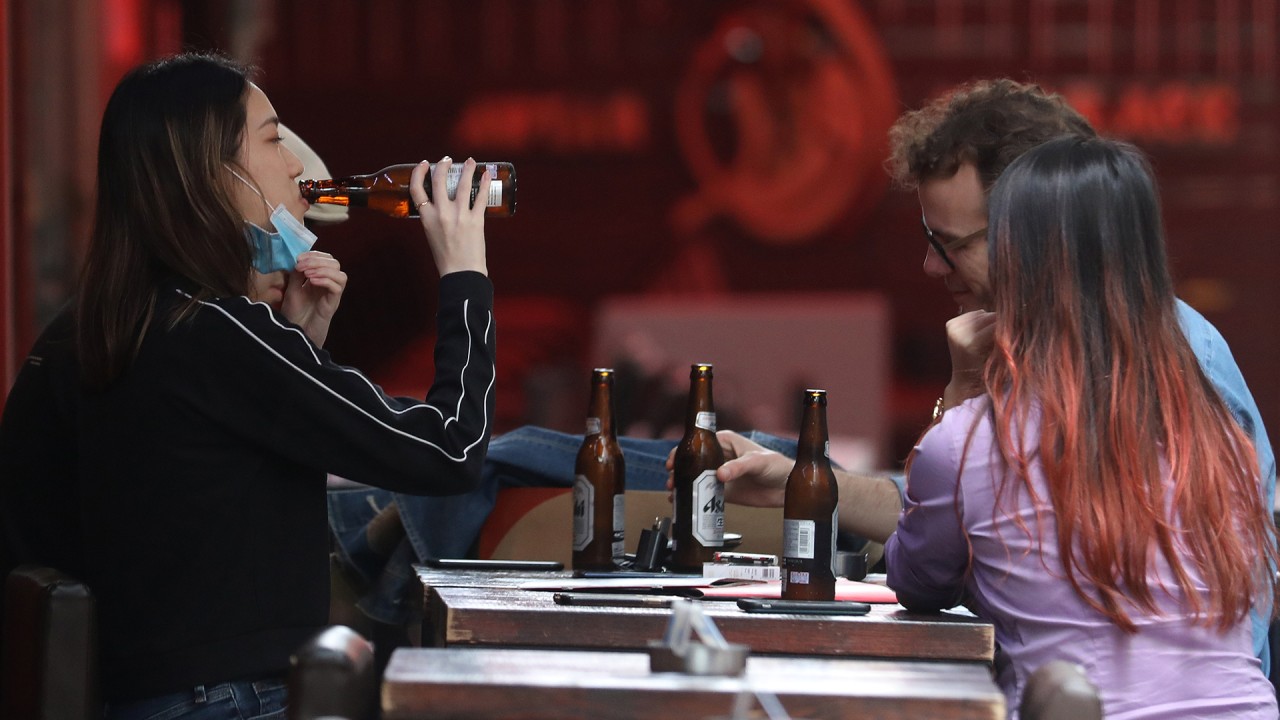 02:01
Coronavirus: Hong Kong orders bars and pubs to close amid Covid-19 pandemic
Coronavirus: Hong Kong orders bars and pubs to close amid Covid-19 pandemic
Both the catering and bar industries welcomed the further easing of rules, saying they expected the changes to boost business by between and 10 per cent and 30 per cent.
"This is good news for the catering sector. We believe the easing of the rules could further revive the economy and spur local consumption," said Simon Wong Ka-wo, president of the Hong Kong Federation of Restaurants and Related Trades.
Wong said the relaxed rules could allow traditional Chinese restaurants to relaunch banquets, albeit on a smaller scale than previously. But he pointed out it would still be a far cry from pre-coronavirus levels.
"Even if industry business rebounds by over 10 per cent, overall speaking it has still suffered a loss of at least 20 per cent," he said.
Catering sector lawmaker and Executive Councillor Tommy Cheung Yu-yan urged the government to further relax social-distancing rules for restaurants so they could host banquets, especially over the next three critical months.
"The government could be braver and relax [social-distancing measures] a bit sooner and a bit quicker," he said.
"From November to January, these three months are the peak season for the catering sector, accounting for 40 per cent of the whole year's business. It would be better for the government to further relax the rules."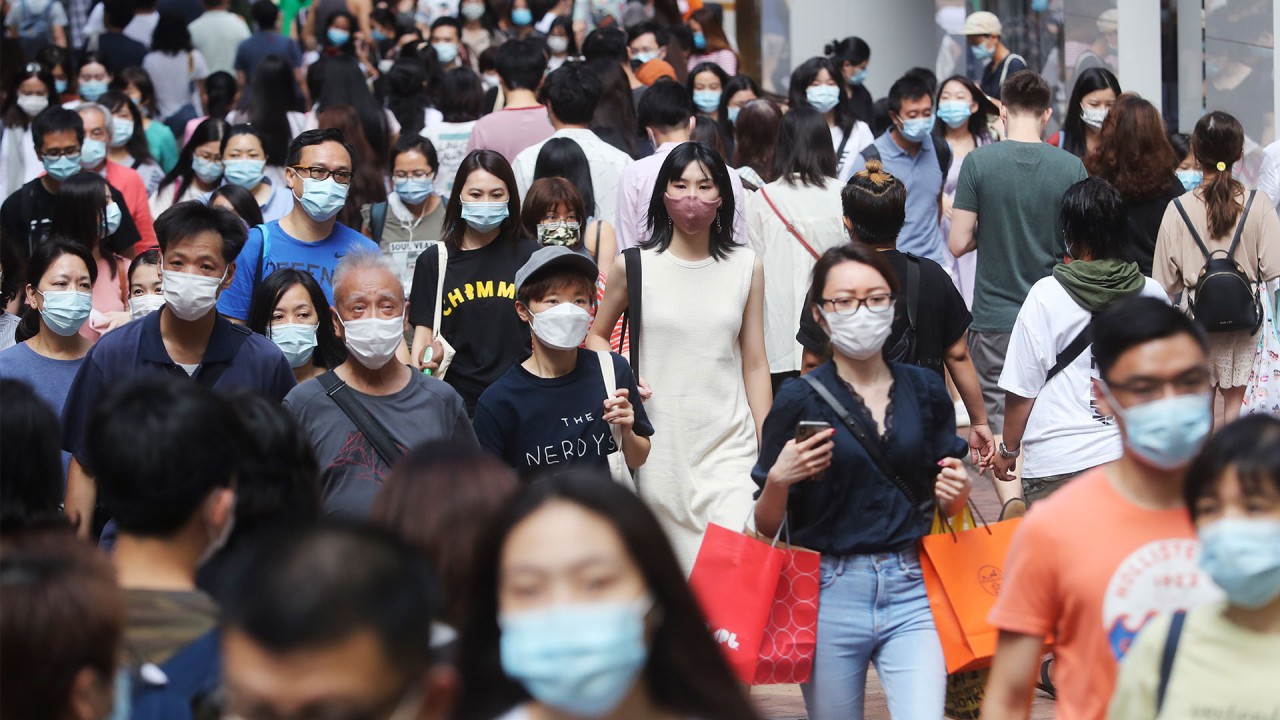 04:35
Coronavirus: How close is Hong Kong to a fourth wave of Covid-19?
Coronavirus: How close is Hong Kong to a fourth wave of Covid-19?
Wong said that at wedding banquets, restaurants could impose strict controls such as preventing brides and grooms from the tradition of going around each table to give a toast.
They could also introduce a QR code to register their customers for contact tracing in case a Covid-19 case emerged, Wong added.
Wing Chin Chun-wing, vice-president of the Hong Kong Bar & Club Association, was particularly buoyed by the extension of operating hours to 2am instead of midnight, predicting a 30 per cent rebound in takings.
"We've run into a lot of conflict and disputes with customers when we need to ask them to leave before midnight as many of them expect to stay longer," he said.
He envisaged the upcoming Halloween festivities would provide a 20 per cent uptick on business last year, which was dampened by anti-government protests that erupted in June last year.
He said the bar industry would closely observe enforcement guidelines such as asking customers to immediately put their masks on when leaving their tables.
On a proposal by medical experts for mandatory testing of people with mild symptoms, Lam said more work was needed on the city's current disease prevention and control legislation.
"We need to do it with targets," Lam said. "Generally speaking, we would target people with symptoms, or those from groups with outbreaks, premises, or areas at higher risk of infection."
An app which could notify users of their risks of exposure to Covid-19 was also expected to be available for public use in the next two weeks, Lam added.
"The app will bring convenience to the public to record their whereabouts," she said.
Meanwhile, a drainage inspection programme covering about 1,500 public housing blocks will begin on Wednesday.
"Amid the pandemic, many members of the public are concerned about the conditions of the drainage systems in the buildings," a spokesman for the Housing Authority said, adding the scheme was a preventive measure.
Among housing blocks to be inspected, 600 had drainage pipes located externally while the other 900 involved 410,000 flats with drainage stacks located inside.
Priority for the inspections will be given to blocks that have reported confirmed Covid-19 cases.
For other housing estates, priority will be determined based on factor including the percentage of elderly tenants, the age of the buildings, and the history of drainage leakage or backflow.