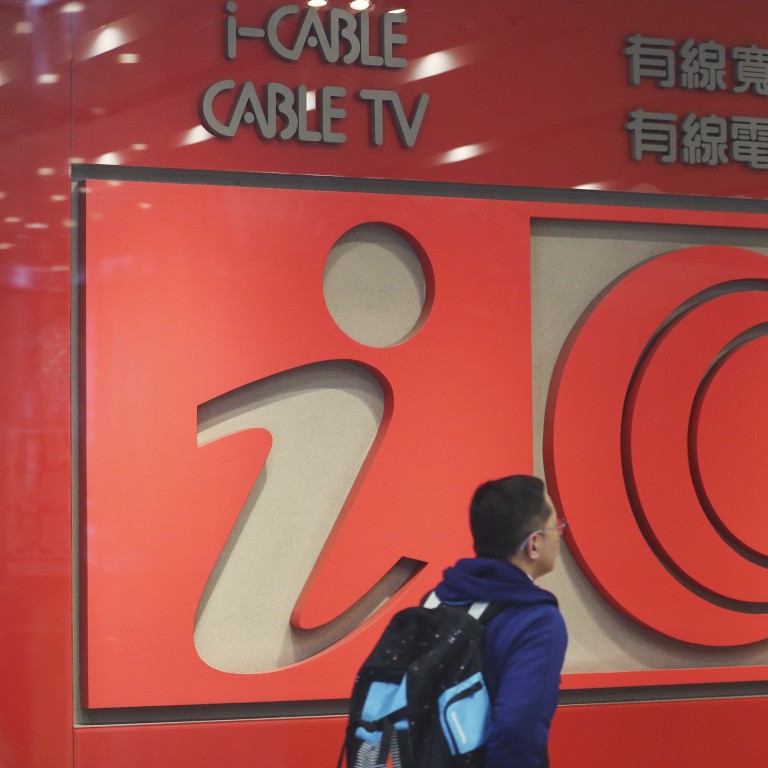 Workforce in turmoil at Hong Kong's largest pay TV operator i-Cable as lay-offs, resignations hammer news department
Redundancies will take effect immediately, cutting across the company's news operation, source says
The broadcaster's entire China news desk and at least half of the editorial department's middle management resigned in protest
Hong Kong's biggest pay TV operator, i-Cable, has laid off or reassigned some 100 staff in a bid to survive the economic downturn sparked by the Covid-19 pandemic, with the losses particularly heavy in the broadcaster's editorial department.
A source said those laid off included 40 editorial staff members, prompting the resignation of the entire China news desk and at least half of the editorial department's middle management.
In a statement, i-Cable Communications said it had to cut operating costs as the pandemic had dealt a serious blow to its finances. It said that some of the 100 staff members who had been laid off, out of a total of some 1,300 employees, would be compensated according to the labour law.
Industry observers said the lay-offs would damage morale, not only at the broadcaster, but across the city's entire media sector, which advocates have said has found itself under increasing
political pressure
lately.
In a joint statement, 11 reporters and five editors, all of whom resigned, said that not every department head had been consulted about or notified of the lay-offs, illustrating management's disregard for its staff.
"The handling [of the lay-offs] is disrespectful, and it has made people angry," they said. "The Hong Kong news team expresses regret over senior management destroying the i-Cable news department."
The lay-offs were just the latest round of internal shake-ups at i-Cable since August, when several senior leadership positions were reshuffled and, in a separate development, three experienced engineering staff were unexpectedly fired.
Staff learned on Tuesday morning of the latest cuts, mostly affecting journalists across different teams, anchors and video filming and editing staff within the news department, which currently employs about 300 people, a source said.
Sources said that after one China news veteran was sacked, all 10 of her teammates resigned in solidarity, as did an executive news editor and five other senior editors.
Other sources said all three reporters working for the popular News Lancet programme, known for its investigative journalism and in-depth coverage of current affairs, were also laid off, as were two senior local news reporters and two experienced video editors from other teams.
A veteran videographer who was filming at the Legislative Council building on Tuesday morning, packed up his personal belongings immediately upon receiving a lay-off notice and left his camera behind, still rolling.
After the job cuts were announced through a mass internal email asking "all affected colleagues to leave immediately", team leaders rushed to management to demand they reverse the decision.
"It's regrettable that the company had no communications with us at all … The arrangement will hugely impact the operation of the two channels," said a veteran editor who led the News Lancet programme.
Assistant China news editor Linda Wong, who was among those sacked, said the company only cited a lack of financial resources as its justification, and did not elaborate on how it decided who to let go.
"We are short-staffed. If we fire one person, the operations will be difficult. We also feel that the management hasn't talked to our department head about this," she said. "The announcement was made suddenly, so our colleagues are disappointed and angry."
After news of the lay-offs broke, editorial staff expressed their concerns to current senior managers – including Oscar Lee Tsun, Hui Fong-fai, Edna Tse and Anderson Chan Hing-cheong – demanding to know why some of the most experienced employees were among those being cut loose, according to videos seen by the Post.
When someone asked who made the decision, Chan, the broadcaster's controller of news and public affairs, replied: "You guys are arguing like thugs."
Hui, deputy general manager for news and public affairs, told the group the main intent of the "restructuring process" was to save money.
"For example, we are not going to lose the programme News Lancet, but can we have the team [work with] local news reporters to do the same thing?" he said.
One staff member, however, pointed out that all the reporters for News Lancet had been fired.
The Hong Kong Journalists Association on Tuesday expressed concerns over the lay-offs, particularly given what has been a rocky time of late for local media as a whole.
Industry stakeholders this year have decried, among other things, a national security law-related raid on Apple Daily, new police restrictions on access for journalists and the arrest of a reporter over her work on an RTHK story about last year's Yuen Long MTR attacks.
Despite the difficult operating environment, the association urged employers to rethink lay-offs that would dampen morale and seriously affect the quality of news production.
It pointed out that the lay-offs of all of News Lancet's reporters – whose work often dealt with politics and the police force – could create the perception that the network was cutting back coverage of sensitive topics under the guise of cost-saving measures.
Professor Clement So York-kee, from Chinese University's journalism school, said i-Cable news programmes were known for their quality, News Lancet in particular.
"If [people] were cut without a clear explanation, it doesn't only make people feel regretful, it will also cause speculations as to whether it is solely due to the lack of resources," So said.
Given the loss of senior staff and the entire China desk, he added, it would be a shame if the broadcaster no longer ran its China news programme.
"It will deal a blow to morale, not only just i-Cable news, but the whole media scene. Everyone may feel it is just the first wave," he said.
i-Cable Communications continued to haemorrhage money in the first half of this year, with losses totalling HK$176.22 million, on top of HK$397 million in losses last year.
The company is controlled by property investor David Chiu Tat-Cheong, also chairman of Far East Consortium.
This article appeared in the South China Morning Post print edition as: mass sackings at troubled i-cable