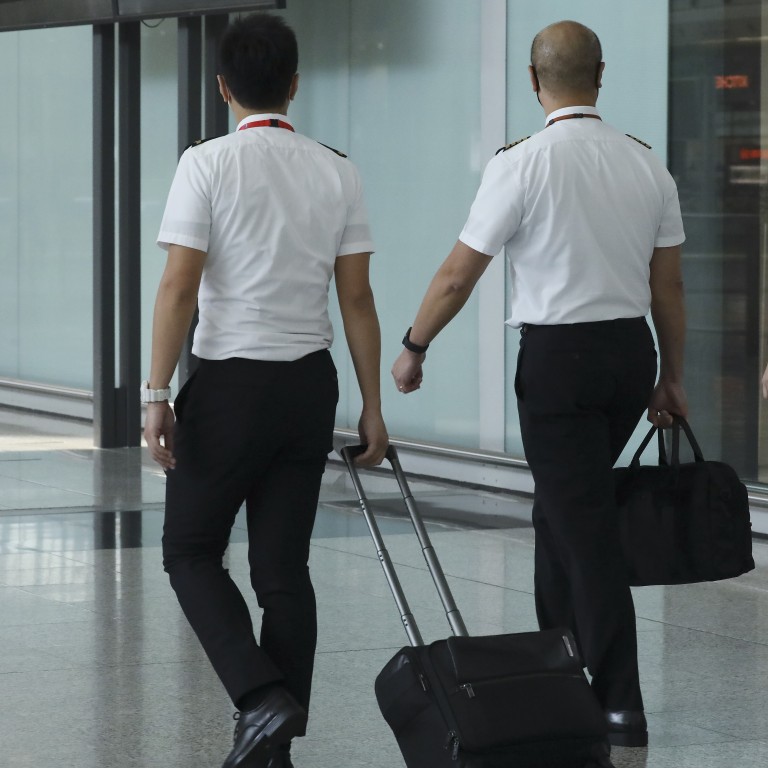 Exclusive

|
Cathay Pacific Airways to hire Hong Kong-based pilots again for the first time during the coronavirus crisis
Recruitment exercise to open on Tuesday for first and second officers
Cathay kick-starts long process of preparing the company for when the pandemic is over
Cathay Pacific Airways will start hiring Hong Kong-based pilots again for the first time in about 18 months, as it kick-starts the long process of rebuilding the business for after the
Covid-19 pandemic
, the
Post
has learned.
Hong Kong's beleaguered
flag carrier
told staff it would open the recruitment exercise on Tuesday for first and second officers as it tried to "safeguard" the company's position ahead of a recovery in international travel.
As of April, the airline was flying just 3 per cent of its pre-pandemic flight schedule following a severe industry downturn and strict curbs on international movements that hampered cross-border travel.
Chris Kempis, the airline's director of flight operations, told staff: "As we look to the future it is critically important that we keep our crew resource levels right, plan appropriately for the recovery and future growth to our network, and look forward to increasing demand as we welcome back more of our customers."
In recent months, the airline has signalled it will cut back on pilot numbers by reducing the number of cockpit crew hired outside Hong Kong.
On Tuesday evening, the company informed 125 Australia-based pilots it would stop employing cockpit crew in that country. While eligible pilots with the right to work in Hong Kong can choose to transfer, all other staff will be made redundant.
Pilots employed by the airline in Canada and Germany have been told over the past two months that they would lose their jobs, affecting about 130 people. The fate of more than 250 pilots hired in Britain, the United States and New Zealand, meanwhile, remains under review.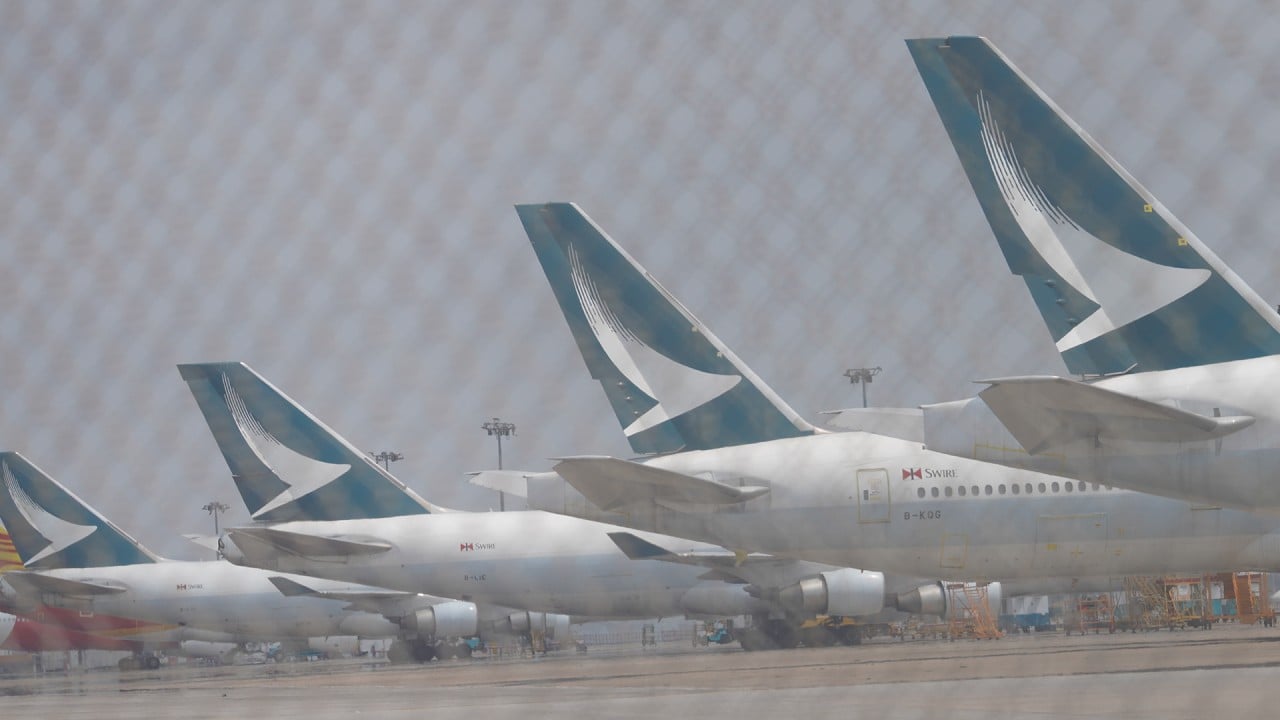 01:55
Hong Kong's Cathay Pacific Airways posts record loss of HK$21.6 billion for 2020
Hong Kong's Cathay Pacific Airways posts record loss of HK$21.6 billion for 2020
More recently, it offered voluntary redundancy to local crews. The airline is also embroiled in a tussle with the Immigration Department over employing foreign pilots who require a work visa.
About two weeks ago, the airline warned pilots they could be at risk of losing their jobs if they did not get vaccinated. The new job advert specifies that applicants must provide a
Covid-19 vaccine
certificate.
The airline employs around 3,150 pilots worldwide and 2,600 in Hong Kong as of last month, before headcount reductions.
The company
cut 5,900 jobs
last year and closed Cathay Dragon, resulting in hundreds of locally trained pilots being unemployed, which prompted authorities to scrutinise the airline and the wider industry's practice of hiring foreign labour at the expense of unemployed locals.
A company spokeswoman said the airline did not have a set number of pilots it would hire. "Reviewing our crewing requirements is an ongoing process."
Citing the lengthy lead time to procure new pilots, the company said: "We have determined that now is the time to recommence our recruitment and training activities."
Kempis signalled in his staff message that the worst times for the airline's passenger flight operations now appeared to be behind it.
"Recruitment at this stage is about forward planning and as we move through the summer, we are already seeing small, but definite growth in our passenger schedules," he added.
In 2019, Cathay hired 350 pilots and the following year employed 90 more before the coronavirus crisis took hold early in 2020.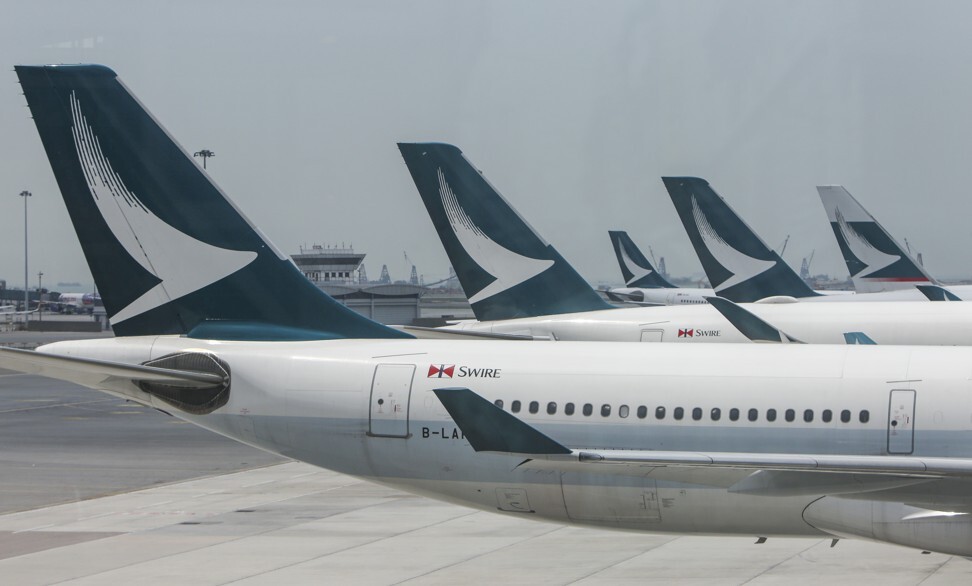 A survey by a Cathay Dragon pilots concern group conducted last month showed there were 183 unemployed pilots in Hong Kong.
Some 175 of those were permanent residents, which includes people born and raised in Hong Kong as well as those who acquired the status after living and working in the city for at least seven years.
"We hope that these are genuine employment opportunities with remuneration packages commensurate with experience levels, and not just a gesture to support work visa renewals in a city with hundreds of unemployed local pilots," a concern group spokesman said.
The government led a HK$39 billion
bailout
of Cathay Pacific last summer, helping the airline raise about two-thirds of the total.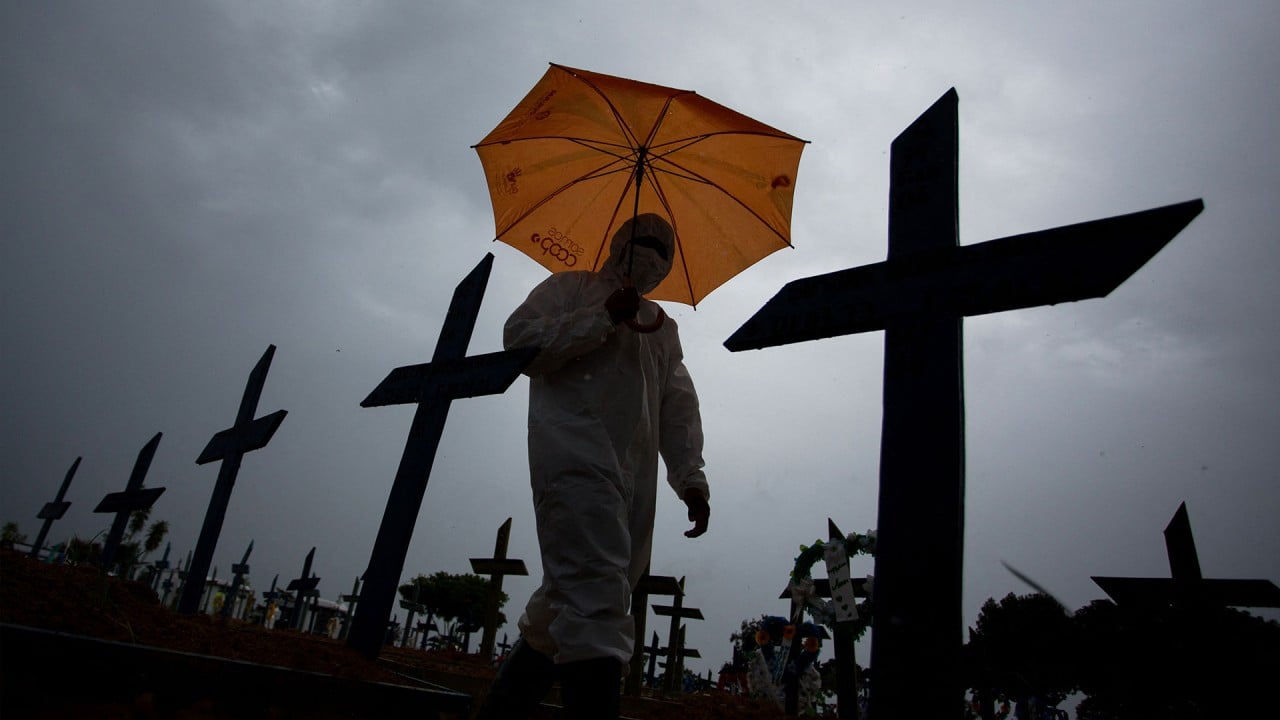 06:05
One year into Covid-19 pandemic, world marks anniversary of WHO's declaration on coronavirus
One year into Covid-19 pandemic, world marks anniversary of WHO's declaration on coronavirus
The city administration also placed two observers on the company board for the first time, allowing authorities to keep a closer eye on the airline's affairs.
A handful of other airlines have started rehiring, including in the United States where recruitment is being fuelled by the rapid rebound in domestic travel. Middle East carrier Qatar Airways has started a similar process, albeit with smaller numbers involved.
However, Cathay's precarious financial position, combined with the lack of a substantive recovery and a surplus of pilots already on its ranks, differentiates the carrier from other firms now hiring.
The airline made a HK$21.6 billion loss in 2020, and is expected to be make heavy losses throughout this year.
To tackle the surplus among its 1,000 locally employed Boeing 777 pilots, it is moving crews on to the short-haul Airbus A321neo. Each month around 16 employees who pilot the 777 are being retrained on the 747.
This article appeared in the South China Morning Post print edition as: Cathay to hire HK-based pilots again as it rebuilds business