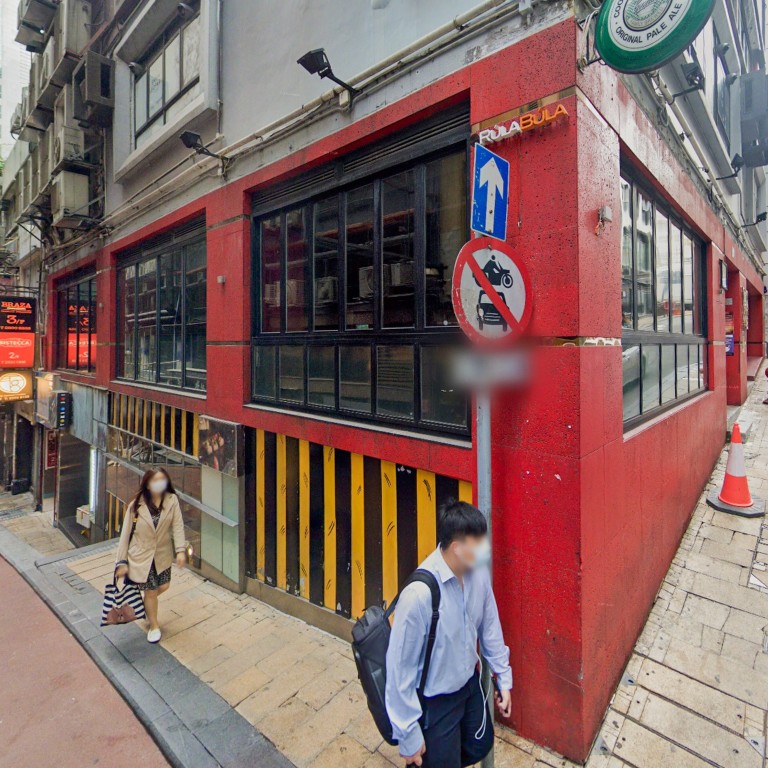 Coronavirus: sluggish vaccination rates spell bubble trouble for Hong Kong restaurants, bars operating under jabs-linked rules
With just 1.4 million residents having taken at least one jab and many refusing to use the 'Leave Home Safe' app, the patron pool for bars remains small
Meanwhile, only a small percentage of local restaurants are taking advantage of a new tiered system that ties opening hours, seating limits to inoculation
For more than a month now, sports bar Rula Live in Hong Kong's Lan Kwai Fong nightlife district has scrupulously met the tough requirements of the government's
coronavirus
"vaccine bubble". Business, however, has remained decidedly lacklustre.
After being closed for five months, the bar and its sister nightclub, Lambda Lounge in Sheung Wan, reopened in late April once all 20 of their staff members had been vaccinated as required under the scheme, operations manager Ravi Beryar said.
But customers are also required to have had a
Covid-19 jab
, and that is where things become problematic. Hong Kong's stubbornly low inoculation rate has guaranteed a relatively tiny pool of potential patrons, while many residents still refuse to use the government's "Leave Home Safe" app.
Since reopening, business at the two bars has been barely half what it was in pre-pandemic days.
"It was good to open again after almost six months of closure. Some people came in. But [business] has been very difficult," Beryar said.
Many bar and restaurant operators across the city are in the same boat, unable to capitalise on the would-be boom the government hoped to create by launching a bubble on April 29 that explicitly tied lowered
social-distancing regulations
to vaccination.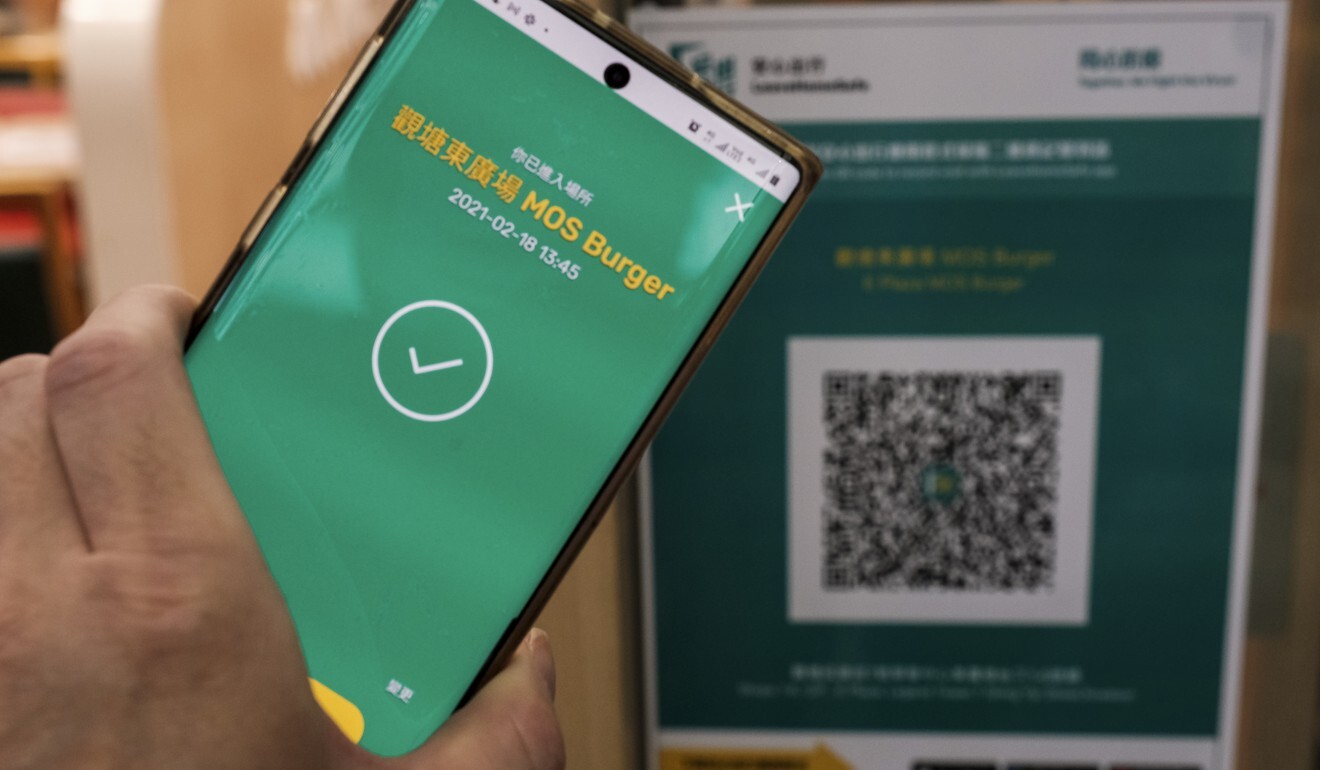 The city's sluggish inoculation drive, privacy concerns over the government's vaccination record-checking app and weak consumer sentiment had all proved serious hurdles to recovery, they said.
As of Thursday, only 19.2 per cent of Hong Kong's 7.5 million population have had their first vaccine dose, while 14.1 per cent have had their second dose.
Beryar noted that while most expatriate patrons had no problem showing their vaccine records and scanning the government app, local guests have been far less willing, citing fears of compromising their personal data.
"I've had to kick out people on multiple occasions because they did not want to use the app, even if they were fully vaccinated," he said.
Joe Chan Hing, director of Sonder, which runs bars under that name in Tsim Sha Tsui and Causeway Bay, agreed the launch of the vaccine bubble was better than having his businesses remain closed.
But only about 10 per cent of regulars had returned to his outlets, he said, something he attributed to the low vaccination rate.
"Among the vaccinated, not all of them are going for a night out," Chan said. "Even if we run promotions, only the vaccinated who want to go for a drink will come, and that's a very small market at the moment."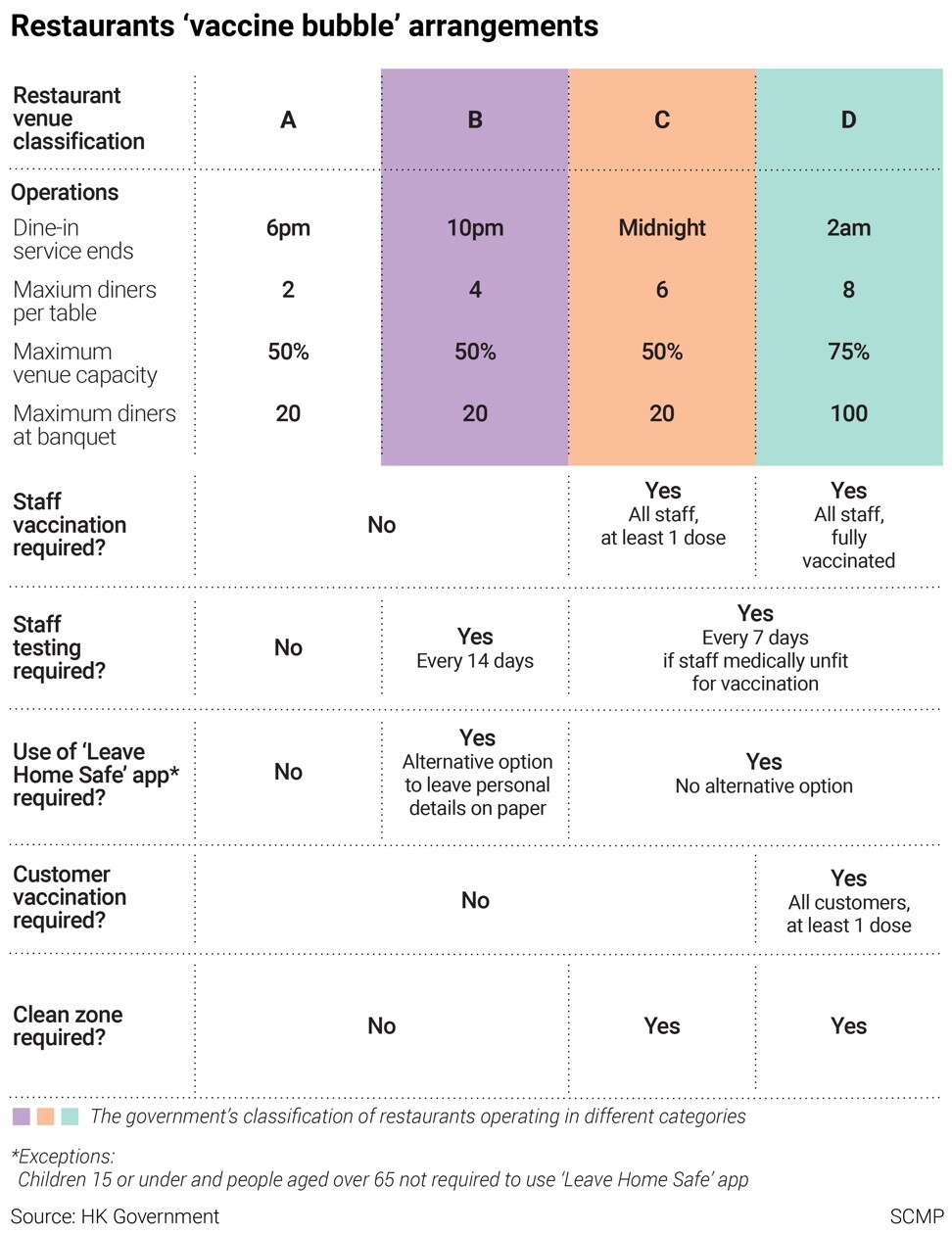 Industry leaders previously estimated that 300 city bars had closed for good during the pandemic, while another 1,100 were struggling to stay alive.
The restaurant sector has fared little better despite the government allowing eateries to operate for longer hours and at higher capacity under a categorisation system that has created four sets of rules for venues – type A, B, C or D – based on vaccination benchmarks and Leave Home Safe usage.
As of Monday, just more than 590 of the city's approximately 17,000 eateries had registered with the Food and Environmental Hygiene Department to move beyond the old rules, which stipulate 10pm closures and a cap of four people per table.
One restaurant embracing the new system is Cheung Kung Koon in Causeway Bay. The Chinese eatery split its space into two zones in April, with one section operating under type C rules, meaning it can serve diners until midnight with up to six per table provided all staff have received at least one dose.
The other area remains type B, which requires no vaccinations but keeps the previous seating and dining-hour limits in place.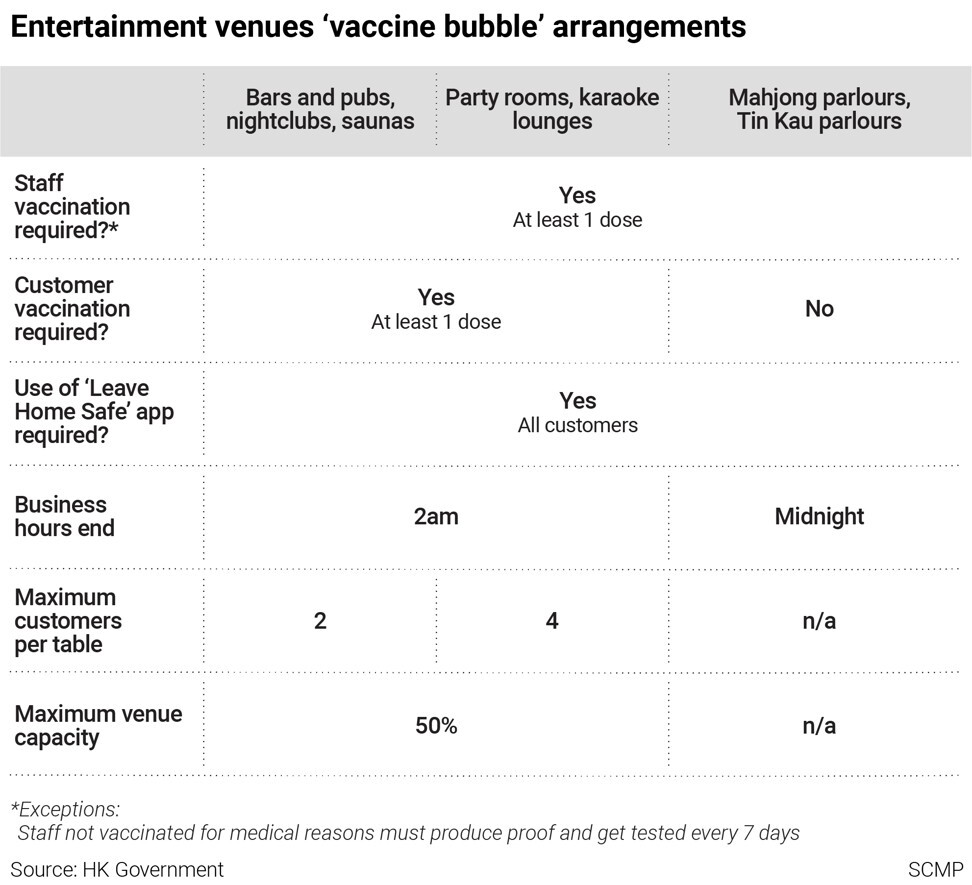 Its manager, surnamed Yeung, said the mixed operation model had boosted traffic, but only slightly, with a marginal improvement in revenue.
"The pandemic is still ongoing, and the economy is not good. So people don't spend money casually like in the past. Their consumption patterns tend to be more cautious," he said.
He added that his restaurant would not be able to switch to the freest set of rules, or type D, in time to take advantage of Father's Day on June 20, a peak period under normal circumstances.
"Maybe we can finally do it around July," he said.
Under type D rules, dine-in services can run until 2am and serve up to eight people per table provided staff have been fully inoculated and patrons have received one dose.
Simon Wong Ka-wo, president of the Hong Kong Federation of Restaurants and Related Trades, noted that about 500 restaurants were currently certified under type C, with many splitting their premises into two zones much as Cheung Kung Koon.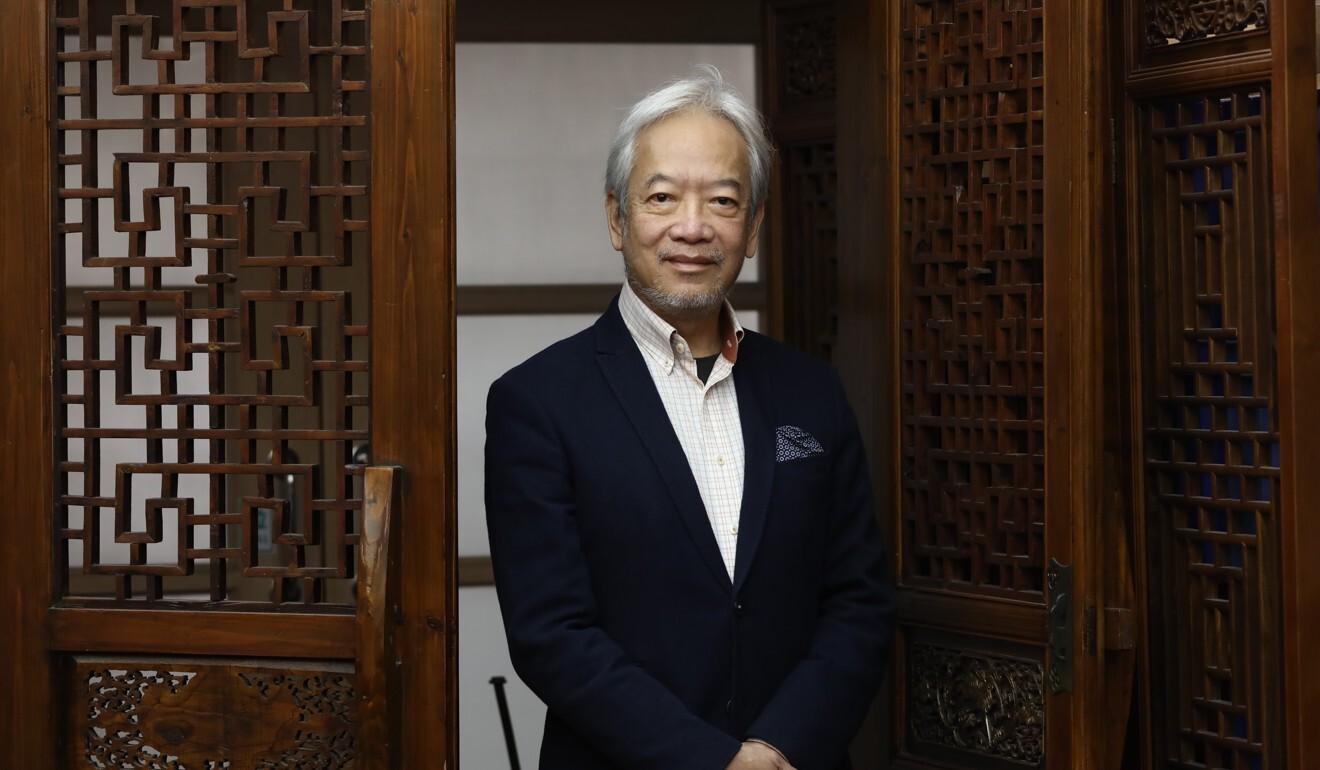 Wong said earnings for restaurants working under type C rules were higher, because being able to seat tables of six was attractive for families dining out together.
"Even in the same premises, proportionally, the revenues for type C sections are higher [than type B] by more than 10 per cent," he said.
But he added that he could not yet name any restaurants operating under type D rules yet, because of the requirement that all staff be fully vaccinated. It would be another two weeks or so before some would begin switching to that mode, he predicted.
Wong said even if the government considered raising the number of customers allowed to dine together to 12 per table at restaurants where all staff and two-thirds of patrons had been fully vaccinated, the difficulty would be convincing all employees to receive two doses.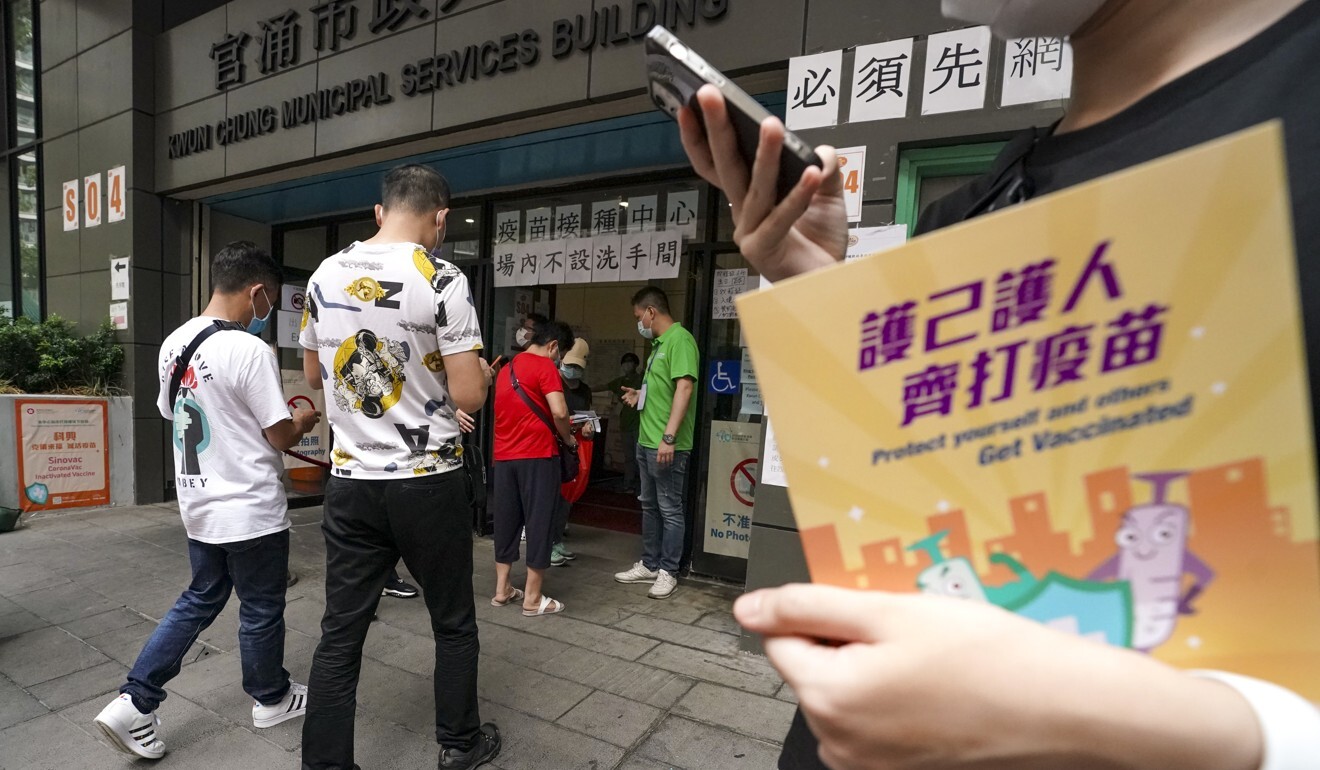 Edwin Kam, general manager of a chain of five Shanghainese restaurants with about 170 employees, said his outlets were still operating under the pre-vaccine bubble model, but noted a changing attitude towards inoculation among his staff.
Kam said many workers had decided to get a jab over the past few days, and that he planned to review the possibility of joining the bubble after surveying his staff on their vaccine status in about two weeks.
"Perhaps now that there is a flat up for grabs in the lottery, more people will be willing to get vaccinated," he said, referring to property developers' recent decision to offer a new home worth HK$10.8 billion (US$1.4 million) as a lucky draw prize to encourage inoculations.
Kam said he expected his restaurants could increase revenue by at least 10 per cent if they began serving six per table.
To boost inoculation, the private sector has in the past week unleashed lotteries offering everything from cash to paid holidays to shares in listed companies. The government, meanwhile, has offered civil servants a day off for each jab they take.
This article appeared in the South China Morning Post print edition as: Low jab rates dash 'vaccine bubble' hope