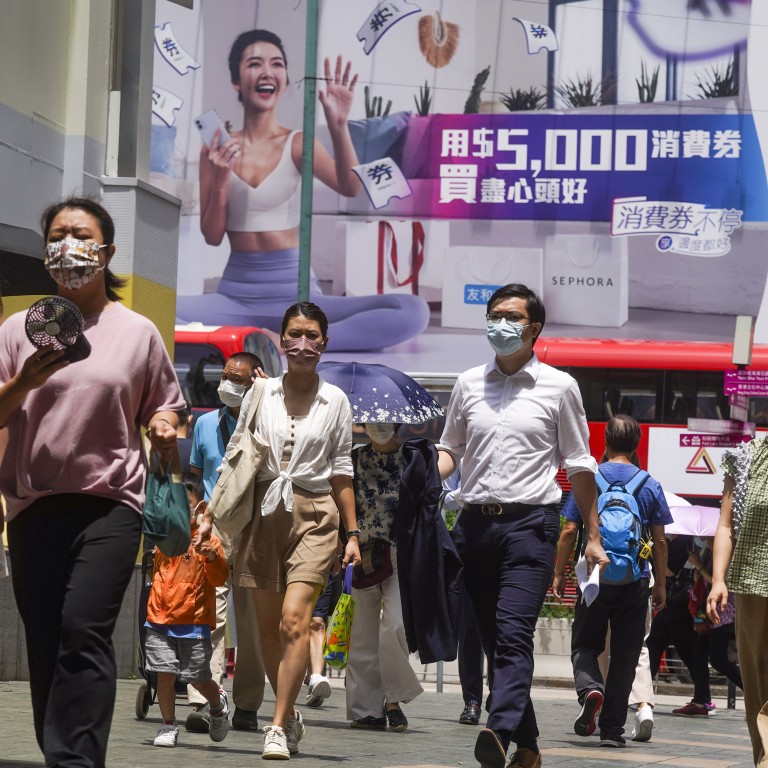 E-voucher scheme could boost Hong Kong economic growth by 'as much as 6 per cent in third quarter year on year'
Economist Terence Chong predicts growth rate of city's gross domestic product between July and September to hit 5 to 6 per cent
Saturday is the deadline for eligible residents to sign up for the HK$5,000 consumption vouchers
The strong response to Hong Kong's
consumption voucher scheme
could boost the local
economy
by as much as 6 per cent in the third quarter year on year, with more than 96 per cent of eligible residents expected to have signed up before registration ends on Saturday.
Some 6.92 million people of the 7.2 million eligible population had already registered for the HK$5,000 e-vouchers as of Saturday evening, according to the latest available statistics.
For the 288,000 people still not enrolled, Saturday is the final chance to sign up.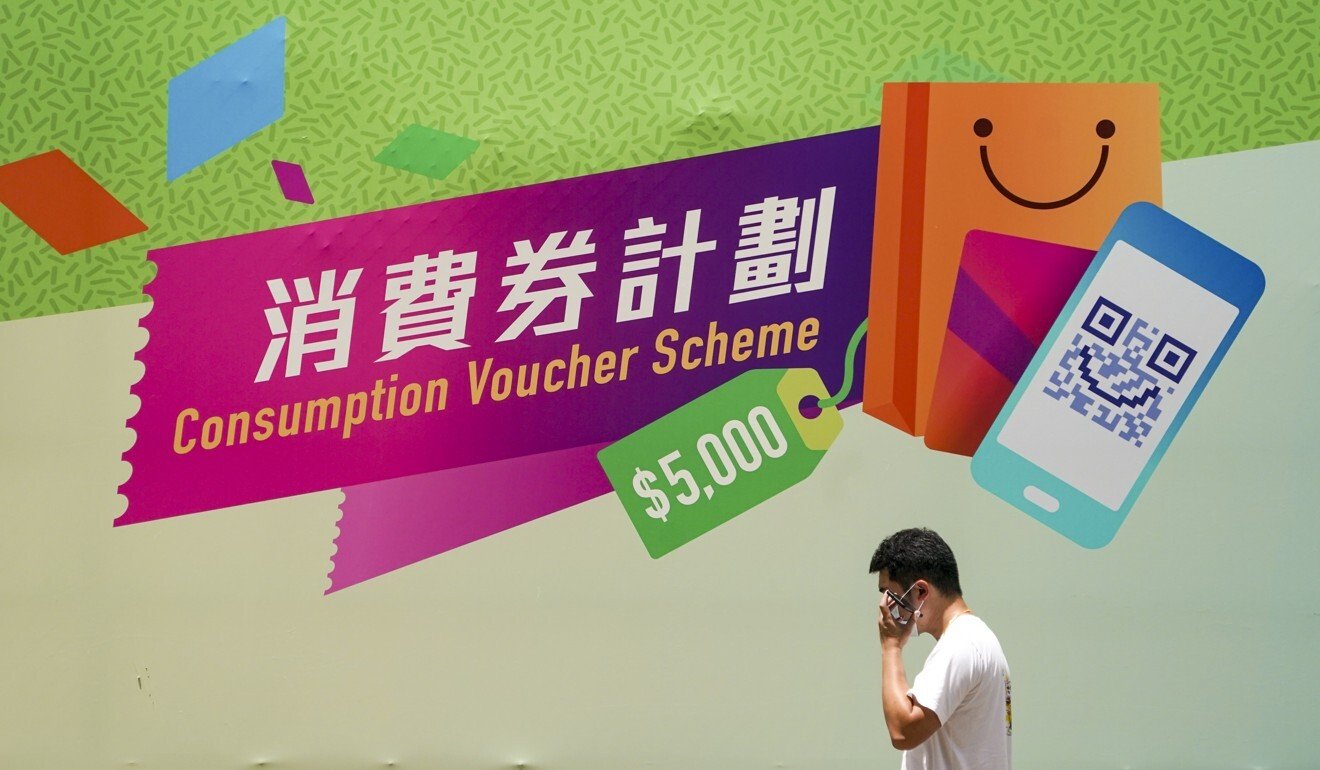 The HK$36 billion initiative was designed to boost local spending and accelerate the city's economic recovery amid the
Covid-19 pandemic
. Residents went on a
spending spree
early this month when more than 5.47 million people, or about 75 per cent of the qualified population, secured their HK$2,000 handout in the first tranche on August 1.
Professor Terence Chong Tai-leung, an economist at Chinese University, previously predicted the growth rate of the city's gross domestic product (GDP) between July and September would only hover around 3 to 4 per cent without the initiative. Now, he foresaw the figure would hit 5 to 6 per cent, taking into account the voucher scheme.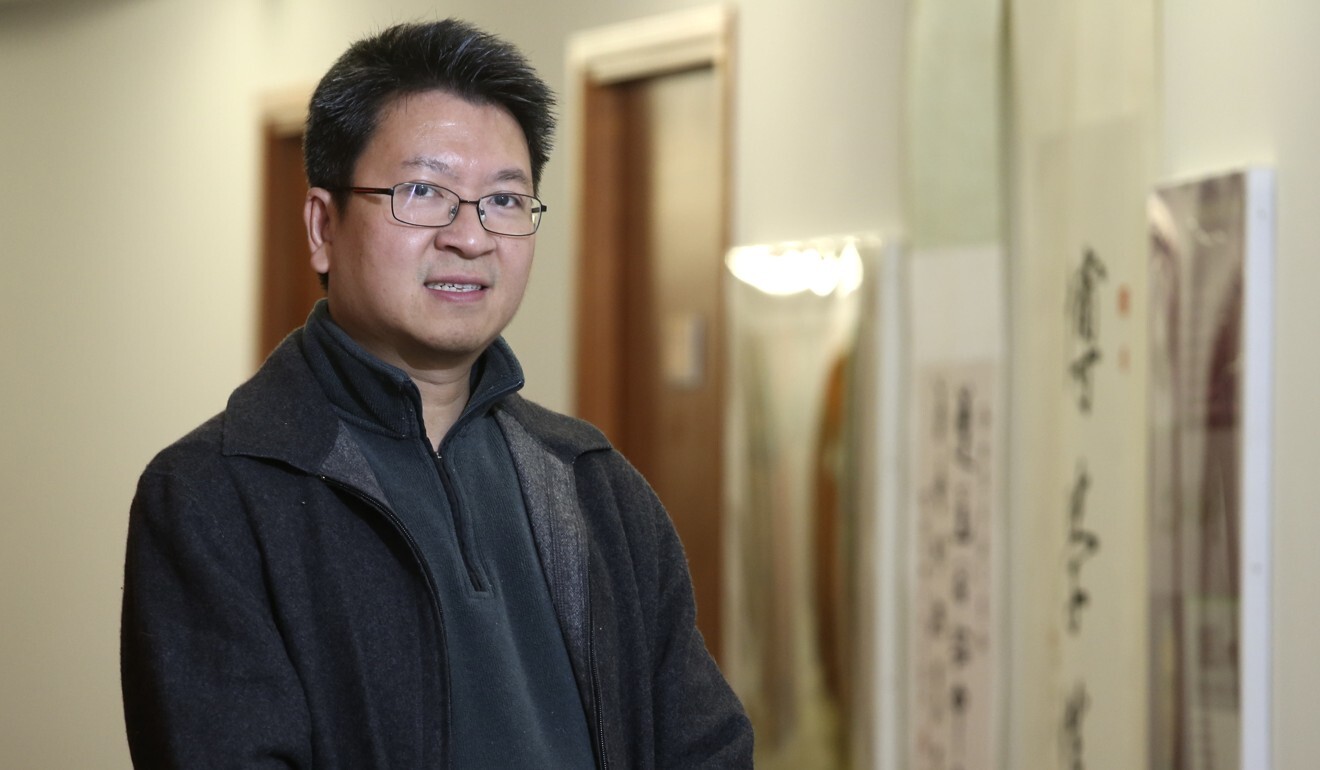 "The response is quite enthusiastic. Many people have already spent their HK$2,000 vouchers and the effects of the first round will be quite big, particularly on the third quarter," said Chong, adding that supermarkets and restaurants were the major beneficiaries. Jewellery shops also enjoyed a boost in sales revenue thanks to the scheme.
The government on Friday upgraded its growth forecast for the city's GDP to between 5.5 per cent and 6.5 per cent this year from 3.5 per cent and 5.5 per cent, due partly to the voucher scheme.
It had expected the initiative to contribute 0.7 per cent growth to the GDP this year.
To capitalise on the spike in consumer sentiment, the city's malls, shops, restaurants and the four digital payment platforms have already forked out billions of dollars' worth of discounts and perks.
But ING Bank Greater China economist Iris Pang said the positive impact would hinge on whether residents were spending more than they were given.
She said she was unable to quantify the effects on driving up private consumption.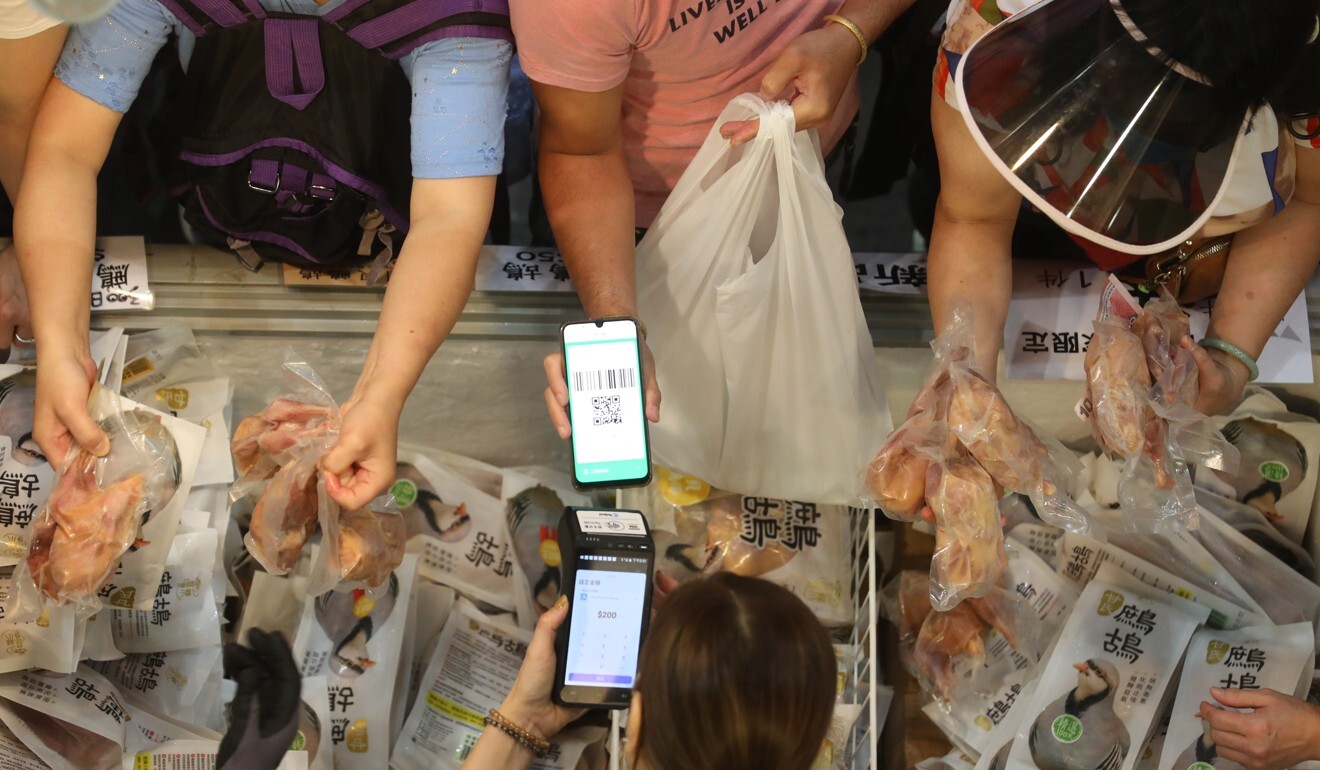 Noting many businesses were offering discounts to attract shoppers, Pang also questioned whether the revival of consumer sentiment was a result of lower prices or other factors.
"The market has become more vibrant, particularly in the first few days [after the first batch of residents received vouchers]. But it became quieter this weekend," she said.
People who registered with AlipayHK, WeChat Pay HK and Tap & Go by July 17 can get the final batch of HK$3,000 e-coupons on October 1, but will have to spend them by the end of December. AlipayHK is affiliated with tech giant Alibaba, which owns the Post.
Those who registered with these payment systems between July 18 and Saturday will receive the final tranche of e-vouchers on November 1 which will be valid until January 31 next year.
Citizens who chose Octopus by July 17 will receive the second batch payment of HK$2,000 on October 1, and those registered between July 18 and Saturday will receive the money on November 1. The final disbursement of HK$1,000 will be available after they have spent the previous two rounds of vouchers.
Eligible citizens refer to permanent adult residents and new immigrants from mainland China. Dependents sponsored by a Hong Kong permanent resident will also benefit.
This article appeared in the South China Morning Post print edition as: 'E-vouchers can help push gdp growth to 6pc'