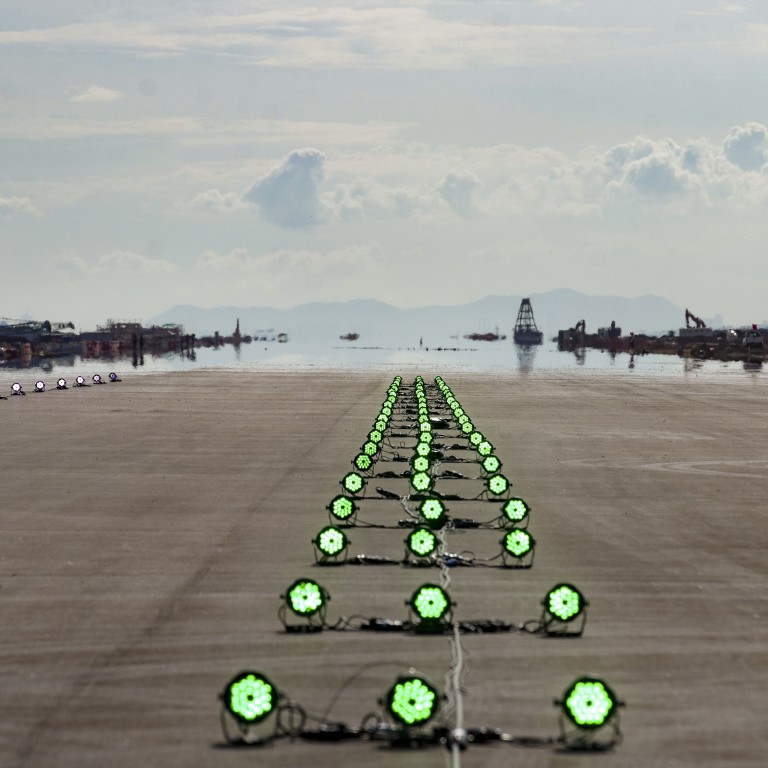 Tarmac works for Hong Kong's third runway completed, marking halfway point of HK$141.5 billion airport expansion
Airport authorities give most substantive update of project since construction started in 2016, including assurance that plan is on schedule and within budget
City leader helms delegation of officials and stakeholders for site visit, hailing latest development an 'important milestone'
Hong Kong airport bosses on Tuesday announced the completion of tarmac works on the third runway, marking the halfway point of a HK$141.5 billion (US$18.2 billion) expansion of the city's aviation hub.
In its most substantive update on the project since construction began in 2016, the Airport Authority said the process remained on schedule and within budget, a significant feat given some of the city's major infrastructure works had encountered delays and cost overruns.
With the expected 2022 partial launch of the new runway, the existing northern stretch will be closed for modifications.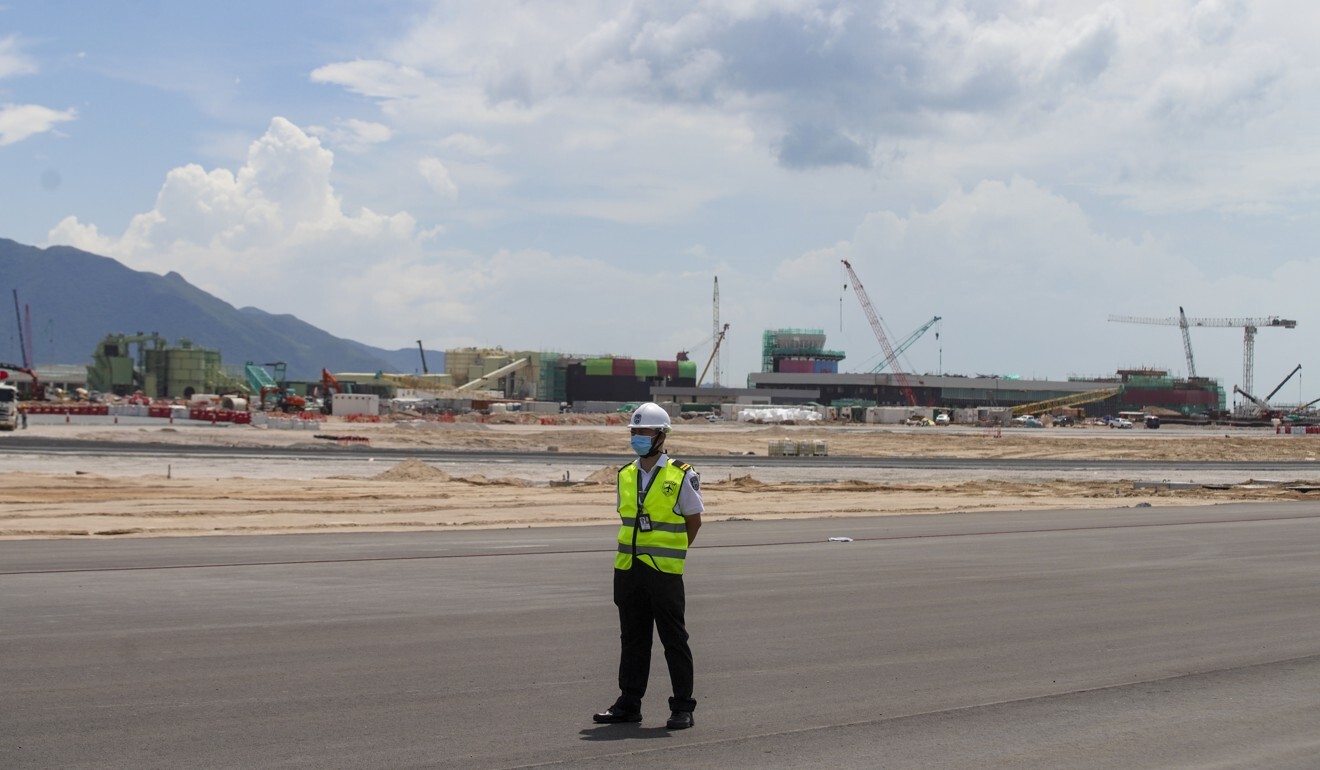 Hong Kong Chief Executive
Carrie Lam Cheng Yuet-ngor
on Tuesday led a delegation of about 200 officials, airline executives and other industry partners on a visit to the site, which was also opened for a media tour.
Lam said the latest works marked an "important milestone", and the wider "Airport City" vision – which includes a shopping and entertainment complex, as well as expanded premium logistics facilities – would put the aviation hub in good stead in a post-pandemic world.
Some 90 per cent of reclamation works have been completed for the 650-hectare expansion, which airport chiefs have described as building an entirely new airport on top of the existing 1,250-hectare facility.
"We are still on time and on budget," Tommy Leung King-yin, deputy director of the Third Runway Project Management, said at a media briefing. "Over half of the construction work is done".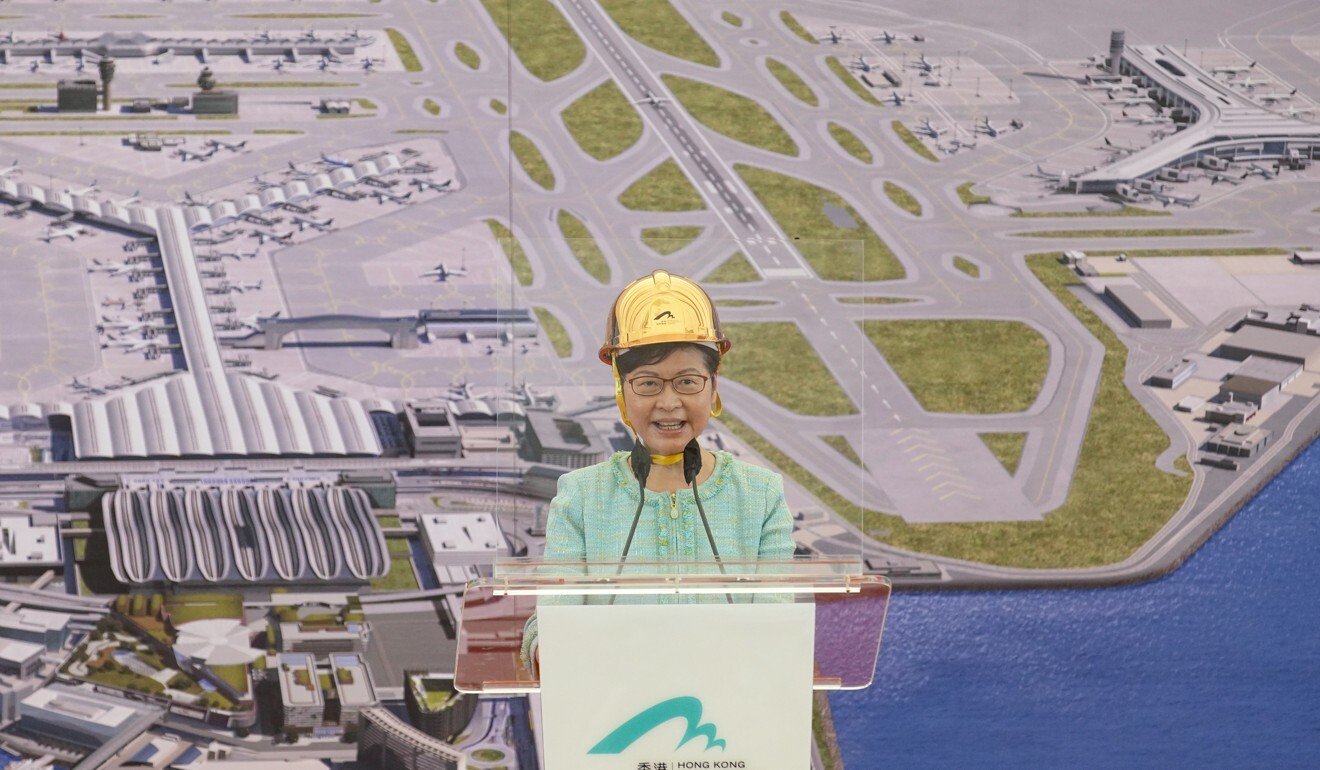 As part of the development plans, Hong Kong is rebuilding a second terminal and an additional passenger concourse that will span 283,000 square metres, while adding 63 plane parking spaces. There will also be a new automated passenger mover to transport people underground between the new concourse and terminal two. The wider Airport City complex will house a mega shopping and entertainment wing to attract cross-border travellers.
Other features include enhanced infrastructure such as a bridge for coaches to connect to the main airport building without needing to go through immigration and customs.
The third runway itself is 3.8km long and 60 metres wide, featuring some 14,000 ground lights to help guide pilots.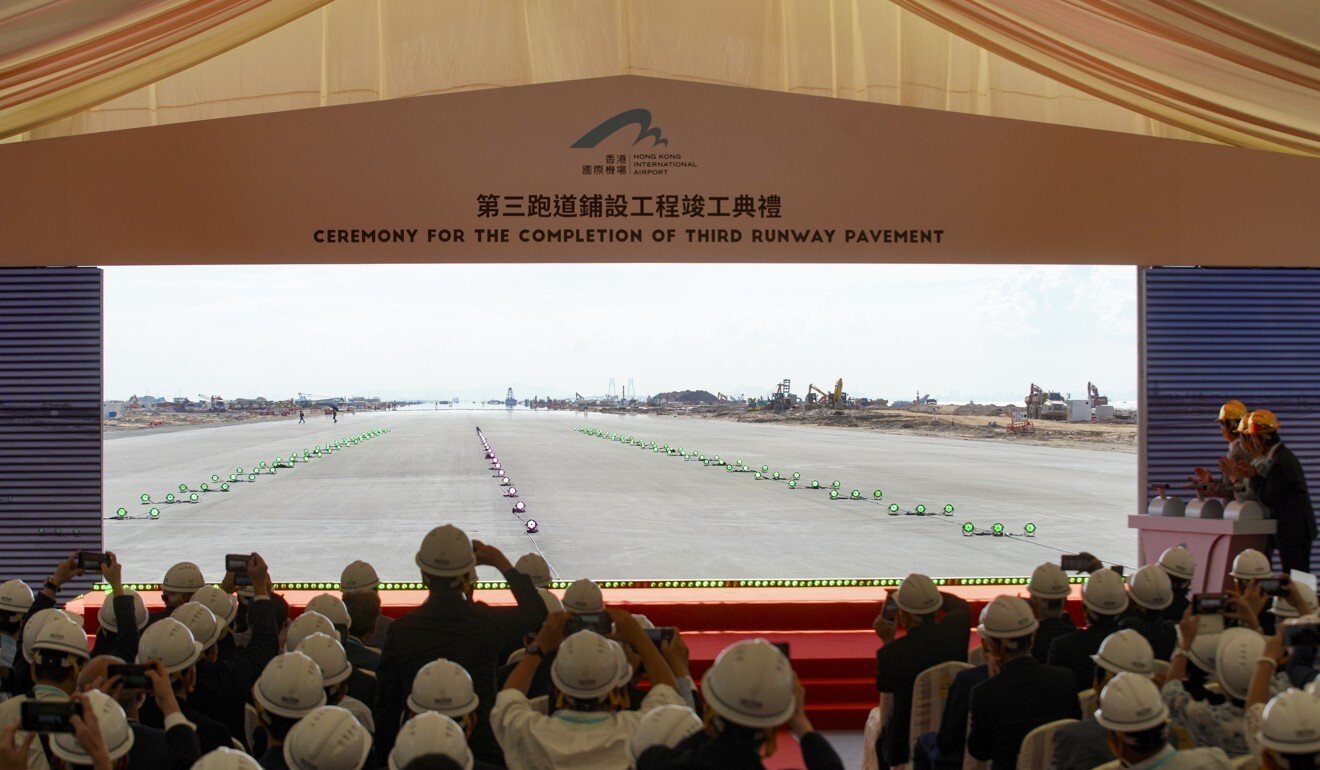 Leung, however, struck a cautionary note as the
coronavirus
situation had affected distribution of construction materials.
"Covid-19 is a very fluctuating situation. It affects a lot of materials coming through the border," he said. "But we have a lot of contingency and emergency procedures to mitigate the situation. It's a real challenge."
Lam was also joined on the visit by Airport Authority chairman Jack So Chak-kwong and CEO Fred Lam Tin-fuk. So hailed the completion of the reclamation and runway works despite the social unrest of 2019 and Covid-19 challenges, expressing confidence that the airport would "soar to new heights" once the pandemic ended.
He said he hoped the expansion and the wider "Airport City" development would boost the reputation of Hong Kong as an international aviation hub.
The city's aviation sector remains at crisis point with abysmal passenger volumes, as authorities pursue tough border control measures under a "zero-Covid" approach. Arrivals from most countries are subject to at least 14 days of hotel quarantine, with those from high-risk areas having to isolate for 21 days.
The Hong Kong government approved the multibillion-dollar airport project in 2016 to meet future air traffic growth and maintain the city's competitiveness as a global aviation hub.
The entire third runway development is set to be completed by the end of 2024.