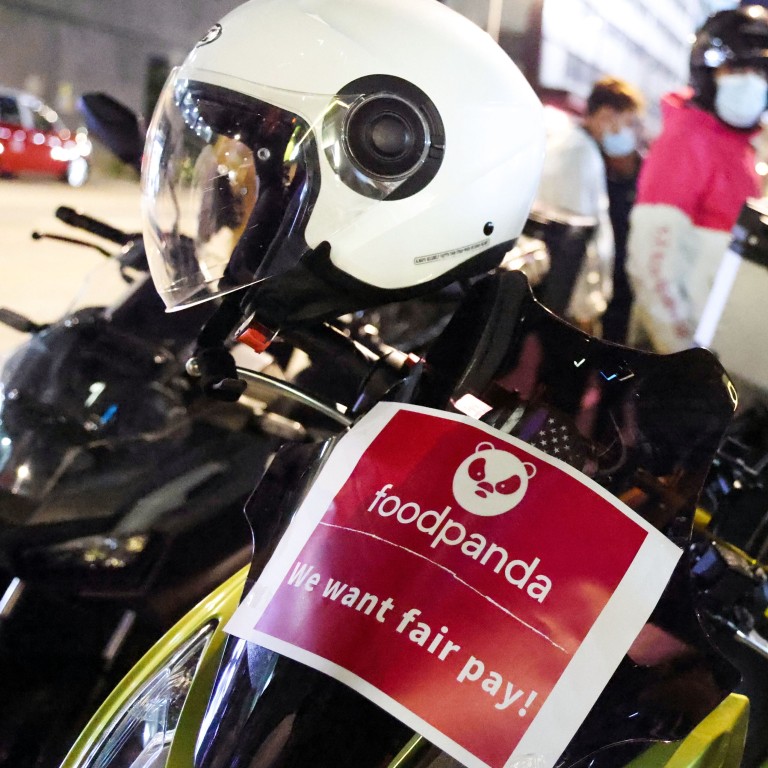 Foodpanda Hong Kong, couriers to resume talks over minimum pay on Thursday after 7-hour dialogue ends in deadlock
Foodpanda Hong Kong says it has 'proactively proposed a few solutions' in response to fleet's demands, but refuses to set minimum pay per order
Strike organisers say they hope to compromise and ask for better offer from company in Thursday's talks
Talks between Foodpanda, one of the leading food delivery platforms in Hong Kong, and its couriers on setting a standard base pay will resume on Thursday after a seven-hour discussion ended in deadlock.
A group of eight food courier representatives and top bosses of Foodpanda Hong Kong sat down to negotiate for the first time on Tuesday after hundreds of disgruntled delivery workers went on strike over the weekend to protest against pay cuts.
The talks centred on setting a minimum fee of HK$50 (US$6.40) for each order delivered by a rider and HK$30 for those delivered on foot, but instead the company offered a bonus incentive, according to courier representatives who sat in on the meeting.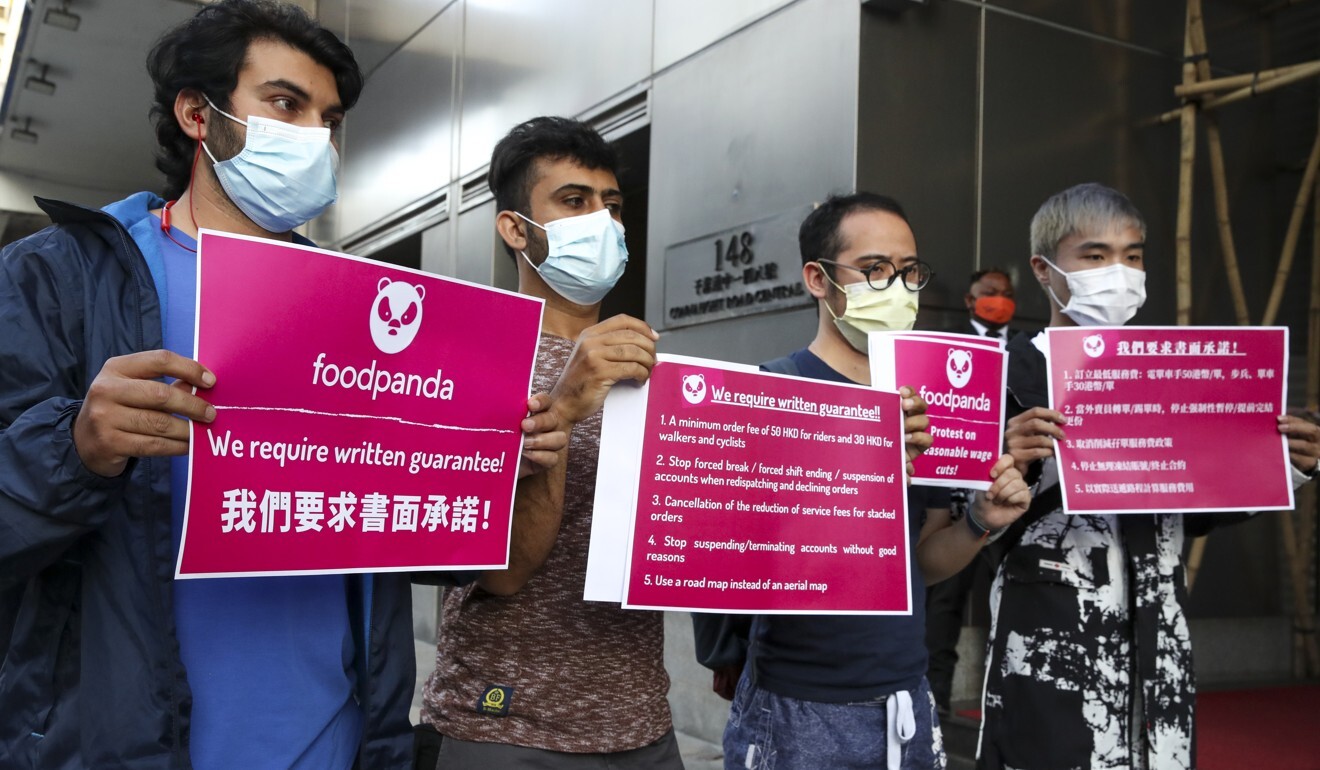 In a statement after the meeting, which began at 5pm on Tuesday, Foodpanda Hong Kong said it had "proactively proposed a few solutions" in response to the demands of its fleet, which currently had about 10,000 couriers.
"We walked through some of our current operational practices and continued to encourage couriers to take more orders during peak hours, in order to get higher earnings," it said.
The discussion covered issues including service fees, restaurant delays and particularly heavy Pandamart grocery orders.
The company also said it did not terminate any fleet members for taking part in the recent strike, denying accusations from rider representatives.
Strike organisers had compiled a list of 15 demands ranging from the minimum order fee to setting a time limit for picking up deliveries.
Waqas Fida, a 27-year-old rider who was involved in the talks, said Foodpanda was sympathetic towards the concerns of the fleet but still refused to set a standard pay per order.
"It took three to four hours to debate the issues on why the minimum pay was not possible, but they offered us around four solutions to fix the reduced pay," Fida told the Post. "[The fleet members] were really angry about that, but we'll try to compromise [and ask for] a better offer from the company."
He added that riders hoped to reach a fair result on Thursday to reduce the chance of triggering another strike over the coming weekend.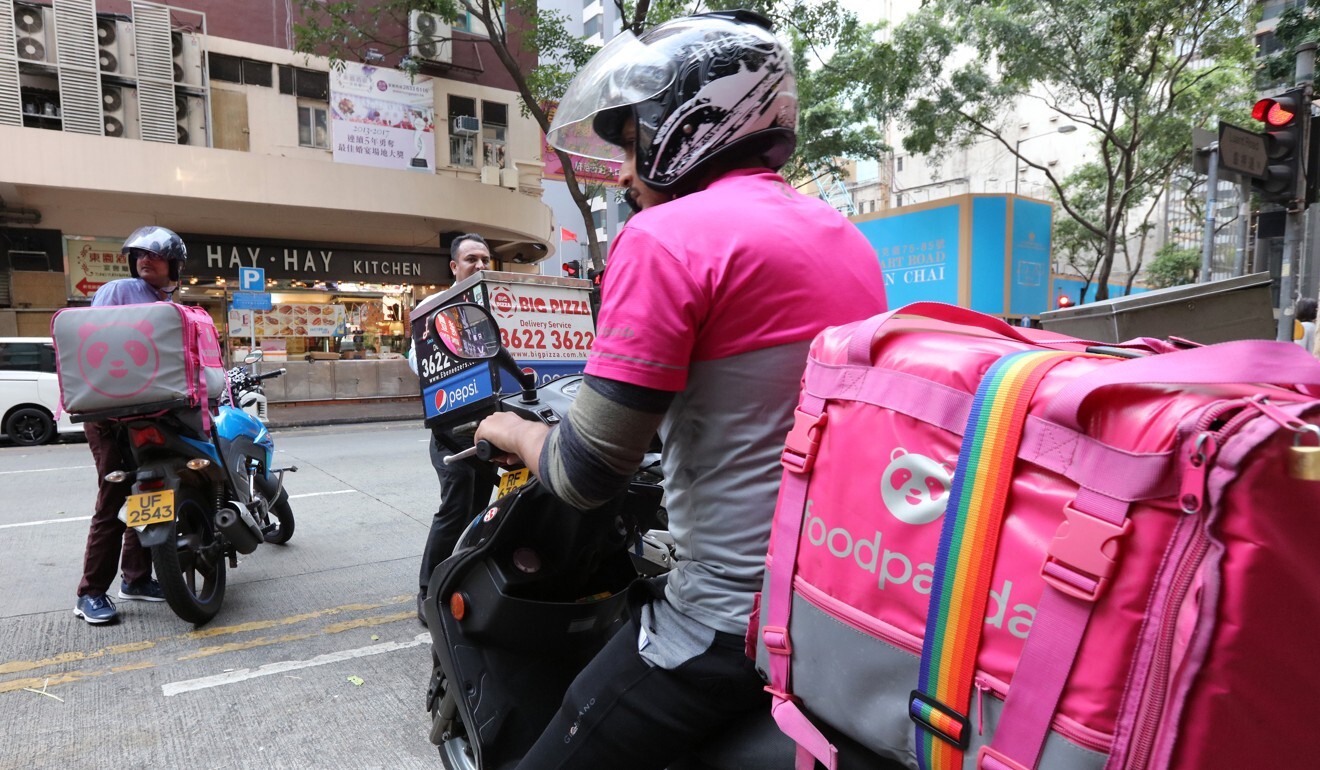 The coronavirus pandemic has resulted in a surge in the use of food delivery apps, with workers also attracted to companies such as Deliveroo and Uber Eats, hoping for good wages and the flexibility offered by the schedule.
They are paid per order depending on the mode of delivery, distance of the trip and estimated completion time, rather than by the hour.
But long waiting times at restaurants and cuts to the fees per order meant workers were earning less, sparking the two-day strike that took place on Saturday and Sunday.
A courier who delivered meals on foot around Kowloon City told the Post that the fees per order dropped from HK$28 to HK$22 over the past six months, while a motorbike rider said the fee was cut from HK$50 to HK$40 over the course of a year on the job.
Couriers typically use their own motorcycles or bikes to complete orders and also shoulder the fuel costs, but Foodpanda has an insurance policy in place to cover any accidents on the road.
Foodpanda, Deliveroo and UberEats employ about 25,000 riders in total in Hong Kong.
The Labour Department received 42 claims for employee compensation from couriers with online food delivery platforms between January and October, although it does not keep a tally of complaints regarding changes in their wages.
"The Labour Department calls for enterprises to engage in effective, humane and transparent communication with their practitioners on any work arrangements and resolve differences through frank dialogue," it told the Post.
If no settlement was reached between the parties, the case would be referred to the Labour Tribunal for adjudication at the request of the claimant, it said.
Foodpanda launched in Hong Kong in 2014 and is backed by German parent company Delivery Hero, which is listed on the Frankfurt Stock Exchange and runs businesses in about 50 countries. Delivery Hero processed 791 million orders in the third quarter of 2021, representing a 52 per cent year-on-year rise, according to its latest financial results.
This article appeared in the South China Morning Post print edition as: Foodpanda talks still fail to deliver after 7 hours