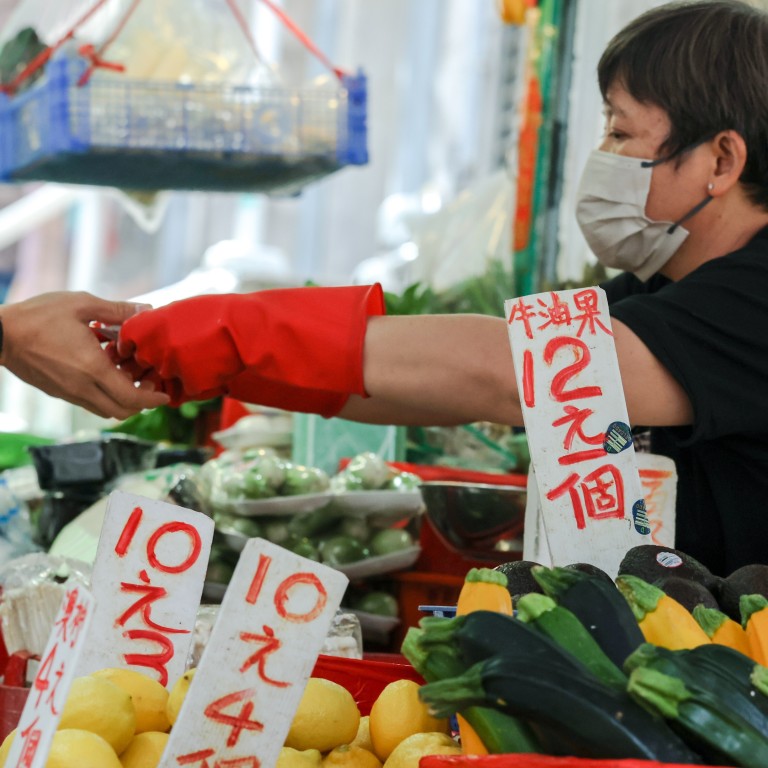 Surging food and utility bills in Hong Kong spark inflation warning as prices rise 1.7 per cent
Consumer price index records 1.7 per cent inflation for October year on year, Census and Statistics Department reveals
Electricity, gas and water bills soar 28.1 per cent, while clothing and footwear prices are up 6.1 per cent
Officials have warned that inflationary pressure is rising as new figures reveal the cost of living in Hong Kong continues to increase, driven by higher utility bills and more expensive fresh vegetables.
The overall consumer price index (CPI) recorded inflation of 1.7 per cent in October year on year, according to Census and Statistics Department data published on Monday. That compares with 1.4 per cent for September and 1.6 per cent in August.
A government spokesman said that October saw "more visible year-on-year increases" in prices across a range of products, with clothing and footwear climbing 6.1 per cent and food bills up 2.2 per cent. Electricity, gas and water charges soared 28.1 per cent while transport costs went up 5.7 per cent.
"Looking ahead, inflation pressure may go up somewhat in the near term alongside the faster increase in import prices and the economic recovery," the spokesman said.
"Yet, underlying inflation should remain largely in check as domestic cost pressures are still tame."
In the third quarter of 2021, import prices jumped 6.5 per cent from the same period in 2020, accelerating from year-on-year growth of 4.7 per cent in the second quarter.
The higher level of CPI – a measure of inflation based on the price of a set basket of goods and services – was also a reflection of a reduced rates concession for domestic properties. The ceiling was dropped from HK$1,500 (US$192) to HK$1,000 in October for the next two quarters.
October's year-on-year inflation rate – marking 10 straight months of increases – is the highest since July, when a five-year high of 3.7 per cent was recorded.
The government said earlier this month that the spectre of inflation was a threat to the city's nascent economic recovery from the coronavirus pandemic. Its economists have set a growth target of 6.4 per cent for gross domestic product.
Once the administration's one-off relief measures to help Hongkongers through the Covid-19 crisis had been taken into account, the underlying year-on-year inflation rate was 1.1 per cent for October.
Earlier this month, officials forecast that the full-year CPI figure would be 0.7 per cent.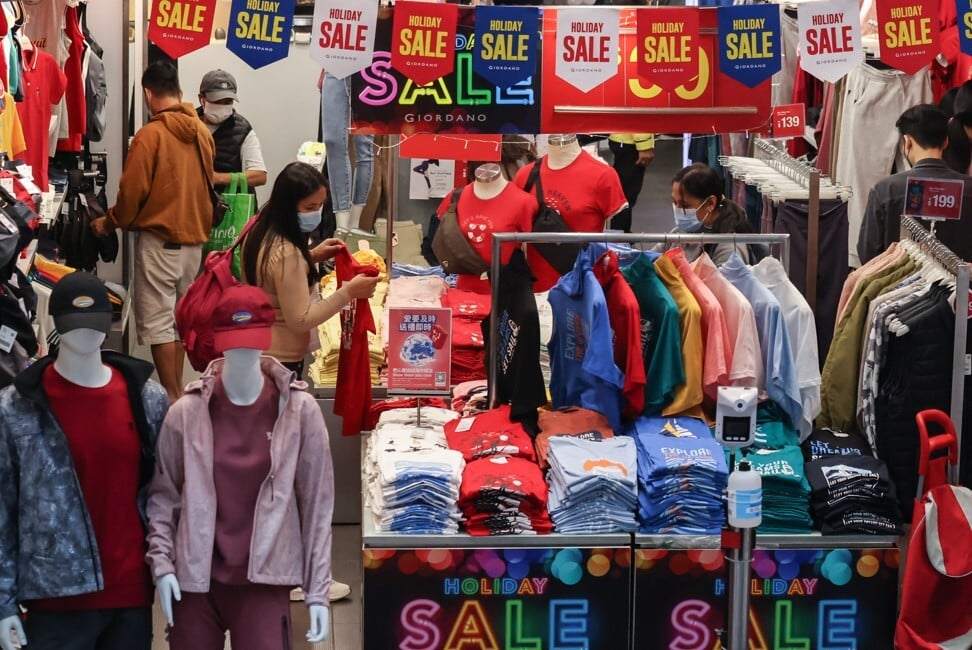 Kevin Lai, a chief economist at Daiwa Capital Markets covering most of Asia, said Hongkongers had yet to fully feel the impact of inflation because businesses were choosing to absorb additional costs rather than pass them on to customers.
"Many retailers, for example, swallowed extra costs in order not to scare off consumers," he said.
Hong Kong businesses have been hit with higher commodity prices on two fronts – imports from mainland China and overseas.
As the main supplier of Hong Kong's imports, the mainland in October experienced its fastest increase in factory-gate prices for 26 years, with those extra costs set to make products more expensive in the city.
"China faces a higher risk of stagflation and Hong Kong is likely to follow as a result of its knock-on effect," Lai said, referring to the phenomenon when an economy is hit by slow growth as well as high inflation and unemployment.
The cost of sourcing from overseas has soared in recent months, while shipping charges are increasing amid a global supply chain crisis arising from the pandemic.
This article appeared in the South China Morning Post print edition as: Surging food and utility bills spark HK inflation warning