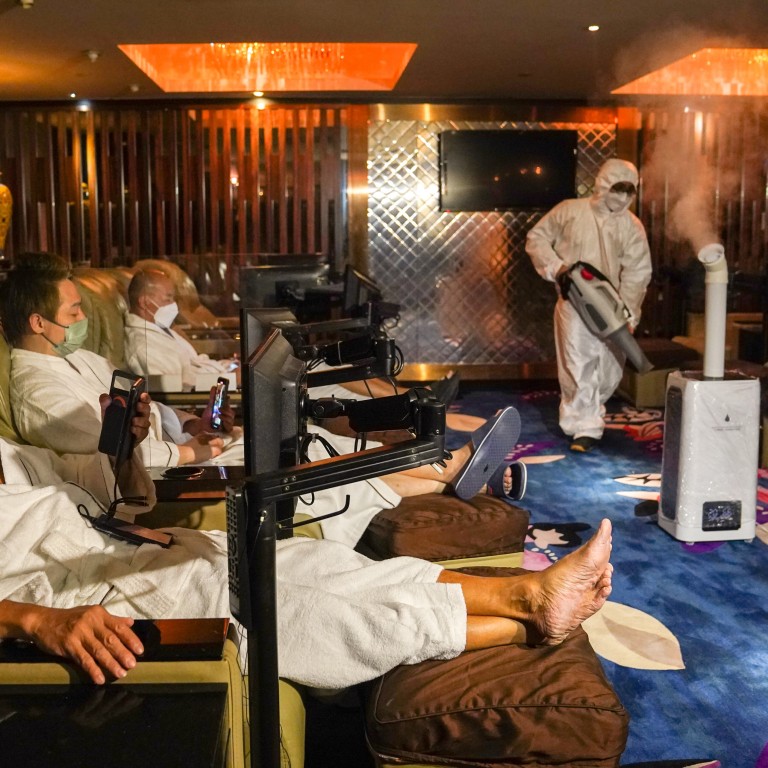 Coronavirus Hong Kong: influx of bookings, but businesses face manpower crunch ahead of relaxed Covid-19 social distancing
Many operators have had employees change jobs or switch industries during coronavirus shutdown
First phase of relaxed curbs from April 21 will allow extension in dine-in hours and up to four per table
Hong Kong business operators have been taking bookings and cleaning their premises ahead of the relaxation of
Covid-19
social-distancing restrictions, but some operators face teething issues due to insufficient manpower.
Some firms said they could only resume business partially after employees changed jobs or left their industries altogether.
Under the
first phase of the easing
that takes effect on Thursday, restaurants can offer dine-in services until 10pm, with up to four people per table, while other premises such as gyms, beauty and massage parlours, cinemas, game centres, theme parks and places of worship can reopen for the first time since the curbs were imposed on January 7.
Consumers and staff are subject to the existing vaccine pass scheme, which requires them to be vaccinated with at least one jab. But the requirement will be increased to two shots between April 30 and May 30, and three shots on May 31.
Covid-19 infections rebounded slightly in Hong Kong after steadily declining for more than a week, but the increase was within the range of what authorities expected on a daily basis.
Health officials reported 668 cases on Wednesday after confirming 600 the day before, along with 10 deaths related to the virus. But a senior health official cautioned it was still too early to discern any trend in infection numbers.
"There is a fluctuation in the number of cases every day. A fluctuation under 100 is within expectation," said Dr Albert Au Ka-wing from the Centre for Health Protection, adding that determining a trend based on a single figure would be difficult. "We will closely monitor the situation."
Helen Barker, owner of day spa Feel Good Factor in Central, said the salon's nail services were fully booked for Thursday, while the Friday and weekend slots were filling up quickly.
Regular customers who had their appointments cancelled due to the closure had been calling to make bookings since early last week. Other than nail services, the salon also provides massage and waxing services, which are also in high demand.
All staff are vaccinated and cushions and seats will be disinfected after every use to ensure good hygiene.
"We are really excited to reopen on Thursday. It is lovely seeing our clients back again after a three-month hiatus," Barker said.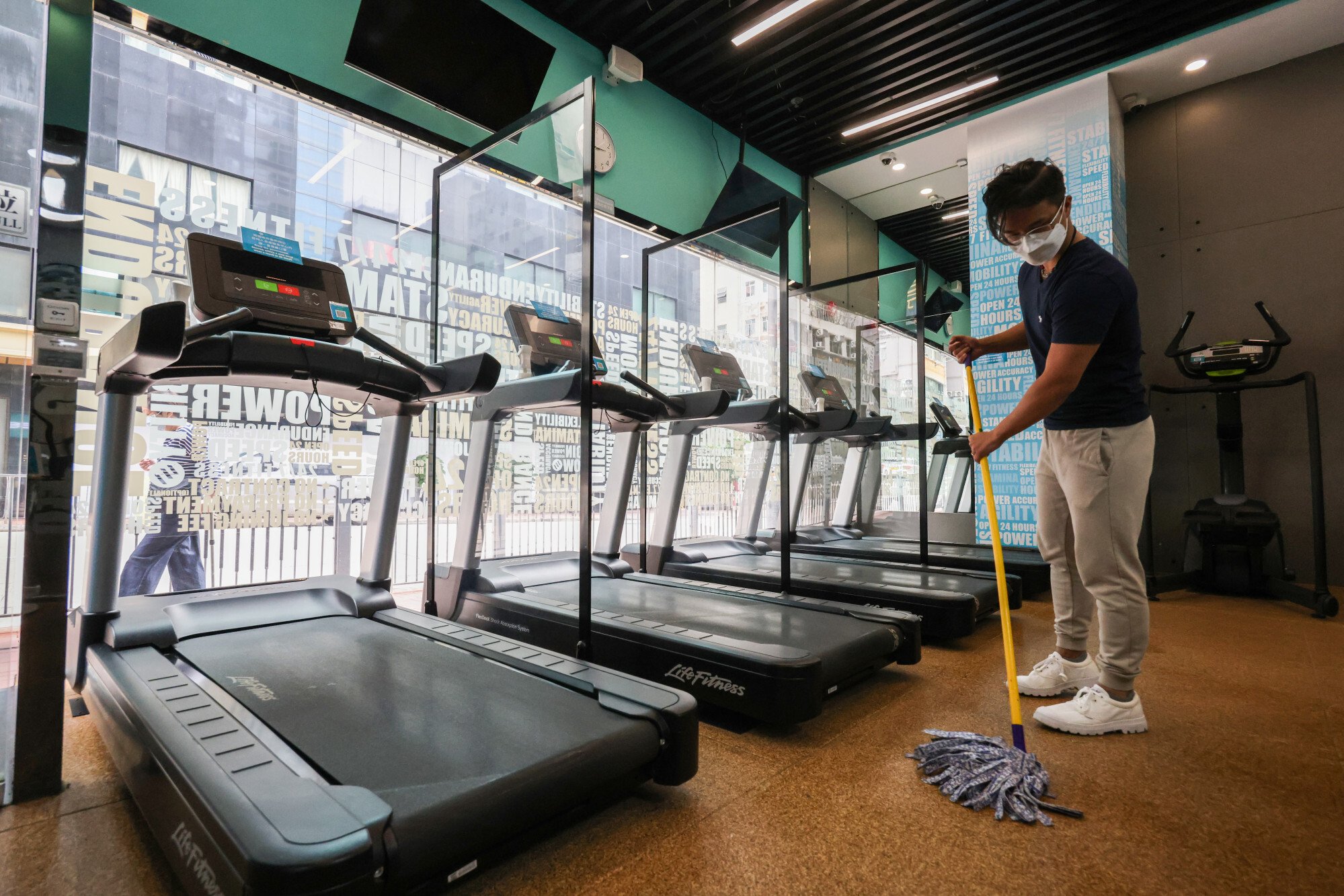 Zoe Li, owner of Zomate Fitness at Tsim Sha Tsui, said on Tuesday that the 3,000 sq ft gym had been thoroughly disinfected.
She said 10 personal trainers were "almost fully booked" for one-on-one classes for Thursday, while workshops on food and nutrition were fully subscribed until May.
"I felt like I could finally see the rainbow after a storm," the owner said, adding that the gym had forgone at least HK$1 million (US$127,506) in revenue over the 100 day-suspension.
The massage and bathhouse industry expects a slower start on Thursday.
"Most of our main facilities like the sauna and bath facilities are still suspended, some customers mainly come for that. Given the regulations, we can only have half of our services," said Bobby Chow, manager of The Sauna and Spa in Tsim Sha Tsui, which has almost 200 employees.
Chow added that more than HK$1 million had been spent on maintenance and cleaning ahead of the reopening, as walls, carpets and towels had become mouldy after sitting idle for too long.
Wendy Wong, managing director of Windsor Spa, estimated that 40 per cent of her employees would be unable to return to work by Thursday.
"Previously the government kept extending social-distancing measures by two weeks. When they announced relaxations on April 21, we weren't sure if that would go through," she said.
Many masseuses, mostly from mainland China, had chosen to stay in their hometowns during the uncertainty, Wong said.
"We understand their rationale as the government can choose to stop our operations any time," she added.
Hong Kong Licensed Massage Association chief executive Jimmy Chow Chun-yu said the industry had agreed to require both staff and customers be inoculated with at least two Covid-19 jabs in the hope of reducing infection risks.
Meanwhile, many local tours were looking to resume from Saturday to take advantage of weekend crowds, Tourism Association executive director Timothy Chui Ting-pong said.
He added that most tour guides, bus drivers and other staff members had already received three jabs, while coaches would be disinfected before operations resumed.
Ceci Law, store manager at Thai Relax Foot Spa in Causeway Bay, on Wednesday said customer response had been less enthusiastic than expected. The massage parlour had only four bookings over the next four days and not many walk-in customers were expected.
"We tried ringing our regular customers and asked if they would like to make an appointment, but many of them said they are still cautious about the virus so they would rather wait and see," Law said.
To prepare for the reopening, the parlour has cleaned its air conditioners to ensure proper ventilation. But the business is struggling to keep a full roster of staff as some masseuses switched jobs during the shutdown, leaving Law with a smaller team.