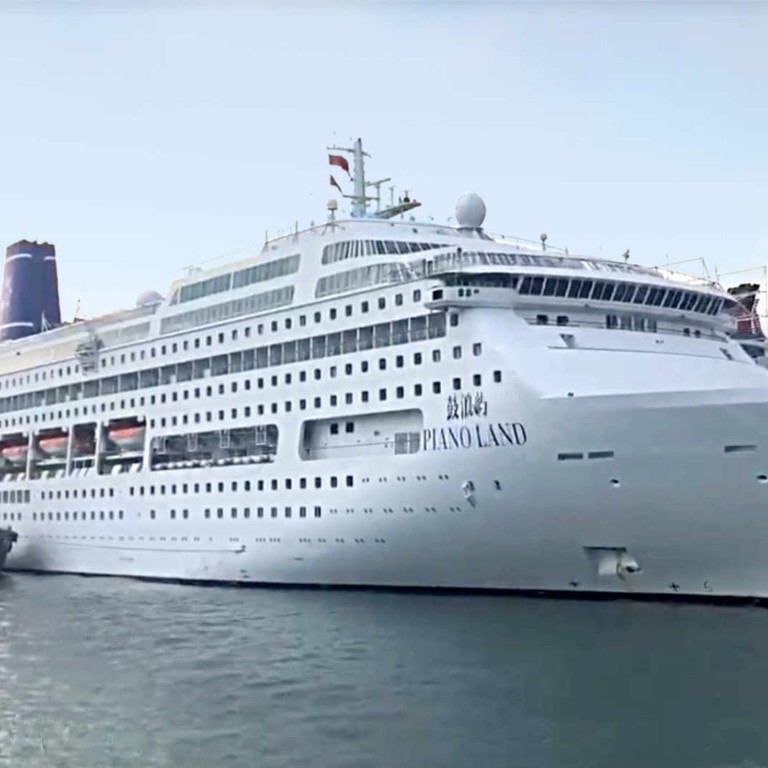 Mainland Chinese ship Piano Land could provide 'cruises to nowhere' in Hong Kong from July, sources say
Piano Land, run by Astro Ocean Cruise, is set to begin operations in the city on July 1, pending local Covid-19 situation, according to sources
Spectrum of the Seas and Genting Dream, which previously provided such cruises, have moved operations to Singapore
Mainland Chinese ship Piano Land could provide "cruises to nowhere" in Hong Kong in July to cater to demand for these trips after two vessels offering such services left the city for Singapore, the Post has learned.
Sources said Astro Ocean Cruise – a brand invested in and operated by state firms China National Travel Service Group Corporation and China COSCO Shipping – and the Hong Kong government were in talks to bring Piano Land services to the city.
Piano Land, the first cruise ship run by Astro Ocean Cruise, is set to launch operations in the city on July 1 to coincide with the 25th anniversary of Hong Kong's return to Chinese rule, but sources have said this is dependent on the local Covid-19 situation.
"The two cruise ships that served Hong Kong before the city's fifth Covid-19 wave have gone to Singapore and will not return in the short term," one source said.
This means passengers will not have any choices on the so-called staycation at sea even though the operators will be allowed to resume services on Thursday with the further easing of social-distancing curbs.
Spectrum of the Seas, the vessel run by the United States' Royal Caribbean International, left for Singapore to provide cruise-to-nowhere services or voyages that call at no ports, after Hong Kong suspended such trips on January 7.
Genting Dream, the other ship providing such packages, has also been redeployed to Singapore after Malaysian tycoon Lim Kok Thay announced on Wednesday he had founded a company called Resort World Cruises in the city state and rented the ship to run cruises there.
Genting Dream has been owned by a consortium of four Chinese state-owned banks such as China Construction Bank and Industrial and Commercial Bank of China since 2018. The vessel had been chartered to cruise firm Genting Hong Kong until the latter went into liquidation in January.
Another insider said Piano Land, formerly P&O's Oriana, was interested in running cruises to nowhere in Hong Kong. The German-built vessel first operated in 1995 in the United Kingdom and was subsequently bought by the Chinese state-owned firms.
In 2019, it was retrofitted as the first cruise boat run by a Chinese brand and could carry 1,880 passengers. In that year it visited Hong Kong during its maiden voyage from Xiamen.
However, it is smaller than Spectrum of the Seas, which carries up to about 4,900 passengers and Genting Dream, which can accommodate a maximum of about 3,300 passengers. Vessels used for cruises to nowhere are subject to a capacity cap.
"There is also a major difference, Piano Land does not have any casino on board," the insider said.
A China National Travel spokesman said he did not have information on the planned voyages.
Royal Caribbean said on Thursday that it welcomed the resumption of cruises-to-nowhere services, but urged the government to ease a contingency mechanism to minimise disruptions to bookings.
"Royal Caribbean is still working closely with Hong Kong authorities on the possibility of resuming cruising," it said in a statement.
A spokeswoman for the Commerce and Economic Development Bureau said it and the Tourism Board had closely communicated with lines interested in operating cruises-to-nowhere itineraries, exchanged views with them on the latest precautionary health measures and provided help to facilitate their preparations for resumption.
Cruises to nowhere had been popular with Hongkongers since their debut in July last year and had drawn 130,000 passengers as of January 5, according to a Legislative Council paper.
The Tourism Board plans to offer promotions later this year to consumers who can redeem such cruises with receipts of their spending. About 40,000 passengers are expected to benefit from the HK$20 million (US$2.5 million) scheme, pending announcement of details.
Additional reporting by Rachel Yeo