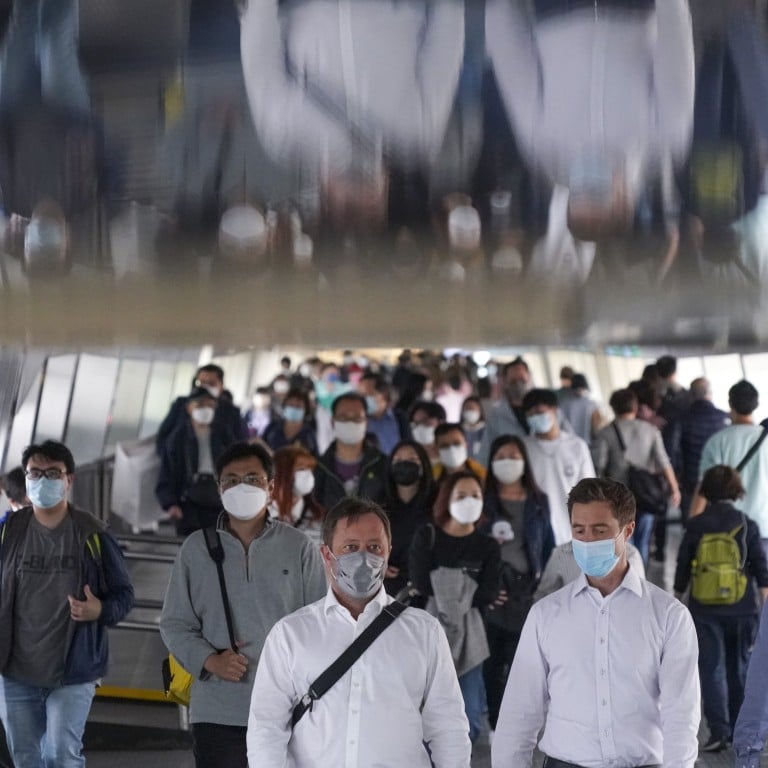 Hong Kong's tax revenue rises by 14 per cent to hit record HK$378.5 billion
Increase comes despite fewer people paying salaries tax and corporations earning less
Tax revenue for 2022-23 also projected to rise by 3 per cent to reach HK$390 billion
Hong Kong collected a record HK$378.5 billion (US$48.23 billion) in taxes for the past financial year, even as fewer people paid salaries tax and corporations earned less money amid the economic downturn.
The 14 per cent increase in revenue over the previous year was partly due to an earlier holdover of payments of profits tax, the government said on Wednesday.
"The proportion of corporations applying for a provisional tax holdover and the amount of tax involved this year are lower than before. Although their overall profits have not increased, we received more tax revenue," Inland Revenue Commissioner Tam Pai-pang said.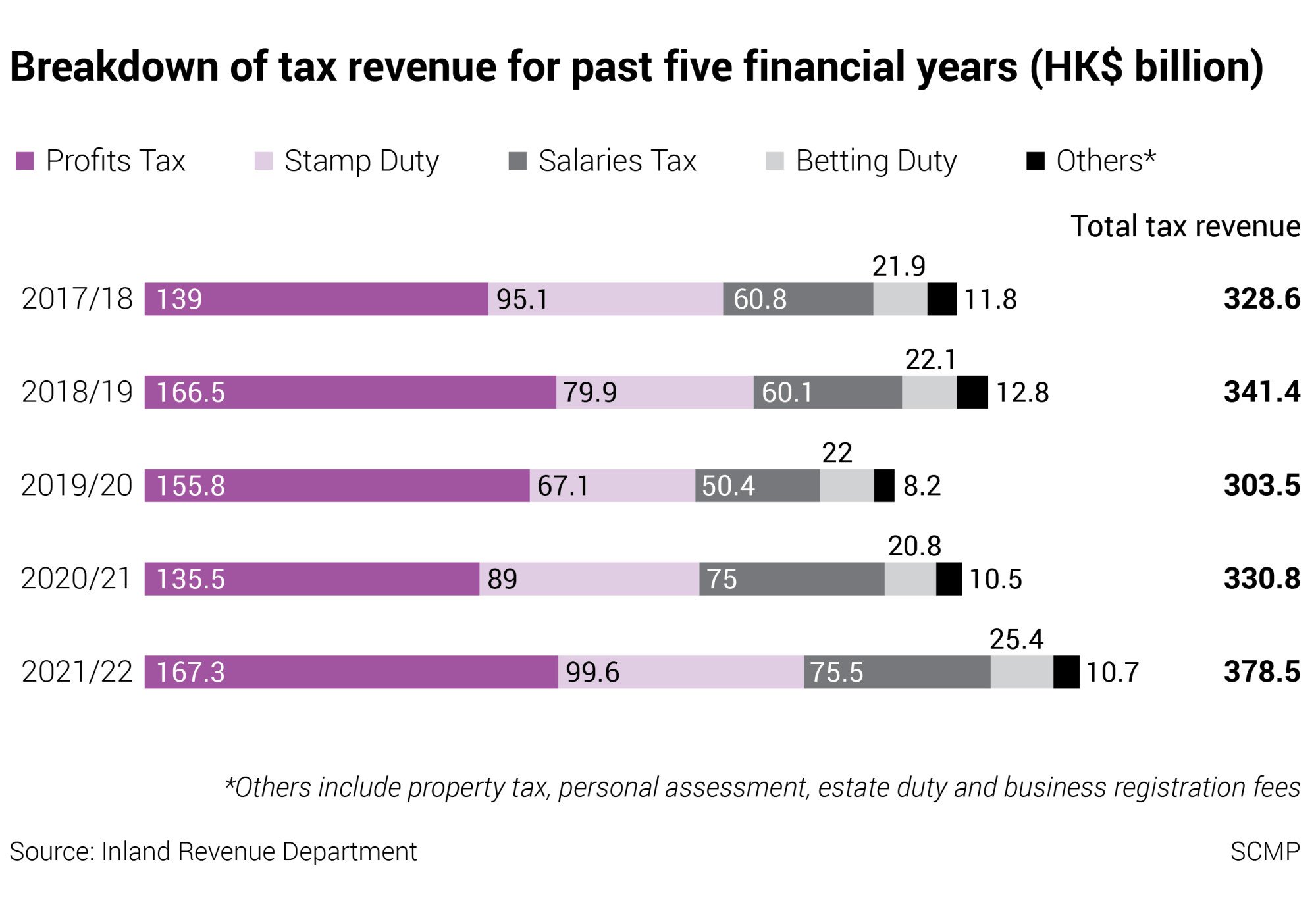 The Inland Revenue Department processed 8,000 holdover applications for profits tax in 2020-21 and 4,600 cases in 2021-22.
"For the past few years, the economy might not have been that good. But over the years, there should be some inflation factor and growth in gross domestic product, which puts the total tax revenue on a growing trend," Tam said.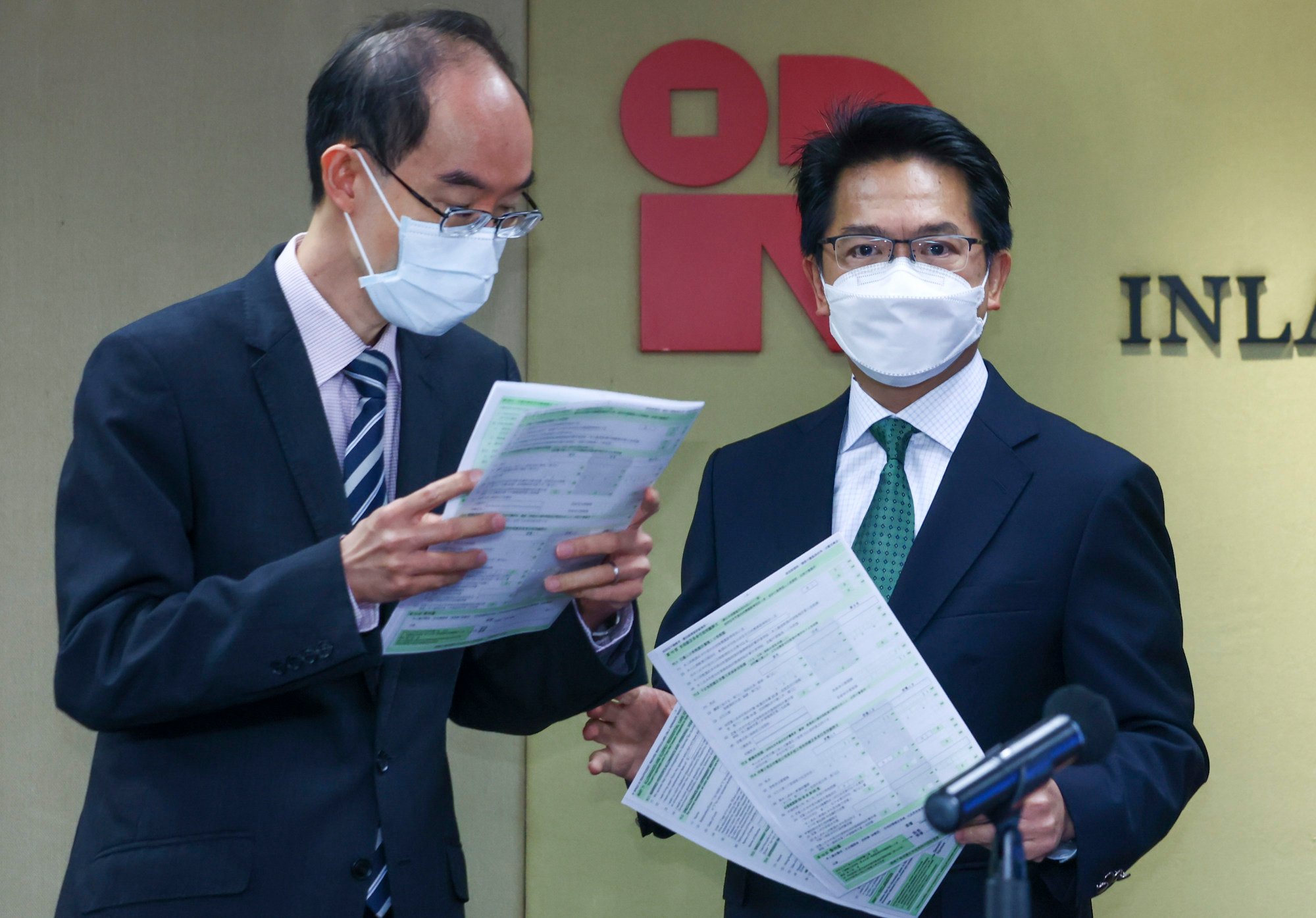 Profits tax contributed the most to the government's coffers, accounting for HK$167.3 billion, or 44 per cent of the total, and a 23 per cent increase over the previous financial year.
Stamp duty, paid for property and stock transfers, came second at HK$99.6 billion, or 26 per cent of the total, and up by 12 per cent. Salaries tax accounted for HK$75.5 billion, or 20 per cent of the total.
Despite the record government revenue, taxable profits fell by 2 per cent from the previous financial year. The department pointed out that the investment and finance industry experienced a growth of revenue even as overall profits declined.
The number of residents paying salaries tax also dropped by 4 per cent, from 1.9 million to 1.8 million, the lowest since 2017-18 and a decline Tam attributed to unemployment and underemployment levels.
Yet, assessable income rose by 2 per cent. For taxpayers earning HK$900,000 or more a year, their assessable income increased by 4 per cent.
The department received 56,000 applications for tax clearance, up sharply from the 31,000 applications made in 2020-21.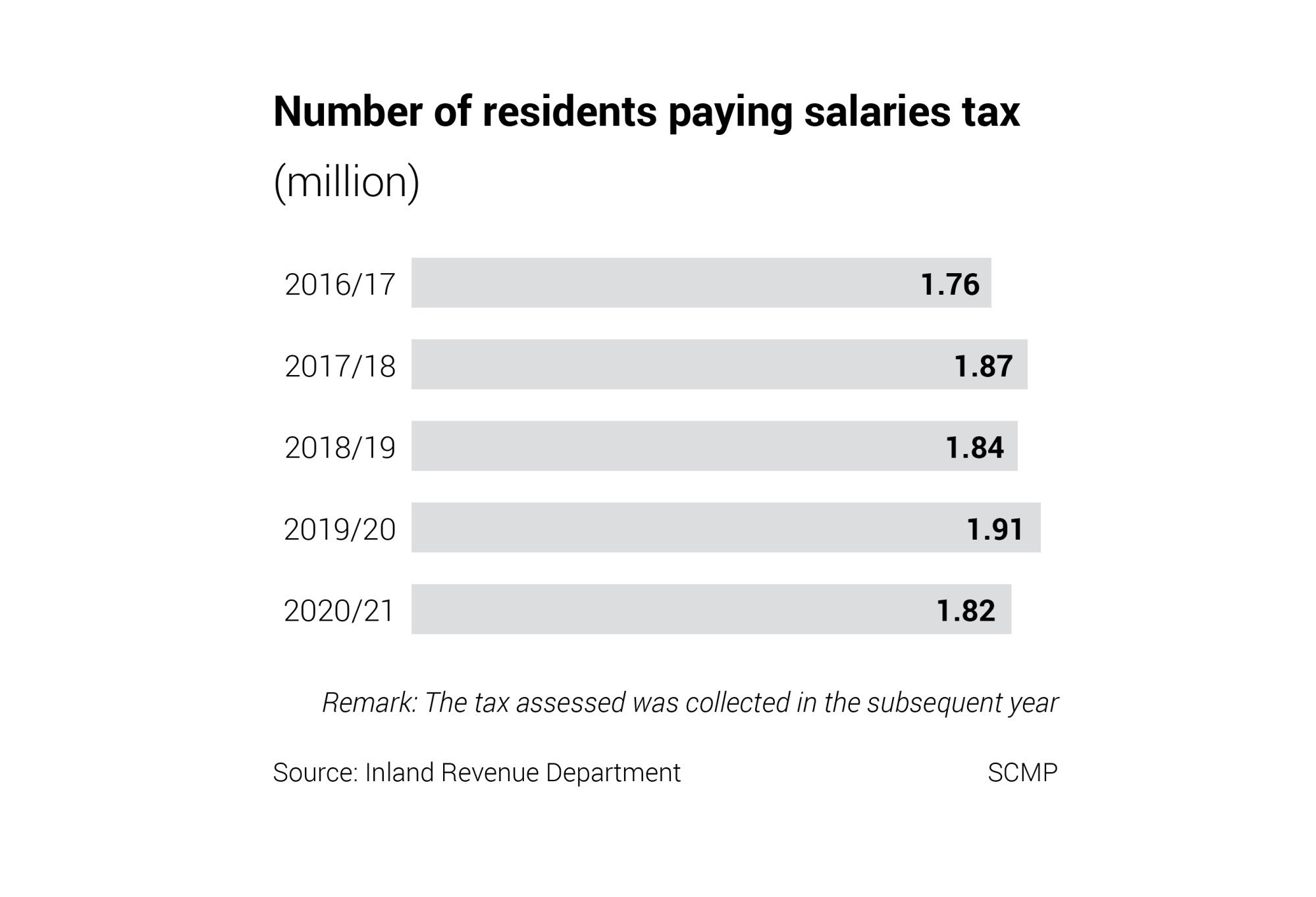 Residents leaving Hong Kong, such as emigrants, must pay any outstanding taxes before departing, but they are not required to notify the department of their reason for seeking tax clearance.
Looking ahead, Tam projected tax revenue for the 2022-23 period would rise by 3 per cent to reach HK$390 billion. He said the department had started to issue tax returns to residents from Wednesday.
Terence Chong Tai-leung, executive director of the Lau Chor Tak Institute of Global Economics and Finance at Chinese University, said much of the increase in revenue was due to stamp duty.
Residents working in the financial industry continued to earn substantial money and so their salaries tax remained high, he said. But residents working in other industries more affected by social distancing curbs enforced due to the Covid-19 pandemic, such as catering, either became underemployed or joined the ranks of the jobless, he added.
But former president of the Taxation Institute of Hong Kong, Marcellus Wong Yui-keung, was not optimistic about Tam's projection for income revenue.
"If the economy deteriorates, taxpayers will apply for provisional tax holdovers, thus affecting the government's revenue. It depends on the economic growth," Wong said, adding the government had revised down its real gross domestic product growth forecast for 2022 to 1-2 per cent.
Wong said factors affecting economic growth included a plunging stock market and the impact of Covid-19 on mainland China.