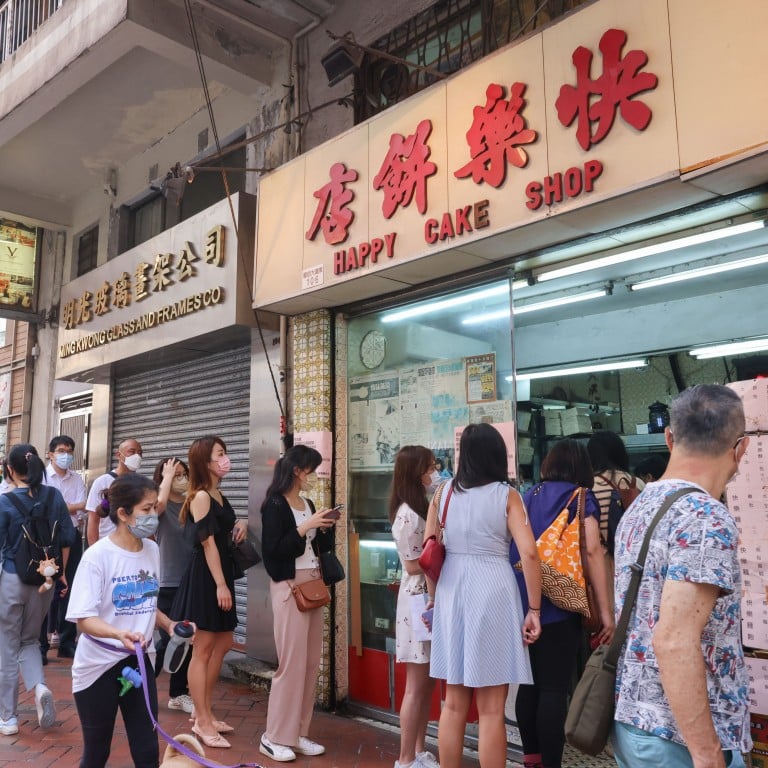 More than 100 customers show up at Hong Kong's Happy Cake Shop to bid farewell to popular bakery ahead of closure
Queue forms early on Thursday morning after shop announced a day before that it had failed to renew lease
Closure is the latest in a string of shutdowns of classic eateries in the city
More than 100 customers queued up at Happy Cake Shop in Wan Chai on Thursday morning, after the popular 45-year-old bakery announced it would close for good next week.
A notice posted online on Wednesday said the shop on Queen's Road East would serve its last customer on August 2 because it had failed to renew its rental agreement with the building's owner. Customers are urged to visit a remaining branch in Ma On Shan.
"Thank you for the support of all customers over the past 45 years," the notice stated.
The closure of Happy Cake Shop is the latest in a string of shutdowns of classic eateries in the city, such as Mido Cafe and
Jumbo Seafood Restaurant
.
As early as 9am on Thursday, more than 20 people were seen in line at the Wan Chai outlet to bid farewell to their favourite haunt.
Shopkeepers were also taking calls from customers who wanted to pre-order before coming down. "There are already too many orders, and we dare not take any more," a staff member was heard telling patrons.
The shop later posted a notice saying each customer was only limited to three cream horns, one of its signature offerings comprising flaky, puffy pastry with whipped cream.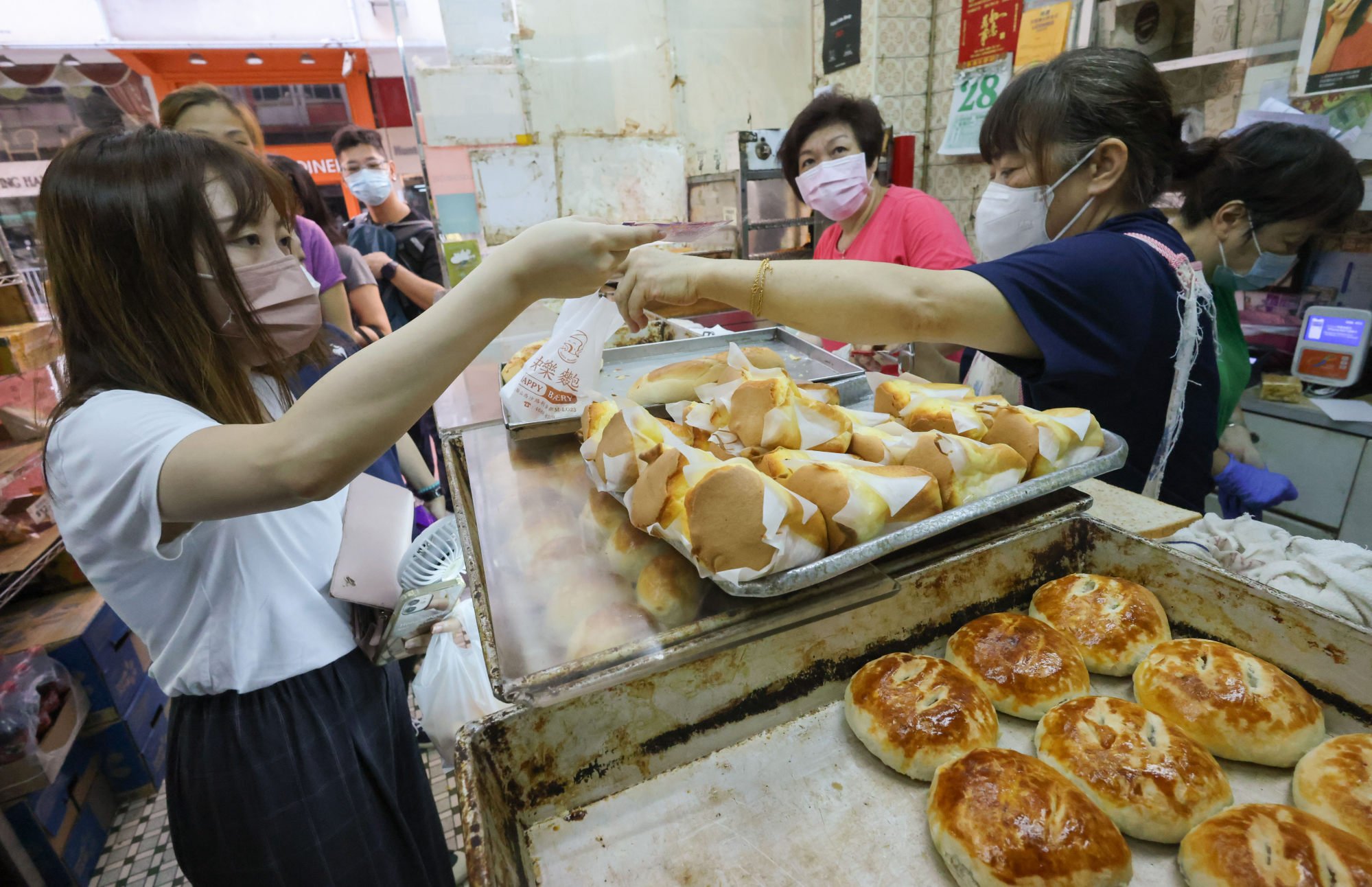 Buyers took pictures with the shop's signboard written in red, typical old Hong Kong font.
One of them was Ann, a retiree in her sixties who only gave her first name, and who has been a shop regular for nearly 20 years. "Their pastries are cheap but yummy," she said.
She bought four sachimas, a sweet snack made from fluffy strands of fried batter bound with stiff sugar syrup. "Usually I won't buy that much," Ann said, adding that she wanted to support the shop before its closure.
"It is really hard to say whether it is a pity to lose the shop or not, things change when time passes, and it is uncontrollable," she added.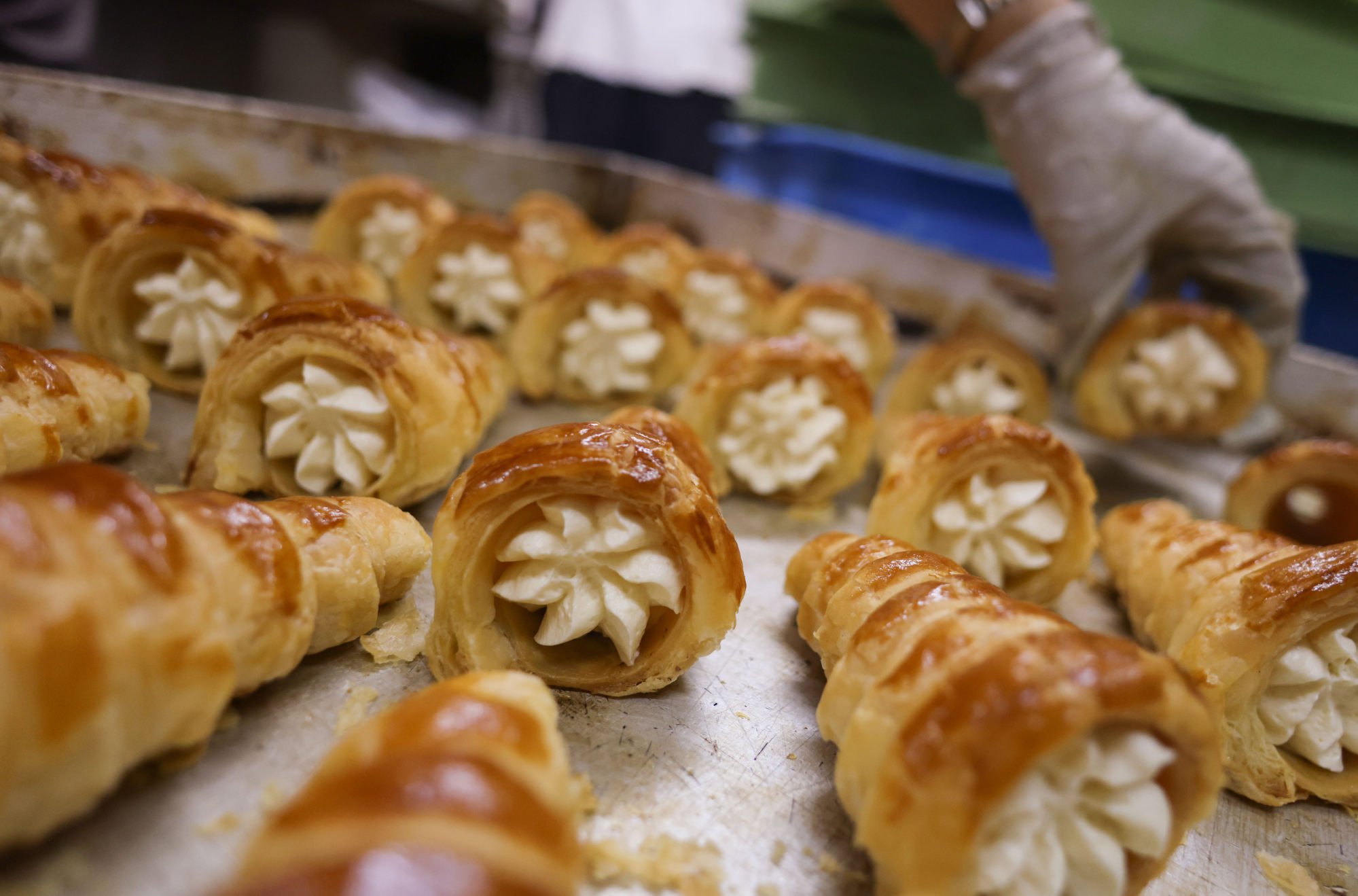 The bakery is well-known for its Hong Kong-style cream-puff pastry and sweet fritters. It also sells classics such as pineapple buns and egg tarts.
Chan, another retiree in her sixties who only wanted to go by her surname, expressed sadness over the shop closure. "I have been buying pastries here since I was little," she said. "I really can't bear to let it go, because it is part of my childhood memories. Whenever I come here, it reminds me of my younger self."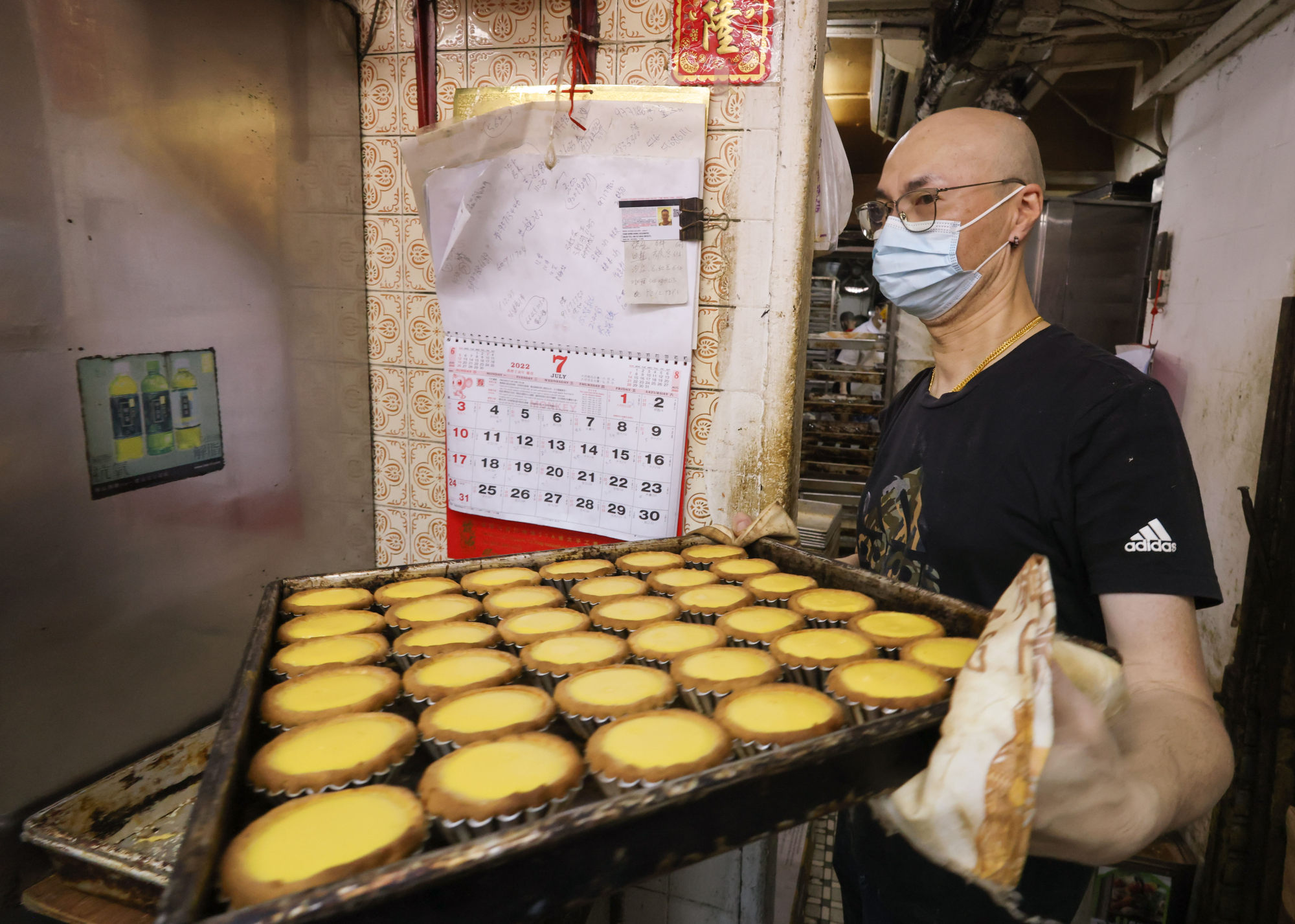 Remy Chan, a 30-year-old clerk working in Wan Chai, was one of the early birds who arrived at 9am before work. She planned to buy 40 cream horns for colleagues, but the famed item was already sold out.
"It is really a pity that the shop will be closed soon. It is already very difficult to buy these traditional cream horns nowadays," Chan said.
Other pastries such as Swiss rolls and coconut tarts were also quickly snapped up by customers. Staff said they were baking more, but these would only be ready in the afternoon.
A shop employee said: "Of course I can't bear to let the shop go. I will miss my customers the most. They are really good and have supported us all these years. You can see that a lot of them came to visit us today."
There were also newcomers among the crowd. First-time visitor Gloria Yeung, a 27-year-old clerk, said: "I learned from the news that the shop will be closing, so I came here to support them. These kinds of traditional cake shops are becoming fewer and fewer, so it is really sad to lose them."