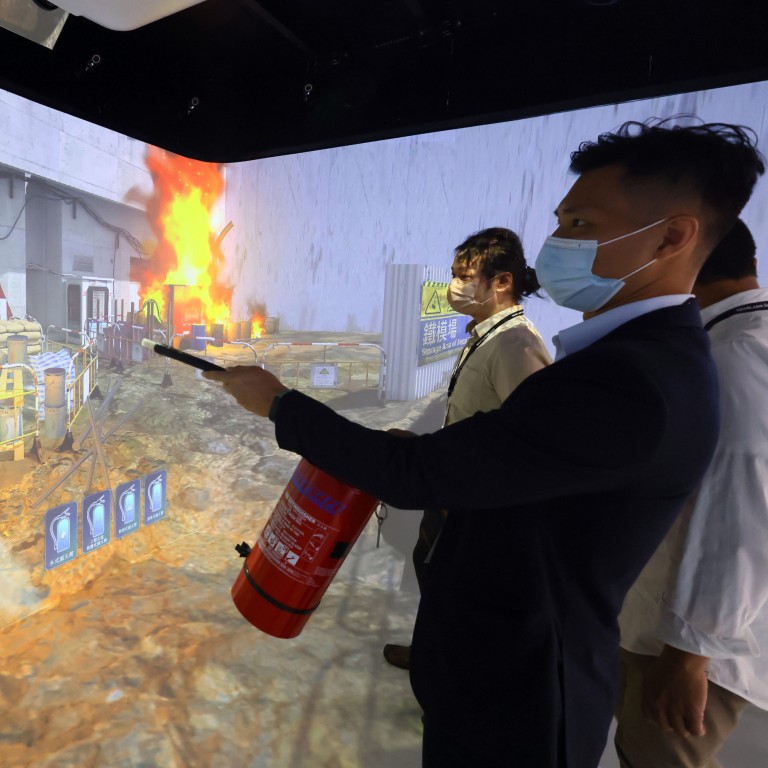 Hong Kong virtual reality chamber puts government trainees through their paces at city's technology expo
Simulation chamber created by Chain Technology Development among innovations featured at launch of four-day International ICT Expo
Staff from various government bodies were also to run through variety of training scenarios in chamber, including fire safety drills and enforcement actions
Trainees with Hong Kong's Construction Industry Council on Thursday tackled various fire safety scenarios, all from the confines of an immersive virtual reality chamber located in a room-sized cube.
The simulation system, Cave Automatic Virtual Environment (Cave), was among the various technological innovations that appeared at the launch of this year's four-day International ICT Expo. The system is already being used by various government departments to teach employees about occupational safety and how to handle various enforcement actions.
During the event hosted by the Trade Development Council, the trainees in the simulation had to quickly decide what tools to use to put out the blazes based on what objects had caught fire, such as whether to opt for powder-based or carbon dioxide-based extinguishers.
The operators of Cave also showcased how to switch scenarios using a controller, with Central Kowloon Route employees using the room to conduct their own safety training in a simulation of a cofferdam in the Kai Tak River.
"Imagine you did something wrong and ended up falling from a high place, the feeling could be very real," said Jackie Wong Ching-Tao, the head of business development at the Chain Technology Development Company, which created Cave.
The training session imitated the correct workflows using a first-person perspective and also showed the consequences of adopting unsafe work practices.
The virtual reality chamber appeared as part of the event's Smart Government Pavilion, alongside more than 40 technology solutions related to smart city development and enhancing public services on display.
Secretary for Innovation, Technology and Industry Sun Dong, who also attended the event, acknowledged the efforts of various departments in promoting smart government, encouraging his colleagues to foster closer collaboration with industries to propel the city's development.
The Environment Protection Department is using the Cave technology to train employees on how to conduct enforcement actions in a variety of situations.
"The training allows trainees to experience the workflow in taking enforcement action, such as dealing with the illegal discharge of waste water from a local livestock farm through a virtual environment," Wong said.
The system guides users through narrations of the relevant training information, using a step-by-step format to show them how to use different tools during an investigation and how to collect evidence by actively exploring the simulated environment.
Elke Mak Yin-ping, senior systems manager of Smart Government Innovation Hub from the Office of the Government Chief Information Officer, said using interactive training approaches could help develop the professional mindset of each trainee, as well as enhance their adaptability and on-site performance.