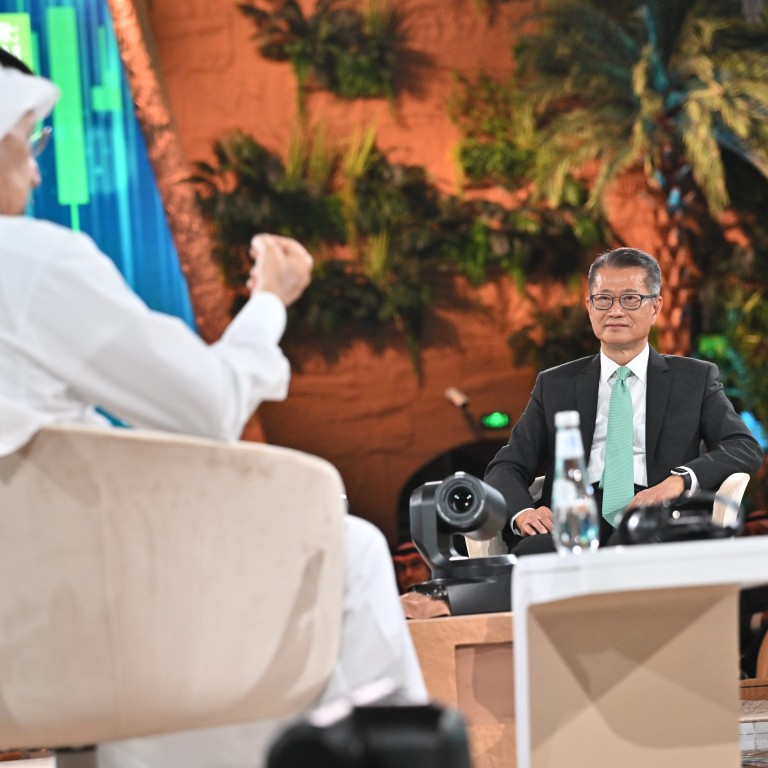 'Appropriate arrangements' will be made for Hong Kong bankers' summit if needed, organisers say, after finance chief Paul Chan gets Covid in Middle East
Financial Secretary Paul Chan, who will remain in Saudi Arabia for now, tells Post he has a fever and sore throat but is getting better under medication
Chan is set to give a keynote lunch speech on the second day of the city's Global Financial Leaders' Investment Summit next week
Organisers of a major bankers' summit to be held in Hong Kong next week have said "appropriate arrangements" will be made if needed after the city's finance chief came down with
Covid-19
on a work trip to Saudi Arabia just five days before the showpiece international event.
Financial Secretary
Paul Chan
Mo-po had to cancel his remaining appointments in Riyadh, where he was wrapping up his six-day visit to the Middle East to source investment before he tested positive on Thursday.
The government said Chan would stay in Riyadh for the time being, in compliance with infection protocol, before returning home as soon as possible, while Hong Kong health authorities reiterated that anyone flying into the city would have to show a negative RAT result before boarding a plane.
Chan told the Post he had a fever and sore throat, but was taking medication and recovering. He would not say whether he could make it back in time for the financial summit next week, which would be the first major international event hosted by the city to show its readiness to return to business interrupted by the pandemic for nearly three years.
The Global Financial Leaders' Investment Summit, organised by the Hong Kong Monetary Authority, is expected to bring together heavyweights from more than 100 major institutions to the city between November 1 and 3.
Chan is set to give a keynote lunch speech on the second day of the summit, which will centre on technology, innovation and the future of finance. He is also expected to deliver the opening address at a session titled "Conversation with Global Investors" on the third day of the event.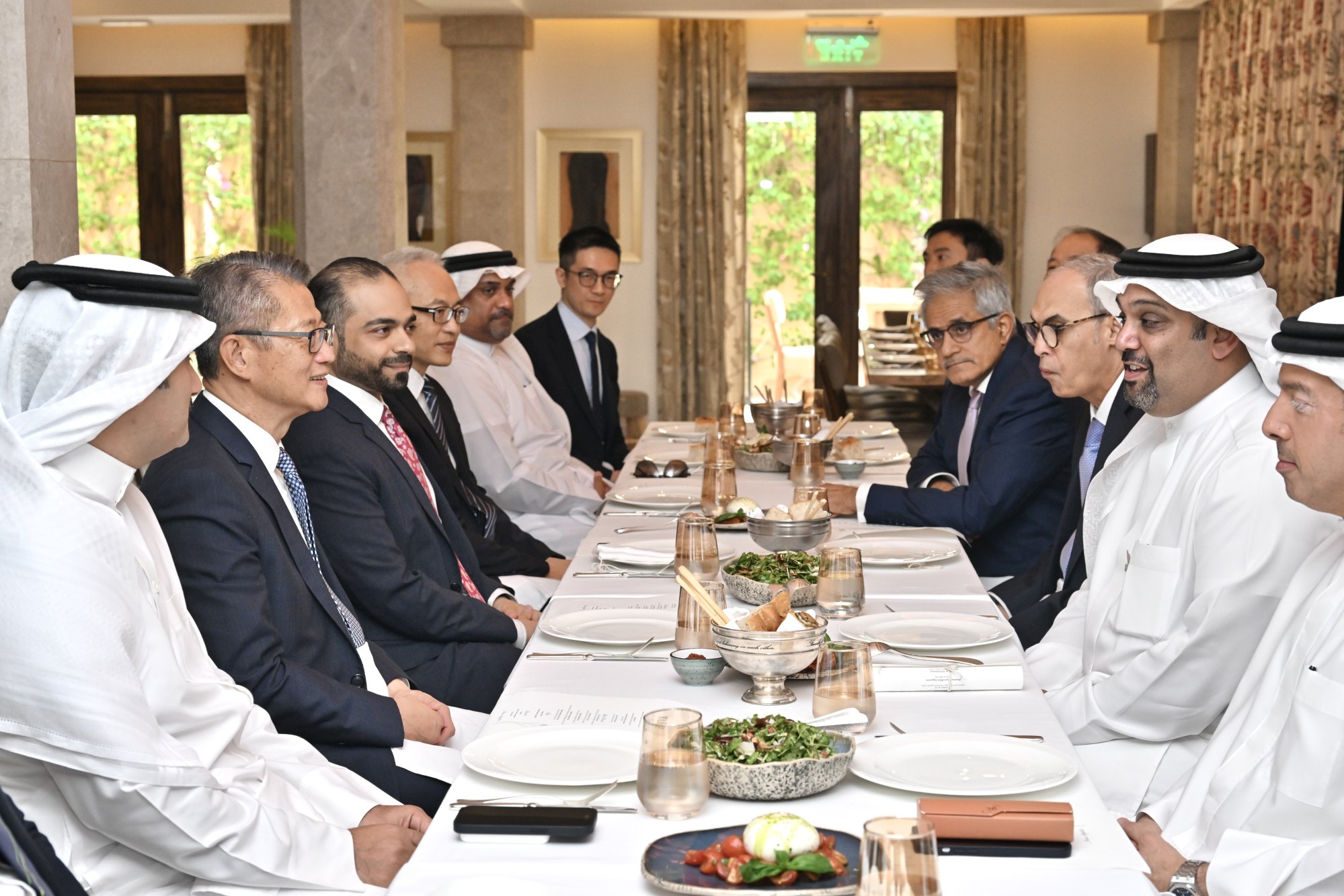 In a reply to Post inquiries on whether Chan would attend the event, the Monetary Authority said it would make the most appropriate arrangements for the summit, adding that if there were updates to the process, it would announce them in due course.
It remained uncertain whether other officials on the Middle Eastern trip with Chan, including Hong Kong Exchanges and Clearing chairwoman Laura Cha Shih May-lung and CEO Nicolas Aguzin, would be deemed close contacts.
More than 40 CEOs and chairmen of international financial corporations are expected to attend the summit, but Citigroup confirmed that its chief executive officer Jane Fraser had been infected with the virus and could not join.
"Unfortunately, Jane has been diagnosed with Covid and is unable to travel to Hong Kong," a bank spokesman said. "She looks forward to visiting in the near future."
Aside from the summit, Chan is also expected to give keynote remarks on Monday at the main conference of this year's Hong Kong Fintech Week, which will be held at the Convention and Exhibition Centre.
More than 250 speakers, 20,000 attendees and over 3 million views online across 80-plus economies are expected for the five-day event, according to the government.
Chan is also expected to attend the
Hong Kong Sevens
rugby tournament from November 4 to 6, as one of the key officials promoting the highly anticipated event.
Saudi Arabia does not require Covid-19 tests for those entering or leaving the country, but arrivals in Hong Kong need to conduct self-screening using a rapid kit 24 hours before their flight and make a declaration online.
Anyone testing positive upon landing in the city will be sent to quarantine or treatment facilities.
In a press briefing on the city's pandemic situation, Undersecretary for Health Libby Lee Ha-yun said she would not comment on individual cases.
"But in general principle, our policy direction for anti-epidemic strategy is that all people coming back to Hong Kong or going to Hong Kong have to have a rapid antigen [negative test result] before they could actually get on to the flight," she said.
"It applies to all individuals when they actually come back to Hong Kong … I would say this is actually the policy."
Entertainment tycoon Allan Zeman said he was not particularly concerned about the impact of Chan's infection on the coming summit, adding he hoped the financial secretary would be able to make it in person, but if not, he could still attend online. He added other officials could also help.
"So I'm not so concerned," said Zeman, chairman of Lan Kwai Fong Group.
He said the government should grant Chan an exemption on arrival restrictions to allow him to attend the financial summit as a top-level official, which would also send a good gesture to the rest of the world that the city attached great importance to the event and that it was
reopening
.
"That's the whole point of the financial conference, which is really to show to the world that the city is really opening up," he said.
Earlier on Thursday, Monetary Authority chief executive Eddie Yue Wai-man said the summit would show the city had returned to normality and he expressed hope the public would understand the reasons for granting foreign participants more flexibility in pandemic restrictions.
Foreign bankers and finance executives attending the event will not be subject to the same rules that regular arrivals face, and will be free to eat and mingle in private settings at restaurants.
"Hong Kong is back. It's a very dynamic and energetic place with a lot of business opportunities," Yue said.
Secretary for Financial Services and the Treasury Christopher Hui Ching-yu told a radio programme more talent from the finance sector had returned since hotel quarantine measures were dropped for arrivals last month.
Under the current
"0+3" model
, inbound travellers must undergo three days of medical surveillance at home or in a hotel, during which they are free to go out but must be regularly tested and cannot enter places such as restaurants and bars.
"Since the '0+3' scheme was introduced, we can see that many people from financial institutions have slowly returned. Perhaps … they might have felt the way Hong Kong handled the pandemic was strict, thus causing difficulties," Hui said.
Additional reporting by Sammy Heung