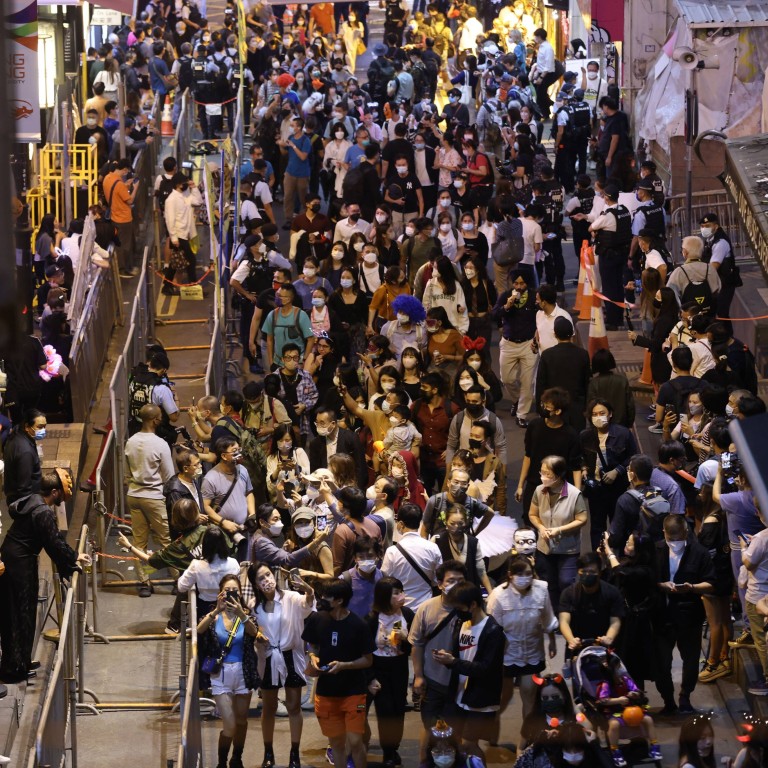 Thousands visit Hong Kong entertainment district, but bar bosses bemoan missed chance as Halloween falls before Covid curbs easing
People not deterred by tragedy in Seoul, but big day for business comes just 3 days before the end of government's 2am closure rule
Police launch Halloween traffic offences crackdown; 8 arrested for drink driving, 2 on other charges
Thousands of partygoers packed Hong Kong's Lan Kwai Fong entertainment district to celebrate Halloween on Monday night, but businesses said it was a nightmare that an end to the 2am closing time for bars had not come sooner.
Revellers streamed into the Central neighbourhood despite blustery weather whipped up by an approaching storm and the Halloween party stampede in Seoul on Saturday night, which claimed the lives of at least 154 people.
In Lan Kwai Fong, many were dressed up as movie characters, with some children in costumes from last year's smash hit Netflix series Squid Game.
Police officers set up barricades to control the flow of the crowds in D'Aguilar Street, holding up a banner signalling one-way direction and asking others to leave from Wyndham Street.
Forty-seven-year-old expat Jackie Malone said the mood was much better than during the previous two Halloweens.
"People are coming back," she said. "I'm happy to see [the city's] opening up and everyone is back getting dressed up."
But Xavier Schaeffer, 35, operations director at Amalfitana on Wyndham Street, said the bar and restaurant industry was still "hurting" because of the impact of Covid-19.
"I think Hong Kong has lost a certain edge when it comes to the destination of Southeast Asia," he said.
Meanwhile, the manager of a tapas bar said he had more customers over the weekend compared with when the business opened in February this year, as the fifth wave of infections was peaking.
"It was terrible. I lost so much money. In February, we had to close at 6pm while people were still working so we had no business … It was so much better last night," the 58-year-old said.
But he said full recovery of the bar and restaurant businesses would only happen after all Covid-19 restrictions were lifted like much of the rest of the world.
"We have to open with zero quarantine. If I'm from the UK or the US and going on a vacation, there's no quarantine restrictions in most Asian countries, but in Hong Kong I can't enter bars and restaurants for three days. We have to be competitive," he said.
Ben Leung Lap-yan, the charter president of the Licensed Bar and Club Association of Hong Kong, said the Halloween trade and party atmosphere over the weekend in the area were unaffected by the Saturday night crowd crush tragedy in Seoul.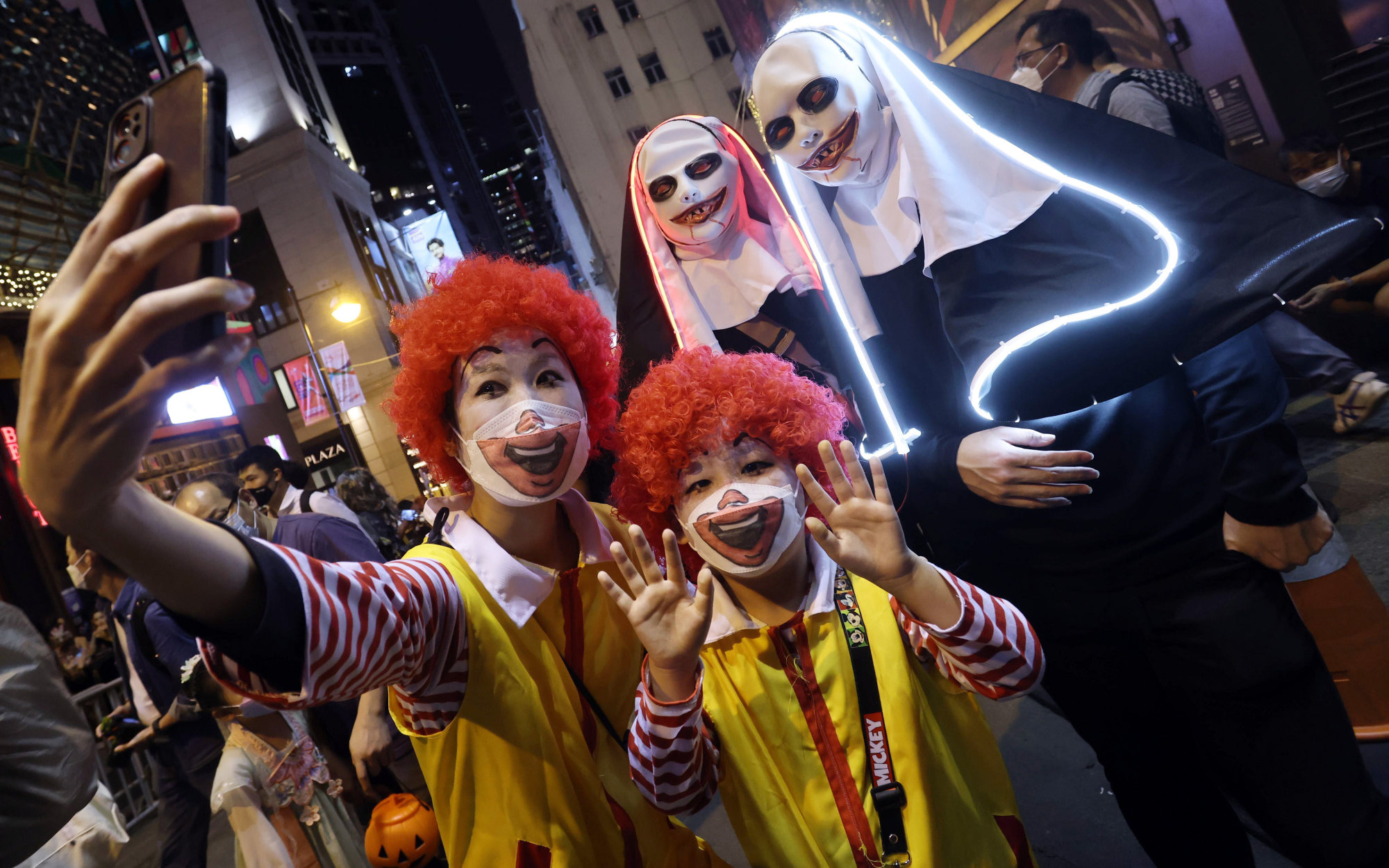 He said local police were experienced in crowd control, and major lessons had been learned after 21 people were killed at a massive New Year's party in Lan Kwai Fong some 29 years ago.
Most of the people killed in Seoul were teenagers and young adults, who squeezed into a narrow alley in the nightlife district of Itaewon. Four Chinese nationals were among the victims.
Leung said the sector still had a long way to go before it returned to the levels of business enjoyed before Covid-19 struck at the beginning of 2020.
"The city has experienced the best Halloween vibe this year since the pandemic as the public is less worried about Covid-19," Leung said. "But, limited by the current social-distancing curbs, including the restricted opening hours, bars have not organised large-scale celebration activities as they worried that patrons may not find it attractive."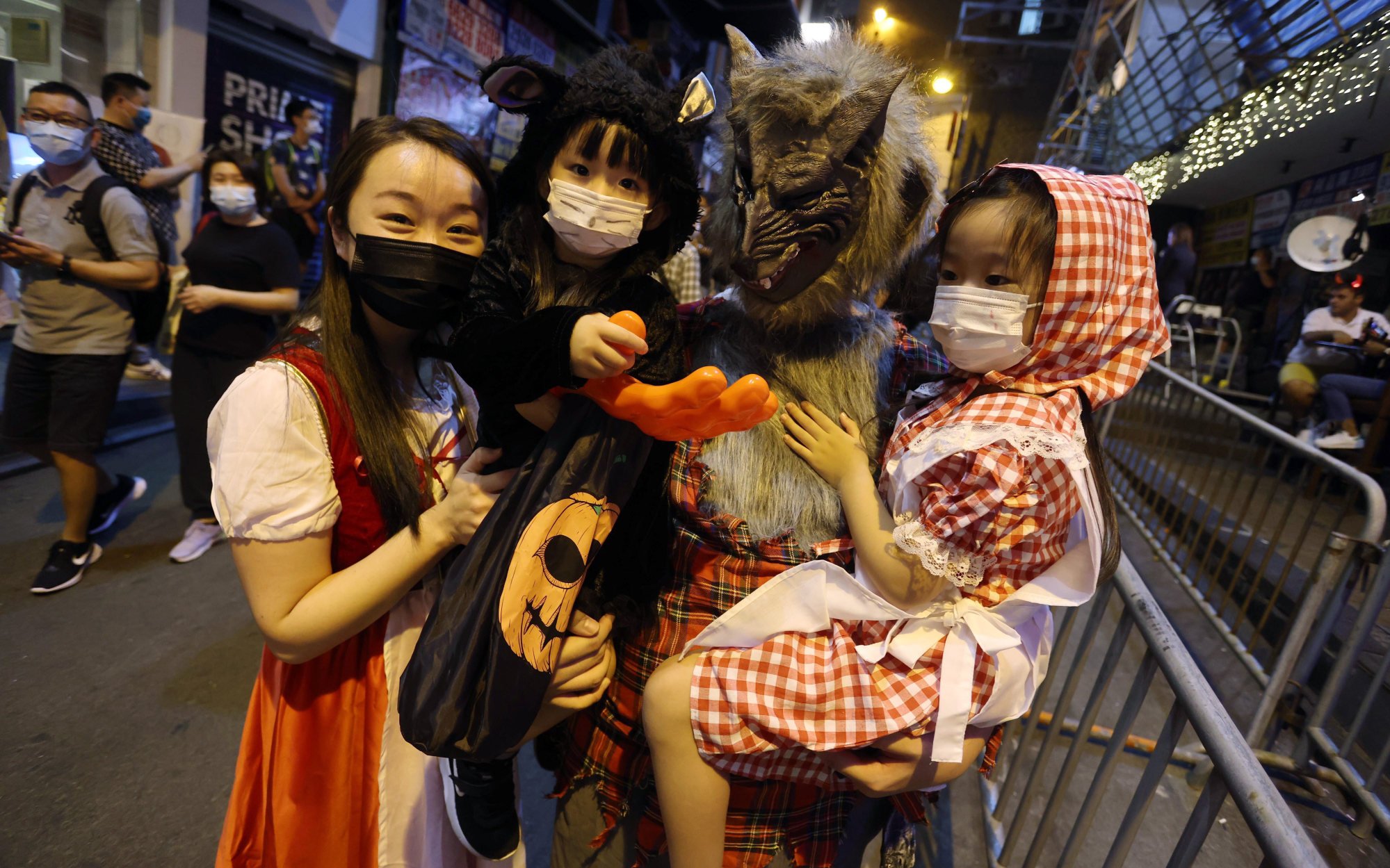 Starting on Thursday, bars can set their own hours after being forced to close at 2am under pandemic controls.
Leung said he hoped that the sector could make up for lost time over the next two months, especially with the Hong Kong Sevens tournament from Friday to Sunday and the Christmas season on the horizon.
Anthea Cheung So-may, director of the Lan Kwai Fong Association, said that the entertainment district had "constant and effective" crowd control measures, including road closures and one-way pedestrian routes. She expected that the crowd size on Monday would be similar to the numbers on Sunday as most people would have work the next day.
Commissioner of Police Raymond Siu Chak-yee arrived at the entertainment hub after 11pm to observe security arrangements.
Police also arrested 10 drivers in the first three days of a four-day crackdown on traffic offences over the Halloween period.
The force stopped about 600 vehicles at roadblocks in the West Kowloon region between Friday and Sunday.
Police said a total of eight drivers, seven men and a woman, were arrested after they failed a breathalyser or refused to provide a breath specimen for testing
Another two drivers were detained on suspicion of dangerous driving and driving without insurance and 69 vehicles were caught breaking speed limits.
Drink driving is punishable in Hong Kong by up to three years in jail and a HK$25,000 (US$3,180) fine.